A Live Manufacturing Update from the Alaska MEP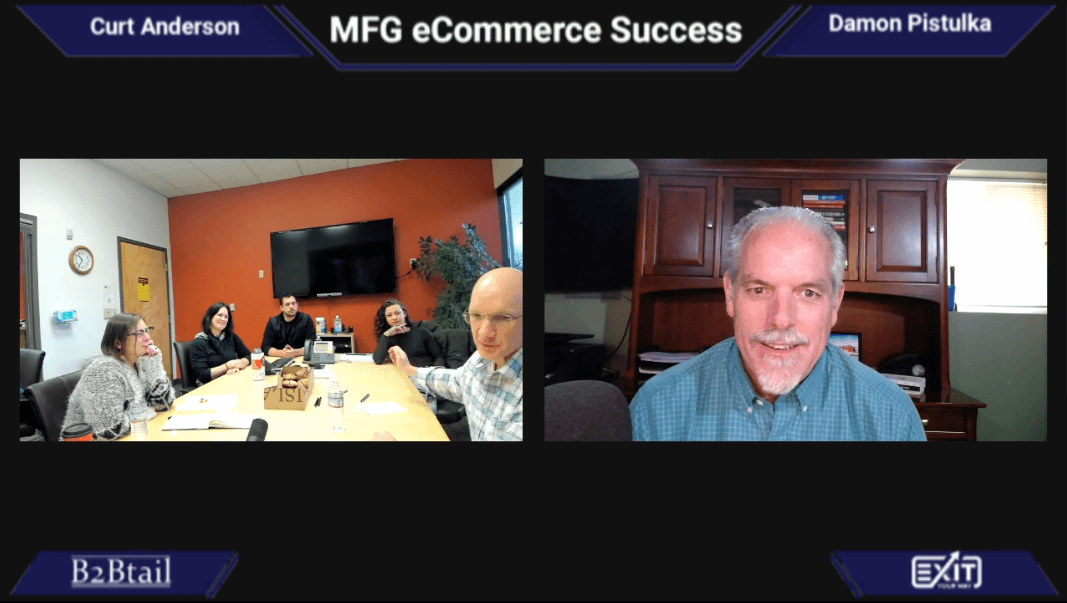 MFG eCommerce Success
A Live Manufacturing Update from the Alaska MEP
Want to hear the word on the street about how the MEP is helping manufacturers in Alaska?
If so, listen to this MFG eCommerce Success show where Alyssa Shanks Rodrigues, Ph.D., from the Alaska MEP, and some of their manufacturing clients have joined us for a live update on what is happening in Alaskan Manufacturing.
This episode is going to be special and our first on-site broadcast from a manufacturing extension partnership. Curt is on-site at the Alaska MEP headquarters with Dr. Alyssa and some of the local manufacturers to give us a look into Alaskan manufacturing and how the MEP is working with the manufacturers to increase their success.
Download our free business valuation guide here to understand more about business valuations and view our business valuation FAQs to answer the most common valuation questions.
The Alaska MEP sponsors excellent educational events and provides services across a diverse set of manufacturing companies in our 49th state.
Damon exudes excitement when he opens this first-ever on-sight Livestream with Alaskan MEP. Soon, he lets Curt take charge and introduces us to the guests. In order of appearance, we have Dr. Alyssa, Lynn Peterson, a nurse by profession, Ross Spencer, a veteran, and Megan Militello, co-founder of ElevatedOats.
Curt invites Dr. Alyssa to talk about her yesterday's experience at a manufacturing roadshow called Kenai Peninsula.
Do you want to know if your business is ready for your exit or what you should do to prepare? Learn this and more with our business exit assessment here.
She describes that she and Curt were in Soldotna. There, they met with Senator Murkowski and Senator Sullivan. Similarly, some state representatives were there to "talk about manufacturing." Also, they saw Davis block and concrete, "the coolest concrete manufacturer you'll ever meet."
Curt then turns to Lynn and asks her to talk about a recent trade show organized by Uniform Retailers Association (URA).
She reveals that she is a nurse and has been in this industry for 20 years. She couldn't find a bra that she could wear to work. So she designed one of her own. It is comfortable and is "super soft against the skin." And so she went to the tradeshow to target the scrub industry.
Get the most value for your business by understanding the process and preparing for the sale with information here on our Selling a Business page.
She further adds that her idea is to design and sell undergarments. She believes that every girl buys these briefs. If a professional nurse designs them, they will be good for women's health, too. Moreover, as a vendor, it was her first ever visit any trade show.
Curt requests Ross to talk about the toolbox that he designed of late. He answers that he created a toolbox that attaches to the top of fiberglass step ladders. It is easy to use and comes in a universal size. He goes on to say that he has spent time and years in tradeshows. This product has bagged various prominent spots at different tradeshows. Ross realizes that the competition is stiff. Still, he is joyous in fighting for his spot in the market.
Ross adds that it was a "burning desire to go in my backyard" and decide if something better could be created. Furthermore, launching this product in the market requires learning, which is why he is currently sitting at the Alaska MEP center.
Curt involves Megan in this conversation, asking about her experiences in the military and entrepreneurship. She says she joined the Army at seventeen as an air traffic controller. At her first deployment, she met her potential business partner.
She spent six years in the Army. ATC is a very lucrative job. She has been a part of the U.S. Department of Defense (DOD) and the Federal Aviation Administration (FAA).
After six years of service, Megan realized there was little growth in the job. She opted to become a personal trainer. Since she liked the food, she started selling salads. "And granola was like this little bonus." She left Hawaii and moved to Alaska. She now envisions becoming a better person.
Damon praises Dr. Alyssa for being so supportive. Curt asks her to talk about the MEP to educate the unversed.
She says that the MEP exists to help manufacturers. "Our mission is to help manufacturers in whatever way they might need." The core assistance MEP offers are ecommerce, supply chains, ISO certifications, prototyping, and lean manufacturing. They make businesses efficient, reduce waste, and wasted costs, etc. "Anything a manufacturer might need, we're here to provide that assistance," she maintains.
While recounting her entrepreneurial journey and early struggles, Lynn says we must not fear change. Fear of change haunted her in the beginning. She overcame her fears and is now a believer who wants to challenge herself.
Curt asks Ross about the latter's transition from a marine to a manufacturer. While answering, the guest adds that he was a helicopter mechanic and loved his job. Like Megan, he could not see any growth in his career.
He returned home to Wisconsin. Agreeing with Lynn, Ross says there are different levels of fear. Firstly, we are fearful of talking to other people. Secondly, we are scared to talk about our product. Once comfortable, we go to a trade show where we can exhibit that. It helps us grow.
From Megan, Curt wants to know about ElevatedOats and Lacey, her partner. The guest replies that ElevatedOats was her idea. She paid Lacey to do its logo. They were friends and would talk about helping other each other. "She just really understood what I wanted to create." They both exchanged ideas which turned into a business partnership.
Megan argues that she could have been a solo entrepreneur. But for growth, we need to work in teams.
In teams, our teammates cover our weaknesses while doubling our strengths. And together, we can "create something so beautiful." Now ElevatedOats is a solid brand, and she credits Lacey for that. To work efficiently, they have separated their tasks and hardly overridden the marked divisions.
Curt compliments Megan's business, saying that everywhere in Kenai Peninsula, there were echoes of ElevatedOats.
The host turns his attention to Lynn and wants to hear from her about her transition from nursing into manufacturing.
Lynn acknowledges that "there have been many mentors in my life." She has always been eager to learn new things. The guest believes that effective leadership is always at the core of every successful business. Being a company leader, she learned delegation because no leader can achieve goals single-handedly. However, she longs to fulfill her big dreams in 2023 single-mindedly.
Curt himself mentions the key takeaway of today's Livestream, which is none other than overcoming the fears of change. He's pleased to see these participants "rooting each other on words of wisdom and inspiration."
1:01:03
SUMMARY KEYWORDS
people, alaska, damon, entrepreneurs, ross, alyssa, talk, nurse, leadership, yesterday, mep, big, life, kurt, megan, manufacturers, product, hear, lacey, trade
SPEAKERS
Damon Pistulka, Curt Anderson, Alyssa Rodrigues
Damon Pistulka  00:05
All right, everyone, it is Friday. And what does that mean? It is time for manufacturing ecommerce success. We are on today at a special time. Because our very own Kurt Anderson is live. Where today? Where are you say? Me?
Curt Anderson  00:28
Are we? Yes, I'm in a Latin dude. I forgot where I am. Yeah, I'm in Alaska today. I'm not. I I'm so discombobulated Damon like I already know what day it is today. What time it is, you know, if you look out here like it looks son just came up like a little while ago, like, like 915 or something like that. So yeah, Damon, happy Friday, man. How are you doing?
Damon Pistulka  00:51
I'm doing great, man. I'm excited for this. So we got the people. We got people from the Alaska MEP. We've got some entrepreneurs up there in Alaska. You're up there doing some great things. I'm excited to hear about it this week and share it with everyone on LinkedIn. So let's get going man.
Curt Anderson  01:08
Let's do some introductions. So guys, we're up here at the Alaska and II P. That's a manufacturing extension partnership for all the kids out there. And we're just having an absolute blast, right University of Alaska. And so this wonderful, dynamic, incredible, wonderful human being across the table from me is the one and only Dr. Elissa Rodriguez, Dr. Elissa how are you?
We had an amazing week this Yeah, dude couldn't believe they invited me to Alaska. I don't know. Like, they might be thrown me out here soon. I don't know if I go back or not. But so we'll see how that goes. So we have Dr. Lissa here in the house.
We had my dear buddy, my friend Mike the one and only she's an East Coast gal that just kind of wandered the country. She ended up here in Alaska somehow. She's a nurse by trade and just a fearless entrepreneur by heart and she's making great products. We just talked with her a little what month ago two months ago today or something like that. Right. So Virginia, Lynn Peterson's in the house. She is the founder and the mother and the brainchild of swoop. Right Len Happy Friday to you.
Thank you glad to be here. Absolutely. So I move around the table man we have man. We have a veteran in the house is perfect. We have a couple of veterans that we're going to talk to here. So we have my friend Ross. Ross Spencer is here. He is just a relentless entrepreneur. He has this great product we're going to talk about. He was in the Marine Corps. Ross, thank you for your service, brother. How are you today?
I'm doing wonderful. Thank you. Oh my gosh, are we I'm so excited. I'm gonna go get around the table or not, you know, without I wait. Hey, David. I gotta check my pacemaker real quick. Yeah. Yeah, I think it's okay. So this is my dear friend, my buddy, another veteran. She's a war hero. She served proudly in Iraq. So we've got two great veterans here. And so she is the founder, co founder. If you remember we have Lacey. Lacey couldn't be with us today. But we have Megan Militello she's the founder President brainchild, the think tank behind elevated oats. Meghan.
What is up girl? lovely to be here. So all right, we're gonna dig in. So first off, I want to start with Dr. Alyssa yesterday. Man. She put on Damon shields how to throw a wild party. We were in Kenai Peninsula. We were at the MEP. I was the manufacturing roadshow. Cool, dude. It was like it was just absolutely phenomenal. The manufacturing roadshow in the Kenai Peninsula. Dr. Lissa, what would talk tell Damon, what went on yesterday.
03:38
So we were in Soldotna. And we had a we had a handful of manufacturers come We were lucky enough to have some stakeholders. We had folks from Senator Murkowski office and Senator Sullivan's office. And then we had some of our state representatives there to all get together and talk about manufacturing. So we our manufacturers were there to learn best practices on a handful of different different topics. Kurt gave a fantastic presentation about how they could really work with E commerce.
And then our stakeholders we got together and we talked about how we can advance manufacturing. And last week we did some really cool tours to we saw tonight River Brewing, and then we went and saw Davis block and concrete, which is probably the coolest concrete manufacturer you'll ever meet. And yeah, we had a really great time. The weather was fantastic, right? It was perfect. It
Curt Anderson  04:29
was phenomenal. So Damon, so let's go through my pictures ready. So this was me on the plane. And then I'm just teasing. Alright, well, David, I'm going to show you my pictures tomorrow I'm going to Damien's house tomorrow. So they were the pictures. And it was phenomenal.
So we took a plane from Anchorage down to the Kenai Peninsula. It was six in the morning. You know how the view is at six in the morning? It was like this. Yeah. It was pitch black. I didn't see a thing. I was really bummed out but we got there. It was amazing. Doctor So Sammy Joe, if you recall, their intern, Peyton Peyton on internet, she Yes, she's
05:06
got our fingers crossed. So
Curt Anderson  05:06
man, they had a great group. They had entrepreneurs they had manufacturers that she said a lot of gentlemen from the President's are the governor's office was actually even there. It's just he was telling me yesterday on a plane. Alright, so anyway, that's another story. I'm sorry that when we get to, but let's put on the table lit. Yeah. Okay. Talk to us. You're just amazing Trade Show this week. You were down in Nashville, you're in the lower, he'll be back in the lower 48.
05:29
It was warm and sunny.
05:35
The barbecue is really good.
Curt Anderson  05:36
Good. All right. So tell tell everybody about your company. I know you're running last year last month. But yeah, definitely. We're Swoope tell everybody about this awesome product is awesome company that you've put on the market. Let's talk
05:50
about the trade show this week. All right. So story. In short, I'm a nurse, I've been a nurse for going on 20 years, and I couldn't find a bra that I like to wear to work. So I designed my own. So what makes ours a little bit different is is kind of the comfort and the fun that goes with it. So no wires, rings, and sliders are in the front. It's super soft against the skin. And it's just all sorts of different fun patterns to put underneath your scrubs. So our goal is to have or as many as we can, every female nurse wearing our undergarments.
And so the tradeshow I went to was called ura uniform Retailers Association, and I never would have made it there without this group here. You guys have been so phenomenal and helping but went down there to target the scrub industry. And it was a mix are mostly independent scrub shop owners who were doing the buying. So it was super successful. For us. It was new and bling bling here for them for sure. A lot of interesting comments. And yeah, I felt like walking away, it was really good show for
Curt Anderson  06:53
Awesome. So yeah, you went with a nice sense of confidence and excitement. And you're getting great feedback was a big, big takeaway from the show, like what's kind of buzz at the show people are not traveling again, finally, and getting out in person. So it was like a big takeaway, just from that aspect of like, just kind of people being honest. Secondly, like, what were some what were some of the comments that you were hearing about your product. So I think,
07:16
um, you know, being new at a trade show, which I think if you take a breath and sit back, everybody's gonna say this was so new for that industry, right? So this whole idea to purchase bras to sell to their clients, there's definitely, I don't know if convincing was the right word, because everybody was very intrigued. But I think the idea of them making that final leap needed some talking through, right.
So it's like, what percentage of the what percentage of the people who shop in your store are female? And what percentage of them were brought to work? And that's probably about 100%. I mean, there are probably a few girls that don't, and girls have to buy bras somewhere. So why wouldn't they be in a bra that was designed by a nurse? And once we had that conversation, everybody was like, ooh, ooh, yeah. So but I think too, you know, that was my very first trade show.
I've been to a trade show as an attendee, but never as a vendor. It was really scary. Yeah, yeah. Oh, 100% out of my comfort zone. And, um, you know, got there did it and I kept telling myself, it's, you know, I felt like I was exactly where I should be as far as the nerves went, um, you know, just, I just felt like once I get in and start doing it, and get that pitch down and start hearing that feedback, I'm gonna be okay. And that's exactly how it lands. So by day two, right, no big deal. Yes.
Curt Anderson  08:46
Isn't that awesome in the mood and inspiration and we think and I did the same thing I'm so Hey, enough about these guys. Damon, let's talk about me for a minute. Right. So as you know, I went to Chicago for the MEP conference and Dr. Elissa for the first time. Like she's standing there minding her own business also, like this creepy bald guy comes running sprinting that are trying to augur and you know that you realize it was it was me, but that's another
09:10
bear spray. Yeah, exactly. She
Curt Anderson  09:13
broke out the bear spray. That was yeah, it didn't work. I still went through it. But that's another story. But the thing is when you get out of your comfort zone like Lindsey scribing you know, it's, you know, it's like man, what's people what are people gonna think Can I do this?
So again, if you guys any entrepreneurs out there and we have three just such great inspirational stories here right now. So let's talk about and here's the great thing about yesterday. We had great so we're down the Kenai Peninsula so if you're not familiar the the geography here so like Anchorage is up here Kenai is down here somewhere, right? Yeah,
09:46
there's your your. So it's
Curt Anderson  09:47
right here. It's right here. Here's here's Alaska right there in Montana. Right. So the thing is, we're gonna go down to Kenai and it's all these entrepreneurs and what was the consistent theme? There was a problem. Nobody had the solution. So they solved that themselves. ultimately put a product on the market and equity what Lynn did and now we're going to slide into our friend is veteran. It's amazing. What a handsome guy he is down there, right? Yeah.
Damon Pistulka  10:08
Let's just I want to just mention we got a lot of people here today I wanted to mention because you did something about we got Gail here today, Gail Robertson. She talks about this about people being nervous about she and she always says, just remember, those people are probably looking at you going, Wow, that person is brave to be there. And they're thinking about that.
They're not worrying about the clothes. You got on there thinking that you know, how brave are you to be there? And we got Agbo I now hope I pronounced your name right. We got but here's somebody that we know,
Curt Anderson  10:42
Don. So the thing I sent down an email told him I was going to be here done. We'll have to talk. Maybe you didn't get it. But yes, I'm in.
Damon Pistulka  10:48
Great. Yeah, he's in Anchorage. Then we got Whitney here with us today.
Curt Anderson  10:52
Whitney is down in Houston. So guys, happy Friday. Thanks for joining us anymore. So if you're out there, give us a big hello trap. Yeah,
Damon Pistulka  11:01
tell us where you're listening from. And we'll get you on the screen here because we are live from the Alaska MVP. And Kurt is is with the Alyssa from Alaska MVP and these other great entrepreneurs from the state of Alaska. This is awesome.
Curt Anderson  11:15
This is phenomenal. So Alright, so let's talk about my dear buddy Ross Spencer's handsome devil down at the end of the table. So Ross, welcome to the program. Thank you for being here. I appreciate you. Alright, so anyway, he has created this amazing, incredible product even Are you sitting down for this? I am. Okay, I want to make sure you're sitting down. Let's hear about your
11:36
businesses. So I created a toolbox that attaches to the top of fiberglass step ladders. It is not the first iteration of a product out there to hold your tools while you're on step ladders. But I was not happy with the one that was currently out there.
I have spent time and years in trades I have trade work uncles and father and cousins and everybody you name it been up and down the ladder 1000 times and I just got tired of it. So I started with an idea and originally it's really interesting to hear everybody else's stories. Originally it was Ross. Other people invent things other people make products other people get patents other people go to market that's not you.
But over time I just I started with a little wooden product I made in my backyard and graduate downgraded to cardboard because it was easier to work with and then I ended up making my own plastic representation of what I call the apex letterbox and I just received my patent died in August. I tested the market I went to the national hardware Show in Las Vegas last fall and just resounding feedback of both end users wholesalers big big box stores just people love it and the overwhelming response that I got back is can I buy this no go make this I want to buy this I want to carry this on my shelves.
So then again it was Ross you don't you don't make products you don't know how to so it was starting the process over okay, well how do I move forward with that? So I am and then I actually pitched it here through the College of Business at UAA.
And everybody loved it again. We took second place there but we had some real stiff competition but so I'm here now trying to learn from the best I have a prototype that I'm super happy with a CAD file I'm super happy with and we are just touching how and what it's going to look like to manufacture and get this to store shelves are online so people can start to use it and save time going up and down ladders
Damon Pistulka  13:39
Awesome. Awesome. Damon Yeah. So all I'm saying that's good stuff right there.
Curt Anderson  13:49
That's good stuff is gonna come up good stuff Lin bought some baked goods from like the best bakery right now but but so we're taking a moment of silence Just like let's just savor what Ross has dropped right? There was a lot of people so Ross on our show, we have little moments of silence that was a little bit silence right there. Okay, so Damon, here's a new line. Be the other people how you know, guys, when you're out there and you have a dream you have a an inspiration, a vision, something that you want to accomplish, right?
And somebody says, Oh, Ross that somebody else somebody else's, you know, they're going to solve that they're going to do that. And look what Ross does, right? Rather than Alright, how do you take it to the next level? So like, you know, we've all had that dream, you know, sit down with your buddies, you get the fire napkin like here's an idea. How do you go from idea to actually like brainchild here's like, how do you burn this thing? Like how to walk us through that process? For anybody out there saying like, Hey, I'm
14:43
gonna be like, Ross. Well, that's tricky. I think. I think for me, it was a burning desire just to go in my backyard and decide if there was something better if I could, you know, create something better than what was there and it was just tinkering. It was just I think the initial start was proving to myself that I wasn't barking up the wrong tree, there was actual pain, a customer pain, which is what we all start with. Yeah.
And there's a solution that I think that I thought that I had. And I needed to decide if there was if there if I could really provide a solution or not. And moving on from there, I had a lot of support from my wife and family and father and people, you know, close to me that were like, you know, crazy, this is something you can do. Yeah.
If I was put between two decisions, I could kind of bounce some ideas off of people and, and get positive feedback. And I've taken all of that help to its max. And as far as we can go, we're approaching waters, I've not been down before. This is my first time here, I jumped right into the to the deep end. So as far as getting product from where I have it to market, that is what I am here to learn and look forward to going down that path.
Curt Anderson  15:56
Man, how about a little round of applause for Ron. David. So the cool thing is, so we're at University of Alaska, the building we're in so this is we're in a conference room, but this is Alyssa is hanging out. So there's this like, all economic development goes on right here at Man SBDC. The Small Business Development Center is right next door, Alyssa is down the hall or Sammy Jo, her team, Manufacturing Extension Partnership. So the great thing is, is you know, as an entrepreneur, you are absolutely not alone.
You know, like you feel like you're alone. You know, if your friends family, whatever, they're a bunch of civil servants, you're like, Man, you nobody gets it, they don't understand it. Boy, you go to your local MEP, go to your local SBDC. And boy, you know, you just you're just surrounded by all sorts of energy. So speaking of Energy, Damon. Oh, this one over here, right?
Yeah. So okay, negative melotel. She is the founder of elevated oats, man, if you I got to spend quality time with Meghan the other night. I'm telling you, we had a blast. Megan, What's up, girl? All right, let's talk about first off Army veteran war hero. We got into it the other night a little bit. For folks that missed it. Just your little bit. I need to get back to you about being a Marine. But let's talk a little bit about you going into the army and sliding into entrepreneurship.
17:16
Yeah, I was in the military. I joined when I was 17. Air traffic control. That's where me and my business partner met each other first deployment. I was only 18. And did six years, right six years in the Army. Air traffic is a very lucrative career. And I really enjoyed it. I did the DOD, I did the FAA, but ultimately, it wasn't giving me the growth that I wanted.
And then I was watching all of these people around me eat, just not good food. Me mac salad and rice, there's no vegetables, there's no color. It's not healthy. It's not healthy. And so I kind of tried to bring this into a industry full of men that literally sat in chairs all day. And I just kind of leaned into that I got certified as a personal trainer.
But food was really my passion. So I started selling salads on the side. And granola was like this little bonus. I'm like eat this as a snack with some yogurt. And then when my life kind of changed, and I left Hawaii moved to Alaska in my dad's basement. It's kind of like, I didn't have anything else to lose. I already walked away from everything. So why not go for the thing that I really loved and try to help people become better people?
Curt Anderson  18:42
Yeah. Okay, awesome. So Megan, my question to you is your go back to? We talked about this a little bit tonight. So I'm gonna go back there. So it will be a shocking credit question, but 10 years ago, was it 10 years ago or so? Give or take,
18:55
right since so,
Curt Anderson  18:57
since you left that service,
18:59
right? Oh, man. Yeah, it's been 10
Curt Anderson  19:01
years, man Time flies when you're having fun. So if you were to go back and talk to yourself 10
19:06
years ago as a brand new entrepreneur, what would you say?
19:12
Oh, okay, so we at least he actually talked about this too, but I think I said yesterday it's a marathon not a race right? Yeah, things it's a marathon. It's not a race. Yeah. Do not let perfection hold you back. Right. Shouldn't is the enemy of progress and build a community sooner? Build a community all the community sooner?
Damon Pistulka  19:32
Yeah. Yeah. That's huge. And you know, we've got we got a bunch more people in here. First of all, we got Matt Matt goosy he's always wondering where the packer friends are don't know if they have Packer fans in Alaska. I think they're
Curt Anderson  19:44
one I was with one yesterday.
Damon Pistulka  19:48
So there are some some that there are there are some Packer fans, like Alaska
Curt Anderson  19:54
Packers fan I got yelled at for being from Buffalo and all that.
Damon Pistulka  19:59
That's great. That's great. But then we got Molly here. I don't know.
Curt Anderson  20:04
We got a Buffalo Bills fan right here.
Damon Pistulka  20:06
They may know Molly she's certain in food manufacturing and Chugiak is how you said,
Curt Anderson  20:12
wow. Yeah, that is how you say, hey, Molly, so you need to connect with Dr. Alyssa so you know what we need to do we need get everybody's Hey about
Damon Pistulka  20:21
Dr. Alyssa has acted like I'm surprised I've been in Anchorage I've been. I've been around a few times, Alaska. I've been to Juneau I've been to quite a few places. And but yeah, it is it is a to understand. The pronunciations of the Northwest and the north northwest, as in their cities is tough.
Curt Anderson  20:43
It's tough. Absolutely. So she's making cookies. It
Damon Pistulka  20:46
looks like Molly best cookies. Yeah.
20:48
Yeah, I've heard of you. Okay,
Damon Pistulka  20:51
nice. So we got her listening today. That's awesome. That's awesome.
Curt Anderson  20:55
So everybody out here, you guys need to connect with these guys. So let's go in. So I'm gonna run the table Dr. Alyssa. So talk. Alright, so we've got a new entrepreneur out there, we've got done, we've got great entrepreneurs here. Somebody's not familiar with the MEP, like, what's this MEP? guys keep talking about like, share a little bit like what are the services that you guys provide? And maybe when and Megan, we can talk about like your experience. But talk a little bit about the MVP for folks out there that are new to the MVP? Yeah, so
21:20
the MVP exists to help manufacturers. So really, that is our mission is to help manufacturers in whatever way they might need. We kind of have our core services, and those are e commerce. We do a lot with lean manufacturing to make you as efficient as possible, reduce waste, reduced, wasted cost, etc. We help folks with their supply chain as another of our core services, especially right now, so challenging to get what you need when you need it. Do you keep it? You know, do you keep everything on hand and, and whatnot?
Or do you you know, try to get it when you need it. ISO is another big one that we do is helping people get those certifications that they need so that they can put out for the big jobs, and actually get them for a lot of the things that we make here. If you're not certified, you're not you can't even get on it. So that's another big ones that we do is ISO certifications, but we do prototyping, and we help people with kind of anything a manufacturer might need, we're here to provide that assistance.
Curt Anderson  22:22
Yeah, it was awesome yesterday that the roadshow was hearing, you know, different manufacturers that have worked with listen to team, talk about their experiences and how wonderful they've been to work with. And again, just, you know, not being in that silo being on your own to, you know, having that network in that community. So Len, when you started out your business, what advice would you give to yourself when you first started school, but now that now that you're a seasoned veteran? entrepreneur, what would you tell yourself?
22:48
Um, don't let the fear stop you? Yeah, I mean, I'm still a big believer if nothing good or bad is ever gonna happen to you if you don't take that risk. And I think it's super scary to, you know, the financial backing to it. And then the time commitment.
And I mean, I think all of us can say like, it is life changing to start your business. Like, if I wish I had an on off switch for my brain sometimes, because I've literally gone to bed and told my brain stop to stop thinking. So I think that that is but don't let the fears scare you. Because as the entrepreneur, you get to create it how you want it to be. And yeah, I mean, I think there's a lot of things in life that are really scary, but I think that's just that would be my advice, just don't let this year the fears take you, you know, hold you back.
Curt Anderson  23:38
Do you feel through the processes have been gradual for you to kind of like reduce that or like, kind of get a more relentless or, you know, put some of those fears concerns down or like, or if they creep back up? How do you like? Yeah, that's a
23:51
really great question. And I think the answer to that would just be the fears kind of change, right? So now I can show up in a pop up and like I've done it 100 times, I've done 100 But I've done it so many times, it feels easy. But then, you know, going to a trade show that was the next step. So all of a sudden those same fears I felt in the beginning, but I also think that that's life like that I'm a believer to Let's challenge ourselves, like we don't ever stop growing as people or individuals.
And, you know, here we are, it's like just kind of keep doing it and trying to make like good decisions along the way. You know, I think sometimes it's really important your head gets so filled with this thought this thought this path, this path and it's taking that step back or taking that breath and just slowing it down and just trying to make good choices along the way to kind of help with those fears. So
Curt Anderson  24:40
you know, I love that when you think about like say the Titans you know the Ford or you know, gates, you know, Bezos whatever the monster you know you think about they had a vision and solve the problem for a lot of people and obviously became but you know, even like the entrepreneurs we had yesterday down at Kenai are entrepreneurs here you know when you have that one problem, just in what we hear is like up You know, who was it seemed like, you know, if I helped one person? Yeah, it's in my own problem.
And if I can, if I can help one more person, it's worth it. And then I'll send you help to, then you help three. And you're like, you know, just think of how many nurses or you know, we talked about your soulmates, right, those ideal customers have how many lives you could change, like, Hey, I have a 12 hour shift.
And now I can be more comfortable, thanks to Lynn, where you know, and just like Ross was saying, you know, it's not, we don't always have to say someone else is going to do it, you know, somebody else is going to put the dishes out of the dishwasher, somebody else is going to make the bed, well, somebody's got to raise their hand and say, Let's be entrepreneurs and start creating this new product.
Now, Ross, my friend, you are a Marine, God bless you, thank you for your service, talk about going from the record, and kind of transitioning out his back into as a civilian. And and now taking this leap of faith and entrepreneurship kind of walk us through that transition.
25:50
So I was a helicopter mechanic, which I loved. But I didn't see that being my career. So I moved back home to Wisconsin, which is Packer fan nice. And then then I think what people kind of been keying in on is, you know, you can't be scared to be scared, can't be my can what Lynn had said, and the way I kind of saw it is you graduate, you graduate to different levels of fear. And you first you're fearful to talk to other people.
And I don't mean here that's holding you back from the fear that's helping grow you, right? You're scared to talk to you about my product, right? And suddenly you get comfortable talking to one, the ones and twos and you start talking to fives and 10s. And then you have a trade show where you pick or you do whatever you're graduating levels of fear, right? Yeah, that really helps you grow.
I graduated a level of fear and left Wisconsin and moved to Alaska to go to school. I hadn't met the girl who was my wife and the Marines. She was also in the Marine Corps. And she was from Alaska, I knew that I wanted to go back to school, it was going to be a couple of years. I wanted to know where I was gonna go to school.
And I came up here and visited. It was beautiful. And that's that you know, it's, it's, it's, it's, it was that transition. And I did while I was going to school, I did all of the trade work in the summer as much as I can carry through my fall. I just I was like, this has got to be something and I wanted to clarify the why not you has stuck in my brain and that's not me. My saying I had heard a wonderful speaker, Colonel Nicole actually in the color of melody kowski.
Okay. Phenomenal speaker and that was heard what drove her through, you know, it's not you can call other people do that, Nicole and she's like, Well, why not you and that has stuck with me and kind of been framed what I think that entrepreneurs have in the back of their head in the head works to she framed it beautifully. And that is just you know, why not you?
And you know something? If I went back and told myself I've only been at this five years, I would say hey, you're not alone. It seems like you are it seems like you're the only one with a burning idea that's going on in the back of your head that you can't shut your brain off at night when you go to sleep but that is just that entrepreneurial spirit. I really believe and that just keeps us up at night thinking and and moving forward so I think all of those the fear and the mindset is just what grows you and graduates to the next level
28:24
Dr. Mike do sir
Damon Pistulka  28:26
Yes sir.
Curt Anderson  28:29
Out there man. Why not? You You know that not you number weenie we had Winnie in when he's my queens and we had she said we have a God given obligation to or we have an obligation to exhaust our God given talents. Okay, even but we have a we have a moral obligation that if you have whatever your inspiration or your ideas, your gifts, that we should not conceal them. And just you know, don't let people be naysayers and just why not you? Yeah,
Damon Pistulka  29:01
yeah. And you know, when the others around you are amazed questioning what you're doing. They're just trying to protect you. They don't want to see you do it, but when you they don't see what you see. And that's that's a thing that stops a lot of people to is as you know, your could be your family could be your friends you really want to do that, you know start to do but they don't see the vision that you do. And you guys have went past that. You see the vision and now you're starting to see the success of your vision from your vision. So it's very cool.
Curt Anderson  29:32
Yeah, I love it. Don't be scared of being scared. That's another man. Don't be scared of being scared. Damon, so Alright, we're moving over to my dear friend Megan and Megan's in a unique situation where we have a lot of solopreneurs a lot of entrepreneurs Megan has a partner in part and Lacey is absolutely amazing data
29:50
lovely.
Curt Anderson  29:54
Man Lacey. Hopefully you're out there somewhere but she's just such a special breed. But I want to talk about partnerships. Okay, so A little bit, you know, Daymond. So anybody out there Daymond is my growth and exit strategy specialist, right? You deal with all sorts of different business owners and what have you. And a lot of folks, you know, sometimes we hear like, Oh, don't do a partnership, or it gets a little messy, or partnerships can be harder than a divorce, if it doesn't go well, so on and so forth.
And these two are Army veterans, they're buddies, they became fierce friends that your tagline on your website, so just for anybody out there that either, you know, maybe they don't want to go into business by themselves, or maybe they need a partner, you know, to kind of talk about your journey as a partner, and how you and Lacey have made it work so far. Yeah,
30:37
it's, I feel like I arranged her in actually. That way, it was like I had this idea. And I, I paid Lacey to do my logo, right. I'm like, I need a logo, this is what I want to do. But we also were friends before that. So we would talk and we were helping other each other through these personal things.
But she just really understood what I wanted to create. And so and then her ideas were amazing on top of my ideas, so it was just this beautiful blend, and I'd be like, hey, I need some labels, hey, I need a sticker. Can you make me up? I want this shirt to be designed like this. And then it just came down. I mean, it's, I can't do it alone,
Damon Pistulka  31:24
you can't do it alone,
31:27
no matter what, you have to have a team, right? I mean, you can be a solo entrepreneur and you like you're doing one thing, but the way that I wanted this to grow, like I didn't have, I know what my strengths are, and I know what my weaknesses are. And then it's like, you build a team of people that have those strengths that you don't have, so that you can come together and create something so beautiful. So man, her brand building has been huge for us, like our brand is solid.
And that's, that's just her thing, right? Like, me being here operations or like the food and being like, we can put this combination together. And now that we've been doing it so long with each other, we spit ideas off of each other for these things. Like I'm like, hey, what if this said this on the package? And? Or she'll be like, Well, what do you think about this on the package? Even though maybe that's not my specialty? I am like a customer, right? Like, what am I looking at?
It's another person to spit those ideas off of, to sometimes I'll be like, What do you think about this and there's really good like, Thank you for not letting me waste my time, right? Because we're so full of ideas and we want to do so many things. So it is nice to have that person to to be able to be able to rein you in and that's part of the strengths right right. The other person's strengths where we work together to create to create something big right? Put aside the ego, sir, you know, like,
Curt Anderson  32:57
alright, a lot to unpack right there and Damon your partner and I took What's wonderful is when you have a partner who is not like you, you know, you know, if you have a partner, it's just like you can get a little challenging you know, like you need you know, whether good cop, bad cop or what have you.
And so what's wonderful is like how these two have partnered up and just done such an amazing, amazing job a couple of things that I want to share real quick is so these guys are famous. So we're down in the Kenai Peninsula and I'm like and so I was doing this little presentation thing and you know, Damon you know I love doing presentations right I was little I was a little fired up yesterday.
Damon Pistulka  33:33
That's an understatement. When you think you think you think
Curt Anderson  33:36
he gets juicy on a webinar behind my computer right here like this is my computer like I don't have like those like fight like he has like five screens. I like this like they're seeing this is me in my basement. Like what you see, this is my basis right here. Right?
So but when I'm in person Damon it gets a little juicy. But anyway, that's another story. So I'm showing elevated oats everybody down the Kenai like oh we know Megan, we know Megan, you know, so then I'm showing swoop or like, oh, we know a swoop so I'm on the plane. I fly. I flew up from Chicago on Wednesday, right? Fuck me that flight went by like I can't get off fast. Right got here. No time. I'm sitting next to this woman.
We start chat and she was like, You're Jules. I'm a nurse. I'm like, Hey, by chance. You know, my friend Virginia. Lynn Peterson she's like, I don't know. I go. Let me show you her website. She knew some of your models on your. So she has all these nurses. So you guys need to go to read a lot. We got swoop you need to go to swoop where Smith's dot com right versus whoop.com. Ross, let's say I have not yet. Got a Facebook page. What's the your business apex? Well,
34:36
it's under Apex letterbox Apex Ladderback so what was the use of blue collar? Yep, that's my company and it's our product. Okay, first and
Curt Anderson  34:43
then we've got elevated oats.com So I need to get those in the comment section. So Aveda notes.com We've got my dear friend Ross with apex and then we've got where swoops and we want to check this out. But all right, Dr. Lewis, I want to come over to you so I got I was with Dr. Lewis was born. So yesterday I know that like, if I was Alyssa, I would have kept me as far away from her boss. Were you thinking was that you talked about risk, right? Like these guys. Entrepreneurs like that was really I was with her boss from five o'clock in the morning yesterday until like 630 Last night. And she still hasn't
35:18
gotten fired not Yeah.
Curt Anderson  35:23
Don't answer the phone today. Don't, don't check your voicemail. Man, her boss is amazing. Just man did we hit it off we had an incredible time. She her boss is Christie Bell. Chrissy is like, she runs this entire department that we're in. And she worships Alyssa, Alyssa talk about I want to talk about leadership for a second, then I want to talk about you know, from a military standpoint, you as an entrepreneur, as a nurse, let's talk about leadership.
So talk about you as a leader, and kind of like, you know, mentors, like what's kind of helped shape your career to get you to this point, how important leadership, mentorship, we're talking about, like entrepreneurs that want to create like a mentorship program, or some other kind of build your buddy system with like, with her Lacey. So just think about like that leadership, mentorship, accountability, what's that mean to you,
36:13
I think a big part of it and ring me in if I'm getting off track is being able to see the example and see someone else who has done it, they maybe they have some of the same struggles that you have, they're dealing with some of the same things that you are, and they're showing you that this is possible.
And you know, you bring up Christie, who I think is a fantastic human and, you know, mentor and role model and those sorts of things. I knew her before I came over here, and I was able to see her as an example of of what you could do, and where you could kind of grow both in your career and personally and always was and how you can balance the two and all those sorts of things. And so I think being able to see that example, and have someone who you can look at and say, Yeah, I can do that.
But also, you know, from that mentorship perspective and accountability, that they can also push you and encourage you and that sort of thing. And we were talking in the car this morning about Sammy Jo, and how fantastic she did yesterday. And I remember when we started, you know, talking about getting out from behind our computer screens and doing presentations and things like that, how how much you know, she was she was up for the challenge.
But the nerves were there big time. And then just a couple of weeks ago, she she did a presentation that was an hour long, very nervous about it. And then when it was done, after we planned it out and whatnot, she was ecstatic at how well it went and how that kind of confidence builds until you go to you know, one pop up, you do a trade show, and then how much easier the next one is.
She was a rock star yesterday. And so I think, you know, we're talking with startups, we're also a very young organization. So yeah, just trying to get out there and we're small and we're scrappy, and, and that sort of thing. And, yeah, being able to see those examples pull from others. And in talking with other folks down on the Kenai about needing to be able to see that example of I'm here. How do I get here? Who else who else has done this? How can we get there?
And, you know, there's not enough of a manufacturing community and Alaska, I think, I think within our communities physically, we have a nice sense of community. But in terms of one manufacturer on the Kenai being connected with someone else who's doing something similar up here, and, and that sort of thing, and being able to support each other and say, I faced that challenge before, let's you know, let me help you work through it, and we mentor you through it. We still need to build that. And we're still working on that, I think
Curt Anderson  38:43
yeah, and I and Damon, I got to see it firsthand. So again, like my admiration for she's so modest, like she's just a great leader. She put together an amazing event yesterday. And when he talked about building that community, you know, it was just in the passion that these Alaskans have for their communities for their state of driving success. It is just so contagious.
And again, her boss, just the way her boss speaks of Alyssa, her staff and like the leaders, and I'll tell you, we talked about this almost every week, great leaders develop great leaders, and Dr. Lissa is doing exactly that leadership on her team and with her clients. And you know, I got to see it firsthand. It was just absolutely amazing. Nice. I'm gonna run applause for Dr.
Damon Pistulka  39:31
encre creating this community here, you know, yeah. And in you know, you talk about scrappy, right? You know, you're not in the middle of the manufacturing heart of the United States and you do have to be scrappy and you have logistical challenges and you have other challenges that you got to deal with. But that doesn't mean you can't be successful. It just means you have to do a little differently and your community around you can help you and that is that is the cool part about it.
And the cool part about like Kurt, you know how you Stop being the best kept secret and figuring out how to get your products known to the world. You, you know, that's, that's the opportunity we have anymore. It's global. It's not just the US, it's not just the state or the community, and there's ways to do it. It's getting scrappy, and doing it like you're showing people there. So that's cool.
Curt Anderson  40:19
Absolutely. And I'd say like, the key word with leadership is what trust, right? It's like, you know, for a great, you know, we were talking about different situations or different work situations. And, you know, whenever there's a tough challenging lead, I'm sure you've had plenty of tough work situations, like maybe, you know, Damon, we've talked about it, where how many people to say, we don't leave, people don't leave companies typically leave a boss, right?
Or supervisor, you know, it's those relationships, maybe a toxic relationship. But you know, with entrepreneurship, it's, you know, you might not view yourself as a leader, like, Hey, I'm trying to sell widgets, trying to sell baked goods brah you know, these different products or solutions, but it's about leadership and earning that trust.
So playing my friend, let's talk about leadership. So leadership in your world, your space, like how you know, you've been a great nurse, man, Damon, how would you like be a nurse through COVID? past two years? How about Yeah, right here, man, like, being out in the trenches in the front. I'm like, I'm, I'm sitting with all these heroes right here. Like, what? What an honor this is, but let's talk about leadership over your career, like maybe folks that have like mentored you, you know, in your earlier days of being a nurse, like, how have you carried that into your entrepreneurial journey?
41:27
Yeah. Well, that's just like such a big question. You know, to answer it's like, it's a heavy one, right? Because there's been so many mentors in my life. And I think everybody, you know, it's, I think there's a saying that, what can you learn from everybody around you, right? That there's sometimes you just, there's this brief moment where you meet somebody, and you're just kind of like, oh, whatever energy doesn't click or whatever, but there's always something to be learned from one another.
So, you know, I'm gonna go way, way back, I've been pre nursing. Like, I honestly think leadership, one of the best jobs I've ever had was waiting tables, that I think it should be a requirement that everybody tables at some point in time, and mostly because you're a leader of that day, right? It is your job to make sure that everybody is satisfied, and everybody that's happy.
And you got to remember the Wakka moly, and the margaritas and, you know, everything's happening at once. So that multitasking that comes I think that was like a huge, even though, you know, I wasn't the owner of the restaurant or anything, but there was just such leadership that came with having that job. And that helped to make me a better nurse. And that helped to make me a better entrepreneur. Because all the skills that I gained back to that one job I had during my high school into college, it was just huge for me.
And I think now, as you know, being a leader of my own company, this last year, for me, what I've really learned is, is the delegation pieces that I can't do it all. And, you know, it kind of went into 2022 with my head down, knowing it was going to be a huge year, and that I was going to be super busy, a lot busier than I wanted to be, and to give up part of my personal life to do it. But all of that was to set me up for 2023. So I could understand better what it is I needed to delegate.
So I think for me watching others grow and watching what other companies are doing, and learning from all the things that NDP has had to offer and all the people you have thrown into my life talk about leadership that has like really helped me You know, I feel like we you know, Alaska with our changes season and I've made that's just everywhere, but you know, I'm already goal setting for 2023 and trying to get my delegation set up so I can begin that year as a better balanced and a better entrepreneur.
Curt Anderson  43:51
Yeah. I love that and what's great Lin one more question is you know, sit here and Ross says you know you're with Ross's right, and it's great like when you surround yourself with those guides or those leaders that can you know, like hey, that person's a little bit further ahead like Damon think about the first time you and I did a live stream and by the way, man I butchered I can't do a live stream without YouTube like it was just like Meghan and I I just I can't I cannot do a live stream without you so I did one with with Alyssa and Chicago.
And And Jeanette is a cross across like Kurt, we can't hear you we can't hear you unless there's like a Kurt. Just turn the volume on the microphone up.
You know, like, you know, then I'm on with Megan we're live I didn't know for live so I can't talk about it tomorrow. Keep working on it. Yeah, we need to. I need help man. I just need so much help. But anyway, so let's get into so you're with Ross hat but a lot of entrepreneurs that we were talking with yesterday, like they want to get out of just being that solopreneur Yeah, that on their you know, like how do I get my first hire?
How do I you know, how can I get beyond that happy stage. How, like any advice that you share? Like, you know, your I just might respect admiration for where you're at? How do you get from idea to like just a little bit of a side hustle a hobby to like, I'm starting to get some momentum like, I feel that I can turn this like, you describe that
45:15
persistence and patience. Nice, I think that is key is is that, you know, I will use a simple example, for my business is, you know, we do a lot of hand making and manufacturing, but trying to find somebody to cut fabric. Now, you may think that that is the easiest thing out there. But let me tell you how many people say so yeah, I mean, but that's just it, I just really identified that that's something I can't do anymore. We were way past me doing all the cutting and putting what we call kids to give to the people who do the sewing for us. That is something that I don't need to be doing and something that I can task out.
And I had one person doing and it didn't work out, hired, a second person didn't work out third, fourth, now we're on our fifth person in that role, and it's finally working out. But I think that that's just it. And whatever that example is for you being persistent and being patient. Because you when you know what it is you need to start delegating you just need to hold on to that and make it happen. Absolutely.
Damon Pistulka  46:21
Yeah. Yep.
Curt Anderson  46:29
saver. Hang on, I gotta check the pacemaker. Again. I know we're like, time. All right. All right, let's get over to my friend Ross Ross, my friend, guys, if anybody's just joining us, you have to connect the mic. I shame on me. I didn't, you know, I can't. I know, when I'm on yours. I can't add in here. So I can't drop everybody's LinkedIn profile here. But I would love for everybody to connect with these guys on LinkedIn, you will thank us later these guys are amazing.
They're incredible. If you're I know you've already figured that out. I'm being captain obvious. But we're talking about leadership. So Ross, let's talk about you know, your earlier stage of your entrepreneurial journey, talking about like, you know, your leadership, maybe mentors from the Marine Corps, you've talked about family dad, maybe in high school, like what are some mentors that you feel that are helping you at this stage that you that you feel that confidence coming into your entrepreneurial journey?
47:19
Okay, boy, I think that I'm surrounded by more mentors and ever realized, because I don't think I ever get some of the people that have kind of encouraged and helped me grow as mentors. Growing up, definitely my dad, just entrepreneurial spirit through and through, you know, he designed a product when he was probably my age and got a patent on it and tried to take it out. But it was a different world than you're trying to go door to door knock on, you know, and you don't know how connected you are to other people, when when you were saying that, you know, here's your strengths.
And here's where you know, you're weak. Well, he didn't know how to find the holes to fill in those weaknesses, and great product, but just didn't get a chance to get out there. So I see what he's gone and done through and I learned from him, you know, you say for parents more is caught than taught, you know, and I think that I really I caught more of his journey through that. And, you know, obviously his love and support now.
And now I'm getting that through, always through the through the military, you know, your seniors and mentors. But I am in just an excellent program through the through UA here and your business and public policy. And they have just welcomed me in with open arms. And since the school opened back up to life, yes, COVID. It's just been, every time I turn around, there's a connection event where you're meeting people in the public.
Just like I met Alyssa here and you guys now and it's just, I mean, in six months, I've met more people than I have in the last four and a half years. It's been that awesome on this on this entrepreneurial journey. It's been really incredible. So and when what am I learning from them everything I can't I can't pick one thing I just when I when I see how people interact in what they do. I'm just trying to take everything in and then apply what is applicable and hold on to what isn't currently Yeah. So
Curt Anderson  49:10
gosh, man. Damon, what a gift this is, you know, and I think wasn't it Mark Twain that said he couldn't believe how smart his father got when he left the house at 18. And he came back at 22 on how smart his father became right? Yeah, it's just you know, we all get a little smarter, more mature as we grow. And we realize like we had all this brilliance and wisdom of entrepreneurship ahead, you know, right at our disposal, but it takes us to age up and wise up to take it all in.
So I know we're coming into time I want to turn my dear friend Megan again, war hero. She was in the army for many years and now just a relentless entrepreneur with elevated oats. We're talking about leadership. Let's talk about how do you feel that leadership is a plug in to like from your walk of life, how it's playing into your entrepreneurial journey with elevated oats, whether it's with lacy vendors, customers, or suppliers, you now have staff. You're right. You know, it sounds like you guys had a very similar stage.
We're like, you know, I had a wonderful tour the other night notes and she's like, I'm not doing this task anymore. I have somebody comes in and does this. I don't do this anymore. She has odd she's she's an automation daemon. She has a bunch of machinery equipment now. So like things that she did by hand. Yeah. That Megan, because I could go on and on and how amazing that to you. Thank you talk about leadership from mentors. We talked a little bit the other night, but share that with us. Yeah.
50:33
Well, I would say like having military experience is so amazing. Because how, like, we're drilled, leadership is drained into us, right, like, from day one, that's just part of it. And the mission, the like, what leadership stands for, like, you're memorizing all of these things, you have integrity, right?
You're you're being taught, like, if you see something, pick it up. Because it's not just like leadership of other people or like these operations, but leadership of yourself. Having this self discipline, like, just taking my vitamins, like here in Alaska, the sun doesn't come out of taking vitamin D is very important people, if you're not taking it yet, start taking your vitamin D, right. But like, that's an important, like, I do that for me to have, like the most success that I can have. So I do that in all the areas of my life.
And that's just constant practice, constant training constant seeing people do it in front of you seeing what works, what doesn't work. Prioritizing, what are the priorities? But yeah, it's like, how can I make this successful? And we know that we're the driving, we have only so many people that are the driving force, if I'm not doing anything that's like one peg off of this wheel, like off of a truck, right? Going forward, you can't do that.
You have to have all these pieces. So we have to have self leadership to be able to say, hey, like, I'm overwhelmed. Right now, I can't handle this extra project to my people, even though maybe I'm like the boss, right? Like that's important for all of us to be on the same page of nowhere. We have to step up. Yeah, it's just constant training. And what's awesome, you met Cory, what's awesome is we've had Cory for a year now since like, year and a half.
He started as an intern. And then he like, was kind of an assistant and did some, like fulfillment for us. And now we have him as our kitchen, like, production manager, he handles all of the bakes, I'm like, okay, but it's been training. Something that was hard for me as an entrepreneur as being like, Okay, you're gonna do this position, but maybe they don't know how to, especially if you're a startup company, you have to hire someone that's maybe not gonna get paid as much.
You have to teach them the ways. We're also it's not going to happen the way you want it to. So I've watched him blossom into this leader. Now he manages the two part time people, I don't have to do it, which is amazing. And we'll get together for like lunch and learns. And he's like, Alright, guys, you've been here now for six weeks. I'm like, okay, Cory. Okay. I've seen that leadership also go into someone else too. And like, how they've grown. It's just, yeah, it's all connected. It's all connected. Yes.
Curt Anderson  53:32
So David, I know we're coming into time, man and man, this one over here. So you know, what was phenomenal is we were talking the other night, we had a great jam session, we're talking about strategic planning on a night What an honor and blessing privilege to be part of be just being part of this.
Just to be here in Alaska Damon, who thought that would even happen but you know, the talk about taking you know, let's take aways and then we'll wind down you know, the self discipline, what? The self discipline right integrity. We had a great line the other night member airlines the other night for what was it peace, happiness and profitability, peace, happiness and profitability, boy profitability really brings a lot of peace and happiness.
Damon Pistulka  54:15
Yeah, it helps.
Curt Anderson  54:16
So you know, big takeaway for today is don't be scared to be scared, right? Like when you said like, what's the worst that can happen? What's the worst that can happen? We were talking about Kara golden. Remember we had Carrie going on. Founder and CEO of hint water great, relentless entrepreneur.
She took an idea and turn it into a nine figure business, an idea into a nine figure business. So I know we're at two o'clock here. Let's I'm gonna go around the table we're gonna wind down parting thoughts, words of wisdom. Last thing that we want to leave for the folks here so Dr. Elissa Rodriguez mightier like buddy. Last words for entrepreneurs manufacturers out there. What are your last thoughts of advice suggestions, inspiration And that you want to share
55:01
I got so much from everybody else today and I really love that idea of of not not not like your stuff you which I think you know it's not it's not super unique you know I think we hear it a lot but I think it's worth a constant reminder and I also you know what Ross is saying about kind of having all that support around you I think when you can when you can find your people you feel supported and then taking those risks and doing the scary things don't seem as scary. So yeah, find find your people I'll do that one find your
Curt Anderson  55:34
people find your find your people you know, and I you know, we're just meeting Ross but these guys are big adventurous hikers and just you know, you go out on a hike but you know, for by yourself, you know, you might be a little bit more, you know, timid, but boy you know, if we're out together like you know, hey, Liz, you got an acre come on with Scott, you know, like, it's rooting each other on words of wisdom inspiration,
Alyssa Rodrigues  55:53
you know, I'm gonna just tag on to that reach out to the MVP and the SBDC if you have an idea and you just can't really figure out how to put it together I can't express enough like there is no way I would be sitting around this table with such amazing people if it wasn't for you guys.
And I know this is MVP MVP sponsored and I don't mean for it to be such a plug but I can't tell you enough like I truly they have had so much great hand holding and that feeling of that's kind of been a theme that not being scared and the hand holding like you're not alone these people this is what their job is is is to help handhold us and to help get our ideas out there so just know that there's people out there
Curt Anderson  56:32
people out there Ross my
56:34
friend words of wisdom I think I'll keep piggybacking one on today's
56:37
why not
Curt Anderson  56:38
now dropping it why not you right? Yep, morals not a day of the week is it Damon?
Damon Pistulka  56:51
No it's not Oh, Kurt comes off of the one
Curt Anderson  57:00
tomorrow that's not mine. That's not mine somebody words of wisdom parting thoughts for our our loved ones out there.
57:11
Day one or one day Oh, that's a good one. Here we're doing daily things so you know. You wonder one day
Curt Anderson  57:25
David Damon, dude, what I don't know what I did. Was not this life. I don't know what I did in a previous life to deserve this moment this opportunity that these guys it was something from a previous life because this life definitely didn't deserve this so I can't describe what an incredible blessing What an honor what a privilege week have run a lot but the love the respect that I have for these peeps right here.
And just my new bestie down at the end and table here. This one over? Yeah, this one over here, man. She's changed my life. She has been on record. We're on live. YouTube design Twitter, dude, I'm telling you, you I cannot express my gratitude. I don't have words for you. You are so high. Damon. We're gonna have a big love fest. We're gonna I'm taking these we're gonna go out to lunch get some Alaskan seafood or something. So yeah, my friend. What do you got out there? Dude? What's that? What parting thoughts?
Damon Pistulka  58:20
What do you what do you what do you what do you know? I'm just Hey.
Curt Anderson  58:25
I need to do this every Friday.
Damon Pistulka  58:27
I'm here with Yeah, I think so. I think it'd be great. But I'm just saying I'm with you. I mean, Dr. Lissa, thank you so much for everything you guys are doing there for manufacturing. I just want to say thanks to the MEP is across the United States.
I mean, I just get just so fired up to see how much they're helping people develop their ideals help manufacturers get better be more competitive globally, in in the United States because, you know, manufacturers where the cool kids are common. If you're out here already you're missing out and we're just trying to show that to other people and I feel blessed that we get to do that. Because this
Curt Anderson  59:08
so Damon you know what so I so I'm I don't know if you guys know that so I'm 53.999990 Dude, what am I spending my birthday tomorrow with? Hmm, that handsome guy right there that I get to hang out with with Zeeman and his wife so Daymond brother, I'm coming at you tomorrow with your how's that? So? Alright, so hey, our tagline are closing be someone's inspiration.
My goodness gracious if you guys if you weren't inspired today, man, we we need to check your pacemaker. Right so this is awesome. What a gift. So Dr. Alyssa Thank you, Leigh. Thank you. Ross. My new bestie this one right so uncle Kurt's closing out So alright, Damon, I'll see you tomorrow, brother. God bless everybody be someone's inspiration just like these amazing people
Damon Pistulka  1:00:03
thank you thank you from the Alaska MEP thanks to all the entrepreneurs we got in the room
1:00:09
okay I was with candy yesterday candy today
Damon Pistulka  1:00:11
yeah coming up we got Alan we got Molly Molly setting up a trade school look at that look you've got everybody else that's that stopped on
Curt Anderson  1:00:24
the road can I give candy Big hug yesterday man got to meet her it's just just jamming together for ages we get to meet each other in person. So Damon I know you.
Damon Pistulka  1:00:37
Have a great day everyone. We will be back again next week with another manufacturing ecommerce success series show. And who knows? We might even have Kurt live on the street somewhere else. Who knows where you know we're
Curt Anderson  1:00:52
instead of Where's Waldo? Where's Kurt right now? We're gonna do later
Damon Pistulka  1:00:58
everyone. Wherever you are out there. Have a great one.
1:01:01
See ya brother.
Schedule a call to discuss your business goals and answer your questions on growing business value, preparing for sale or selling your business.
Related content
These posts may also interest you
Partnering with IMEC for Manufacturing Success
If you want to get your long-term strategy tuned up, listen to this MFG eCommerce Success show to hear Dorie Clark share how long-game-strategic thinking can help you achieve monumental goals.
Driving Sales Growth with a Clear ROI
If you want to get your long-term strategy tuned up, listen to this MFG eCommerce Success show to hear Dorie Clark share how long-game-strategic thinking can help you achieve monumental goals.