Creating Extreme Growth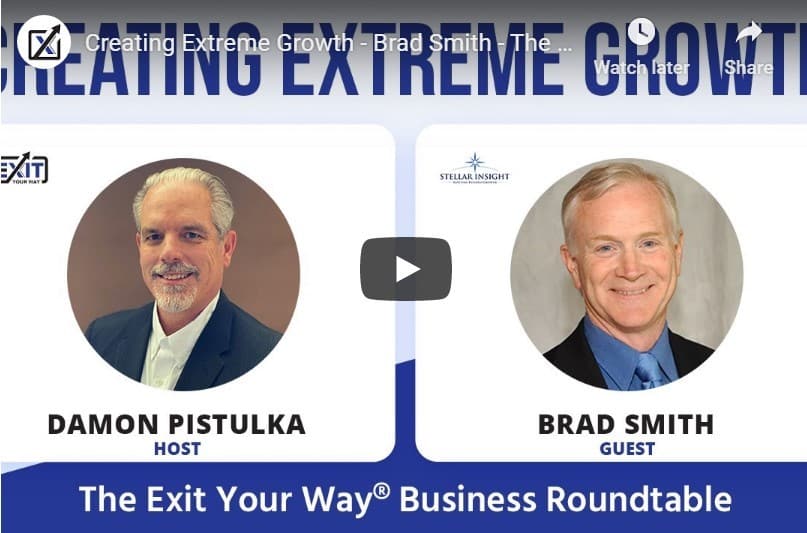 The Business Round Table
Creating Extreme Growth
Brad Smith and Damon Pistulka talk about how Brad helps businesses in creating extreme growth.
For over 20 years Brad has been coaching business owners creating extreme growth in their businesses.  He is a skilled business growth consultant, CEO and executive team coach, and facilitator for strategic thinking-planning.
Brad works with executives and companies who are ambitious, curious, and courageous enough to want more more for their company, and from themselves with less effort.
Download our free business valuation guide here to understand more about business valuations and view our business valuation FAQs to answer the most common valuation questions.
Brad is particularly passionate about companies poised for significant growth, executive suite culture renovation, for magnitude leaps, and honing executive effectiveness.
Brad discusses how his goal is always to facilitate "Adding a 0" to the top line revenue.  He has the pleasure of coaching businesses who have created extreme growth of 100%+ growth for years.  His knowledge and passion for creating extreme growth is evident in our conversation. So is his passion for teaching and helping others grow with the right method.
For Brad, being successful is not just a matter of numbers, but involves a complex performance that starts from the most human to the highest metrics.
Do you want to know if your business is ready for your exit or what you should do to prepare? Learn this and more with our business exit assessment here.
Schedule a call to discuss your business goals and answer your questions on growing business value, preparing for sale or selling your business.
Related content
These posts may also interest you
Developing Annual Net Income Projections
In this week's Exit Your Way Roundtable our guest speakers were Andrew Cross and Damon Pistulka. Andrew and Damon are the Co-founders of Exit Your Way.  Exit Your Way helps business owners build businesses that provide more money today that they can sell or succeed when they are ready.  Today we are discussing the final part in building annual projections.  Estimating the fixed costs and calculating the projected net income.
Developing Annual Projections
In this week's Exit Your Way Roundtable episode, our speakers were Damon Pistulka and Andrew Cross. They are the Co-Founders of Exit Your Way. The conversation of the episode started with Damon sharing the topic of this episode.  Damon and Andrew help their clients build businesses they can sell or succeed.  Developing accurate projections is a big part in building a successful business.
Annual Strategic Planning and Projection Development
In this week's Exit Your Way Roundtable episode, Andrew Cross and Damon Pistulka covered the steps business executive teams can use to perform their strategi planning for the upcoming year.  This episode is the first of a 3-part series where Andre and Damon will cover strategic planning, projection development for variable costs, and projection development for fixed costs to project the net income.