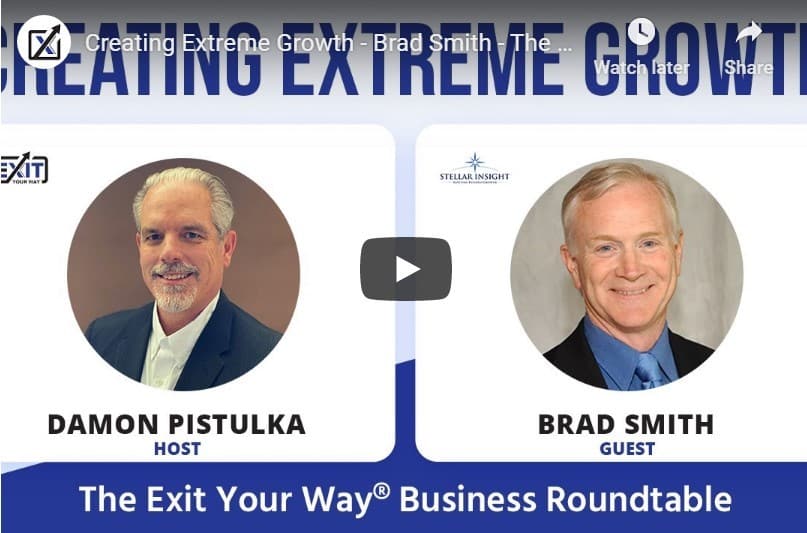 21 Mar

Creating Extreme Growth
What We'll Talk About:
Brad Smith and Damon Pistulka talk about how Brad helps businesses in creating extreme growth.  Brad discusses how his goal is always to facilitate "Adding a 0" to the top line revenue.  He has the pleasure of coaching businesses who have created extreme growth of 100%+ growth for years.  His knowledge and passion for creating extreme growth is evident in our conversation.
Our Guest:

Brad Smith
For over 20 years Brad has been coaching business owners creating extreme growth in their businesses.  He is a skilled business growth consultant, CEO and executive team coach, and facilitator for strategic thinking-planning.
Brad works with executives and companies who are ambitious, curious, and courageous enough to want more more for their company, and from themselves with less effort.
Brad is particularly passionate about companies poised for significant growth, executive suite culture renovation, for magnitude leaps, and honing executive effectiveness.
About Exit Your Way®
Exit Your Way® provides a structured process and skilled resources to increase business value 2X+ and get businesses sold.
You can find more information about the Exit Your Way® process and our team on our website.
You can contact us by phone:  822-BIZ-EXIT (249-3948)   Or by Email:  info@exityourway.us
Find us on LinkedIn:  Exit Your Way®   Damon Pistulka  Andrew Cross
Follow Us on Twitter: @dpistulka  @exityourway
Visit our You Tube Channel: Exit Your Way®
Service Professionals Network:  Damon Pistulka
Facebook:  Exit Your Way®
Share the post "Creating Extreme Growth"