Digital Self Serve Solutions for Manufacturers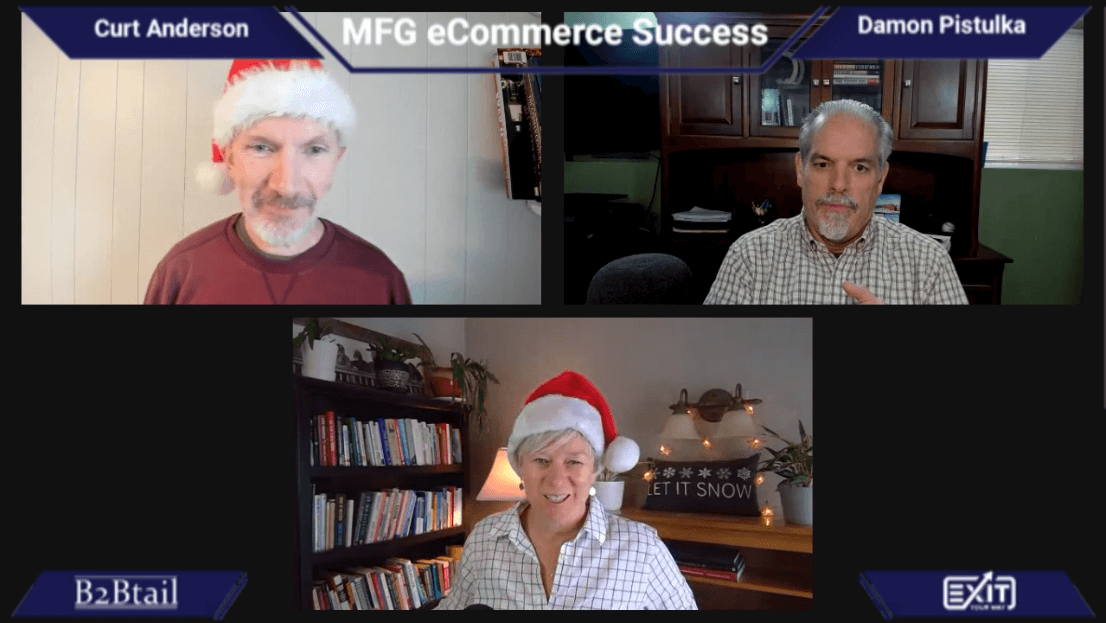 MFG eCommerce Success
Digital Self Serve Solutions for Manufacturers
If you want to learn more about the digital self-service options available to manufacturers, listen to this MFG eCommerce Success show, where we talk with Kristina Harrington, President & Co-Founder, GenAlpha Technologies, about the current state of digital self-service options for manufacturers looking to make it easier to support their customers better.
Kris Harrington founded GenAlpha Technologies after her experience operating in the heavy equipment sector showed her a need for better digital ecommerce solutions for equipment manufacturers. Kris and the GenAlpha team developed Equip 360, which helps manufacturers give their customers robust digital self-service options.
GenAlpha Technologies partners with original equipment manufacturers and aftermarket organizations to support their digital commerce journey. GenAlpha offers an eCommerce solution with digital 2D and 3D interactive parts catalogs, RMA, Warranty, and Product Configurator tools, Equip360 supports all aspects of equipment support and maintenance.
Download our free business valuation guide here to understand more about business valuations and view our business valuation FAQs to answer the most common valuation questions.
Damon and Curt open this show by exchanging pleasantries and discussing their Christmas preparations. Curt and Kris Herrington wear wonderful Santa Hats that spice the Christmas mood up. The host wants to know, as a little girl growing up, who Kris' hero was.
The guest replies that she holds two women, her heroes. And two of them happen to be her grandmothers, Agnes and Margaret. They were called "Milwaukee grandma" and "Up North grandma," respectively. They are Kirs' heroes because they "fought for everything that they had with love, grit, and resilience."
Curt requests Kris to talk about a BROADcast for Manufacturers, the latter's podcast.
Do you want to know if your business is ready for your exit or what you should do to prepare? Learn this and more with our business exit assessment here.
She comments that BROADcast creates links "that brought us all together." She personally thanks Curt, "even though we're all in the same state, we may not have come across as early as we did without you." They were interested in a show about coopetition. They recorded a few episodes based on "interesting conversations." She stresses that coopetition is the foremost intent of BROADcast.
"It had a good response." They release two episodes a month. It has "three broads" (hosts), also known as "the Three Wild Women of Wisconsin." They talk to guests about the manufacturing industry.
The host invites Kris' comments on GenAlpha Technologies. He wants her to talk about the factors leading her into US Army and later into a corporate career.
Get the most value for your business by understanding the process and preparing for the sale with information here on our Selling a Business page.
She answers that before entering the US Navy, she was a student-athlete–a basketball player, to be exact–in high school. One of the Wisconsin manufacturers, Brady Company, annually awarded banquet dinners to the athlete of the year. When conferred with the award, Kris "got to sit in a manufacturing environment."
Resultantly, she decided to take the non-traditional route. Instead of going to university after high school, she worked in a warehouse at a manufacturing company.
Later, she served in the US Navy as a machinist. She studied in Great Lakes, Illinois. She was stationed in Pearl Harbor, Hawaii, and Norfolk, Virginia.
When she returned, Kris started working as a CNC operator at the abovementioned manufacturing. She kept switching companies and kept assuming more challenging roles. She went to Marquette University to complete her education.
Kris started working for Bucyrus International, a large mining equipment manufacturer. She worked in the aftermarket area, helping to sell equipment. She has lived and worked in Canada, Brazil, and Peru on official assignments. Later, Bucyrus International was acquired by Caterpillar. It was the largest acquisition that Caterpillar had ever made.
Kris was on some business plans for aftermarket teams and equipment manufacturers. "And that's what led us to found GenAlpha."
Curt wishes to dig deeper into GenAlpha and its successful operations. He asks the guest to talk about it.
Kris attributes her company's success to her teams. She believes that workers are as important as family. Building trust and compassion are essential to motivate them for arduous work. Aftermarket can be a thankless position. Clients need parts and components because a machine has broken down. In mining, "shovel down could be $100,000 lost an hour, on average."
Kris and her team fought to change or do different things through the more challenging times. She has been battling and celebrating wins for the last eleven years. She shares her findings and tips. "Surround yourself with good people and believe in your product." Moreover, "be iterative about the process of building the solution."
The guest talks about her first client, Milacron, "and they are still our customers today." They are plastic injection molding machine manufacturers and have machinery all over the United States.
Curt asks Kris to talk about leadership as she is "leading the charge on ecommerce for manufacturers with GenAlpha. The guest believes that the leadership paradigm has shifted from centralized to decentralized. Similarly, a radically new leadership model emerged during the Covid-19 Pandemic. Although she doesn't name the terms specifically, she refers to transformational leadership.
The host shows interest in knowing how GenAlpha's solutions have helped aftermarket configurators, helping make the world a better place.
The guest reveals that Gen Alpha has developed software enabling digital self-service for equipment manufacturing customers. It offers support to them with aftermarket purchases. It provides them with critical information about the machinery.
She explains how product configurators work. These configurators are used to design a piece or complete components of the equipment. Similarly, customers can use them to go through the equipment options.
On dedicated portals, dealers and customers can log in to the website, which displays complete information about the different models of machinery and equipment alike.
Since Kris's customers usually work on-sight, Damon suggests that she should introduce a mobile app for her services.
Kris is a gem of a person on humanitarian grounds as well. She runs a campaign in favor of Feeding America and donates $100 on every demo view. "We are Feeding America for the holidays."
Damon relates that over the years, maintenance and purchase have changed dramatically. Now we can get support in a few clicks.
Meanwhile, Kris walks the audience through the interface of their website. She gives a demo of the Equip360 solution and searches for a product by its serial number. She shows how GenAlpha helps manufacturers repurpose their bills of materials, 2-D and 3-D information, and technical publications. Moreover, they also make documents live and digital for customers.
There are notifications designed to make sure that they are accessible for the customer to handle things on their own. They can convert an Excel document into a PDF for later use.
Kris underscores the importance of coming into touch with our customers, "don't assume that you know your customers." Similarly, she unravels the myth of the customer-company relationship. Customers "don't want a relationship to check the status of their order." They do not need a connection to get product pricing, availability, or tracking information. They want companies to be available when they encounter a complex need.
Kris' piercing insights into manufacturing, aftermarket, and customer impress Damon and Curt. Before the curtains fall, they thank the guest for her precious time and wise words.
SUMMARY KEYWORDS
chris, manufacturers, damon, customers, people, manufacturing, harrington, solution, product, talk, gen, alpha, world, wonderful, serve, aftermarket, equipment, digital, order, dealer
SPEAKERS
Damon Pistulka, Kris Harrington, Curt Anderson
Damon Pistulka  00:01
All right, everyone, welcome once again it is Friday and what does that mean? It means it is manufacturing ecommerce success. And oh, are we filled with holiday cheer here? Yes. I'm one of your co hosts Damon Pustaka. And that handsome guy right over there in the Santa hat Curt Anderson, and I Kurt's gonna take it away.
Curt Anderson  00:21
Damon Happy Friday brother man it's already like what is it December 9 already something like that. I'm not I know we're already done with our Christmas shopping so I heard that shopping days are last you know but hey guys Bob feathers is here Dan bigger in run time today dude.
So Happy Friday everybody. Man we have a blockbuster today Damon no fooling around like we're gonna dive right in. So those are gone. We got it. We have a ton to cover. What an honor. What a privilege. This is a repeat guests here. Damon. I'm not sure how many times but man is never enough having Chris Harrington on the show. Chris, my friend. Happy Friday. How are you?
Kris Harrington  01:02
Oh, hello. I am wonderful. I love intros like that. Can you guys just go with me wherever I go. That's just so so nice to hear. It's so good to see you guys
Curt Anderson  01:12
will be your entourage. We'll be like the backup singers Chris, you know, like, I don't know, David, that might be for another time. But alright, guys, happy Friday. We're here with Chris Harrington, the president co founder of Gen Alpha technologies.
And she's not a secret to anybody here. So but if you're not familiar with Chris, if you're new to us, boy, please drop a note in the chat box. We'd love to know that you're here. Love to have connect with you. Most importantly, we want you to connect with our dear friend Chris Harrington. From Jennifer technologies. Chris, we're going to cover a ton now. I know you're a repeat guests. We've been on here. You've been on here multiple times.
Boy, we geek out hard together. We have so much respect admiration Damon, I could I like Google wonderful. And I had to go to the source. Like get the whole list of everything that we would say about Chris and yeah, because amazing integrity, authentic, fun, funny, wonderful, amazing. Just a blessing to all of us in the manufacturing ecommerce community. Chris, my first question for you today, my friend. Okay, who How did this person become so wonderful. So as a little girl growing up who was your hero? Who was your hero growing up as a little girl that just brought this wonderful Chris Harrington to us in our world?
Kris Harrington  02:29
Oh, what a great question. And I feel the same way about both of you. So it's right back at you. But um, I cannot select one, I will select two because they are my grandmother's major influences in my life, to women who fought for everything that they had with love, and grit and resilience and just really loved me and made sure that I knew in the world that I was cared for and that I was capable.
And they were definitely my shining light. I would say I was lucky enough to have two and a really good relationship with both we called one Milwaukee grandma and one up north grandma. So we were either headed up north to see one or she you know, Milwaukee was here with us all the time. So definitely my heroes. Well,
Curt Anderson  03:25
what a great answer. And so God bless grandma's Can you and how about names? What was grandma Milwaukee's? What was her name?
Kris Harrington  03:32
Agnes,
Curt Anderson  03:33
Agnes. And how about up north? What was grim up north?
Kris Harrington  03:36
Margaret,
Curt Anderson  03:37
Margaret eight, neither
Kris Harrington  03:38
of them like their names. I don't know if that's something just traditionally with older women I've never really asked but I know that neither one of my grandma's like their names, but they really like to be called grandma, for sure.
Curt Anderson  03:52
Awesome. All right. So we've got grandma up north. We've got grandma Milwaukee. Absolutely love it. Great answer, man. We got to chatbots is going Christina. She says it's like being on Letterman. And Dan. Thank you. He's remind me to breathe. You know, I get a little worked up. I get a little excited when we have these wonderful guests. Bob says www. You know what, let's go right there, Chris.
You know, I was gonna save that for later. Let's just dig right into wild women of Wisconsin www let's talk about the broadcast. I was going to save that towards the end of our conversation. Let's go there right now. Our dear friend Damon, Laurie. Hi, B we have Aaron Courtney. Boy, just two Rockstar friends of yours. You guys have come together and you have a great podcast called the broadcast. How did this whole thing come about? And talk about your your new exciting broadcast?
Kris Harrington  04:39
Yeah, well, I think you are probably one of the links that brought us all together. So you know, we have to thank you for that. The wild women of Wisconsin, even though we're all in the same state, we may not have come across as early as we did without you. But it was interesting. You know, we had all kind of heard about each other. We had had an individual one on ones. And we were interested in doing a show about coopetition. So we decided that there were some interesting conversations that we thought that there were had there were to be had out there.
So we recorded a few episodes. And one of them was about this coopetition that people could actually come together and learn from each other and grow together. And maybe in some situations, you might be competing, but really, in the end, you're all making each other better. You're making the world better, you're giving better information to the community so that they can make new and better decisions. So we did those first three episodes, and we had a blast. We enjoyed it so much. It had a good response. And we said, let's turn this into something more.
So we do two, we released two episodes a month. It is called a broadcast for manufacturers. It's three broads. And we talked to all kinds of different guests about the manufacturing industry. So yesterday, we recorded an episode with Matthew Brody. Very interesting gentleman, he helps entrepreneurs, basically turn their ideas into reality. I won't tell you too much more. That's going to be a show that will be released in January. But we're having a lot of fun meeting a lot of different people. And we're the three wild women of Wisconsin because we're all located here in Wisconsin.
Curt Anderson  06:26
Well, there's a lot of manufacturing a lot of passion going on in Wisconsin, so there's no surprise. And again, Lori hierbij just wonderful, fierce marketer, she's a great hockey player, right in Milwaukee. Erin has, she's with earthling interactive, great ecommerce firm.
And again, today we're going to take a deep dive into Gen Alpha. I'm a raving raving fan of what you do your amazing team at Gen Alpha. Before I go there real quick. I know you've been on the program few times we've covered this. I'm going to hit it again for new folks out there. You are a hero to me. You served our country proudly, Chris, can you talk a little bit about so you had great grandma melt Milwaukee was a wonderful influence. You had Graham up north was a great influence. Talk to us a little bit about your path of serving our country, and then how you lead into your corporate career?
07:14
Sure.
Kris Harrington  07:16
Well, it's interesting, I'll start a little bit before entering the US Navy, and that was that I was a student athlete in high school. And in our local area here in Wisconsin, as you mentioned, there's a lot of manufacturing here in Wisconsin.
But there's a manufacturer wh Brady company, who each year awarded one female and one male student athlete who's a Senior with a banquet in a dinner and they call them the athlete of the year. That was an award that they gave. So I got to have this fantastic meal inside a manufacturing environment. And Coach K was our speaker. How many years ago? Let's not count the years. But Coach K was a first who was the speaker and I'm a basketball fan. I played basketball at the time.
So this was huge for me. Wow. So I got to sit in a manufacturing environment. And you know, at that time, I kind of felt like manufacturing chose me. So I'll bring that up later in the story. Yeah. So then, you know, I decided to take the non traditional route. I did not go off to university directly after high school actually, I worked in a warehouse in a in a manufacturing company for a little while. And then I went off to serve in the US Navy and I was a machinist mate. You know, I studied here in Great Lakes, Illinois, I had mixed gender boot camp. In Orlando, when I did my boot camp, I was stationed in Pearl Harbor, Hawaii.
And then I also lived in Norfolk, Virginia for a little while. And when I came back, it was time for me to figure out what I was going to do. And at you know, I just remembered that this manufacturing company had chose me before maybe they would choose me again and I went and applied. And so I started working, I was a CNC operator, I worked third shift, I work second shift.
So I've been around manufacturing, you know, so before I ever went to get my education, and start as a financial analyst, then hired by Bucyrus International, I've had all of these opportunities to really be in the warehouse Biana on a ship, you know, fixing boilers and, you know, doing different safety tests, and, you know, lockout tagout, and all the different things that you learn. Again, these are very many years ago, but as you you get me talking about it, I just kind of think about that history.
So when I finally did go to Marquette University and I got my education, that's when I applied for, you know, an in office position. I started working for a company called Bucyrus into National. So if you guys aren't familiar with Bucyrus, we were a large mining equipment manufacturer, we manufactured equipment that was used globally in minds. I had an opportunity to live and work in Canada, Brazil, Peru, and I traveled to so many countries throughout my career, really working in the aftermarket area and helping to sell equipment. And we were acquired by Caterpillar.
So the caterpillar acquisition was, you know, pretty big for us at the time, it was the largest and still is the largest acquisition that caterpillar ever made. And Caterpillar was kind of already going down in E commerce path. They had this design something and had a strategy. Of course they would they're very large organization. They know that they need to meet the needs of their dealers and customers. So they were working on something. But we also had these plans back if you Cyrus international that we never got to roll out. We just had built a business case.
And we had these ideas that we had put together, but we had never implemented them. And you know, Caterpillar was moving down their path. So we all rolled into the caterpillar organization had different careers. But one day, we said, is there something in that idea we had at Bucyrus that might be valuable for other aftermarket teams and equipment manufacturers? And that's what led us to founding Gen alpha. And what brings me here today. So if that's the backstory, hopefully a short period of time. It's a long
Curt Anderson  11:40
story. We're sticking to it, man. That all right, Damon, let's unpack a few things right there. I first off a couple of people out there. Diane is with us today. Diane, happy Friday indoors here today. Happy Friday to you. We've got Whitney, Bob. Dan, anybody out there? Boy, thank you for joining us today. drop a note in the chat box. Let us know that you're there. Most importantly, boy connect with Chris, I want to unpack a few things. So Chris, basketball player, that was your sport? Is that what you said?
Kris Harrington  12:07
Yeah, well, soccer and basketball,
Curt Anderson  12:11
soccer and basketball. Wow, who knew? Daymond Did you know not only all these other amazing things about Chris Harrington. Super, super Harrington, super star athlete. Yeah, that little new information here. So what a great story. Coach K. Yeah, your rockstar athlete. Appreciate your humility. Thank you for sharing that with us. Coach K's your speaker, it's Adam manufacturer, and you are hooked.
You go off and serve our country proudly served all over Pearl Harbor, Virginia all over the place, then you take on a corporate career with manufacturing, you've served once again, all over the country or all over the world, literally all over the world. And so you guys come together, there's like a little this this pack of rockstars, right? And you look at each other and say, Is there a solution or an opportunity?
Chris, take us there. If somebody's out there, like, you know, hey, I would love to launch my entrepreneurial journey. You had, you know, your civil servant, you know, served our country, corporate career, that's a big leap of faith going into entrepreneurship. And entrepreneurship is not for the weary. Right? What was it like when you talk walk us through that step? And then we're gonna go, we're gonna take a deep dive into Gen alpha, but talk to us about when, like, when you stepped away from the corporate umbrella and the steady paycheck, like walk us through what was that? Like? Yeah.
Kris Harrington  13:36
Well, I think, you know, certainly for me, I was surrounded by an amazing team. And you know, who knows if I would have ever done it had I not been with that amazing team. It's, you know, I am a co founder, there were other founders that were I was surrounded by. And these were people that I don't know, you know, I'm sure this is true. Just that. And I know it's true in just the manufacturing environment in general, but then you you reduce it to mining.
And these people that you work with, they are as important to you as your family. So you build trust, right? There's just so much trust, there's compassion for what you do. You know, all of us did time in the aftermarket. And I say did time because sometimes it can be a thankless position. Anybody out there I understand. Nobody's happy, right? People need parts and components because a machine is down it needs to get back up and running and needs to produce in mining. shovel down could be $100,000 lost an hour, on average.
Yeah, you know, so this was we just went through battles together, and we celebrated the winds. We fought through the harder times to make change or do different things. So I really think that surrounding yourself with a good team heme or having a good community around you, maybe not everybody is going to be building something that requires more than a single individual, maybe you are the single individual.
But I would definitely tell you to be networking, networking with a community that Damon and Kirk have built, to feel that love and to be surrounded by people who want to lift you. Because I think belief is the only way you're going to turn an idea into something that you can actually sell, you have to have passion behind it. And still, you know, selling is the most challenging thing you're going to do in your business is to get somebody to buy your idea.
And, you know, I can say that it was a lot easier on the aftermarket side, because people owned our equipment, they were operating it out in the field, they needed parts from us. So they were calling right. When we started Gen alpha, nobody was calling. So we surround ourselves, yeah, people that could help us navigate through that. So you know, I think I'm covering on a few of the different topics. But really, in a technology company, you have to take your technology idea and build it into something that works.
And that was something new for me to have a product that's digital, and it's operating in Wi Fi, and you can't touch it other than touching your keyboard and moving through different things on a keyboard or a mouse or your phone with your finger. Right? That's a very different thing than building a product in the factory floor where I can take people for a tour. And they can see me building all of the different pieces and components and parts and assemblies that are going to build this thing that you know that blasts in the mind, or whatever it is.
So you have to go through the diligence of hat defining exactly the scope of what you're trying to create. And remember to take baby steps, you are not going to, you know, what do they say eat the elephant all at once, right you have. I don't know that that's a really good description, but you know, take the baby steps, test your product, and then bring a next feature next enhancement.
And we've kind of been doing that for the last 11 years. So surround yourself with good people believe in the product that you're going to create that it can help people because that passion is going to take you know that there is truly a problem that you can solve. And then, you know be iterative about the process of building the solution, or the service that you're trying to create for others. You don't have to do it all at once. Those would be some of my tips and learnings.
Damon Pistulka  17:52
So when you Yeah, I know you just miss God. There's so much right? No, it's long way and it's like Yeah, yeah,
Curt Anderson  18:00
just all right. Hey, just gave her that for like one. All right, Chris. Dude, dropped the mic like half a dozen times. Right. Damon Sidon? Yeah. Go ahead. Because we have we're gonna pause there, Chris, because we have quite a few things on pack. I know, it sounds like we're glitching if we're
Damon Pistulka  18:17
dropping, I'm dropping the YouTube link in in, in the post here.
Curt Anderson  18:24
On a miss. But brilliant. Yeah.
Damon Pistulka  18:28
So there's a bunch. Like you said, where do we start? But I'm gonna drop the link to the YouTube right here. And I think we should be ready see if I can get it here. And but back again, building a digital product when you're when your use of physical products. How big of a deal was that? Getting used to that? I mean, the process the whole because you're Is there a back behind Colton, right and see anything?
Kris Harrington  18:58
Well, yeah, and I was a person that, you know, if my computer didn't turn on, I call the help desk. I turned it off. I turned it on. And I was calling the help desk like I don't know something's not working. So you know if I can do it, anybody can do it.
Curt Anderson  19:12
And by the way, she's now president of a e commerce company. So guys, I God Chris, we have so much I know. If you feel like man, I just don't know. Like, look what the humility because like I had to turn my computer on and off. She's now the president of cutting edge e commerce firm. Chris, please continue.
Kris Harrington  19:33
Yep. Yeah. So you know, it is I mean, we have a great we have a great technology partner to that we we worked with that helped us you know, they had to help us. And we had some learnings, you know, when you I guess, again, similar to a product that's physical, you have bugs, right? Sometimes things don't work or they break well and that's what happens in technology is that you means to add the part to your cart.
And when you get to the cart, additional information is supposed to appear as well. And maybe that additional information doesn't appear. So then you have to go back. And you have to write a note that the expectation is, you know, the user experience. So I had to start writing and our whole team had to learn to describe things from the user experience perspective. And this is all agile. So we use agile methodology in our development here at Gen alpha.
So we had to all get really comfortable with agile and learn how to write agile stories. So we could describe the user experience and then go back and test and, you know, in every implementation we have has a QA environment, where we do testing has a UA T T environment where our customers have user acceptance, the area where they get to test and then we have the production environment. So we're managing three environments for our clients to make sure that it's always performing at 99% availability. Right, so yeah, we had to learn all of this.
Damon Pistulka  21:05
Yeah. It's so different. It's so different.
Curt Anderson  21:09
Apples, oranges. So here, you spent a career selling product, you know, massive products, and now you're going to technology. Who was your first customer
Kris Harrington  21:19
our first customer was Mila Kron and they are still our customer today, plastic injection molding machine manufacturer, they have machinery all over the United States. You know, injection molding machinery is very popular, you probably wouldn't even realize how many different places are using those tools to create products that we come in to contact with every day. So they invested in and believed in our product and our solution and they were the first customer. Cool.
Curt Anderson  21:53
Okay, I'm going to slide I'm going to slide off to I'm going to go a little different direction here Damon for one minute and I am going off script Chris, I want to talk to you about I want to talk about leadership okay? So again man my respect admiration for you every time we talk it just it just grows and blossoms you're just such a gift to us. So great athlete so again, I'm sure you had great coaches you had you know if you guys missed it, we had grandma Milwaukee, Grandma up north great heroes, leaders, you know, just kind of paved the path showered you with love.
I'm sure you had have great teammates, wonderful coaches, you got Coach K spoke, spoke at your event. I'm sure like, you go into the military, I'm sure you had great leadership and mentors, corporate career mentors, I now view you as just a great leader I respect and admire you, I saw your posts. I'm like, you know, like you just you give such a great positive energy to everybody. Talk to talk to us a little bit about like, what's contributed what's helped you be a better leader, as you're leading the charge on ecommerce for manufacturers with Gen alpha, who and what kind of like is molded and help your leadership style?
Kris Harrington  23:03
Well, thank you for that. That was very, very kind. Um, well, again, it's been the people around me, but I will say I have had this real desire to help manufacturers. So I believe we are in a new phase, right? There's a shift. When I was in manufacturing, what is available today wasn't available, it just wasn't the way that we operate.
It wasn't the expectation, it wasn't the need, because we didn't know that it was available or wasn't quite yet available. And I truly believed, I believe today, a shift is occurring. And if we don't do something to advance, a lot of companies are going to get left behind. And, you know, I can rattle off some facts, like 72% of our current customers are already on their second or third generation of a solution. So their replatforming
Curt Anderson  24:09
reprice, they have they already
Kris Harrington  24:11
decided to do this many years ago. And they've upgraded now to our solution. So they're already doing the next iterations. And these larger companies are going to keep eating up the smaller ones. If they don't keep their market share, they don't fight for their position, they don't get a chance to demonstrate the value that they bring to the world if they don't implement these solutions to keep themselves relevant.
So I almost feel so I can tell you that because we were thinking about this so many years at Bucyrus. We never believed it would take this long for people to adopt this type of technology. I would say about 80% of our pipeline today is filled with manufacturers who have never done e commerce right so you and some of them have we've been talking to for multiple years, and they still haven't pulled the trigger. Now they have their reasons, there are priorities and investments and costs that, you know, we've had COVID. And we've had other things.
But the reality is, it's time. And we have choice to make, right. And I have felt personally, that I'm on a mission right now to tell people that this is coming. And it's serious. And if we don't get it together, we're going to have a smaller group of companies that we're all doing business from that are building and inventing and creating our products. And I don't, I don't know about you guys, but I don't want a world where it's, it's smaller numbers of companies, I want anybody who has that dream to be able to go after it. And I think technology enables that.
So I mean, that's just one piece on my soapbox, of things I could talk about. But, you know, I want to help manufacturing leaders. So that's where my passion comes in. That's why we have such a talented team at Gen alpha, because they all care about the manufacturer, from our sales team members, to our customer success team members to our engineering team members, everybody cares about this industry. We don't bring them in if they don't have a desire to help meet the needs of this specific industry. So that's what I can say about that.
Curt Anderson  26:34
All right, we're just saving that for a moment. That was just man. All right. I've never done I've never done this before, everybody. Let's give him a round of applause for Chris. Like, like to get all of you. The party is just starting Chris Damon a month ago, dude, like you changed my life.
We had a guy in our program, you know, where I'm gonna go dance Mickey and came on our program. And he's like a global leader, keynote speaker. He's consulted with 30,000, you know, CEOs. And he talks about what he found where so many companies were struggling with their whole strategic plan. It wasn't really strategic. It was tactical, Chris, what you just described was what Dan described to a tee.
He said the number one thing that he found he went back and studied like ancient history, Vikings and like he's traveled the world starting in South America, the time why like why people lead and why people like certain companies succeed certain certain industries, certain people, certain tribes, why they succeed, he had one word, the saga. That was two words saga. How was that Damon? So you had to create a saga and Chris, you just nailed it. You just described Chris Harrington's saga, the team at Gen alpha, their saga, it's not about the E commerce solution.
It's about helping manufacturers be more competitive, make their lives easier and not just her client business. It's her clients clients. Yesterday, David belay of our dear friend, Director, Dr. David blade, the director from iMac the MVP in Illinois, shared a post on LinkedIn. It was an article from Forbes and it said top three trends for 2023. The author wrote, The third thing for 2023, digital marketing, transformation, ecommerce, whatever you want to call it is no longer a nice to have for manufacturing.
He said it is mission critical. Chris, we applaud you. We support you, we love you. Thank you for what you're doing to help change manufacturers. Let's go into Gen Alpha. Okay, man, one of my favorite words is what Chris configurators right? Yes, like So for folks that are there, they're new to Gen alpha, are your, your solutions, the saga that you're creating? Talk to us about the aftermarket e commerce configurators. Talk to us about the solutions and how you're helping make a world a better place at Gen Alpha.
Kris Harrington  29:09
Sure. So maybe the best way to describe it is you know, first that Gen Alpha has designed and developed a software technology that is enables digital self service for equipment manufacturing customers, so it supports them on their aftermarket purchases, it supports them with critical information about the machinery, it can help them with purchasing maintenance contracts.
So when you talk about product configurators often people think about just using a product configurator to build a whole good a product configurator absolutely can be used to design you know go through the equipment options and build a piece of equipment or machinery or a full components or something like A box that needs to be placed on something else, right?
So we can niche down to lots of different ways that it's used. But it can also be used to build a maintenance contract, it can be used to build an extended warranty. Right. So it's really just about options. So what we have created is this digital self service solution.
So when a customer purchase a piece of equipment from any company that we do business with, they can log in to the manufacturers website. So sometimes it's used as a dealer portal, sometimes it's used as a Customer Portal, sometimes it's public facing, but they come in, they can see the exact equipment that they own. And they can dive into finding the exact parts that they need to, you know, to keep their equipment running, whether that's an oil change kit for one of our lawn mowers outside, right, or if it's something more critical, like the engine is, has failed.
And there is some instructional messaging that needs to be gone through, maybe it's a video to be watched to really understand what's happening and take you through some steps. So so they can do that with our product. And then once they purchase products, they can check order history, they can see the status of their order. So has it shipped, is it going to ship? When's it going to ship all that transparency that we want?
You know, in today's world, where, you know, shipping is such a challenge to get your products on time, and you certainly do not want to delay when a machine is standing. Customers can log in and get access to that information. They can reorder, they can pay invoices. So when we talk about digital self service, right, it's doing everything without talking to a person, it's being able to go online, when I don't need a person, right. So there are times when we need people, I certainly need a dealer to change the lip on my plow that's going to plow the snow we're getting outside.
So when that when that, you know, where's I want to go to my dealer for that. But when I want an oil change kit for my same Polaris unit, I'm gonna do it yourself or I want to order that online. I want to know when it's coming, so I can plan my weekend to make sure that I change my oil. And I don't need to talk to anybody for that I need to know is that Polaris is written on the side of my ATV out my garage, and I have an XYZ model. And I want to know what oil change kit fits. That's what we help manufacturers do.
So for the things that you don't need a person. And a lot of people. I don't have my cell phone near me right now. But we are so accustomed to getting information at our fingertips. That's what people want to do. If I'm in my garage, and I I'm just reminded I need to, I need to change the oil. Let me do let me order that oil change kit. I just want to go right on my phone and look at everything. That's the way we need to be thinking about how our customers want to do business with us.
Damon Pistulka  33:14
Yeah, because when you look at your customers, customers, they're not a lot of them are not sitting in front of a computer that like we are today. They're in the field, they're in the field, if you can make it easy to order on a phone, this is a good thing, because you're gonna make a lot of those people, those people, the critical people that have to keep that made the equipment running, you're going to make them happy, because now you're the go to source because, hey, I needed something I ordered on my phone.
33:43
It showed up tomorrow. The next day. How incredible is that? I didn't even have to go back to the office or do
Damon Pistulka  33:49
anything I did it. You know, that's just when you can do that. That's a big deal.
Curt Anderson  33:53
Yeah, absolutely. So i Hey, if you guys were coming over, we went over the top of the hour. If you're just joining us, man, we are here with Chris Harrington, the founder, the co founder and president of Gen Alpha technologies, man and we have a great conversation. If you miss anything. You've got to go back and catch a replay. Hey, David gales here today gal. Friday.
Whitney and anybody else out there? drop us a note you absolutely want to connect with Chris. Chris. We're talking about digital self serve. Okay. did an amazing job explaining that. And so So for folks that like this new term, it's perfect. It's relatively new to me and you, I think you and I were somewhere we're like, yeah, we're using that term all the time. I love that term. And so what you know, Damon, what you and I always preach?
How can we help that ideal buyer make a buying decision on a Friday night at midnight? Without having you to open up your door on Monday morning? Okay, that's in basically that's what we're talking about. How can you let that ideal buyer does come on your website. They can either place an order, they can get information, they can watch a how to video, they can configure their own product. That's it. Zack, what Chris and the team at General are providing is that 24 hour sales service.
And really, you know, Chris, what your what I'm curious to hear, you know, you're taking like that, that simplistic customer service functionality, getting that on the website, make it easier for the customer. It's a lot of things that your sales rep or customer service people are probably repeating over and over and over again, get them on the website. So then by the time they do pick up the phone or drop you an email, they're like so far down the road in the buying process. Is that kind of what you're finding with your clients?
Kris Harrington  35:31
Yeah, absolutely. So you know, what happens is that, just as you mentioned, field techs use our our solutions out in the field. Sometimes it might be a dealer tech who's out in the bay, and they have a piece of equipment that just rolled in, and it needs some maintenance.
So the dealer might be using the manufacturers website. And what they'll take is they'll take the serial number, or the VIN for that unit that just rolled in, and they're gonna go online, one of the first things they might check is, is that vehicle still under warranty, right? So if the service work I'm going to do is that something I should be filing a warranty claim for and giving my customer some benefits? So, you know, we've introduced warranty and Rma into our solution as well. So dealers can check, is that unit still under warranty?
And if yes, they do, they can do the work, they can order the parts all under a warranty claim they can file their labor that they're going to do, but essentially what, what they're doing is they're taking that serial number, they're going into the complete bill of material for that unit. And they're looking at hotspotting images of the assembly, and they're able to pick out the exact components for that people that rolled in, right.
So whether that's a vacuum truck, or it's a sweeper, these are the types of companies we work with, we work with fire truck manufacturers, so you know, all kinds of manufacturers we talked about the injection molding machine, they all have is big machinery that typically had a an operator's manual and a parts manual that went with it when it was purchased.
But that becomes obsolete so fast, because things are changing in the world all the time part numbers are changing obsolescence. supersession upgrades take place, we provide a solution that gives customers the exact data for their machine as it pertains to that machine today. So that's what we're doing.
Curt Anderson  37:40
Are you I don't put you on the spot. And now you are doing a really cool thing. So when folks come on, like you know, it's always so wonderful to see visual, right? It's one thing if I tell you my this wonderful trip I took but if I show you where you that's what my pictures, it's a different story, right? Do you would you be comfortable? Could you should go through a little demo.
And now I want to give a shout out to you and your team at Janatha. You're also doing a great little in the spirit for holiday season. You're donating funds for every demo that a company goes through or donating funds. You want to share about that? And then are you comfortable pulling up your screen? I would love to take a look at what you've got going on.
Kris Harrington  38:19
Yeah, absolutely. And thank you for mentioning that. So we are Feeding America for the holidays. And we have a campaign going on that for every demo that we do. throughout the holidays. We are donating, donating $100 to Feeding America. And you know, if you guys aren't familiar with Feeding America, they're awesome.
They're feeding children and families. $1 provides for meals. So we're giving $100 For every demo we do so if you know somebody you feel love someone if they need to see a demo of our solution if they need to learn about digital stuff service, get him in contact with us. We can both do some good this season, we get to donate the $100 We'll get to show them through a solution. And yeah, I'm happy to you know, kind of
Curt Anderson  39:09
I'm sorry, Chris while you pull it up. We've got a couple of comments here I just want to overlook So Diane dropped a nice comment here. She just made two purchases last week one came the next day once a week I found myself getting annoyed that the second one it's like, you know, we had those expectations of like, you know, Amazon really set the bar high and so whether they did or not they've made our lives easier. How easy is it to buy on Amazon, and we expect it to door the next day.
Unfortunately, as consumers, whether it's b2b or b2c, we have that same expectation and so Hey Nicole Donnelly is here. Yeah, call Happy Friday my friend drop a note here. So Chris, let's dig into the let's take a look at what's going on demand and you
Damon Pistulka  39:49
know, from doing this for years in the manufacturing plants and you know, not huge one, but when you you're actually going all the maintenance people need a little help. So we got to get on the phone and order something wants to know While back when I was doing engineering work, I mean, to be able to do what you can do to do this online, and in just to do it easily by picking out, okay, that's the valve, we need it because you talk about molding machines.
And that's why I started out my career. And there are certain things on those machines that if that stops, the whole thing ends, and we need them quick. And to be able to get online and just go, I need that with your mouse and not worry about it. And not worry about the numbers and all the things I can't tell you how many hours it saves maintenance people in the field by having to call up and decide what they what they really need. It's just crazy.
Kris Harrington  40:40
Perfect story. And great lead into exactly what I'd love to show. Can you guys see my screen? Okay. Yeah, yeah. All right. So I'll walk you through a process just like Damon was talking about and also, you know, that vehicle that rolled into a dealer's Bay. So what can happen here on our, you know, on a manufacturing website, using our equip 360 solution is they can search by that serial number. That's what I'm doing here in the search. Yeah. And that unique vehicle is going to come up.
And what we help manufacturers do is we repurpose their bills of materials, their 2d and 3d information, and their technical publications, documents to make it live and digital for customers. So we like to think of it as the safest place to find what you're looking for. And right now we're looking at this garbage truck, right. So if a waste management company owns this truck, and I can guarantee you, throughout municipalities all over the country, we have vehicles like this that operate every day, right? Yep.
And they, we want them operating because we want our garbage picked up, right. So as a world, we have certain even expectations that vehicles like this continue to operate. Well, you know, mechanically things can where they can break, there's, there's repairs that go on with these vehicles, and there's maintenance that goes on. So inside this bill of material manufacturers and load. They can load videos like I talked about, so they could have an assembly or disassembly instructional video, they can access any documentation or information that would be critical.
So this is where they can store warranty documentation, wiring schematics, an operator's manual, a parts manual, if they wanted a physical version, all of that would be here. But now imagine, you know, again, back in this vehicle that they're looking for comments, let's let's pick up the hydraulic tank that's in the power module section. And there's something in this area of the machine that is having a problem.
So the dealer's looking at it, and they need to pick up some of the components and replace them, right, any of these fittings that would need to be replaced, they can easily through this, you know, image, and it's so much easier to describe what we do when I'm, I'm using images than just talking about it. Because this makes it really easy for a customer to find what they're looking for. It will communicate to a manufacturer's ERP system.
So it will easily pull either a customer or a dealer price, it will show them how much is available. And they can add that item to their shopping cart, and then they can continue shopping. And since they're here, and they're seeing all the parts that they need, they could order all of these fittings that they might need for this job, and maybe, you know, so they're not just buying the one thing, they might buy more. And that's typically when we talk about the increase in the average order value.
That's typically what happens, you know, the manufacturer may even recommend a kit that goes with these. So that's a possibility all with this tool. While I'm here, I just wanted to also show you that we we convert 3d information as well. So if a manufacturer has this information in 3d, we can support them in the images and you know, zooming in, imagine if you're in Mexico, or you're in Brazil, where they speak Portuguese, and maybe you don't have a customer service person who speaks Portuguese.
So, you know, this makes it so much easier for that person to find the components that they might be looking for and need to get that unit back operational. So that's one section that would be our Bill of Material catalog. Some of the other places that we talked about with respect to digital self service, they just want to highlight here is everything in your order history.
So you know if you place orders and what's really cool about integrating to an ERP system is that let's say you have placed five orders online and one order in the last week through the call center. Because there was something complicated you need to call in. Well, all your quotes, orders, invoices would be here. So you can check the status is my order open? Is it completed? Okay, this one's completed. Let's take a look. It looks like there were two line items on this one, it shipped on 12, six, I've got one invoice against it because it all shipped complete together.
All my shipment information and tracking information is here, I can download the packing list. Again, things that you use, I used to have to call somebody or somebody to say, when is my product shipping hasn't hit the warehouse. Or when am I going to get it all of that information would be here. Oh, and by the way, if they come back next week, and the same components need to be ordered, they can simply reorder them, that would move them to the shopping cart.
And it's going to give them current price and availability so that they can place their order easily without having to search for them. So lots of really self service tips there. Or I should say easier ways to do business. This is our RMA section. So you know, I think in the world of returns, many people today in the commercial world or retail won't buy anything if they can't return it right. In our industry, it's a little bit more complicated because you it's not always easy to just return a $25,000 parts approval process.
There's a workflow for that. So you can see here that there are certain statuses, but you have full access to any return. And you can start a new request for return for any returnable goods, warranty management. So if you have filed warranty claims with your manufacturer, and you're wondering, the status of your warranty hasn't been credited. All of that information is here, filing a claim looking up warranty terms, I mentioned some of these things in our discussion earlier. So this kind of just shows you easily how you do that. You can favorite parts, you know.
So if you come out to the site, and you you search for something, you found it and either maybe you're not ready to buy it yet, or you found it and you know, you're going to need it again later. And maybe it's these brake calipers, you can favorite it to easily find it the next time, so you're not going through that search again. So you can favorite items, you can create subscription orders. So again, you don't have to call anybody to do any of this stuff. It's all done online today. And this is how we facilitate making it easier for customers to do business with us. very visual, very easy to navigate.
You know, we talked about configurators. If you wanted to allow your customers to configure products, that way, you can have option selection. And again, we have a full admin suite. So our customers can manage and modify their configurators as they need to as they develop something new or have new options. So if I want a sleeper cab, I want a blue one. And I make certain selections, you can see that my price is being calculated there are rules that are running on the back end, I can easily configure product.
And again, this can be used in so many different fashions like we talked about earlier, you've got your summary. Oh, I've got a complete required field you see there. So there are notifications, designed to make sure that it's easy for the customer to do this on your own. And you can turn this into an Excel document a PDF, you can save this for later. In case you're not ready to make the investment but I think this gives you a high level overview of you know, all of the things that our product is capable of. Well
Curt Anderson  49:16
yeah, you got to pull up a couple of comments here real quick. So let's go from the bottom and then we've got to work. The coal digital self serve at its finest. We've got in Gore, I feel a moment of silence coming up at noon. There was like multiple. You've got to scroll up a little bit. You got to grab Diane Byers comment if you go up a little bit further up. She drops a comment. It was weird was it it was a way back it was need to be mindful if your competitors are winning and timing and service. You're at best coming in at second. And sales second is last place man dude,
49:56
talk about truck. Yeah, guys. Great. All right.
Curt Anderson  49:59
because I'm gonna I'm going to cover a couple of things I want to be mindful of every time as we're coming up, but first off speechless right, like, alright, this video lives on Damon's YouTube channel, my YouTube channel, my website Damien's website, we post it all over the place. If you guys are talking all of you out there talking to manufacturers, and you just want to we just got a quick little demo.
Number one, Chris and her team they're donating $100 to Feeding America, America, if any of your clients Gail is here, Damon, you know what? I cannot, you know, you know, my heart's not the strongest, you know, I'm like a nun a young man anymore. You know, like, I had Dale on Monday, Chris Harrington on Friday, man, I barely get to my good.
What do you call it a cardiologist, whatever the actor is. I don't know if I can handle this. But guys, we just covered a ton. What a great, amazing demo. If you're talking to a manufacturer out there, and this is speaking their language, get a hold of Chris, connect with her on LinkedIn, get on that demo. It's a good cause. Number one, but when I say good, cause we're Feeding America. But man, what a great cause. Helping our manufacturers to be more competitive. How powerful is this? Chris? I want to be let's dance is calm down, Dan. I can't calm down, dude. It's kind of my bloods up my DNA to calm down.
51:18
Now, that's just not us.
Curt Anderson  51:21
Hey, I just talked to Dan earlier, what did you say, Hey, if you don't like it, go somewhere else. Right? I just, I can't control myself. So let's, Chris, let's as we wind down parting thoughts on digital self serve? What any message for our manufacturers out there on how to like, just stay on top of the game?
Kris Harrington  51:40
Yeah, you know, I would say it's always important to be talking to your customers, they're the ones that will tell you if they are expecting solutions like this, and don't assume that you know, your customers, that's something we've, we've heard a lot is our customers want a relationship with you. They don't want a relationship to check the status of their order.
They don't need a relationship to get pricing availability for the O ring. They don't want a relationship to know the tracking information for the products that are coming, I'm sorry, they don't want that for that. They want you to be available when they do need to have a relationship with you. And they really want to talk to you because they have a complex need, we want you to be available as well.
That's why you have to implement these solutions. This is makes logical good sense. You have ERP systems, you've been managing and investing in your ERP systems for years. All your item management all your customer address and management stuff is there you you have tech pubs do you have 2d and 3d valuable information that's hiding, the world can't see it, we don't know what it is, we can't use it to help us do our job easier.
We can't hold our phone next to the machine and find what we're looking for quickly, you're expecting that we're going to pick up the phone and call the service tech or call the customer service department who's never seen the machinery by the way, they've never been down on the floor, they don't know what that product looks like, they can't offer you a kit, they can't offer you other components because they don't know they haven't been trained.
Even they would be better served with tools like this because if they're getting a call into the call center, and they're looking for that O ring, and they're looking looking for another piece of hardware, and they're putting it in the car, they're gonna see oh, a candidate is available for this so they can offer the person on the phone the kit so now they've become more effective and efficient at their job as well.
So I'm telling you don't get left behind your customers want a relationship with you but not for everything, you've got to start looking at the solution and it's not as difficult as you think you have been working on the tools that support this for many years. We want to enable the rest so
53:58
boom boom boom baboom
Curt Anderson  54:01
customers to the top
54:05
of 2020 to your customers don't want a relationship with you over the old ring
54:13
or to figure out your tracking
Curt Anderson  54:18
Daymond let's get a couple of comments here Tom Thank you for saying what a great
54:22
Tom Herman he this is what he does every day is he figures out what customers right fingers around
Curt Anderson  54:29
the coast is preach we got hashtag preach we got hashtag truth we got hashtag drop the mic today. So Whitney says so true, Chris fight. We're Don't be left behind. Man. I would I let's wind down and as Chris, my last question. I know people have a hard stop here at the bottom of the hour. Oh my god, this was so good. Thank you. Thank you.
Thank you for being such I'm salivating over the configurator Thank you Nicole for your comment. Thank you, everybody. Okay, Chris, my last question for you today who I you shared, we talked, Grandma Malachy, Grandma up north, your teammates, coaches in a military all these great things your your cohorts, your teammates at Gen Alpha coming into 23? Who is your inspiration coming into the new year? Who are what is your inspiration coming into the new year?
55:28
Oh,
Kris Harrington  55:30
they are putting me on the spot. I haven't actually not sure I thought about that question. But give me a moment. We are gonna go into overtime because I'm gonna have to think about this one. My Well, I will say my inspiration right now is my wife. If you haven't had a chance to meet my wife, Polly, so I know some of you that know me very well know that we have a farm here. It's two girls and a farm. And we do a lot of stuff here. But she's a personal chef. And she's been keeping that side of the business going. And it's amazing.
And you know, when you think about being innovative and creative, when you do that with food, it gets you really excited about how you can add some sauce or some spice or some sweetness to the things that you're doing in the world that we impact every day. And I get to see witness her doing that every day. So I'm gonna go with she's my inspiration right now. And very proud to, you know, bring the ideas and vision that she has for some of the other things we're working on into what I get to do over here at Gen Alpha.
Curt Anderson  56:42
Well, Chris, that's a perfect way to wrap up because what two great words for you I threw out like integrity, awesome. All these other things, but now I'm thinking saucy, saucy and spicy Chris Harrington. So guys, everybody, I would welcome you invite you. How about out of your seats? Huge, huge round of applause.
Kris Harrington  57:03
Thank you to you guys.
Curt Anderson  57:05
Chris Harrington got Chris. You know what our love our respect our admiration for you. Off The Charts. You never cease to amaze. Thank you. I know you are super busy. Thank you for taking time to share your your passion, your expertise, your experience. All of the above with our crowd. Everybody out there today. God bless you. Thank you. I can't tell you how much Damon I appreciate each and every single one of you that join us if you're catching this on replay or you're joining us live, man.
We're just so honored and blessed to hang out with just incredible, gifted people that are passionate about making manufacturing. Great, Chris, thank you. We wish you and Polly is that you said your wife is Polly. Yes, guys, an amazing, wonderful, Happy holiday. Merry Christmas, New Year. Boy, we are super excited to see what 23 holds us. Damon. Man, are we fortunate dude
Kris Harrington  57:59
wasn't out. All right. Well, I have to say thank you to you guys. It was a pleasure to be here. Always. Thank you. Thank you, thank you have a wonderful holiday season with your families as well. And please help us feed America. I would love to hear from some people after this that that was really the inspiration for this show. Today. I'm glad I got to share my story. But really, I want to end on making sure that we get a chance to feed America through this process as well. So thank you.
Damon Pistulka  58:28
Awesome, awesome. That's all I can say. I just want to say thank you to everyone that shows up and listens to us listens to our guests, Chris. I just I'm floored every time I see the Gen Alpha solution I'd learn more I love it more. And I think their your your mission, the saga you're creating in your passion and behind it.
We have to get manufacturers moving this direction, otherwise they're gonna fall to the wayside and we don't want that because as Nicole Donnelly says small businesses the heart of America and we need to keep it that way. So with that, everyone have a great weekend. We're getting ready for Christmas here. People was getting close if you don't have your gifts, and probably Dan bigger. I remember him saying something about maybe being a last minute shopper. Don't be get your stuff ready. We'll be back again next week. Thanks for being here, everyone. See ya.
Schedule a call to discuss your business goals and answer your questions on growing business value, preparing for sale or selling your business.
Related content
These posts may also interest you
Partnering with IMEC for Manufacturing Success
If you want to get your long-term strategy tuned up, listen to this MFG eCommerce Success show to hear Dorie Clark share how long-game-strategic thinking can help you achieve monumental goals.
Driving Sales Growth with a Clear ROI
If you want to get your long-term strategy tuned up, listen to this MFG eCommerce Success show to hear Dorie Clark share how long-game-strategic thinking can help you achieve monumental goals.