Driving Massive Positive Impact for Manufacturers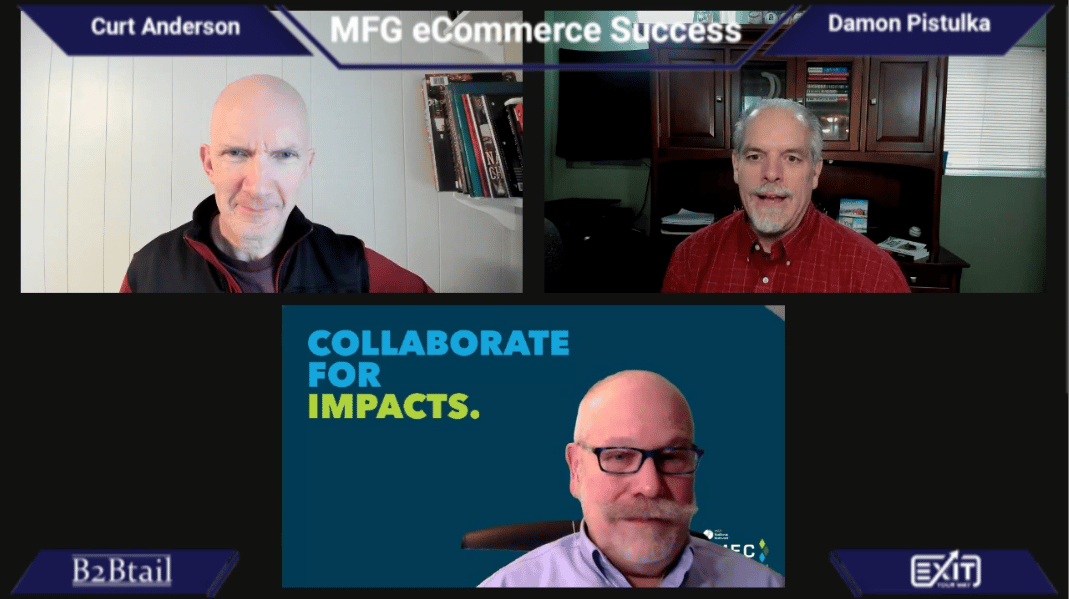 MFG eCommerce Success
Driving Massive Positive Impact for Manufacturers
In this Manufacturing Ecommerce Success Series, Ray Ziganto, Partner Relations Manager, IMEC Illinois (the Illinois MEP), shares what he sees in the manufacturing industry driving massive positive impact and the things he feels we can do to increase the impact of and improve the manufacturing industry far into the future.
Ray works with the IMEC Illinois team to develop strategic alliances and identify key resources that can help support IMEC's mission, working with small and medium-sized manufacturers to help them advance to Next Generation Manufacturing.
Ray has experienced global manufacturing firsthand, creating and delivering transformative results for companies domestically and internationally. Ray held senior leadership positions where he developed and executed diversification strategies that doubled revenues while significantly reducing risk. Ray has driven multi-plant operational excellence initiatives leader that consistently generated a price premium over the competitors.
Download our free business valuation guide here to understand more about business valuations and view our business valuation FAQs to answer the most common valuation questions.
Damon and Curt are excited to start the Livestream with Ray as their guest.
Curt takes the lead and asks Ray about his childhood role model. Ray credits Anthony Edwards, his father, for his success. Growing up as the youngest of four boys, he would follow his father to the shop where his dad worked. The rest of his brothers ran an auto garage. Ray has always respected those who can take raw materials and refine them into something valuable, which is why he is still motivated. Although his father has passed away, he had a good life, and the guest thinks about him often.
Curt compliments the guest, saying he is a global leader who has worked worldwide. He adds to viewers' knowledge that Ray has been a president of a 1,500-person manufacturing operation. Moreover, he asks Ray's reasons for stepping forward in manufacturing alcohol.
Do you want to know if your business is ready for your exit or what you should do to prepare? Learn this and more with our business exit assessment here.
Ray reveals that his career in the manufacturing industry started with John Stone, who he met at a graduation party at Western Illinois University in December 1984. Ray's class fellow, who happened to be John's sister-in-law, put him through to John. John offered him a job after he graduated college, and the guest seized the opportunity and started working as a mold maker. He learned and grew as he took on different roles in the company and eventually went on to work in sales, operations, and management. Over time, he gained experience and expanded his skillset.
Curt asks Ray about his passion for getting international. Ray answers that two experiences sparked his interest in international business. Firstly, a school trip to Germany. Secondly, he married a woman from Penang, Malaysia. He maintains that he tactfully decided to pursue international experience in his career, leaving a job that did not align with his goals. He then went on to work for a partner, living in Singapore and Mexico, before returning to the US. He had no children, so he and his wife could pick up and move easily. He let the events unfold with little intention but mostly let "dominoes fall."
Similarly, the guest thanks Allison. "She was the first one to introduce me to the Hoberman sphere."
Get the most value for your business by understanding the process and preparing for the sale with information here on our Selling a Business page.
Curt intends to talk about the Manufacturing Extension Partnership (MEP Network) and IMEC.
Ray talks about the genesis of MEP. He says the Department of Commerce recognized that "there was an opportunity to help small and medium-sized manufacturers across the country" 26 years ago. To support this, they established the Manufacturing Extension Partnership (MEP) through the National Institute of Standards and Technology (NIST) with sites in all 50 states and Puerto Rico. The goal of MEP is to provide resources and support to help the manufacturing industry in each state thrive and be competitive. Each state has an MVP site with a mandate to support the manufacturing base.
In Illinois, the MEP program has "brought value to over 1700" manufacturing companies, using a service framework based on the Baldrige framework, which includes six areas of focus such as i) strategy, ii) leadership, iii) workforce training, iv) operational improvement, v) making data-driven decisions and vi) market analysis, "knowing what's going on in your market."
Ray discloses that helping manufacturers is a continuous effort. After fixing one thing for them, "something else will come into view." Moreover, as far as the resource person is concerned, the same person who helps a company with its first project will run through the entire course of the entrepreneurial journey, providing continuity and avoiding the need to start over with new personnel. Because going to run the project that helps you with the rest
Ray further explains that manufacturers working with IMEC or MEPs across the country can expect a wide range of resources and support. IMEC and other MEPs have a network of experts and third-party resources, or "improve Chicago fashion," to help with various issues, and challenges manufacturers face.
However, IMEC and other MEPs "are not the grant guys," they can help with funding initiatives by conducting surveys, identifying the main challenges manufacturers face, and creating service offerings to address those challenges. In Cook and McHenry Counties, for example, IMEC surveyed 5,000 manufacturers and made 20+ service offerings to address the challenges identified. Ray maintains that the projects are fairly profitable, meaning companies can apply for funding from ARPA funds, and their investment with IMEC is reported to have a high ROI.
On this elaborated answer, Curt believes that "Ray is a true unicorn who sits in the intersection of technology and manufacturing."
Ray is proud to inform viewers that the IMEC practices what it preaches by building awareness through marketing efforts and information sharing. The mission is based on impact and "moving the needle." Most of the regional managers themselves "are just skilled manufacturing people.
" They serve as the face of the partnership, building "rapport" with clients instead of making a hard sell. They start with a conversation and aim to identify problems. When a project is launched, the regional manager stays as the project manager to ensure continuity and knowledge transfer. The regional managers are skilled manufacturing professionals, not just salespeople. The approach is a building process, not a hard sell, focusing on unequivocal service delivery.
Damon agrees with Ray. He says when we are in the manufacturing space, we spend a lot of money on consultancy in Lean Manufacturing HR systems setup and ERP consulting. The IMEC or MEPs not only help manufacturers with "all these different kinds of things" but also point us "in the right direction."
Ray says that the goal of IMEC is to help manufacturers avoid mistakes and ensure they have the right resources and support to succeed. Ray is not against making mistakes. "The most powerful lessons came from the biggest screw-ups." However, by working with MEPs, manufacturers have access to a wealth of expertise and experience, including best practices, industry trends, and proven strategies, that they might not otherwise have access to. This can help them make informed decisions and reduce the risk of costly missteps.
IMEC is a consultancy focused on helping small and medium-sized manufacturers, offering various services and resources to address their challenges. The organization's leadership team is well-equipped to provide expertise and guidance, focusing on making their clients the "heroes of their story." IMEC has a strong culture of collaboration and support and is constantly looking for ways to innovate and stay ahead of the curve in its industry. Additionally, IMEC's CEO, Dave, has a Ph.D. and is known for his ability to anticipate and address the needs of manufacturers.
Since Ray has been a successful manufacturer, Curt asks if he can preserve his "entrepreneurial spirit at the IMEC."
Success at MEPs requires a disciplined process, data-driven decision-making, and a culture of continuous improvement. The team uses tools like Power BI and Salesforce to collect and analyze data. Ray said that they practice what they preach by following the same processes they recommend to their clients. This helps ensure that the team is constantly evolving and finding new ways to help manufacturers succeed.
Curt asks Ray some technical questions. He wants the guest to talk about the long-term and consistent efforts to establish a business.
Ray believes that manufacturers have longevity due to their entrepreneurial spirit and innovative mindset, which was evident in the founding stories of many companies. He suggests that this mindset was present in the past but faded for a while, but is now being regained.
Likewise, manufacturing companies have a long-standing history of entrepreneurial spirit and innovation. However, a period of complacency took a shock, such as geopolitical changes with China coming in, Subprime Mortgage Crisis of 2007.
Similarly, change management research suggests that practicing a new behavior for 21-60 days is required to form a new habit. COVID has disrupted many aspects of the manufacturing industry, and it is unlikely to return to the way it was before. Supply chain complexity and workforce shortage will remain for some time to come. He prophesizes that the US would be short about four million jobs.
The need for more workers is currently a major issue in manufacturing. Productivity has been dropping, and the COVID-19 crisis has disrupted the supply chain. The US is closer to having an industrial policy, and more investment is being made to improve the manufacturing industry. The successful manufacturers will be those who can manage the reshoring process and compete with overseas prices while still making a profit. The challenge is to find a way to increase productivity and become more competitive in a changing market.
However, Damon believes using technology, specifically ERP systems and Power BI, can greatly enhance a manufacturer's supply chain and scheduling intelligence. Manufacturers can do this with low technology spending by having the right people who know how to build the appropriate tools. Manufacturers can achieve this with their ERP system, and traditional spreadsheets rolled up with Office 365 and Teams in Power BI. The result was amazing, giving the manufacturer a wealth of information.
Curt relocates the conversation and asks Ray how to add value to manufacturing.
Ray thinks having an outside perspective can be very valuable for manufacturers. An experienced consultant or advisor can bring a fresh set of eyes to the operation and help identify areas of improvement. Accurate data collection is crucial, allowing manufacturers to make informed decisions. The journey of improvement is never-ending, and manufacturers must be aware of this and continually focus on fixing the most important issues. A clear goal or objective, such as diversification, can help guide this continuous improvement process.
Toward the end of the conversation, Curt asks Ray about the circumstances that led Ray to opt for the IMEC. The latter narrates his account.
Ray had recently finished a contract with Northern Illinois University, where they worked on creating a connection between research universities and small to medium-sized manufacturers. Despite the challenges of working with two different institutions, he found it a valuable learning experience and appreciated being back in a structured environment.
As the contract ended, Ray was considering starting a company again. While seeking references for job interviews, he reached out to a former colleague, David Blake. When discussing his goals, Ray stated he wanted to have an impact at scale. David immediately offered them a job, which led to further conversations with Amanda, John, and Mary.
Ray is now a Partner Relations Manager at IMEC and is responsible for managing influencers and building relationships with individuals involved with manufacturers throughout the state. His role consists of spreading awareness about the IMEC and ensuring that manufacturers have a support system in case of any issues.
With these remarks, the conversation comes to a close. Damon and Curt thank Ray for his precious time.
56:48
SUMMARY KEYWORDS
manufacturers, manufacturing, imac, ray, companies, people, mep, allison, damon, talk, build, business, manufacturing extension partnership, raise, illinois, mchenry county, regional managers, medium sized manufacturers, mvp, run
SPEAKERS
Damon Pistulka, Curt Anderson, Ray Ziganto
Damon Pistulka  00:02
All right, everyone, welcome once again it is Friday. And yes, we were laughing hysterically would raise again to hear before we got on so Kurt's by ready to fall over. I think I might even Yeah, but we will get going here and it's Friday it's time for manufacturing. Ecommerce says we're getting serious now. Because today we're going to talk about driving massive positive impact for manufacturers and listening to learning from talking to raise the Gonzo today. Kurt Anderson, co host outbred over the area's friend. Take it away.
Curt Anderson  00:42
Dude, I can't like I'm too I can't Alright, we're gonna get out there drop us a note. Let's get there we Damon dude, I couldn't even sleep last night like I was so fired up for today so giggling all day it's hard to imagine I don't I don't even need to do an introduction here but I'm going to anyway so we have the manufacturing unicorn we have the best moustache and we have V one the only raise the guy No Ray How are you brother?
Ray Ziganto  01:16
Man? I am living the dream guys. Oh,
Curt Anderson  01:19
my God. This is like oh good man. So excited what an honor what a privilege we go. We go way back like man it's like years now like oh, it's like flying by isn't perfect. Got the honor privilege. I connected with you with our mutual love of our life. Allison afford man. So I'm going to give a little shout out to Allison. I don't know if she's going to be with us today. But she she did a webinar at Purdue.
We're going to be talking about the M E P network today Manufacturing Extension Partnership. Raised in Illinois yesterday, Allison did a workshop at the Purdue MEP. And she absolutely crushed it. So she did an amazing job. She's your partner in crime, Comcast co hosts and just I know a mutual dear friend. So do you know what Damon let's let's go here. We're gonna dig into your background. I didn't ask hey, there's a
Ray Ziganto  02:15
statute of limitations.
Damon Pistulka  02:17
Yeah, that's
Curt Anderson  02:19
right. They're talking about you so yeah. Right. My first question for you today. I didn't you you're a repeat offender. You weren't you? I got a new question for you didn't ask you this one last time. We were sitting down for this one. Young guy growing up. You've had this amazing, incredible career in manufacturing as a young guy growing up. Who was your hero? Who was your hero growing up? That led to the manufacturing Euro unicorn?
Ray Ziganto  02:47
It's a great that's a great question. And over the years, it's become easier to answer. It was probably my dad. Just because you know, my origin story goes back to being I'm the youngest of four boys by a lot my three older brothers are like 810 and 12 years older than me, but then I come along it's like a second family.
Yeah, so my dad was either exhausted or whatever but I spent a lot of time following my old man around and back then you know, man caves weren't a thing he had a shop so it's like he would something broke he go down to you know in a lathe and a mill and you know, I was threatened pipe when I was five and my older brothers were into cars and I was the one that went under and changed oil and stuff.
So I was just always kind of into hands on stuff because no choice that's what we did. So you know, if I look back on my career, it's probably been because I've always just had a an appreciation for don't get me wrong. I'm not exactly handy dandy around the house and you can ask my wife she'll vouch for it.
However, I have a ton of respect for the people that can mentally fix things dream it up, design it build it, convert raw material, whether that's a stack of wood, a hunk of steel, whatever it is, and turn it into something and that to this day still excites and motivates me so points back the dead that's awesome dad's name please Anthony Edwards again oh he's he's no longer with us but he had he had 90 good years and one bad month he lived a good life and think about them all the time but yeah, arch reason why I'm here
Curt Anderson  04:26
April God bless Anthony's looking down smile Ananya my friend and just what a what an inspiring story and there's no doubt of like what led you so guys again, we're here with razor guy. No If you're just joining us Happy Friday. What an amazing incredible week. Wait, I'd like kick off your weekend. Just really jam out here with Ray if Ray's new to you please please go to Ray's LinkedIn profile checkout panel.
And you'll thank us later re let's keep the party rolling. So Anthony you're you know your dad, three older brothers. You're growing up and like man your superpowers Your path leads you into manufacturing. You are a global leader, you've literally worked all over the world. You've been a president of a 1500 person manufacturing operation. Why manufacturing dude, what brought your talents, your skills, your passion into manufacturing,
Ray Ziganto  05:15
alcohol. The first step was my guy, but first guy I wound up working for John Stone are still my best friend today. I went to college with his sister in law. And she was graduating and she said, You gotta meet my brother in law, John. He's, he's a mold maker, he just bought the company he was working for, and you're gonna love him. And I met John standing around a keg of beer at a graduation party at Western Illinois University. And he was like, we hit it off for lots of reasons.
And he was like, Well, when you graduate, give me a call. So I had graduated in December of 1984. Sorry about that. And I called him, he goes, send me your resume. And I'm like, I just graduated college, what resume you know, like, what's that? So he gave me a start, you know, it was I wanted to, you know, my dad had his own business, he had a camera shop and a film processing lab. So I kind of got the small business thing, right.
So I wasn't afraid of this place that had, you know, had 35 employees and 10 molding machines and stuff like that. I'm like, I knew I had to learn stuff. So I started second shift and got going and you get to wear all the hats. Yeah. And I've always enjoyed doing that. And I just went from, you know, the small organization went to a little larger one and, you know, got to flex my sales muscles, went to went international, got to work on operations, came back got to do a little both got to run a place. So it's, it's kind of all built from there, you know? Well,
Curt Anderson  06:55
I'd say that you're very modest, very humble. And like walk me through that path. Eight. Damon, we got a lot of awesome.
Damon Pistulka  07:00
I know I'm gonna start fooling because so many people in
Curt Anderson  07:05
the house here today. And
Damon Pistulka  07:06
we games, we got Alice in the course. Oh, yeah. Diane's here. All right. Oh, yeah. Just coming on. It's coming on strong. So
Ray Ziganto  07:20
we'll tell your friends tell your friends. Yeah,
Curt Anderson  07:23
I know, you're out there. Now you've had an incredible global story, you just share a little bit of like, how that how that path took you. I mean, literally all over the world, just, you know, walk us through a little bit. So you go from like, hanging out in a keg party. Like you're in Taiwan, and you know, you're all over the place, you know, going from a mold manufacturer to global, you know, manufacturing operations is like, walk us through that path.
Ray Ziganto  07:49
I had, you know, my, my international aspirations kind of came from a couple of places, I had the I had the fortunate opportunity in high school to go on a school trip to Germany, and I just thought that was, it was such an eye opening experience. I didn't go there and feel like, Oh, crap, if I don't find McDonald's, I'm gonna die. I loved getting familiar with the culture and stuff like that. And that was that kind of, you know, shaped me a little bit. Fast forward, I think I've shared with you guys, my wife is from Penang, Malaysia, we met in school. You know, we're married over there.
She's been back and she's been here ever since. And, and it kind of, you know, going there to get married. You know, that was data. Point number two, I was in another culture, very different from the one in Germany. But I liked it. And I wanted to know more about it, and how do you do stuff. So I actively made a decision in my career, I wanted to get international experience.
And in fact, I left one job because what I thought was going to lead to international experience, they basically said, now, we're not going to do that. It was it was an injection molding company that had a great presence in the US had interest in Asia, I found a partner and at the last minute, the owner was like, Nah, that's not the future. So I left actually, I wound up going to work for that partner, lived in Singapore lived in Mexico, you know, came back and kind of went from there.
So it was some of it was was a tactical decision on my part, strategic that this was something I actively wanted to do. And and had the buy in from my family. You know, I don't have we don't have kids. So for us, it was easy to pick up and go Yeah, you know, do that that type of thing. But yeah, that's you know, I guess it was, you know, by accident. I had a little bit of intention and the rest. I just let the dominoes fall, you know?
Curt Anderson  09:43
Well, once again, if you're in Madison Hey, I'm gonna give a shout out here a couple of people got a Amanda's in the house. Oh, you're gonna use we're gonna be geeking out about in Alba Allison. Raise again as a first person manufacturer ever met who understands the connection between sales Mark Getting in operations. That's why we call him the unicorn.
Ray Ziganto  10:04
For Alison, she was the first one to introduce me to the Hoberman sphere. Building on that saying, You know what, everything is connected, which I've leveraged that a lot of times so thank God for that. Allison
Curt Anderson  10:17
Allison's introduced us to a lot, right, the weakness syndrome damage, staring at your belly button. So there's all that that, that Allison has introduced us to. So you know, let's dive right in. Let's, let's, let's like just geek out, we're going to hit hard about iMac. Okay. So anybody out there that's not familiar with a manufacturing extension partnership, that's MEPs.
We have all sorts of A minus program here. And we're going to talk about, you know, manufacturers, we were talking before we went live, and you're not in a silo, you are not alone, there are just immense resources, raise a guy know, what is the main if what is the Manufacturing Extension Partnership, this MVP network, and then we're going to dive into what is IMEC?
Ray Ziganto  10:57
Here's the real high level thing. I think this goes back 2526 years ago, Department of Commerce worked with and if I get the genesis of this wrong, somebody will correct me. Yep. They, they recognize that there was opportunity to help small and medium sized manufacturers across the country. If you look at manufacturing companies, less than 100 employees, I think it's like 300, and some 1000. across the US.
So what they did was, you know, came up with a mandate through NIST, they created the Manufacturing Extension Partnership, and went out and created these sites, there's, there's an MVP site, in all 50 states, plus Puerto Rico, with a mandate of bringing the resources and support necessary to help the manufacturing base in your state thrive, be more competitive, you know, and contribute to their communities. broad goal, you know, it's it's basically gonna be all things to all manufacturers, which is, which is tricky.
But But noble, and and that experiment has, has proved to be very impactful. Over the years, I mean, if you look at when I met in the state of Illinois, we've got roughly 12,000 companies that fall within a next category that says, they're in manufacturing, you know, they do something like that. Our team last year, I think we, we brought value to over 1700 of those companies.
And some of that was they downloaded a white paper, they attended a webinar, many of them, quite a lot of them in the in the high hundreds, we actually did onsite project work with them. And that runs the gamut because we're built. And forgive me for not knowing this across all MEPs. I met Illinois, specifically, our service framework is built around basically the Baldrige framework, which is that connected thing, you got to have strategy, leadership has to know what they're doing.
workforce has to have training, there's operational improvement, making decisions with data, you know, knowing what's going on in your market. So there's about six different areas that we look at. And you guys see that the same thing, you push down in one area and something else comes up IMEC is uniquely positioned to be able to come in and say, you know, you know, the drill, somebody's gonna come in and say, my wrist hurts.
So yeah, I can make that stop hurting. But once we make that stop hurting, something else is going to is going to come into view. And, and we're uniquely set up to be able to share that and kind of be with those companies on our journey, because the same person that comes through the door and helps you with that first project is the same person, that's going to run the project that helps you with the rest.
So it's not like, Okay, I just got lean training now who will make a call because I think I've got trouble with, you know, staffing and recruiting or my marketing and stuff, like and I have to start all over again, explaining my business to somebody. And you don't have to do that with IMEC
Damon Pistulka  14:02
you make a great point there rakez For a manufacturer, that that learning time when you bring a new specialist and help with the problem is a long time and if that project manager stays there, and says okay, now we've we've done lean training here, now we got to work on safety, or we got to work on some other things in HR or something else we got to work on. It's it's so much easier because they can explain to the specialists, a lot of that stuff and get it get it down to the to the this is what we need to do. Yeah, rather than this is who we are.
Ray Ziganto  14:37
Yeah, exactly. And it's cumulative. Then it's like well, let's let's pick up where the last person left off. It's not like the next person comes in all you did that all wrong. That's why my thing won't work. Yeah, so we're gonna go that way.
Curt Anderson  14:49
Yeah, no, that's awesome. And just Daymond it was just a month ago we had perintah on the program. Jacqueline cologix. Jacqueline, you're out there. Hello, our dear friend. She was on the pro granted, when we went through a little success story through I like, and she said exactly that race, she was like, hey, in 2015 I'm gonna help me with this. And then when they came back and knocked on her door, then they offered a marketing initiative. I raised my hand immediately and they dove right in.
We had louvers International, they're LED lighting companies, suburbs of Chicago, they run the program with Michelle foster over the summer. And we have a great quote where it says, These guys is perfect. I was at a workshop at an MVP here in New York yesterday, I did a little workshop, and I had the slide pulled up where louvers are saying like, it is so easy to work with these guys, I wish I would have called them sooner, you know, so. So let's go a little bit deeper.
So I know I met last year, you guys had like to grow your future program you helped over 125 manufacturers hands on in Illinois, you had another there's other grant programs going on in Cook County McHenry County, with new one going on right now, just let's take a little bit of a deep dive of like some some of the menu items that manufacturers could expect when they work with iMac or other MEPs around the country.
Ray Ziganto  16:03
The depth of the depth of resources. You know, number one, were the were the ones you pick up the phone or it's like do you know somebody that can help with this? And odds are we probably either have somebody on staff who have a third party resource that we've already vetted and can work with, or improve Chicago fashion, we know a guy. So, you know, we really can help with a wide breadth of, of issues and challenges. You know, one thing to be to be clear, and I ran into this a few times talking to manufacturers.
We're not We're not the grant guys, necessarily, but but we can we will be the kind of the data behind, you know, a case in point, what we're doing with suburban Cook County. And with McHenry County right now, we conducted a survey, we talked over 5000, we surveyed 5000 companies, manufacturers in the area, 1000 actually completed the survey in great detail and said, Here's what's keeping me up at night. Yeah, what we did is went back and created like 20, plus different service offerings that address all of those things, talk to Cook County talk to McHenry County.
And they said, You know what, we're sitting on ARPA funds to help companies bounce back, we're going to we're going to put some money where our mouth is. So now for the companies, small medium sized companies that apply. These projects are fully reimbursable. Let me put that into context. Last year, our client reported impact this isn't IMEC calling up asking the client, Hey, how did we do? Client reported to a third party in terms of ROI for money they invested with IMEC was 19 to 119. To one, it's infinite? If it costs you nothing?
Curt Anderson  17:48
Nothing. That's right.
Ray Ziganto  17:50
It's like, you know, that's one of those those programs where it's like we're really doing what we can, you know, bring value to the customers out there. Yeah,
Curt Anderson  17:58
absolutely. Hey, couple quick shout outs for me. We've got your dear friend, gals in a house. Manufacturing unicorn. Yeah. Hey, it's not Daymond it's not Friday without Dan bigger.
Damon Pistulka  18:11
We're on time today to we're on time,
Curt Anderson  18:13
brother Dan. And how about this iMac. Illinois is doing incredible things for manufacturers influence the next generation. Now speaking the next generation Damon next Friday week from this very minute, we're gonna be on stage with one of looking at 19 to one I don't want I mean, that's crazy. Dude, I'll take those ads every day a week from right now we have one of your colleagues, Ray we're going to have we have one of your cash excuse me one second. Well, we have a client of yours down in Southern Illinois and Cassie Come sir, as he's coming on.
And we're gonna be doing a little case study on work that she did and we worked on together with a client success. Last Friday we had per and moody I know call on our program uses third party resource of of iMac, and he has done dozens of great projects with you guys. So alright, so grow your future marketing. Um, one of the great things about you, Damon, here's a couple of things that people say about Ray, you ready? Think Ray, you sit down. Ray is a true unicorn who sits in the intersection of technology and manufacturing.
Ray Ziganto  19:18
Sort of her mission and the intersection, the intersection the intersection,
Curt Anderson  19:23
the tenet of technology manufacturing Ray is the complete package. Here's another great one passion, understanding and focus on results. That has raised the guy No, so rate, I'm going to ask you this. So for the folks out there listening to this, you bring in just this wealth of of information experience coming in, when a manufacturer knocks on your door like let's go through the starting point, like what does that process look like that first engagement with IMEC here's,
Ray Ziganto  19:48
here's what we do is you know, we practice what we preach. So number one, it's build awareness. You know, lots of ways we've got you know, Christy John's in the marketing teams do an amazing job. Just getting the word out there. We give away so much information, whether it's webinars, white papers, you know, and stuff like that. Then our resources in the field, our regional managers, it's they've really got like the ideal, I hesitate to call it a sales game, because we always start from a place of service.
Okay, yeah. So it's our everything we do our mission is really based on impact. Are we having an impact? Can you measure it? Are we moving the needle? So our regional managers, while they have responsibility for a geographical territory, a number of manufacturers knocking on doors and getting in there?
Everything we do, we, we come from a point of service, okay, it's like, let's have a conversation, Let's get acquainted, let's get to know each other. You know, it's not like, I'm gonna move you through the funnel and get you signed up by the end of the month. It you know, you've got to build if we're going to be around for a long time, we got to take our time to build a rapport. And yeah, we do get the calls, you know, the, you know, the alarm bells are ringing, we're in deep stuff. And, you know, can you bail us out?
Or, you know, somebody quit, and we don't know what to do? Yeah, we're there, we can help you do that, you know, nobody gets held for ransom. Nobody gets hired, sold. The regional managers, it's an unconventional role. Because these are folks that I mean, if you look at most of their backgrounds, yeah, a few of them had background in sales. Most of them are just skilled manufacturing people, they just want to come through the door and talk shop, you know, with you and identified identify problems.
And when problems come up, here's the beauty of it. And we identify, there's something we're going to do and a project gets launched, that regional manager sticks around as the project manager. Okay. So that's where you get that knowledge transfer, hey, we did a, you know, we did an E commerce thing with with Kurt, now they're starting to get busy, and the shops starting to stumble, maybe we should come in and do Lean 101.
And by the way, we're going for ISO, and then maybe we got to do our ERP system, and safety training would be great. You know, so it's, you know, having that that continuity has just been so key, you know, to how we do it. So that's, it's a building process, we're not hard sell, we come from a point of service. And when our folks come through the door, they know what they're talking about.
Curt Anderson  22:26
And here's something to think about, you know, it's I if I'm not mistaken, I think the National Association of Manufacturers 75% of all manufacturers are 20% and loss. And that, you know, so you just mentioned, Hey, there, we have 12,000 manufacturers, so just, you know, I don't do the math, you know, that you've got 9000 that are 20 people unless, you know, and you might have five people 10 people, and so that manufacturer, you know, you know, like Sue Nordmann is in your state, gotten a list of like a, you know,
list of great manufacturers in Illinois, that have been on the show, Damon, and just perintah, you know, she's five or six people, it's her brother, you know, it's like, man, these people are putting their heart and soul into their business, one minute third of the finance department next minute, they're doing operations next minute and trying to do marketing.
It's just so daunting and challenging. So to have this as a resource. One thing like, so Damon, we've had numerous Emmy P folks. And what's great is they have the they have the type of experience that they bring to the table like a razor guy, no.
And almost consistently, would they? And here's the question, I want to ask you, Ray, they say like, Man, when I was at my manufacturer, I wish I knew about the MEP, you were running a 1500 person manufacturing operation. Okay. Go back to talk to yourself, what are some things that you would like to have done differently? A and B, like, how do you how do you see going back in time that you feel that I met could have helped you back in that time, there was
Ray Ziganto  23:50
I would have, by my do different. I didn't know IMEC. Back then. This goes back aways but my do different knowing what I know now. I would have engaged with IMEC sooner, would have been more active or involved in some of the trade associations.
Associations come at it differently, you know, they they may be more on the education side or on the advocacy, you know, and governments. I'm not I'm not an association basher. I love them. I came in and I was in an environment is privately held company that had a lot of preconceived notions about associations and asking for help. And it was largely around what do they know?
Yeah. You know, or, or, again, it was at a time where, well, if I talk to a competitor, they're gonna, they're gonna know what I know. And then we're gonna lose all the business. Okay, so there's, unfortunately, there's still a lot of that thinking going on today. I mean, a lot of it. Yeah, that happens. And it's man, if there's, if there's a message I can get out there. If my legacy is anything, it's like, yep. Ray told us. He said there was a lot of help available. All we had to do was was asking to look for it.
Damon Pistulka  25:02
Yeah, I'm with you. I mean, it's just it knowing this, when you're in the manufacturing space would have been so beneficial. I mean, all the way I think back from very early and how much money we spent on consultancy in Lean Manufacturing, in setting up your HR systems properly ERP consulting, all these different kinds of things that the MEPs can help you with, yep. Or at least point you in the right direction, because I'll tell you, we spent a lot of money that was worth it
Ray Ziganto  25:32
well, and help you help you avoid stepping in it, you know, I get that I get that there's an element of pride. But, you know, our, our job is to make our clients the hero of their story. It's not yay, you know, yeah, yes, we get our give us a good review, when we survey and give us a good, that's, that's what we were here for, you know, is is the thing. So, you know, we're not here to compete with you.
You know, here's the thing, I look back over my career, and it's like, yeah, I learned a lot of great lessons. But the most powerful lessons came from the biggest screw ups. You talked about, you know, ERP implementation, you know, finance goes out and finds the ERP system that makes financial reports. Now, that's what we spend $300,000 on to put in for manufacturing, only to find out that we need to have 50 which have never opened an Excel doc in their life. You know, what do you have rented? Yeah, you know, so,
Curt Anderson  26:31
right. All right. So hey, and let's let's hit on some of your teammates, man. So you know, your friend. You know, though you're fearless late leader, Dr. Dave Belay is just doing an amazing job. I had the honor and privilege I met Dave in person at the MVP conference this year. We've got Melissa Zerbo, Michelle, Fossett Christie, John's you mentioned John Azura. Jacqueline, I could I'm probably gonna leave somebody out. And I stumbled on Cassie. Cassie, I've worked with She's amazing. She's gonna be with us next week.
Amanda is here today. Megan, we've got Dave, Doug, Melissa Basa is great. Paula has been on our program and she's doing an amazing job on diversity and, you know, women in manufacturing, we just, you know, just share a little bit about like, how diverse your team is, and just the what the talent that you guys bring to the table.
Ray Ziganto  27:19
You know, what's what's been what's been wild couple of things I observed when I when I first joined because I for five years or so, did the stint with NIU, you know, and came in. So a lot of preconceived notions. It was like, you know, you come in and eat Okay, who am I going to have to watch out? Nobody, Everybody's cool. Who's you know, who's who's really got the background here?
I'll be honest, I was used to coming through the door. I can hit 10 more people and iMac that I've done cooler stuff than than me. Right. So that is. And the first thing I noticed was, is part of the onboarding thing we do is to get acquainted with your colleagues. And to help you with something just let me know, which sounds nice. Every one of them whenever I had a question, drop me a note. Bam, right now you hear from them at fast. So that's, that's not by accident. That does not happen by accident.
That's, that's the, you know, the leadership team, you know, living those, those ideas, through their behaviors, and active through the organization. In terms of, you know, looking over the horizon, you know, Dave's a great Dave knows how to see around corners. I don't know how he doesn't want to, you know, you have fearless Dave, he's, he's the one that's at Next. And he's not afraid. You know, he knows when there's another gear in there for us to do something to help our manufacturers out there, you know, workforces on everything.
You ever asked Dave what his PhD is in? So, so in terms of, you know, leading leading edge ideas and insights in that space, you know, again, that's that's stuff that we're living upon. Until somebody proves us wrong. She is probably the only the AI leader on an MVP staff solely focused on helping small and medium sized manufacturers. One manufacturer with less than 100 Let alone less than 20 Yeah, yeah, that can do that. Yeah, did we lose it?
Damon Pistulka  29:43
I don't know. It came out a little bit there. There is back. So
Curt Anderson  29:47
you're cutting out a little bit.
Ray Ziganto  29:49
All right. But haven't Power team first of its kind for an MVP across the across the country and being able to help small manufacturers interpret But what is their? What is their responsibility for when their OEM customer starts pushing down to EDI requirements or ESG requirements? How do they leverage that in their workforce and everything else? So, man, when I look at it, the toolkit I get to show up with this is a dream. Yeah, this is a dream gig for me, you know,
Curt Anderson  30:19
an hour. And I had, we've had Paula on the show, and as a matter of fact, I interviewed her live at Chicago at the MEP conference, she tells a powerful story. It's actually it's kind of a tear jerking story. Hurt she, she is first generation, her family, they came here from another country. And what her mom did is, and so I asked a question like, hey, who was your hero, and she talked about her mom and dad coming from another country, fearless, you know, courageous, didn't speak the language.
And what she would do on Saturdays, her mom and her and her mother would go stand in line at a manufacturer, because whoever was first in line, that's who they were going to bring in to work that day. And so her and her mother as a teenager, she would go in and work in a manufacturer and like she got choked up, but you could go, I'd say that's such an amazing, incredible warming story.
And what I admire about what day belay the incredible team at IMEC, what you've done, I agree, I think you're probably one of the first I'm not getting chills thinking about. You're one of the first Emmy peas that hired Apollo of that position. And you're leading the charge on women and manufacturing, diversity and manufacturing, and how important it is. And man, she is a powerhouse.
And so ads off to you guys. And like you're saying, like, you know, you guys are tackling these tough issues. you're tackling marketing head on, you're asking your customer. So I mean, the great thing like you're treating iMac, though it's it's it's not a it's it's not a government agency, you're a government funded, but you treat it almost like your own business, right? You feel like an entrepreneurial spirit at IMEC Do you? And I
Ray Ziganto  31:53
have absolutely, absolutely. We actually, I make success doesn't happen by accident. It's not, it's not a function of one or two superheroes carrying the whole place on their back. Somebody feels like they're doing a lot of heavy lifting, and I get it. Our processes are really disciplined. But it's not like, well, we figured out how to do this 10 years ago.
So that's what we're going to do from now on. Yeah, always interrogating, we've got a phenomenal way of collecting data. You know, for an organization of this size, using Power BI to analyze what's going on, using Salesforce as our CRM tool as, as disciplined as we do to be able to get to get data. We we eat our own dog food, man, we're we the stuff we ask our clients to do. We do it internally as well. So for no other reason, we can say yeah, I get it. But you know, here's here's why. So,
Curt Anderson  32:51
alright, so let's go here, Ray. So who'd you had an amazing manufacturing career again? President 1500
Ray Ziganto  32:57
I'm not done yet.
Curt Anderson  33:02
Like what Tim and I lose track of time. So I want to be mindful of every time we're top of the hour, if you're just joining us, if you just got off a call, you're like, Hey, what's going on here? Man, we are with the manufacturing unicorn where we raise a guy know, do yourself a favor, connect with Ray on LinkedIn, you want to check out iMac I am II see the Illinois Manufacturing Extension Partnership.
So we're talking about this. So a couple of things that I want to talk about, you know, you've seen worked with dozens, hundreds of manufacturers all over. What do you see what separates some of the pack?
What's fascinating with manufacturing? Damon, you work with a lot of different industries, primarily manufacturers, but you know, retail high fail rates, you know, restaurants are notorious for awful fail rates. Ray, why do you think manufacturers have such a long? Why the longevity? It's like they know how to run a marathon like what do you see in the high performers? Why do you think manufacturing just really gets it from an entrepreneurial standpoint?
Ray Ziganto  33:58
I would argue they're starting to get it again. If you go back Damien's laughing. I think if you go back to some of the founding stories of a lot of companies that are now second and third generation, the entrepreneurial and innovative spirit was there. Yeah. And frankly, there was a patch of time where I don't I don't know if a nice way to say this. It was it was it was
Curt Anderson  34:22
complacent. Yeah. Yes. Is that a polite way to put it, that people get complacent, like hey, we're making money. We're making widgets, making money and making
Ray Ziganto  34:31
money you're able to go back to the customer remember, I remember working in some companies, well, first week of January, what you went through what you did was go through all the all the the approximate and raise the prices, you know, and it's like, who's been able to do that recently? Right? Yeah, you know, so, yeah, there, there was a level of complacency. I always noticed it. It took a shock of some sort to really drive change in manufacturing and over the years. There's been various one Whether it was, you know, you know, geopolitical, you know, China gets into, you know, World Trade Organization.
And you know, that created an event. There's, you know, the the various stock market collapses that happened 2008 and 2009 took everybody with. So that was a big shock. COVID. You know, what's that was another big shock. And I think sometimes, like, if I'm a, I'm a geek about research on change and change management, stuff like that, if you do the research, it says anywhere. Practicing a new behavior for anything between 21 and 60 Some days, is what it takes to really groove that into a new habit.
So in some cases, companies put band aids on to get through this to get through the crisis in the hopes that it would go back to the way it was, yeah, COVID up ended that cart. Right? It's it's not going back, you know, supply chains are going to be an it continue to be an issue. And complexity is going to be part of it. workforce is not going away anytime soon. There was a study out recently, if every unemployed person right now filled every available job, that's there, we'd still be short, about 4 million jobs.
Damon Pistulka  36:15
That out, that's, that's amazing. That's amazing. You put that out, I saw that as like holy hash. So
Ray Ziganto  36:20
so it is it is not skills, it is bodies, you know, is the issue. Now, what are you going to do about it? Because every manufacturers I could do more if I had more people, rethinking, you know, clean sheet of paper, how can I how can I leverage automation? You know, how can I, how can I move productivity information from the Federal Reserve and the national census, productivity of US manufacturing, since like, World War Two was on a pretty steady upward climb till about 2010.
And it's actually been dropping, we're seeing that, again, productivity of manufacturers is actually dropping, that's output per unit input. You know, so the, there are a number of things that can be can contribute to that. But the reality is, what we're demonstrating is for the last 1213 years, we've kind of been running in place.
You know, so is there opportunity. Let me rephrase that. Is there a sufficient incentive to want to work on that? Well, let's see. We're closer now to having an industrial policy in the United States than we ever have. Look at chipset, look at what's what's going on with infrastructure. And all that. I mean, there's billions of dollars, finally, getting getting thrown at manufacturing, to improve things. You know, that's one supply chain thought or something else? What reshoring okay, if you're going to restore what does that look like, you know, Harry Moser, you are right.
But the but the the real, the real issue now is, it's not like the big OEMs, all of a sudden are going, you're right, we'll pay you a 50% premium. Yeah, no, no, no, no, I'll pay you the landed price that I that it did cost me from the other guy. Can you do that? So the manufacturers that are successful at managing that reshoring either have something nobody else does? Or they figured out to do it for the price that it was in Asia plus freight and duty and make money at it, they're gonna win. And how do you get there? Productivity,
Curt Anderson  38:22
right. So All right, great. Let's, let's go here. Hey, I got
Damon Pistulka  38:26
to go. Now, I just had to go. There's a moment there. Ray said that's 12 years or more of productivity dropping in manufacturing. I think we got complacent. There's like you said, I think you know, we're making money. Things are good, why upset the applecart but everyone knows that. Everything is changing all the time. And I think we got a lot of people that got caught with it in the wrong position. Yeah, I agree. Because they got complacent.
Ray Ziganto  38:53
Right. Correct. To answer your question, you know, whose, you know, the longevity and who's surviving? You know, I look at companies like, you know, I know Aaron weego and the team, you know, we have a tool works. Those guys what they just celebrate, like their 80th anniversary. Same thing. You know, grandpa started the business, you know, is, you know, wonderful story.
And generationally. They've never lost that hunger. Aaron, you know, the current president CEO, I told him, I asked him, I was racking my brain. Why is it companies aren't embracing even the most basic stuff like machine monitoring? Yeah, nevermind, full digital transfer transformation. Are you doing machine monitoring? And he throw up because they've been doing it for years? He goes, I don't know. We all read the same magazines. You tell me. It's right. It's like you gotta get in there and try it, man.
Damon Pistulka  39:42
Well, in the opportunities, you need to talk about reshoring alone, right? Yeah, the opportunities the resource, there is a way to figure out how to do it right. There is a way but you mentioned one thing you have to just start from a fresh sheet of paper. Because if you don't, yeah, if I just gonna go out and do the same thing you might as well just, you know, you're gonna beat your head against the wall. So you might as well just sit there and not do anything.
Ray Ziganto  40:05
And we'll get the tools that are out there now. And when we talk about automating, it's not just the Rob the Robot on the press, ya know, you're looking at what's possible. Now, in the front end of the business. What is it you preach? How can your customer do business with you at 12 o'clock on a Friday night?
Yeah. How can that happen? Part of your digital journey is taking away friction in your customer interaction. How do you make that more automated? You're looking at guys like a pro shop ERP, and what they're doing paperless. You know, how cool is How cool was that? Yeah. You know, so it's like, these are things that are accessible. You know, it's not, Boeing isn't the only one on the planet doing this stuff. You know?
Damon Pistulka  40:46
Yes. Well, and they're honestly, yeah, I think the big companies are the last ones to do it, because they had a bigger, bigger ship to turn. Yeah. Can you talk about that a knock? I think in I'm gonna geek out with Ray here just for a second.
When you talk about pro shop ERP, you're talking CNC machining companies, which have the tightest margin, they have they hard I think in the contract manufacturing world, they have one of the ugliest things to try to do. And you see a thing like Pro Shop ERP come in and help them in the ways it does. I don't know why the hell everyone's not re at least researching and understand what they could do in any manufacturing company. Because this technology is so much better.
Ray Ziganto  41:25
Here's, here's what's what's cool. I've, you know, I'm a technology geek, I follow what's going on in terms of startups where they're where investors are throwing their money, they're throwing it at manufacturing, specifically looking at supply chain.
They're looking at low code or no code, process, you know, process improvement type stuff, kind of like robotic process automation, which is business flow, its process flow. So there are startups there are young people, young folks that are excited about manufacturing, that get it that are building tools for the masses. Yeah, you know, kolab and everybody I mentioned, we don't I'm a I'm a fanboy a pro shop. We don't I don't have a deal. They don't pay me.
Curt Anderson  42:07
You're preaching to the choir, man. We are fans of Paul. It's,
Damon Pistulka  42:13
well, it's it. These are simple tools. I was in a manufacturer a couple of months ago and saw how they utilized an ERP system with traditional spreadsheets, and other source PDFs, other sources of information come their salespeople, and they had rolled it up simply through Office 365. And teams in Power BI. And this kind of intelligence they had at their fingertips in the manufacturing for supply chain and scheduling and all this. I was like, Holy heck, yeah. And they they spent very little in terms of technology spend and just had people that knew how to build the right things for them. Yeah, it's just amazing. Just amazing.
Ray Ziganto  42:54
You got to ask for what you want. Yeah, what my role would make my life easier. Ask somebody that knows how to write a program for you. It's like,
Curt Anderson  43:03
Alright, so let's catch up on mando chat boxes. Fire So Amanda,
Damon Pistulka  43:08
yeah, they're hiring great people.
Curt Anderson  43:10
And they're hiring like crazy guys, if you're in the state of Illinois, and reach out to Amanda IMEC if you want to join an amazing team. If you're not sure Call me. Call Ray. But hey, Damon.
Damon Pistulka  43:20
Hello. Not that again. I can't hear that word burns your time.
Curt Anderson  43:25
You're just burns your eyes. I'm not keeping up with all the comments. But rate Dude, this is Oh my god, this is so fire. Oh my god. Like there's so many things to cover right now. So last month, we had one of your teammates. We had Cameron on the program. Cameron shared, I asked her who is your hero?
You know, she said her aunt Kathy. Kathy was a 22 year veteran that worked at iMac. She said go to the office with me. She was so inspired. She goes to college. She gets an internship. Where does she go? iMac next Friday and apologize. I had a little brain fog earlier. When we're interviewing. We're interviewing a gentleman, Keaton. He's 22 years old. He's a college student.
He's a client of iMac. He's as fierce manufacturer. He is crushing it. Guys. You got in like he's a he's a quiet guy. He's such an inspiration. Cassie is going to be on the program. But you know, we're seeing this younger generation. So rate, super exciting things going on for manufacturers. So here's let's go here with this question. Manufacturer 510 15 employees, you know, maybe whatever first generation, second generation, whatever it looks like, okay. And you're like, man, Ray, I hear you. I just like, you know, this thing's been handed down.
We've been manufacturing this pan the way we've been doing it. You know, I want to change but man, I'm just I'm a little intimidated. I'm overwhelmed. I don't have that truck. Like I saw you had a great post about you know, trust trust based relationships. Okay. What advice do you have for that 510 15 person manufacturer like right man, I hear you dude, I want to change but I just don't know what to do. How like How can you like, put your arm around that manufacturer and get them off? Get them into the Enzo
Ray Ziganto  45:04
position determines perspective. Okay, so number one, that manufacturer is too close to it. It's just a function of, they come in and they're bombarded. And everybody gets triggered by different stuff and worries, you know, you know, you kind of go in the direction you're gonna go. And so what you need somebody that can help give you some perspective, that will look over your shoulder and say, You know what, you know, here's, here's your, your biggest issue.
Yeah, it might be great to focus. I read this somewhere, but it really resonated. Yeah, you might really want to focus on five s, but based on what's going on here, wow, I would, I would straighten out this process you got over here, because you're bleeding money. You know, because of this. And a lot of it comes down to, you know, simple data collection, you know, every manufacturer I've ever talked to, I says, What's your utilization?
They always give me a number of 60 to 70%. Say, how do you measure it? Oh, we do Shift reports. Okay, once you start actually doing data collection, real time, and you're looking at the numbers, almost all of them are below 50%. Usually well below, so you don't even know. And you're making decisions on data.
That's not accurate. You know, so what you really need is somebody that can come in and give you that perspective, and get your arms around, hey, you know, where are you bleeding because everybody's got something, fix that. And be aware that you're, you're on a journey. This isn't you're not gonna get to sit back and go, whew, it's over. It's just you're going to tackle bigger, more important issues. You know, I'd rather worried about a diversification push than how am I going to make payroll? Yeah, you know, right.
Curt Anderson  46:40
Dude, you just lit up. Like, this position determines perspective. That is so good. Whitney, happy Friday. Thank you. What else we got here? We've got so true. Sometimes you're so close. So close, you can't see the path. Right, let's, let's start winding down. I want to be mindful of everybody's time as we move into the bottom of the hour here. You shared with me, this was the greatest job that you weren't looking for. Yeah, can you and so and when I said earlier, when I said you've had you are continuing to you are building this amazing, incredible career that just ongoing and ongoing.
And, you know, in in before we dig into that, that's I think why we all love working with manufacturers getting I was at a workshop yesterday, this manufacturer founded in 1957, that went over there founded in 1968, that when the baby was like 1985. So it's like it's just it's great how these manufacturers just get it, they are so inspiring. Raise, so just talk about you, you stumble into this amazing, incredible opportunity. You weren't even looking for it, can you just share how did you end up at IMEC
Ray Ziganto  47:48
it was funny. The short version, I had finished up a contract with Northern Illinois University that was around trying to create a better connection between research universities and small medium sized manufacturers. And it was, it was a terrific learning opportunity.
It's not without its challenges, universities move their arbiters one pace, and businesses another So getting those distinct up was was a challenge. But I really enjoyed, you know, being in it being kind of back in a structured environment, stuff like that. So fast forward, it was like, Boy that was coming to an end, what do I want to do, it's like, I'm gonna jump back into it. And, you know, I want to run a company again.
So in part of the part of that journey, I was, you know, I was getting some interviews talking to some folks are saying, I just got a call. So I, you know, my lady I was working with, that helped with my resume. And she was like, you gotta get some some references online. So I fall back in a call. So I call it David Blake, because I had, I'd known him for years, we'd meet for coffee, whenever he was in Chicago, got to work on some projects together. I told us this table, you know, here's my sad story.
Here's what I'm looking to do. Would you please, you know, for your reference, and he goes, absolutely. You know, when do you need it? By the way, what is it you want to do? What do you what are you looking for? Right? And without even thinking it just came out of my mouth. It's like, I want to have an impact at scale. Which was kind of a kind of an interesting, Freudian moment for me. And at that point, Dave, not missing a beat goes, Why don't you work for us? It was like doing what?
So once that one thing led to another conversations with Amanda and John and Mary Alec, you know, and the team and and here I am partner relations manager and I get to, you know, spread the good word. I manage the influencers. I build relationships and the people that throughout the state that are actively involved with manufacturers, I make sure that when their constituents have an issue with manufacturing, that the first thing they think of is to tell them to call IMEC so I'm in a role I was built for, you know, build advocates for manufacturers,
Curt Anderson  49:55
man isn't it just isn't as amazing what how refreshing when you just you find And you're calling your purpose of like what you were putting, you know how you're making the world a better place. What you were put on this, you know you're gracing this planet with the DO RE. And it's just it's such an inspiration. So I let's call it let's, let's find down here a couple more good comments here. You got something, here we got it's awesome. All right, guys. So as we wind down, let's go here. First off, thank you. Thank you for joining us, Ray. Here's my last question for you. Just somebody's catching this on replay.
You know, it's January of 23. We're still fresh into the new year. We talked about Anthony being your absolute hero growing up, God bless him what a great father, you had your three older brothers, you're super fired up about iMac we talked about we covered a lot of ground on just the amazing work. That's when I met for 2023 Your goal is impact for scale. Who or what is your inspiration? Who or what is your inspiration? As you're just helping manufacturers smash their goals? Who's your inspiration?
Ray Ziganto  51:03
Wow, that's, that's interesting, because it's shifted, I guess part of it is because I get to hear about I get to live and breathe the stories of small and medium sized manufacturers every day. You know, and that's and that's still inspires me. Because the ones that come to iMac want it. They've already crossed that threshold, where it's like, Oh, I'm not sure if we're going to ask for help. Or if it makes sense to collaborate or partner, or bring in some outside perspective. They've already made that leap.
And they've decided, no, I'm going to trust these folks to help me get to next. So so that to me, is you know, that growth mindset that you want it and you want to get better, and you're going to bring in a partner that's going to help everybody leverage up that inspires me. So at the risk of being corny, it's every frickin manufacturer in Illinois, that steps up to the plate and says, dammit, we're gonna do better, you know, and watch us, you know?
Curt Anderson  52:05
Dude, drop the mic. We're just savoring that one. Yeah. How do you help get to next? Yes. That was the drop the mic. I like it's hard to top that one. How do you get the next Indian? Well, we talked about this Monday. How you know, big word that somebody from the MEP right APR came on? And she used that famous term? courageously uncomfortable. How do you get courageously uncomfortable and exactly what Ray was talking about? Let's not get complacent. There are incredible resources for you. If you're a manufacturer, I don't care. I was with a manufacturer yesterday at this workshop.
He's a one man band. One. If you're one person, 10 people 100 people, man reach out to your local MEP. There's all sorts of there's associations. There's all sorts of trusted resources to help you you don't need to feel like you're in an island. You're not in a silo. Reach out to guys like an iMac, the incredible team here, contact Ray and man, he's going to get you in the right place. Right. I'm gonna sneak in one more question. We're
Ray Ziganto  53:06
here. You know,
Curt Anderson  53:07
we're baseball fans. You ready? And we were talking about music before we went live. So Ray, you said Alright, what's next? How do you do? Let's get people across the plate. Okay. Yeah. Bottom of the ninth. Guy on second. You're down by one run. And you come up to the plate. What song are they playing when you walk up to the plate? Oh
Ray Ziganto  53:33
that's a good one. James Brown. I'm back.
Curt Anderson  53:38
I'm back right all right. Here's right. Yeah, dude, how about some great comments here? Just you know what the great thing is with all these amazing comments here, it's just like it just if you guys if you haven't had a conversation with ready, just man of integrity, hysterical, funny. Authentic, awesome. Gracious. Just the manufacturing unicorn is right here.
So Ray, I want to thank you for your friendship. I want to thank you for what you do for manufacturers what you're in that you brought your superpowers your talent to iMac is just so rewarding. I've had the honor privilege of working and I'm going to apologize anybody I didn't give a call out to or shout out to. We've had the honor and privilege working with number of folks that I met you guys are just doing magical things. I'm seeing it firsthand. So rate your LinkedIn profile your iMac anywhere else that people can connect with you
Ray Ziganto  54:40
on LinkedIn or iMac, Arza, Kanto and imac.org. There we go, man. Even if you just want to wrap manufacturing or whatever, reach out. I love talking shop. We'd love to talk to anybody that's that's curious about what it might be like working at iMac. This is an awesome place it man. Whether you're Are you in early stages or in the middle of your career or you're you're tired of the rat race or whatever, if you want to, you want to come in and do your best work. Give us a call, man. This is this is it?
Curt Anderson  55:12
Bam. Okay, let well and great on that. Guys. Thank you everybody in the chat box, man, you just, we can't express how much we appreciate every call Dan. Whitney. Diane. Bonnie. Thank you, Bonnie for being here today. Allison to Ford.
Ray Ziganto  55:27
How about higher oil shale? Drilling.
Curt Anderson  55:31
Everybody out there especially Allison got all right. Man, Christie Johns is here.
Damon Pistulka  55:37
Oh, wow. Awesome.
Curt Anderson  55:40
Man, we got to close it out.
Ray Ziganto  55:43
Amazing. All Tim
Curt Anderson  55:45
have an amazing, incredible, wonderful weekend. And just like Ray here, boy go out and be someone's inspiration. So we will see you on Monday. We have a great guest on Monday. Like I said, we have iMac coming back next Friday. So keep crushing it. Have a great weekend. Ray, hang out with us one second. You got it. Damon, take it away, brother.
Damon Pistulka  56:05
All right. Well, this was awesome. I just want to thank Ray for being here today. All the guests the best moustache in manufacturing. And we were talking about driving mass and positive impact for manufacturers. And if you didn't hear that, you go back and rewind and go through this again. We'll be back again next week with a manufacturing ecommerce success. As Kurt says we got more great iMac people. But if you are not in Illinois, don't fret. There is a local MEP in your state. Get out there, find them get some help get what you need. Have a great day everyone. Talk to you later.
Schedule a call to discuss your business goals and answer your questions on growing business value, preparing for sale or selling your business.
Related content
These posts may also interest you
Turning the Tide on Employee Turnover
If you want to get your long-term strategy tuned up, listen to this MFG eCommerce Success show to hear Dorie Clark share how long-game-strategic thinking can help you achieve monumental goals.