Driving Sales Growth with a Clear ROI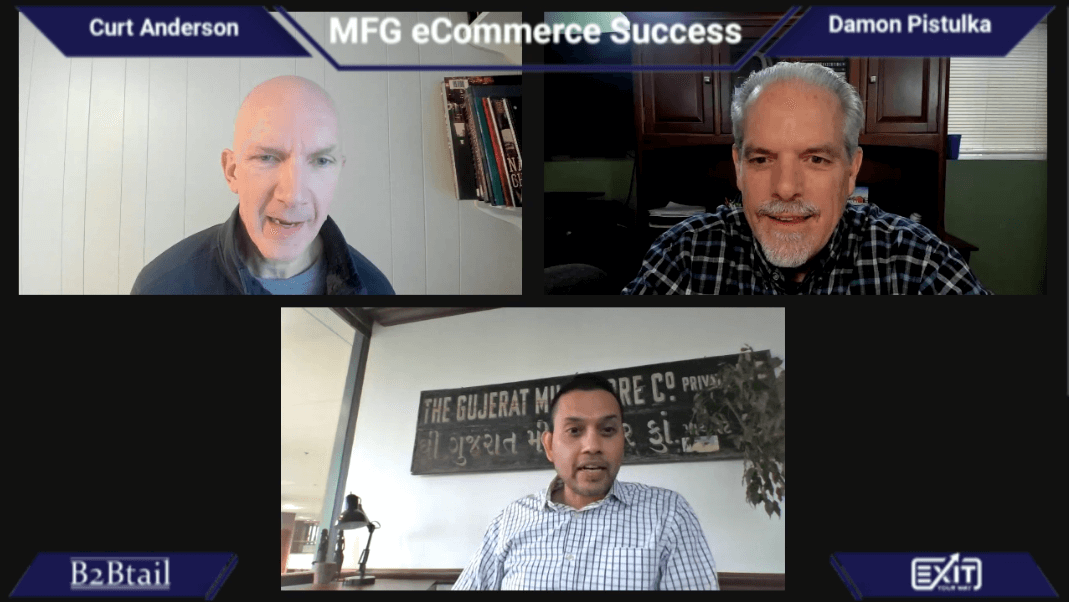 MFG eCommerce Success
Driving Sales Growth with a Clear ROI
In this Manufacturing Ecommerce Success Series episode Parin Mody, Managing Partner, StratMg, joins us to share how manufacturers can map marketing investment to sales dollars.
Parin helps manufacturers develop structured growth strategies & execution plans to drive sales directly resulting from these efforts. Parin has been leading the team at StratMg for over a decade, helping manufacturers.
Parin and the team at StratMg have helped over 350 manufacturing clients with a 90+% success rate using their methodology. The StratMg methodology breaks the process into three main categories: making customers, managing customers, and monetizing customers. These categories allow manufacturers to generate faster and easier growth with efforts that improve lead generation, lead nurturing, and inside sales by building deep and meaningful relationships with prospects and customers. These relationships then become a catalyst for organic sales growth through customer retention and new customer acquisition.
Download our free business valuation guide here to understand more about business valuations and view our business valuation FAQs to answer the most common valuation questions.
For Damon and Curt's Livestream viewers, Friday means another exciting episode of the MFG eCommerce Success Series event. They excitedly welcome Parin to their show. Curt asks the guest about his childhood inspiration.
Parin's father is his childhood hero. His parents were into manufacturing materials for textile mills. He traveled extensively in India to grow his business organically. The guest now realizes how tough it is to establish a business.
Parin pursued his career in the telecom industry but soon realized it was not his cup of tea. Somehow, destiny brought him "back into manufacturing." He discloses that his grandfather started a manufacturing company in the 1890s.
Do you want to know if your business is ready for your exit or what you should do to prepare? Learn this and more with our business exit assessment here.
Curt surprises the guest by telling him about his achievements in flattering terms. He cyberstalked Parin. Curt calls him a "manufacturing guru" that the guest finds pleasing.
While talking about himself, Parin reveals that he went to Northwestern University and opted for four majors. He believes although education is not always necessary, "it adds a level of credibility that this person can read and write and has some structure that they can pursue." He considers himself lucky to bag a job at Cummins Allison right after graduation. He worked as a Senior Product Manager there. The company dealt with casinos. And his role there was primarily "to help them develop a plan to monetize the advertising dollars on the digital side." On a lighter note, he talks about Ocean's Eleven, winning big games, dollars, glamour, and whatnot.
In the meanwhile, Parin undertook some ventures. In 2005, he worked as Director, Business Development and Product Marketing at Reed Business Information. He was purely in research and development (R&D). Together with KDDI, South Korea Telecom, and China Unicom, they deployed one of the world's first or second-largest voiceover IP deployments.
Get the most value for your business by understanding the process and preparing for the sale with information here on our Selling a Business page.
Curt asks Parin about the latter's leap of faith in 2013. The guest gives reasons to be a manufacturer as well. The first reason is his innate mission-driven ability. Coupled with their success and revenue, they also look after their client's progress. Besides gaining manufacturing capacity, a successful entrepreneur has to the metaphorical "Battle of Normandy beach." In other words, "if we can create and save jobs" increases sales. Producing an item and the ability to market it are a means to an end; sales.
Parin maintains that there is no cutthroat competition in manufacturing. Facebook, among other social media marketing platforms, helps manufacturers effectively market their products in South America, America, and the UK. Taiwan, Korea, Japan, India, Ireland, and Singapore. The guest, likewise, credits his success to MEP and IMEC.
The host wants Parin to talk about his experience as a client at IMEC.
Parin describes that at IMEC, he reached out to Mary, the technical specialist of Carbondale. Not only did she enlist Parin's company on manufacturers' cyber databases, but she also helped them deploy marketing automation. She lent him a couple of workable pieces of advice, like pursuing "lead nurturing."
On Mary's advice, Parin started crafting their strategy. Soon, it started showing impact. He discloses that he "was also pleasantly surprised that there are good mortal coils around."
Parin believes he needs to change the traditional mindset that discourages spending on product marketing and aftersales. The reason why he picked small and midsize businesses is that they are the ones that are most sensitive to cash flows, demands, and supply chains. Larger companies have great staff and resources to tackle these issues.
For midsized enterprises, StartMg started working towards a methodology based on leveraging off-the-shelf technology. It helped Parin's clients look at technology and understand it in terms of engagement and appointments.
He convinces the viewers to invest in marketing for doubles the ROI.
Moreover, for marketing, he depends on technology "because marketing is typically at the cusp of trends. Marketing is at the cusp of competitive landscape positioning value proposition." And if we can bring in technology and transparency, we should be able to influence conversion rates and sales, making the life of a salesperson easier.
Parin shares his unique modus operandi to market his client's business. "We challenge our partners and clients." These challenges awaken the clients. They do not readily make offers of their preset toolkit, website SEO, email, paid ads, and social management. Instead, they question if the client's "objective is to bring in more diversification." Based on their objective and timeline, they offer an executable plan.
Moreover, StartMg's goal is not to make money. Besides, their goal is to create long-term relationships with their clients.
Parin's other core strategy is to let manufacturing companies realize their unique identity as a brand. "Once we have crafted that identity, you want to be able to build on that relationship with the prospect by developing trust." Similarly, it is like second nature to them.
Curt says, "it was soothing, dude." Moreover, he asks Parin about his 2023 goals and aspirations.
Parin believes that we are at an inflection point where we can make some significant difference. He wants to utilize his overseas contacts to flourish. Gail, one of the viewers, remarks that this idea of Parin is fairly "friends-shoring." Similarly, he talks about his belief in strong social responsibility to every MEP official. They try to do at least one or two projects every quarter with a different company.
Before departure, Parin says to the hosts that if they know any company or other people that deserve help and are short of cash, "we may not have the cash to give them, but we certainly may have the ability to help them generate sales or something short term wins."
Curt and Damon believe this enthusiasm is contagious, and they thank their guest for such generosity.
The hosts thank Parin for his time, and with this, the event comes to an end.
49:52
SUMMARY KEYWORDS
manufacturing, started, damon, business, mep, marketing, terms, northwestern, people, dude, manufacturers, friends, kurt, salesperson, question, companies, talk, challenges, paren, clients
SPEAKERS
Damon Pistulka, Curt Anderson, Parin Mody
Damon Pistulka  00:00
All right, everyone, it is Friday. And what does that mean? That means a nother episode of the manufacturing ecommerce success series. I am one of your co host Damon Pistulka. And with me right there, that lovely dude Kurt Anderson co host evangelists for manufacturing ecommerce. Take it away my friend
Curt Anderson  00:28
Damon Pistulka Mr. Exit your way. My goodness gracious dude. Friday the 13th Do we feel lucky today? Man It's insane how lucky I feel I didn't you know, it just hit me like it's Friday 13th I just said that. We are blessed. We are just so fortunate today, guys, happy Friday.
If you're with us, drop us a note. Let us know you're here. Let us know where you're coming from. Man. What an honor. What a privilege. We had just this awesome amazing incredible. Rockstar guest today paren Modey Modey Modey Is it a song by it? Was it was it Billy Idol Modi Modi or I might be messing that up. So paren How are you my friend?
Parin Mody  01:14
I am doing very well. I think I'm going to take this tidbit of introduction and use that every time right before our dinner starts at home and then come right down into the into the dining here.
Curt Anderson  01:32
Hey, dude, that would be awesome. So man, this is so far long overdue. We've been fast friends kind of vine a virtual digital thing, if you will. And just what an honor privilege we finally crossed paths. And here you are today. So let's you know what, Damon we're not you know what we're gonna be serious in this program. today. We're gonna dig right in. Right?
I'm being dead. Dead serious today. I'm, you're ready? You know what I'm starting with? Let's go here. Let's do it. Parent as a young boy growing up. Who was your hero? Who was your hero as a young boy growing up that just developed and created this rockstar marketer for manufacturers? Who's your hero?
Parin Mody  02:16
So the my father, as simple as that you can never go wrong with that answer I've learned in this country. That's a great answer. father or mother. Right? So I was Bill I grew up in manufacturing. We used to have textile plants, manufacturing material for textile mills and stuff. That's where our history comes from. And it's ironic the path that I've taken I know Kurt, that's not the area you want to get into.
But it to me life is interesting, because I started out in manufacturing grew up in manufacturing, but I was the black sheep of the family went into it when telecom went into Voice over IP and stuff like that. And then from there somehow, destiny brought me right back into manufacturing. Right?
Curt Anderson  03:03
It's great. Was it Al Pacino in like Godfather three like they keep sucking you back in right it's like the manufacturing is like the mafia so
Parin Mody  03:12
so the board that you see right behind me that that's from my great grandfather that started our company 1890s Or something like that. So
Curt Anderson  03:22
so so let's you know what you piqued everybody's curiosity. Let's take it a step further. Dad, his name? What about Dad? What made you Why was Dad Your hero? Let's go there.
Parin Mody  03:34
I think there are many cultural aspects to it as well, right? So. So I grew up in what is now Mumbai, India, and for me, it is Bombay, India. And my grandfather was a traveling salesperson who used to work on an assembly line. And from there, he started a business and then typically a son would join the business and there was a time when you'd be supporting the family and he found a way to grow the business organically, which is always challenging.
I have a newfound respect now of what it takes to organically grow a business than to say that oh, we could afford car one now we can afford two cars, right? So clearly, we're doing something right there but but it's it's it's the work that goes into it and having that front row seat. And the fact that I keep going back to it too, because every phase now has a different meaning to it because I can relate to it a lot different now than I used to that.
Curt Anderson  04:33
Yeah, absolutely love it. So alright, so Dad Your hero Great answer like you said it's always a safe answer. But you know, it's an honest answer. So it's shout out to dad, you know and so what we're hearing entrepreneurship manufacturing runs in your blood and your Dane DNA just can't even help yourself. Now if I'm not mistaken, I believe are you a wildcat? Did you go to Northwestern by any chance?
Did you have an A? So Damon? I love you know, I love being the done this guy on the Zoom or in the room or whatever we are cool. So we've got a Northwestern grad here with your MBA. Now it looks like E commerce. Were you doing e commerce in your MBA? Do I have that correct?
Parin Mody  05:12
Yes. That is freakishly Correct. Yes,
Curt Anderson  05:14
that is that. So hey, we did a little stalking. So that's what we do here on our program. I mean,
Parin Mody  05:21
I didn't know there was all kinds of stuff on the internet.
Curt Anderson  05:23
So hey, the internet, the internet thing might stick around Damon, I don't know, I know that my dad, the internet thing might stick around. So guys, again, if you're out there, drop us a note, you absolutely want to do yourself a favor, connect with her and he is just an absolute Rockstar puts out great content on a regular basis.
So we're gonna talk about so you go off and get your MBA and man dude, like this is early 2000s ecommerce, just, you know, take us through your when you're the black sheep of the family going into it, just kind of walk us through that. We want to hear how you got up to speed on this, this manufacturing marketing guru that you are.
Parin Mody  06:00
I love the fact you keep saying manufacturing marketing guru, right, because the only problem that resonates in my mind is that the more I read, the more I realize how little I know. But but I like it. I'm not going to complain. So please keep going. I'm going to play this clip tonight at dinner for sure.
Damon Pistulka  06:19
Not as crazy as you think that's gonna be my
Parin Mody  06:23
first question. They'll ask us how much did you have to pay for it? Yeah, yeah. No, but I think cheap. No. So for me, I think when we started out, my major at Northwestern was in business strategy marketing, because no question was known for marketing. And I believe that education is not always needed. But for somebody who is unproven, it, it adds a level of credibility that this person can read and write and has some structure that they can pursue.
So I had business strategy, I had marketing, I had technology and ecommerce and entrepreneurship. Those are my four majors coming out of Northwestern. And where I lucked out was my first opportunity came at a manufacturing company called Cummins, Allison, and come in Dallas and manufactured currency processing equipment.
And I was enamored by that job, because it was all about product management. And it was all about working with casinos. So banks, casinos, anybody that did a lot of work with a lot of cash, like a back office. Yeah, they did counterfeit detection and stuff like that. So Oh, yeah. So it was fascinating to see. And it's a very, at the time, it was a very engineering product driven company. Right. It was very, it was way ahead of its time.
And when I started working there, we would visit casino I don't think there's a single property Indian or otherwise in this country that I haven't visited at least four times in a span of like five or six years that I was there. And everybody would ask me saying, like, I've seen Ocean's 11 Is the back office of the casino, like, is it just as glamorous as that? I mean, that was pretty cool, right?
And I'm like, now Texas's have that you are stuck in a room that is 10 by 10? Or 20? By 20? With with not even air conditioning sometimes, yeah. And you're seeing your equipment run through millions and millions of dollars of cash and the protocol they follow it is it is fascinating. But after five hours, if somebody has to use the the Jan's or something like that, if they have to use the restroom, then everybody has to start all over.
And it's taxing, right? Yeah. So I started out it from that perspective, where we were looking at their product mix and what's the best go to market plan, given the product mix and functionalities and things like that. And that was my first foray into product marketing.
And from there, I went to a company called Read business information, read business information at the time, was one of the biggest business to business trade publisher in the US. And, and in the US, their bread and butter was Pronax there was a small division within that large umbrella and for those that don't know, typically, they know the Variety magazine out of Hollywood most people can relate to that.
That was That is one of that was one of their properties. So but they have different properties within manufacturing, manufacturing, Business Technology, control engineering, climate engineering, and then in construction, and so on and so forth. So our goal within that large umbrella we were probably the mini mini pinball in that organization to help them monetize the electronic assets that they had with regards to email marketing, and so on and so forth.
So, so my role there was primarily to help them develop a plan to monetize the advertising dollars on the digital side. So that was my, my shoe entry into pure marketing sales. And then of course, from there it is working with companies all the way from Siemens, to ally to all kinds of resellers, distributors, manufacturers.
And and then 2000, I think it was No, I think in 2010 They started divesting properties. So we were fortunate enough that we had a good relationship with the mothership out of UK. So we worked with them, and they were like, Hey, if you guys want to believe in your business plan, and if you want to go at it yourself, as long as they indemnify us, we are good to go. So that's how strategy was formed. It was formed with three people at the time.
And we started with, with two clients or three clients at the time. And and we completely underestimated the value that a large organization brings to the table not just from a brand equity standpoint, in terms of how it opens doors on the sales side of things, but also from the operation side of things because now the business owner is the janitor the business owner is the HR the business owner is the controller,
the business owner is the salesperson so so it was a almost like a reincarnation to say to this is where I keep going back to my dad in terms of what phases he was going through it his life and, and what it takes to kind of get from there to where we are today. 10 years later, right. So the answer for
Curt Anderson  11:39
you. So great answer, dude. So 2013 You take the leap, right? Was it too thought was there? Was there an epiphany was there a moment but like, you know, you worked at you know, Cummins, Allison, you've worked at some great companies, I thought like three comm or something like that on your list. So you've had a great, you know, you've got your MBA from Northwestern. So you're building out this great career. What was that leap of faith? Like was it was it excitement, nerves, theory to be
Parin Mody  12:07
actually, I've always been taking a leap of faith because when I was at a three comp, we were, I was in the pure r&d area, we were looking at deploying we were one of the first or the second largest Voice over IP deployment in the world. But at&t MCI, we're deploying our equipment, even from the wireless side of things, but wireless over IP, so to speak. KDDI SK T South Korea telecom and China Unicom and stuff, we're deploying our equipment. So I was in the core r&d piece of site side of things.
But But what I learned at the time was we were a very product centric company, we were not a sales centric company. So I figured that there was an area that I was missing in the holistic view of what makes a business run and from that's what brought me to something like a common Dallas and to say, okay, product marketing requires some parts of engineering and then some parts of marketing.
So it allowed me to kind of navigate and, and for us to take that leap. It was always about, and I wish it was about the confidence that I had in myself, although being a Northwestern grad, I did write up a business plan honest to god, I did my degree good. I wrote up a business plan, it was about 45 pages. And I was like all puffy chested, swelling like a toting I'm guaranteed to succeed. And three years later, when I look back at that document, and I the only word that comes to my mind is is adorable.
But But for us, it was more about it's the truth. It's the truth, right? So I have no qualms with getting to it. So there was not an epiphany to go. What happened was when RBI was was divesting properties, we were going to get let go. So what we figured the three of us, we figured that, well, instead of having a gap in your resume, why don't we just try it ourselves?
Because we're pretty much doing everything anyway. So why write ourselves? In a worst case scenario, by the time we find a job, at least we'll have something to say on your resume, and there won't be a void. Right? Right. So we were thinking that maybe six months, we have a paycheck coming in while we look for a job individually. And that one customer went to two and the 2123 and the 3125.
And we were like, maybe there's something here, you know, and then initially, we were spending 90% of our time on the job searches and not the customers. And then in two or three months, we started spending more time on the customer side and not on job searches. Yeah. And that's basically how we started but again, a year in when when, when things got real. We realized that there's a lot more that we needed to do and that's when it actually sunk in that we're a business and not not just three consultants working together. Yeah, crazy. Wow.
Curt Anderson  15:01
So Peter Drucker calls it the accidental entrepreneur, right? Is that what you call yourself? Is that just so?
Parin Mody  15:10
I call myself an accidental mortal coil. Everything is an accident, some just more planned than others.
Damon Pistulka  15:18
So, I love that,
Curt Anderson  15:21
man. Okay, so with entrepreneurship, again, as we started off earlier, you know, in your blood in your veins, and what have you did like, was there a time like in that transition period? Were you like, gosh, I guess that entrepreneurial hat is staying on like that, like, this is this? Is it man, like, I'm not I'm burning the ships. I'm not going back to somebody else. Like, what is that? Is that kind of what it was like? Or what?
Parin Mody  15:45
Yes, I think when you're in your control of your own destiny, I think you have a different level of commitment to it, as you guys would know, as well. And I think yes, I do believe that there's some truth to when you say that it's in your blood, right? It's a bit innate. If you are risk averse, this is probably not not your thing. So I knew that if I was investing in the stock market, that I had at least a ticket to the game that I was at least eligible to give it a shot and see what happens.
Curt Anderson  16:14
Right, right. Okay, so Damon, I noticed Whitney Whitney Happy Friday out there, she dropped a note looks like we're having some challenges on LinkedIn possibly. So you're missing us jump over to
Damon Pistulka  16:26
YouTube, Facebook, my LinkedIn or my YouTube, my twitch my Twitter.
Curt Anderson  16:31
Yeah, and a few places. Oh, Damon Pistulka. He's on Twitter. And I dropped, I just dropped pourrons website into the chat. So if you guys get a chance, again, please connect with her in here on LinkedIn, check out his website. So Pearn, what I'm trying to do is dude, I have just immense respect, admiration for what you do, we're gonna dig into like your relationship with MEPs in a minute here.
But talk about like, from 2013. You know, like, it's still kind of like early social media ish days, if you will. And so talk about like, your process the evolution as a marketer. And you know, what, and before I get there, I do, I'm sorry, um, let me back up. I have another question.
Why manufacturers? Yeah, I got, you know, like, I know, like, hey, you know, my grandfather, I know. It's in your blood, whatever. But I mean, there's, you know, you had you had tech, you know, tech in your background, you're in Chicago, you had a lot of different industries that you could have been targeting. Why did you bring your superpowers, your guru Yunus Daymond? Is that a word? I just made? That one up? Why did you why did you bring your guru Yunus to manufacturing? So there
Parin Mody  17:38
are multiple reasons they're the He's the number one, the most obvious reason. And actually, there are two the number two number one obvious reasons I think we're a very mission driven group. So we wanted to be part of a sandbox where it wasn't necessarily just about revenue and success and growth for us and our clients that there was probably more of an underlying cause to it. And when we started looking, because at RPI, we were fortunate to work across a plethora of sandboxes.
Right, we were in hospitality, construction manufacturing supply chain. So we had a good cross section of in the b2b world of what are the different dynamics. So one thing that we always needed was, so one statistic, and I may be slightly off, but I think in 1997, compared to today, there are 25% 25, or 27% Less plants today than there were in 97, or 2000. Okay, so And of course, over the over the last few decades, we've lost a lot of manufacturing capabilities.
So that was number one is if we can do something because we're not engineers, we're not manufacturers or whatever. So if we can find a way to bring back manufacturing to the US, that's a great cost to be. But But again, it's reshoring it's just too big an umbrella. So we have to then find our Battle of Normandy beach, so to speak, where like, if we can create and save jobs, right, that's one thing we can do, given what we know.
So if we can create and save jobs, then that increases sales, which then increases a demand it in further increases investments in manufacturing, and so on, so forth. So that was our beach. And that has been our mission since day one. And that's why we came in manufacturing. I will also say that there's also a personal agenda that competition in manufacturing isn't as cutthroat because our claim to fame has been, I guess I'm allowed to say that now has been Facebook.
So when we started, we were with working with Facebook and we help them with their go to market across South America, America, UK. Taiwan, Korea, Japan, India, Ireland, Singapore. And and and at that point we realized that maybe we do have something right something works. So so we found a way to it took us a little bit and this is probably where the it's a transition into the MVP conversation you want to have is because majority of our, our experience was on the enterprise side of things.
So then we were like, Okay, if we want to help create and say jobs manufacturing is probably the prime candidate competition isn't as much. But now we need to find a way to adapt our enterprise process methodology to a small midsize business and they are very different. Again, like I go back to the word adorable, we didn't realize what it will take to transition into that environment. But we found a way to do it, thanks to IMAX specifically, because they kind of helped us shape it to where we are today.
Curt Anderson  20:58
Okay, so let's hit that right, let's plunge into the MEP decision since we're there. So for anybody that's not familiar with MEP, we're talking manufacturing extension partnerships. And you mentioned IMEC, which is the MEP of Illinois. Current let's let's let's get right underneath the hood Brother, what? What went on an iMac? How did you roll out that program? Let's let's take it another step further.
Parin Mody  21:22
So I reached out, married Michael, I think I think you know, married.
Curt Anderson  21:27
I do know, Mary. So So
Parin Mody  21:29
I reached out to Mary and, and she's at the time she was the technical specialist of Carbondale. And because I couldn't get through to rob, who used to be their sales director. So I reached out to Mary and I talked to her about what we did. And And initially, she was like, Well, I mean, I've got plenty of website companies. I've got ecommerce companies, so okay, I'll add you guys to the list. And I'm like, Mary, you know what, I just happened to be in Carbondale.
Three days from now maybe we could get together for lunch or something and to like, okay, and she was nice enough to give us FaceTime. And then that lunch meeting turned into a five hour meeting and she was like, Oh, you guys do marketing automation. Oh, you guys do lead nurturing? Oh, that's not what I got through from you.
Initially. I'm like, well, pardon the salespeople, they don't get paid well at strategies, right. But that's that's typically that's how we started and then we started bit with her and us together, we started crafting thing, what is it that we do to kind of go to market what's the small things that we can do to start showing impact. And the good news is that our tagline is results period. So and and that aligns very well with IMAX philosophy.
Right? So everything that we do is quantified everything that we do is unambiguous and transparent. I mean, we have walked away from clients in the past to say, hey, our program is not working for you. So I don't see a point in us continuing and taking your money. Instead, we can look at how else we can help you and connect you to other people that might be able to do more for you. And we've actually had a lot of referrals out of that, which I was also pleasantly surprised that there are good mortal coils around.
Curt Anderson  23:13
Nice. Alright, so you said you said a word that isn't frequently said in our program, Damon, I'm not sure how to spell it. I don't even know if I can pronounce it. unambiguous. And that was actually the title of our program today. Yes. Daymond. Or you had to look
Damon Pistulka  23:27
it up. I didn't include it in the title.
Curt Anderson  23:32
I had to go to Open AI. I had to put it into a little artificial intelligence. Yeah, at gd p t. And like, what I'm just kidding. So let's dig in. So when you say unambiguous R, R L I, I can't I can't even say ROI. What this ticket intercept for so let's get somebody's engaged with you guys. And you know, there's a manufacturer out there they're like, Man, I'm really diggin what I'm hearing right now. Hey, look who dropped the note man. Speaking
Damon Pistulka  23:58
of the devil, Joseph. Joseph is here
Curt Anderson  24:00
today. Dude. I'm proud of them up centered. Great work record is David. This is awesome. Joseph. Happy Friday. Happy New Year to you, my friend. So Joe, I tell you what a great advocate for the MEP center. You know, nationwide right there is Joseph. Joseph. Thank you. We salute you brother doing great work for our country. Indoors here. Hey Damon, I got a call coming up with indoor I think and I and and is in the house. She's with a tech centers. So let's go there. Right. So uncover that. Let's just keep it rolling. Do just keep the party rolling.
Parin Mody  24:35
Awesome. So now you realize I'm a talker, right? Like,
Curt Anderson  24:39
and we'd love every minute of it. So all right back to unambiguous ROI. Where did you come up with that phrase that term? Like when did you start working with clients where you're like, man, like we have a process that really drives strong, healthy ROI for our manufacturers. And there's a manufacturer on the call right now. They're like, dude, like my ears are poor. picked up, let's go there.
Parin Mody  25:02
I think it's in our DNA, right? So part of us, our part of me is engineer is an engineer. And as a result, I think linearly as well, right. And that's why I think it's easier for me to connect with manufacturing business owners, because I can relate to what they do and the challenges they face, and so on and so forth.
Because initially, when I used to talk to them, they'd be their opinion of marketing is media kits and trade shows, and so on and so forth. And then I was talking to them about sales driven marketing and, and they do like an About turn. It's like, say what, like, I mean, that doesn't even make sense, right? Or the old adage, I still remember my first manager said that you know, what, I know, I'm spending $1.50 of working and 50 cents. I'm not I just don't know which one is which? Yeah,
Curt Anderson  25:45
that famous letter I that's from a famous retailer from the 19th century. That's a great line. Yeah, right.
Parin Mody  25:54
But so we said that we need to change that. And we are educated enough, we understand the trends enough where we need to be able to change that. So. And the reason why we picked small and midsize businesses is because they are the ones that are most sensitive to cash flows and demands and stuff and supply chain and stuff like that, right? The larger companies typically have six agencies ready to work for them at any given point, they've got 25 people and the bandwidth 10 diversity in house.
So this is where we said, why don't we start working towards a methodology that works for a small midsize business by leveraging off the shelf technology platform. We're not a technology house. In fact, if we recommend a technology platform, we make it clear upfront that we don't have a horse industry, it's this is not a business model. If we are recommending a platform, it's because that's what works best for you guys.
Right? So we started looking at technology and understanding what are the ways to start tracking behavior in terms of engagement, and then appointments, right? So the easiest way to describe to a business owner that what I would say is if you give me $1,000, and I give you 100 leads and if those 100 leads, turn into a quote pipeline of $10,000.
And of those $10,000, if you close 5000 Right now, your ROI is already a certain number. And then we're not even talking about lifetime value of the deals you've closed, we're not even talking about the additional people that you can close down the road. But right up front right here, right now, if I can map that for you. Wouldn't marketing be a no brainer for you? Right. And that's what we did is we we use technology as a crutch to get a seat at that executive table.
Because marketing is typically at the cusp of trends. Marketing is at the cusp of competitive landscape positioning value proposition. And if we can bring in technology and bring that transparency, we should be able to influence conversion rates, sales cycle times, make the life of a salesperson easier, right. So yeah, the easiest analogy I use and maybe dating myself is I say, in a in a baseball analogy, marketing is your starting pitcher going into sixth to the seventh, or the eighth inning.
And now if you can bring your salesperson in at the seventh or the eighth inning to close, that's where the money is, right? That's the Holy Grail. That's what we can do for you. And now imagine how many salespeople would you need to do that versus we press one button and it goes to 75,000 people with 75 different communications, right? So the scalability and the cost structure just blow it out of the water when somebody says I'm gonna have 20 people just call Tom
Curt Anderson  28:46
Curren if you watch this show, we have what we call these little moments of silence, and it's when people drop the mic, and we just need to like just savor what was just so. So, dude, when I just thought it wasn't humanly possible to love you a little No. You threw a baseball analogy to like two baseball fanatics like we're ready to fall over so this like,
Parin Mody  29:11
but I'm, I'm a Cubs fan, I might have to go back. I could use some empathy.
Curt Anderson  29:15
I might have to go back. Oh, dude, you got 2016 in your pocket. So
Parin Mody  29:20
so so you're saying I have 100 more years to go now? You have
Curt Anderson  29:23
100 people? Oh, no, not quite like 90 but 93 only 93 years ago. So yeah. All right. Let's recap that what you
Damon Pistulka  29:29
know, I was awesome. I was writing it down and I was like, you
Parin Mody  29:33
so like, so good. Don't listen to myself talk all the time. So I'm not good at repeating.
Curt Anderson  29:40
John. So I'm going to recap I have we can slip past right. So your marketing is your starting pitcher that takes you into the sixth seventh or eighth inning. Your sales rep is the closer who comes in and like oh my god, think of like Mariana when they would play Like Sandman, right? Yeah. Anybody's old enough to remember that? Right? So bringing the closer that was so powerful. All right, let's keep this rolling.
You're an SEO guru. Dude, you did tons of projects with IMEC I know you had a monster 2022 What are some things? Let's, you know, I'm gonna be a little ambiguous. I know, we're not supposed to be ambiguous. Some of the trends, some of the things that challenges the frustrations, what are some of the again, like your superpowers your team comes in? What are some things that you feel that you helped conquer manufacturers put behind them? So now that problems in the past?
Parin Mody  30:36
I think one thing that we do do well, is we challenge our partners, we challenge our clients. We're not there as a vendor coming in to say, here's our toolkit, we do website SEO, email, paid ads, social What do you want? Yeah, yeah. That's not what we do. The first question we ask is, clearly you want to grow sales. That's why you're talking to us. But But how and why is objective to offset seasonality? Is the objective to bring in more diversification? What are you trying to achieve?
And at what timeline? Right, so we want to understand where their mind is at. Because the last thing is, is, I think Colin Powell, one of my my other favorite heroes, at one point said, strategy is for amateurs, execution is for experts, right? So if I'm going to come in an execute, if I'm not walking on a blueprint that I have bought into, then I'm not producing the results. And now at the end of the day, there are two people that are not sleeping well.
Right. So I want to be bought into the strategy to make sure that there is a way to deliver on that, right. And so more often than not, and that's where we're slightly different than a typical agency. Our goal is not to just come to you get a retainer and keep the meter going on an hourly basis. Our goal is use when we started our relation, you said you wanted to do this month after month?
Is that neither moving in that direction? Or not? It's simple. It's a yes or no question. Either you're seeing sales, either you're seeing quotes, or you're not right. So at the end of the day, that's what it comes down to. So the first thing that we do we do is understand what is the overall strategic business objective. And then the next thing we'll look at is what are the in house capabilities, because I may want to grow my business 100%.
But if I'm, if my if I'm already at 75% capacity with no investments to grow, you are going to do nothing with those leads, and all my work is just going to go to waste, right? So I'm going to tell you, you don't need to spend that kind of money to generate that kind of a sales pipeline, and not do anything with it. Right. So we talked about that we talked about capacity, we talked about the product mix in terms of which products are more profitable, and lifetime value and stuff like that. So we're very, very consultative.
And from that perspective, then we come to them with a plan of action. And that plan of action is all about something that tracks metrics on an ongoing basis. So we set expectations up front that there are things that we can't do in terms of performance, you got to give us some runway, which is going to be a month or two months or three months or whatever.
But this is where you should start seeing the needle move. And having that communication, that ongoing communication and setting that right expectation. And Kurt to your point, we've done this for 10 years now. And believe it or not as surprising as it is human minds haven't evolved that much in the last 10 years in terms of the anatomy of how they go about making decisions and how they get influenced, and so on and so forth.
Maybe our language or maybe our medium of choice has has shifted a bit. So some actually a slightly tangent, a lot of manufacturing owners scratch their heads when I say that your traditional ways of selling still hold true. It's just the medium has changed, right? You still need to build that relationship. It's always trust first, and then the credibility to deliver on that trust, right.
So people talk about product centric stuff, and they try to rationalize the product when they're in a sales cycle. And we're like, you don't need to do that you need to start the other way around. You need to get their trust first. Because it's the amygdala in the brain that makes the decision and then the prefrontal cortex comes in to rationalize all of that, right. So we help companies come up with an identity right a metal fabricator is not a metal fabricator from one to the other.
Metal stampers not the same precision cola manufacturing companies, not the same powder coating is not the same right injection molding, every one of them has a unique identity. So the first thing we do out is help them carve out an identity for themselves. We don't want to go out there and just keep yelling and just be yet another part of the noise in the marketplace. We want to actually say less but hear more, so to speak, and I think once we have crafted that identity you want be able to build on that relationship with the prospect by developing trust.
And this is who we are as a DNA. So it's like second nature to us in terms of what we're asking our customers to do. Right? It may not always be evident in some of our social media and stuff when when I kind of get distracted and let it go a bit, but but it so the point being, is it, where it comes from is basically our DNA in terms of who we are. Maybe I should have just said that one line and be done with it.
Damon Pistulka  35:31
No, I'm still back on the Colin Powell thing. Strategy is for amateurs execution for the experts, I think we might have just become best friends with that.
Curt Anderson  35:41
Now, Damon Damon, I don't know, if you knew like over the holidays, I hired an archivist for the show. So like we're tracking like our past. And so I'm gonna check with our archivist. I'm 99.9% sure that nobody on this program has ever used the term prefrontal cortex. I don't even I'm 90, I'm going to check with our archivists and we're gonna get back to every single program around 200 per and so good.
Parin Mody  36:09
But we are in the business of influencing people, right? For us to understand about,
Curt Anderson  36:14
you mean, you make it about you listen to the customer. That was that was now her, if any football fans out there, and there was a there was a national college championship on Monday, and I didn't watch it. But on Twitter, they were talking about the national anthem was saying by Pentatonix, if I have that correct, everybody was ranting and raving. It was one of the best national anthems music to their ears.
It was just so like, everybody's just going crazy about how patriotic they're like, could Pentatonix please do every national anthem from now it was just, it was a soothing dude, listen to you just now was like, I don't mean to compare you to the national anthem. So I don't know, I don't want to go there. But, dude, it was just like music to our ears.
It was just like, you know, trust first, go take out and I know, I'm gonna be mindful of everybody's time. But you're talking about product centric, you know, versus, you know, building that trust John McLean. Oh, that's your jam right there, dude. You know, hunting relationships, giving trust, first, talk a little bit about like, let's take it one step further, please about like how you help folks kind of get out of that that product centric mindset into the relationship building in the trust first? Yeah,
Parin Mody  37:28
absolutely. So the questions we ask are, are not the standard kinds of questions these business owners are used to, right? Because we don't, we don't necessarily what we do get into is, what is your differentiator and they'll say, Oh, we've got a shop size that is 700,000 square feet, our equipment is less than five years old. And we can our throughput is this and that.
And I'm like, that's great. I understand you're passionate about it, it's, it's perfect for you to be passionate about it. But guess what, that's just the ticket to the game. That's not your differentiator. Your differentiator is helped me understand how seamless do you integrate into the client process? If they're blueprinting? Something?
How are you consulting? You tell me, you've got 700,000 years of engineering experience, and from this and that, all great. But how is your client leveraging that? How easy is it for them to leverage that? How seamless is that integration in terms of how, what their challenges are? And how you help them? How easy are you to work with in terms of project and status updates and delivery times and stuff like that? Right? How, how accessible is your team?
If you claim you've got this 700,000 hours of engineering prowess? Are they easily accessible to the experts on the other side? Do they work hand in hand? Because that's where the rubber meets the road or not. But that's where differentiator happens. That's where you are a trusted partner. How transparent are you to your customer about your supply chain? If you are not quite all set on supply chain? Do you communicate that to your customer? Because it's very tempting to not do those things.
And this is where they kind of shuffle back to say, but but but we've delivered 700 billion pieces. In the last 75 years. We've been around for 175 years. And I'm like, Yeah, but your competitor has been around for 250. I could put a board up and I could say I've been around for 1000 years, right? That doesn't really matter. It's about what makes that board legitimate. It's the identity. It's your DNA. Actions speak louder than words, right.
Curt Anderson  39:46
Well, paren just Alright, more, more more. For the dinner table tonight. Are you ready? For this? Are you ready, Damon, you ready for this one? Okay, so a couple of things that people say about paren you're ready. I was immediately rests with his high level of honesty and integrity.
His focus was completely on understanding my needs my challenges and finding the best solution another person says he's also an engaging speaker capturing the audience in an interactive setting while making a potentially overwhelming topic seem feasible to businesses of all sizes, I could go on and on and so everybody just got a wonderful taste if I said that earlier they'd been like yeah, whatever.
Now you guys know you're getting a great taste everybody here just got like a little bit of a Northwestern MBA master this is an MBA Northwestern MBA masterclass right now, couple Kate Damon, we got to give a few shout outs here we've got gal who's here, John McLean. Oh is saying all the way we syndrome we've got Diane saying ticket to the game Gary my buddy in Rochester making business with me and then a Joseph Bolton's have the heart of a teacher versus I know what you need. This is what
Damon Pistulka  41:01
and that's cool. I mean, listen and to speak today for in and and it really what Joseph says resonates with me too, because when people want to teach, it's the opportunity to really help rather than tell what you know, you don't know what they need. And then anybody that thinks they do it, I don't like that consulting approach, you see that but when you're a teacher, you really are attempting to understand where the student or the PERT the client is that so then you can help them appropriately? And that I think that's just such an awesome part of getting to meet you today and hearing you speak.
Parin Mody  41:41
Oh, absolutely. Right. And I think this is what every one of us has gone through, right. Like, when I came out of starting a business plan, I was like, literally, I'm like, I'm starting a business. I mean, I'm in like the top 1% of the, of the working population in this country, only 1% of our workforce is entrepreneurs. I'm the lead, right.
But then when you start talking to all these business owners, I mean, we've worked with more than 350 manufacturing. Now. So we've met so many different kinds of entrepreneurs, some really, really bright some really, really successful despite themselves. I mean, we've seen a lot, right and but but then you realize that that it's almost like the more you read, the more you realize how little you know.
So now I mean, over time, it maybe it's a function of age or something, but and maybe I just did it myself, but over time it you realize that you are there to learn. And actually that's the approach we take. I'm all these questions I'm asking is just for me to absorb. I'm more than happy to share my experiences. And I can tell you what has worked and what hasn't, in my view, but that doesn't necessarily mean you gauge it the same way. Yeah. Yeah. There's this whole Einstein's theory of relativity for a reason. Right?
Curt Anderson  42:53
So And speaking of age, Damon just for the record, so he threw out an age we're not going to go there. He threw out. And paren What's it I'm make you do?
Parin Mody  43:03
Oh, yeah, I had to show him my driver's license for some reason.
Curt Anderson  43:08
He told me how old he was. I'm like, Dude, I don't I'm like nothing personal. I don't mean, like, I don't believe you. Got his driver's license to prove it to me. So you like it's, you know, it's really hard hanging out with a guy like, like, he's brilliant. Yeah. Charming. He's handsome. He's just like a total package. Oh. More dinner table conversation for plus, like just your marketing acumen. And I'm you know, I yeah, I'm being dead serious man. My respect my admiration for you off the charts.
What? You know, your success speaks for itself. Guys. I've dropped purlins his LinkedIn in the chat box. I've dropped his website in the chat. Please, please, please do yourself a favor connect. You guys. You're just getting a little taste of how brilliant he is. And just the superpowers he brings. That's I want to be mindful of his time. I know. It's a heavy weekend. And I Damon, I told you was like Lucky Friday. Right?
Lucky Friday. 13th. Today? Yeah. Well, all right. as we wind down one more question for you. Are you ready? Are you ready for this one, I should speak. i Right. We talked about mom and dad being your hero. Growing up. God bless mom and dad for producing just this powerhouse of inspiration. speaking the word inspiration coming into 2023. Goals aspirations, you're extremely ambitious guy. Great. You're just helping manufacturers all over the country. Who or what is your inspiration for 2023? Who or what is your inspiration?
Parin Mody  44:40
I think what is probably the easiest, I think because we are at a cusp, almost at an inflection point where we can make some significant difference because there's I I guess I was blessed to be born overseas. because now I have contacts overseas as well. And there are ways where we can work with organizations overseas to help with reshoring and things like that.
In addition to that, Kurt, you mentioned we're working with at least about six or seven different Mbps, and the amount of companies they represent. So we We're literally at an inflection point right now, where we think that we can make a lot of difference. And I think what we're most excited about is, and I say this to every MEP person I talked to is we are very strong believers in our social responsibility.
So we try to do at least one or two projects every quarter with a different companies, if you guys know of anyone. So if there's one plug, if I may occur, please, if you guys know of any company that is deserving of help short on cash needs, we may not have the cash to give them but we certainly may have the ability to help them generate sales or something short term wins, whatever. We will do whatever we can, we certainly have confidence in doing that. So if there's anything we can do for anybody, you know, please connect us
Curt Anderson  46:10
to get as inspiring man, that's an operation right there. So okay, Damon, he's, it's hard to be friends with him. Like he's just he's, you know, he's just such a great human being. I'm kidding. I am just Dude, you just your positivity is just your enthusiasm is just contagious. It just spreads. You're an inspiration. And we just appreciate you so much. So, guys, we're gonna wind down.
And so I'm going to give a thank big thank you shout out to everybody who's here today. I know it sounds like we had a little LinkedIn challenge. But for those of you guys that popped in, Joseph, Gary, John gal, Diane Engel, everybody out there. Thank you. Thank you. Thank you. Make sure you connect with her in turn, any any parting thoughts, any words of wisdom? We've got your LinkedIn profile out there? We've got your website anywhere else, we could connect there any last parting words of wisdom for him? No,
Parin Mody  47:01
actually, the only thing I will say and I say this all the time on all my LinkedIn posts. If anybody has any questions, please don't look at us as an agency know that if you have a question, you want to brainstorm with somebody use a sounding board. ping us. We're not there to sell anything. So don't feel guarded or anything.
Curt Anderson  47:22
And if we're if you're an MEP out there happened to listen to this. Definitely drop her in a note. He would love to connect and help out with you. So And hey, let's pull up Gail's last comment here. Yeah, from New term friendship, friends shoring. It's all about community and collaboration gal. How about dropping the mic on that one? Yep. Thank you for joining us today, dude.
Happy weekend. Happy Friday. So guys, Damon, let's, let's find down. So first off, paren Thank you, man. If everybody if you guys have been sitting we've been going at it for nearly an hour or whatever it's been if you want to stand up, give like a big roaring round of applause for our guests. Just put a rock star here.
Parin Mody  48:03
Look at it as this is I don't even have to pay for this. I mean, no taco can talk. The hard part is listening, right? You need people to listen.
Curt Anderson  48:12
That well that's that's, you know, talk to my wife about not just doing so. Alright, we'll get back on track. So guys, thank you. Thank you for joining us today. Thank you for everybody out here you know pretty much somewhere somehow has like some passion for manufacturing and we are just all dedicated as per printer said like, part of his mission is just eating, drinking, breathing, sleeping.
How do we help manufacturers here in the US and of course North America our friends in Canada, shout out to Gail and soy boy go out and just like her and be someone's inspiration, man. Just keep crushing it man 2023 is gonna be a great year Damon Damon another great. Yeah. And are we blessed or what? Our way man I'm lost. I'm at a loss of words. Who
Damon Pistulka  48:59
Kurt that's a tough one is a tough one great show. And it's so so inspiring to hear you talk for in and and just want to thank everybody that comes back week in and week out and stops by when you can and listen to us. And if you know somebody that would benefit from this, go ahead and share it with them or point them to my LinkedIn profile or Twitter or Facebook or twitch or whatever the heck I'm going on here with the live stream and have them come back and check us out.
Thanks everyone for being here. We appreciate you. And we love being able to share people's experience like forever today and have so much fun doing it. It is just a ball for Kurt nice to be able to do it. Thank you.
Parin Mody  49:42
Thank you for the opportunity. We'll see you again though. Hey.
Damon Pistulka  49:47
Hanging out there
Schedule a call to discuss your business goals and answer your questions on growing business value, preparing for sale or selling your business.
Related content
These posts may also interest you
Turning the Tide on Employee Turnover
If you want to get your long-term strategy tuned up, listen to this MFG eCommerce Success show to hear Dorie Clark share how long-game-strategic thinking can help you achieve monumental goals.