Increase your business value by creating Extreme Business Growth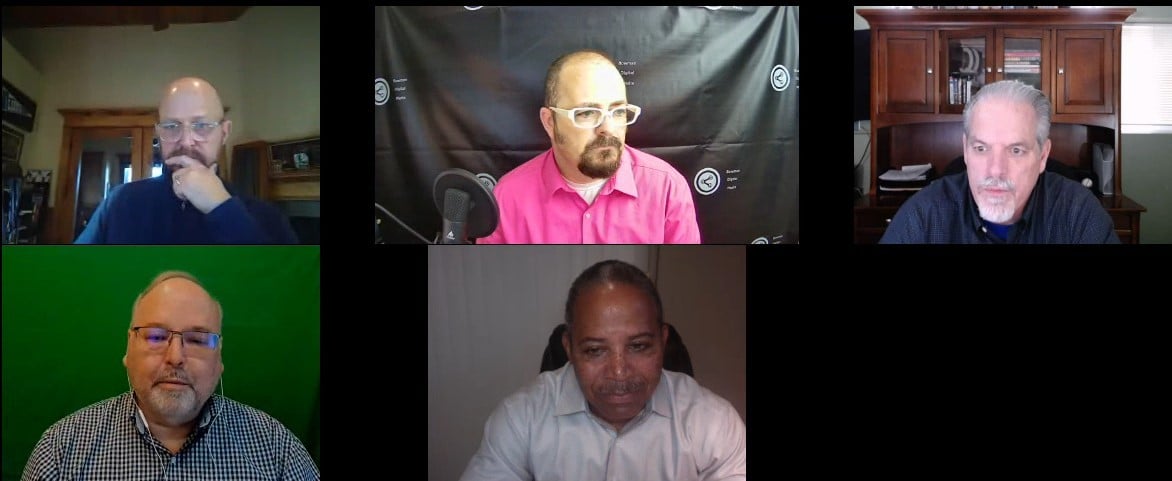 The Business Round Table
Increase your business value by creating Extreme Business Growth
This Business Round Table by Exit Your Way® topic was Creating Extreme Growth (October professional networking).  The event featured Corey Hansen and Ron Higgs discussing the methods they use to help small business owners imagine what they want their business to look like and get them there.
Corey Hansen has helped many business owners create extreme growth to build businesses that will stand the test of time.
Corey and Ron shared some of the ways they help these business owners think differently to create the business they want.  Utilizing out strengths is the key to solving these challenges and getting our businesses operating in a sustainable manner.
Download our free business valuation guide here to understand more about business valuations and view our business valuation FAQs to answer the most common valuation questions.
There were many others in the group that added to the discussion with their insights and knowledge.
The experience in the room and the information shared was very valuable.
Thanks to the people who attended and who continue to support this group.  We all rise together!
Do you want to know if your business is ready for your exit or what you should do to prepare? Learn this and more with our business exit assessment here.
59:18
SUMMARY KEYWORDS
business, people, ron, clients, goal, cory, grow, vacation, part, good, years, building, helping, week, andrew, leadership team, companies, assessments, owners, revenue, Business broker, Business value builder, M&A consultant.
SPEAKERS
Damon Pistulka, Jennifer Wegman, Marty Vondrell, Jill Valdez, Melissa Worrel, Mike O'Connor, Ron Higgs, Ira Bowman, Dr. Elia, Joshua Curcio, Andrew Cross, Michael Gidlewski, Kon Apostolopolous, Pete Alexander, Mark Scrimenti, Corey Hansen
Ira Bowman  00:00
For having COVID-19 You look pretty darn good.
Damon Pistulka  00:03
You know what he says? Like someone else at the table said, said something about that. I said, Well, we set the bar low. Alright, not hard to meet it.
Ira Bowman  00:13
for Halloween, I don't have to dress up. It's the end of the year. I look
Damon Pistulka  00:16
good. Right on. Yeah. Well, welcome everyone again to the zR way round table. Today we're going to be talking about scaling. We're going to have Corey Hanson and Ron Higgs up here today. I'm quite excited to have them up. As we were getting on stage here, Anders, like man, I really enjoyed last week, bringing everyone up on the stage, give me your 30 seconds. We're going to do that quick before we get started and get Cory and Ron up here. So Andrew, take it away. We're going to let people give your elevator pitch. Tell us a little bit about yourself what you're looking for whatever. So
Andrew Cross  00:52
yeah, just like you know, the old bullets go around the conference table and stand up and tell us who we are
00:59
here.
Andrew Cross  01:03
And I'm just going to go down the list and bring folks up like,
01:06
hey, Dan. Good morning, everybody. Dan picker. I'm the Director of Sales and Marketing for shango. Valley technologies. We're an injection tooling and molding company in Central New York. Awesome.
Andrew Cross  01:18
Right on how things going. Very busy.
01:21
Very good.
Andrew Cross  01:23
Yeah. Everybody in your place or the healthy.
01:27
We were out in the middle of the country. So there's really very little problems here. We had a murder the other day. But other than that, we're good.
01:35
Wasn't me?
Andrew Cross  01:37
It's good. Good to see it, Dan. And I will drop people off here. So I can we can only put up six at a time. So yeah. So don't don't feel bad if I cast you away.
Ira Bowman  01:49
We're supposed to be able to do up to 10 now, and yeah,
Andrew Cross  01:53
let's give that a try. I'll give
Damon Pistulka  01:55
it a try that So Andrew?
01:58
Me. Yeah.
Andrew Cross  02:00
That one.
02:01
That guy.
Damon Pistulka  02:05
More people on the stage. Good.
02:07
Well, that's cool. Yeah. So
02:10
I'm Andrew Deutsch with fangled tech. We're a fractional Chief Marketing Officer consulting company, as well as a global trade initiative company.
02:21
But what I would hope people would do is check out our new podcasts, that tangled cast.
02:26
It's on YouTube, and I put the link in in the chat. All right, cool. you subscribe, like, enjoy some really interesting interviews with some great people and more coming up.
02:38
That's it. Very cool. Kick me off the table. Really?
Dr. Elia  02:45
Good morning, everyone. Good to see you healthier than you look yesterday, man. It's great to be with you, man. Anyway, I'm Dr. Elia Gourgouris , the happiness doctor and I share happiness and corporate wellness. Author of a couple of books that have been well received. And most of you know them seven paths lasting happiness and seven keys to navigating a crisis with my dear good Greek friend Constantine are supposed to love Poulos, he'll be up here soon. Yeah. And I just love spreading happiness and wellness, man. I mean, that's my thing, either through writing, speaking internationally, and going into companies and helping them transform their cultures, really from one person at a time or a team at a time, a division or a time or whatever. So
Ira Bowman  03:35
very cool.
Dr. Elia  03:35
Yeah. And thank you for having me up here. Appreciate it.
Andrew Cross  03:39
Good to have you.
Damon Pistulka  03:41
Yes. Oh, yeah. Jennifer, next,
Jennifer Wegman  03:44
everybody. My name is Jennifer wegman. And I am a social media strategist and content writer. I write social media content for overwhelmed and busy entrepreneurs and small business owners. And I'm leading a Twitter chat tonight called lead loudly from seven to 8pm. If anybody's interested in joining, I was supposed to do it last week, but Twitter broke, so yeah, couldn't do it.
Damon Pistulka  04:10
I'm sorry. We're broke. I didn't. I didn't believe that. When I hear someone said that Twitter's down or Twitter's broken. It was broken. Yeah. So
04:18
I'm looking forward to reading that again.
Jennifer Wegman  04:23
Leading it tonight. So thank you.
Damon Pistulka  04:26
Drop it. drop that in the chat to what so we know where you know what's gonna be under the hash tag or whatever. I don't know what's wrong. I'm sorry. Do we have next Andrew you're
Andrew Cross  04:40
Jill Valdez.
Jill Valdez  04:43
Good morning. I am Jill Valdez and I provide strategies for those small businesses to get to the next level predominantly with recognizing that the people that they have, if they develop them, rather than treating them like cogs in the system, then they're going to be able To get to that next level that they're wanting to get to.
Damon Pistulka  05:04
Awesome, awesome.
Jill Valdez  05:05
I've written a couple of ebooks, working on a couple of more and love to just be a resource for people. So make sure you connect with me on LinkedIn.
Andrew Cross  05:16
Very good. Welcome, Jill Great.
05:20
Thanks.
Damon Pistulka  05:22
Oh, yeah, Josh. Hey,
Kon Apostolopolous  05:25
I'm Josh from
Joshua Curcio  05:26
protocol 80 COO and partner. We're a inbound marketing agency that primarily works with manufacturing companies. Typically, they are tier two tier three in the supply chain and have never done marketing in their lives. And this is usually their first approach. HubSpot partners, and I'm a HubSpot certified trainer. I think it's really cool. You guys do these roundtable discussions? So thanks to Andrew and Damon for putting these together. Oh, yeah. Well, we're, we're glad that people come to them because we have a lot of fun. But I'm crazy as hell people know that. So. Alright. margaree that's a true story. The True Story IRA knows Yeah. So, Mark?
Mark Scrimenti  06:14
Yes. Good morning, everybody. I'm Mark Scrimenti. I'm in Chicago. Damon, welcome back. I just heard that you had COVID, I didn't realize that you amazing resilience. Good to see you back. I am an executive in e commerce, SAS. That's my background, including web product development, product strategy, digital marketing, customer service, customer experience. I just started my own fractional consulting business. And it looks like I've got my first client. This is somebody who sells soccer pitches to big, big time developers. And it's a fairly complex business model. But I'm excited to get started. That's going to be about it 20-25 hours a week. And so I still have available time for other things. I'm trying to figure out what that is. But good start anyway.
Damon Pistulka  07:04
Very cool. Cool. Cool. Good to see it. See?  So Marty, good to see ya.
Marty Vondrell  07:14
Good to see everybody. Let me know that sounds bad because I seem to have a little trouble with my Mac Mike this morning.
Ira Bowman  07:21
Now your sounds fine, right? Good.
07:23
Good. Well,
Marty Vondrell  07:24
I help unsatisfied, frustrated, you know, entrepreneurial leadership teams get what they want from their business. I do that by helping them implement a complete and proven system called Eos. based on the book traction, if you're familiar with it, happy to talk to you about it. It's made up of real world simple and practical field tested tools, you know that that get results. We help our clients experience three things we call vision, traction and healthy. So vision from the standpoint of helping the leadership team all get on the same page, where they're gone, how they're going to get their traction, meaning execution, getting more disciplined and accountable and executing every part of that vision, and healthy meaning helping create a functional, cohesive, open and honest leadership team because most of the time, they're not, you know, and as good as the leadership team, so it goes the rest of the organization, we get to the point where the whole organization is totally aligned, executing on the vision and working together as a functional, cohesive organization. So if you're interested in that, and learning a little bit more about that, you know, most of my clients are between 10 and 250 employees. So we're talking about entrepreneurial leadership teams that I work with growing businesses, but I'd love to talk to you about it and make it easy for you to introduce me to at least let someone have the opportunity to to learn a little bit more when they when they're building their business. So thank you.
Corey Hansen  08:53
Thanks. Ready? Good. See.
Andrew Cross  08:57
There is still a little
09:00
Bye bye, Marty.
Ira Bowman  09:03
When we speak through his speakers, we get the echo. Ah, so Michael.
Damon Pistulka  09:09
Michael, did you get Did you recently get new glasses?
09:13
I did. I did.
Damon Pistulka  09:14
I saw him the other day. I think I have two glasses. Sorry.
09:18
Yeah. Good. Looking sharp. Yeah, look good. Thank you. So
Andrew Cross  09:24
you know, but then again.
Mike O'Connor  09:28
I feel like I need glasses. Yeah.
Michael Gidlewski  09:33
Michael good. bluesky achievement unlimited. We work as growth catalysts to create a help help small to mid sized companies create a culture and develop their leaders to really focus on results. We have a couple of main focus areas, developing leadership, getting the right people in the right seats on the bus, through some really powerful assessments and also helping them create They're not only create their strategic plan, but put it on results, bi comm software so it's in the cloud and every single member of the leadership team can see what that plan is with the with the big rocks are, what the goals are, run their meeting schedule, everything through that software is powerful. So if anybody's interested, I knew you.
Mike O'Connor  10:23
I knew you look smart. I could just tell right away. I didn't think it was just the glasses. I was like this guy slugging smart. Yeah,
Michael Gidlewski  10:28
now it's just it's just the glasses Mike. Yeah.
10:33
I gotta get some man.
10:38
I'm Michael O'Connor with service Professionals Network Comm. I have friends like ireally Give me a hard time. But I agree content and distributed across the internet. My 30 seconds, buddy my 30 seconds. So I just posted the link to my YouTube group on service professionals network. If you post a video in that group, their RSS feed shares it to different channels like Twitter and Tumblr automatically. So if you have a video sure in my YouTube group on my site, and I make legals and other places. Okay.
Damon Pistulka  11:07
Very cool. Very cool. That's a good that's a good thing to know.
11:11
And I'm proud that you only interrupted twice. I
Ira Bowman  11:13
was gonna do it three times. But I had trouble getting the mic on.
Damon Pistulka  11:17
You got you. Oh, yeah, we got Khan Khan. Glad to see you here today.
Kon Apostolopolous  11:22
Well, good morning to everybody. I am. As my good friend, Dr. Leah said, my name is Constantinos of pasta, loveless, good Irish name for everybody to remember. I go by coach con affectionally. Because I am an executive coach. I am a soccer coach. But I also am an author, speaker. And most importantly, I focus on change management and performance improvement. I help companies through my organization fresh based solutions, where we focus on making sure that our customers purposes aligned, that people are engaged and their processes are in sync and efficient to make sure that they get the best performance and return on their investment as far as their people go. So that's my little pitch. Awesome. Con. Thank you so much.
Andrew Cross  12:10
And I think, Melissa i don't i don't think i think that's everybody if I miss somebody let me know but and Cory and and Ron, of course will bring you up to speak so we'll wait till the end for you all but Melissa, good morning. Hey,
Melissa Worrel  12:26
good morning. Thanks. So coming to you from Iowa. It's a first morning out here with lots of fall leaves in what I do is I coach so I work with individuals in three areas, emerging leaders to VPS How do they get their executive presence leadership development, working with small business owners and entrepreneurs as I was in the franchise, small business ownership realm years ago and now back to being a small business owner again and the third group is really working with career coaching those who are figuring out where they want to go What is their career do they want to stay within the same company move company, change verticals and love just helping people so leaving the corporate world and going back into owning my own business? What brings me joy and fills my cup is just seeing people have that success building their confidence and knowing that they've got it so thanks for the time today and happy to be here. Awesome.
Andrew Cross  13:18
So Melissa, is this your first time at the round
Melissa Worrel  13:21
table? Three times Yeah,
Jennifer Wegman  13:22
a couple times. Yeah, but weeks haven't worked for scheduling my this is way too much. family are farmers and so corn for the last like week and I ran the auger want to know about that. legit so I can put on some overalls. My my fun work shirt.
Ira Bowman  13:42
Melissa, I want some video. I'll make you a free promo video if you get me in that auger. I will make you a promo video. it'll it'll blow up on YouTube.
13:53
It's so funny. It
13:54
Yeah, it it's something else.
Damon Pistulka  13:57
Yeah, yeah. Green. Well, good. Yeah,
Ira Bowman  13:59
let's do it. Man. That'd be a lot of fun.
Damon Pistulka  14:01
Yeah, no doubt. She's that's no joke. Man. I grew up on a farm and in South Dakota when it's this time of year, it's like 24 seven until it's definitely
Ira Bowman  14:09
you haven't you haven't worked until you failed. Hey, first summer.
Damon Pistulka  14:13
Yeah, yeah. Cool. All right now yeah, we have Corey coming up here with Ron Higgs. And we're gonna let the mean presenters present. So awesome, guys. Well, I like to like to introduce Cory Hansen and Ron Hague's hot business, hot 100 businesses,
14:36
right business
Corey Hansen  14:37
100 business
Damon Pistulka  14:38
hot 100 business. They're going to talk to us today a little bit about scaling. So Cory Cory has done some interesting work with a lot of companies here in the northwest and in the United States, where some of these companies under his direction and beyond him have gone on to be on the Inc 500 fastest growing companies list and and other prestigious awards. And I thought it'd be fun to have Corey, stopped by today with Ron, and the two of them explained to us some of the ways that they've helped companies do this.
Corey Hansen  15:10
Great, well, thank you. And just to let you know, you know, we're like the rest of you, we're consultants and passionate about helping people to grow their businesses. And it all kind of, for me started the, you know, I was an educator for a while. And then I joined the Small Business Development Centers, which is part of the SBA. And over a 14 year period, I got to work with thousands of people, literally thousands of business owners, and about four years into that process, I started saying, you know, I'm kind of tired of being a, an emergency room technician, you know, they come in, I say, you know, tell me where it hurts, then they go, Oh, it hurts here. And then, you know, they go away. And I said, There's got to be a better way. And so I ended up getting a master's in organizational development focus on high performance organizations and entrepreneurs. And I started asking, you know, what is this better way? One of the things I did is kind of like this, I asked 5000 of my associates across the US, what are you doing to, you know, help your clients figure out what to do. And I got 10 answers back, and nine of them were all the same one, they were using an assessment tool the SBA developed, and the 10th, one was different. And I started corresponding with them. And over a three year period of time, we developed a, a tool to help us assess where these were, our clients were to really not just get by not just grow a little bit, but to actually accelerate their growth. Because one of the things we found out in our, in my research is that Unfortunately, most businesses actually fail by by their own standards of what they want to do, you know, and I gotta tell you, I do make a distinction between self employment and building a business. So to me, businesses, something that has value beyond you know, your labor. If he had to go away for six months, you could still come back, you got a team, you got whatever it is to do it. So a lot of the stuff we're going to talk about, it's not secret, it's not new. It's just applied maybe in a different way. And part of that process, and Ron can talk about this some is we started with a visioning process of instead of asking people, well, what do you want to do with your business? We started saying, look, businesses with revenues of one to 5 million or $10 million, have a survival rate that's five times higher than those below a million dollars. So what should our number one goal be? What? And they agreed, we should we should focus on growth. And the craziest thing happened is when we started to say, I agree, here's the goal. And now let's build a business that can achieve that goal. Instead of you know, when you think about how most how most of us do it, we say, Yeah, I want to grow, I want to grow. So what do I do? I'm going to double my revenues. And how do I do that? I work twice as hard. Well, you know, that's great. Until the next year, when you say, Yeah, I still want to grow. Are you gonna work twice as hard? Again? No way. So we started with this process of visioning with processes. Ron's really good at this. And in fact, he's, he and I are happy to work with anybody on, you know, just getting that vision, but also, then we benchmarked it against what actually needs to be done. result was in three years, I had clients who are making the Inc 500 fastest growing businesses 100 in Entrepreneur Magazine, you know, on and on, and on and on. But more importantly, not just where their revenue is growing, but their profitability was, you know, if revenues grew five times, their profit grew 20 3040 times. The other part was, their lives became so much easier. And that's one of the challenges we have is that, you know, unfortunately, it takes most people about four failures, and 20 years to build a sustainable success. Our goal became, instead of, you know, doing it that way, what can we do to get there in in five, you know, 234, maybe five years. And once you start focusing in on this issue of what's the problem you're trying to solve. Suddenly there are all kinds of solutions to it. So We, we've developed a process, it's really just an assessment over 300 points, there could be thousands. But it's really, you know, all the things you know, as an expert in what you do, if you were to condense it down into what's the three, or four or five or 10 points that people need to start with, and then you collect all of those from all of these experts. And that's, that's what our book, the best practices, a high performance entrepreneur became as a, just a benchmark, but not a benchmark against where you are, because, you know, let's face it, you all know what you need to change. But, you know, I'm just so overwhelmed. Well, when we, as entrepreneurs, we live in the future. And so, really, we said, let's, let's focus on that future goal, let's build that foundation for that future goal. And the result is, we are able to see this great success. Anyway, there's lots of ways to do this.
Ron Higgs  21:01
And I will I will interject, or Andrew, are you gonna
Andrew Cross  21:04
ask them? Oh, I was just gonna make a little comment about that as well, because we talk to business owners too. And we're at the end, and one of the common questions a buyer will ask, you know, when they're looking at buying a business is, Hey, you know, if you What would you do next? You know, what would you invest in for the future growth? What's the best thing to, to look at? You know, and that's really interesting, but for what Cory saying here, they say all and they all, they all know what they need to do. They're just small businesses, you know, they just got, you know, I want another, you know, I want to do some more sales. But you know, the business owners probably do it about 10% of their time on sales, because of all the other stuff they're doing, because they are owner operators. But when you ask them that question, they say, Well, if I could put two more, you know, the answer is, well, why don't we just do it?
21:52
Why don't you?
Andrew Cross  21:55
You know, exactly right. You can't do it all yourself.
Ron Higgs  21:58
Part of the visioning process that Corey was talking about is really thinking about why you want to be in the business, right? Why you want to run your business and looking at, you know, we want to make money, right? We want to make a lot of money, right? So we, we figure and a lot of money, that's relative, right? We focused on one goal, okay, let's say we want to pay ourselves a minimum of $300,000. a year, how do we get to that? We also want to think about what you want out of the business. Do you want to work? 24? Seven? No, don't you want to set up a business where you can walk away and make money while you're sitting on the beach in Cabo? Somewhere, right. So again, you have a goal was to take six weeks of vacation at one time and not have any impact to the business, that means you're not the single point building a business to where you're not the single point of failure. Yeah, right. So take thinking about things like that. And having that in the vision, you having that written down as a goal, right, I want to be able to take six weeks of vacation three weeks uninterrupted at six weeks, at a time, uninterrupted
Corey Hansen  23:08
where we actually put that into the vision statement for the business. And we do this a little differently. We have the vision mission statement, but the vision is for the owners and, and stakeholders, and the mission is for the customers. So one of the things we do in that vision statement is actually identify just like Ron said, the the vacation and profitability and revenues. So that we're, you know, it's kind of like building a car. You know, you're in a cart, your business's a car right now. And you know, you're comfortably going the speed. Well, here's the thing, the race, you know, if they agree, the race we're going into is Formula One. Now, can you take the car you've got right now and suddenly competed? For me one level? No. So we have to transform the business as we go. And because you have it, we get really clear. And this is one of the beautiful things about all of us as entrepreneurs, you give us a problem and make it clear, we'll fix it will make it work. But if we're not really clear, you know, and I had people, I'd say, Well, what do you want to do? And they say, Well, I want to, I want to grow, I want to make a lot of money. And I'd say, you know, I don't know what that means. Can you tell me how much a year in revenue is that? And, and, and, you know, I'm going to tell you that one of the things us we as entrepreneurs do is we say, Well, if I just sacrifice enough, it'll all happen. You know, the saddest thing I had is the SBDC is I get people all the time, who come in, they got what they think is a great business. And I'd have to tell them, I'm sorry, but you know what, if things don't change, you're actually bankrupt. You're actually you're actually dead. You just don't know it yet. And and that was and what we then do His work on Okay, now let's let's revive this and change it into something better. And we had these turnarounds that were just phenomenal. I mean, people are fantastic at what they do. They just don't have the experience of scaling that in a way that's sustainable and profitable. So
Andrew Cross  25:19
it's always tough to tell them the baby is ugly.
Corey Hansen  25:23
It just, it just needs work. It needs to grow up, you know,
Andrew Cross  25:26
but what about just a question? rod? And Cory? You know, what do you talk about that too, I see a lot of these business owners too. And you know, the car analogies, metaphor is great. But a lot of these, these, these engines, have limiters on them still conflicted.
Corey Hansen  25:45
Well, and again, what happens is, once once you once you decide that, what the goal is, and we start to build the team to do that, the result is you can actually transform it. And sometimes a house is a better analogy and say, instead of having a very small Foundation, we build that foundation, and then the rest of the house goes up very easily, versus a lot of people grow really quick. That's, that's not unusual. It's just that the foundation they start with is too small. So they grow that house, and then over time, it cracks and the building falls down. Mm hmm.
Andrew Cross  26:25
Yeah, well, that's the risk. You know, growth is expensive and scary. In some cases, a lot of the business owners are making, that I experienced are making enough.
Corey Hansen  26:36
Well, and and, you know, this is one of the reasons why I focus and Ron and I, we focus on cash flow. You know, one of the one of the things one of the tools, one of the best practices is we do a 12 month projection on cash flow, we also add three scenario analysis to it, because Can you predict the future? No, but you can predict the three, you know, two, three probabilities. And it's like, in one of the last disasters, you know, economically, as a client, we'd already prepared three different scenarios. So when the worst scenario happened, we were completely prepared, adjusted, and when things turned around, we were completely prepared. So growth, yeah, growth is scary. If you're not prepared. No.
Damon Pistulka  27:25
So so let's let's back up a bit. You talk about your visioning process, and you do that you're going to talk with owners, we're going to say, Okay, listen, I've got a cashflow goal, I've got a revenue, goal, profitability, whatever it is, there's a goal we got there that we've laid in. And what what's the step after that that you're going to take?
Corey Hansen  27:47
Okay, so that's where the best practices come in, and the assessment tool. And so typically, what we do is we, we assess them against the goal, not against where they are against the goal, what do we need to prepare, and then we've prioritized and pick, you know, 10 to 15 of those best practices, and we drill down on those. And that's why we need experts in marketing. We need experts in finance, we need experts in human resources and staffing, we need experts in risk management. And so what we're doing is we're we're basically doing in two, three years, what they would normally do over 10 1520 years on their own. But because we're building it in a, you know, a little more structured way, the result is we get results a whole lot faster. And and you know, people ask me, Well, does it work for everybody? I say, everybody's help, but not everybody gets the result that they start out with? In fact, you know, truth is, not everybody really wants to grow. Yeah, that there are a lot of us, you know, there are a lot of us who are really happy with the way things are, and I'd rather be responsible just for myself than I would for, you know, other people. And that's, I don't know, the year guys experienced, but, you know, you got 15 2050 people who are dependent on you for payroll, and sometimes it can seem like you're doing an awful lot of babysitting, instead of you know, and and it's like, people who start to start a business they say, Well, you know, what, what should I expect? And I had one guy who said, he called up all of his friends and he ran business said, you know, what, what's it gonna be like? And they told him, and six months later, he called him up and said, You sob You didn't tell me about the sleepless nights? Well, you know, that's just normal, you know?
29:55
Yeah. Hey, let me back up just a little bit, right. This is one of the things that That I, that I really liked when I met Cory, and we and I learned more about this is the why you pick the five x part. You know, he hinted at this earlier. And he said, Listen, if you have to make your talk to someone, you go, okay, you have to double your revenue in the next year, what are you going to do? Right? Most people go, I have to work twice as hard. I have to work 16 hours a day instead of eight hours a day. Okay, so then five x was picked, because now you're going to have to work five extra revenue. Now. Yeah, they're not that many hours in a day. So it's a complete mindset change. And you're going to have to start with a clean sheet of paper. Listen, my wife never listens to me, okay? It's probably not going to change. She's a mortgage loan officer. And she's been doing it for 25 years, and she's working her ass off, you know what I mean? And I go, Hey, well, what if I told you, you had to double your revenue? You know, in the next, you know, year she's like, Okay, well, I work. And she says, like, well, I just have to work twice as hard. It's like, okay, five x. And then she stopped and thought about it. And she actually said these words, it goes, Well, I guess I'd have to start with a clean sheet of paper. Yes. Right. So that's a complete mindset change, right? So then you have to start thinking about, okay, I can't do this on myself, I am going to have to offload some things. If anybody's familiar with this book, you know, where you're talking about your zone of incompetence, your zone of competence, your zone of excellence, your zone of genius, right? And then it's like, I'm gonna have to get people out, I'll hold the book up longer. But really good. But basically, what it says is stop working in your zone of incompetence, right. And you want to work in your zone of genius as much as possible. So all the things that you're not all that great at, let's have somebody else do those. Right. And then you can focus on the things that you do best. But the five x goal is really what sold me on coming to work with Corey with.
Corey Hansen  31:59
One of the interesting parts that though is You say, Well, why five x? Why not 10 x? Why not 100. And what we found was that for most of us, and this is a psychological issue for most of us, if you try and imagine 10 x from where you are, most people, the brain goes out that that's fantasy, I can't do that. I'm not doing that. But when you when the process, we used to go through five x, you actually start to see what that looks like. And when we can see what it looks like, we can do it.
Andrew Cross  32:32
Yeah. So I brought Jennifer up, because she had a very good question. And I you know, and I think for you guys, Jennifer,
32:40
I'm here and I've got my Silent Partner, that's a silent partner. Um, so my question was specifically around service based businesses. So like, how do you scale to that kind of level when you're your service based business and, like, for what I do, it's really honestly, in my short of hiring other people and teaching them a methodology, what I do is largely in my head, and so I'd love some tips or suggestions on how you can begin to scale when everything's in your head, and your service versus a product.
Corey Hansen  33:17
Run, you run it?
33:19
Well, again, with you, right, that's your service. So you're gonna have to find someone else and start training other people to do it. Right. So how do you build a foundation to do that? Right, you're gonna have to get yourself to a point where you're making enough revenue to, to find someone else and pay him to do that, right. So you will have to make yourself you know, not the single point of failure for the whole business. Right? So there is going to have to be some training involved in finding elsewhere. And Cory Cory, you know, I just started working with Cory Cory, you may have more practical experience with Well, with Pacific service businesses,
Damon Pistulka  33:59
I'll weigh in on this a little bit. And I know that that Marty in here with with EOS interaction, if you haven't read that book, The the the whole thing that that I think in there you go in, in the in the part of us that I really connect with a lot is is the delegate elevate part and in the service business, it's it's critical an IRA knows this and other people that do this, and especially Marya, it's teaching people doing this every day is you really have to as you look at your business now, Jennifer, any of us that have a service based business, we have to look at it and go, okay, where are we going to run out of capacity? And how do we increase that capacity next? And then and then, you know, how do we increase that capacity and maintain the level of service that we're going to provide our customers and that is the challenge. That is the challenge when you look at it, and it is, you know, whether you're reading, traction and understanding how to identify that whether you're reading the you know, the math and trying to figure out what Which part of your brain that is that you've got to just connect and work with? It is it is the challenge in service businesses. And you know, it doesn't matter if it's a plumbing business or it's a consulting business, quite honestly, it's it's the same challenge. If you're if you start a plumbing business, because you're a good plumber, which that's 90% of why we get into business ourselves, because we're good at something. Scaling, it is the hardest piece. And but it is as as, as you guys know, and as Marty and Korean guys do. It is about what are those steps you need to do that can leverage outside of your, your your skills with others? That's the only way to really do it or technology.
Andrew Cross  35:45
Yeah, I think this was a, you know, thank you, Jennifer, it was a i thought was a really good question. Because too, there are a lot of people in this room, particularly who are, you know, have great businesses are trying to figure out how to scale their model, because of the expertise and service that they provide. It's a real really good, big challenge. But it is it is doable. tractions a good book, you might want to pick that up that Jennifer if you haven't,
Corey Hansen  36:12
so and service businesses, by the way, are the majority of the clients that I've worked with, and a lot of people just like you, Jennifer. And what happens is, if we were to go 20 years into the future, your business would be very different than what it is right now. And so instead of waiting that 20 years, let's look at what it would look like that 20 years, and identify and yeah, you'd probably have some staff and you'd probably have some technology that enables you to you've systematized your process, to focus on getting results. And, and instead of waiting 20 years, why don't we start doing some of that now, and making your life easier? Because the truth is, and this is this is one of the really challenging parts of this is that I found that unfortunately, slow growth is really just another form of slow death. Yeah. Yeah. And and, you know, the other one is, we are literally in a race. We're in a race right now, the issue is, what are we doing to make sure that we win? What do we you know, if you want to use the automobile version, you know, what are we doing to get a new you know, nutrients mission, a new motor, a new suspension? What are we doing to transform our, you know, comfortably at 60 7080 miles an hour, to the races to 10? How do we get to 210? Well, it doesn't happen, you just go like this, we have to transform. So what if your business included five people? What might that look like? Might what might you want to wait? So all we're doing is, you know, as entrepreneurs, again, we live in the future. Now let's design in the future and see what it looks like. And again, Ron, Ron, and I have a process, we're happy to share that, in fact, our book, you know, you're welcome to buy in if you want, but we've got an offer, go to our website, hot 100. Business calm. And, you know, click on buy the book, and the free code is five x now all cap five x now, and happy to have you take a look at don't read it while driving or operating heavy equipment, because you know, you definitely get put to sleep. But yeah, there's, there's, we all have these different ways. So that's one of the other things, people you know, so there was a study a number of years ago, what's the best system out there? You know, and they look in depth at all of the various systems out there to grow a business. Here was the number one conclusion, having a system gets better results than having no system. Yeah, yeah. Number two, there was no best system.
39:12
Yeah. Marty is probably going to come up and disagree.
Corey Hansen  39:18
That'd be great. That's fine.
Marty Vondrell  39:19
No, I don't I don't disagree. Our thing, the EOS Queen creed, if you want to know what it is, is, you've got to work your business on one system. You got to choose that system. I provide EOS, I implemented EOS in businesses. It's not the only system. It's not for everybody. But it is it is it's about building a leadership team. So it's about growing it out in a way that you guys are talking about. Yeah, I'd love to connect with with you, Cory and talk more about that. But yeah, if you haven't checked out traction, I'm happy to have a conversation or give you the movie version. I've I'm happy to have that too. Because it's there's things you can learn from that hit any size business.
40:04
Yeah, Andrew,
Damon Pistulka  40:07
I guess got a laugh because and Andrew said, Do you have a system to help choose a system? in the chat? I always like sometimes you
40:17
said, Who asked that get up? I don't
40:23
know, the answer.
Corey Hansen  40:26
It depends on what your goal is, tell me, you know, figure, let's finalize what your goal is. And that makes it easy to determine which system is best
Damon Pistulka  40:35
you are you're writing with that. And it does, you know, when we, when we're helping clients to when we look at it, and they're, they're near their exit, it's like, oh, what do you want to do, and half the time we don't do this as people, we don't say, Listen, I want to be, this is where I want to be. And if you know that I want to. So if you want to run a marathon, you know, you want to run that whatever it is, however many miles it is a marathon you got that's where you're going, you know, the goal, you got to get there. And then businesses, we start these businesses, and we don't have those kind of concrete goals. And once you have a line in the sand, you least have something that you can start working towards. Yeah,
Andrew Cross  41:13
well, I just wanted to jump in, because, you know, a lot of engineers, you know, guys process systems, all good Eos. But then, you know, but in we've started this discussion on, you know, through the roundtable going forward, but a lot, not for getting the people to that run these things as well. You know, and getting the right people in the right seats and evaluating if they are, you know, you know, those kind of people and where they fit. You know, so Kelly's, you know, Roberts, Robinson's in here who, you know, works on that kind of thing for organizations, and Michael loski, you know, so I wanted to get that, you know, touch on that as well, you know, and not forget about that part of it. Because, again, it's not all process.
42:01
You know, what, let me tell you about EOS specifically, right, or attraction, rocket fuel, the separates people into two categories, visionaries and integrators. And I really like that. Because if anybody's studied personality types, right, you got disc, I mean, that's all over the place. You got the four things you can be in any order, right? Myers Briggs, or 16, different personalities, right? I'm sure there's so many tests out there to where you look at, you know, somebody tells you your something, right? And there's a whole bunch of them. In EOS, there's two, right? visionaries and integrators. That's easy. Those are low numbers, you'd like me to figure that out, right. And so it's really for me powerful. I mean, I'm an integrator. And everybody I'd suggest you go to the rocket fuel website, take the test, figure out which one you are. And it tells you sort of what the shrimps have strengths and weaknesses of each one are. And it really helps. So as a guy who's focused on leadership, leadership development, and that's how I met Cory, focused on that this is very much building up of the individuals and the leadership team and making sure that you have the right people doing the right things. Now, the difficulty there is everybody knows, I think Andrews got some experience in this and dealing with family businesses, right? It's like, Well, hey, you've got the wrong person. And that actually your person doing offs as an idiot, right? Sorry, that that's your son. But that's the root of all your problems. So you need this.
Marty Vondrell  43:33
So that's tough to do. One other one other note about that, while I while you're bringing it up, Ron is, as I've got some resources around being an integrator, we have an integrator community, which I can link you with. And I'm going to be facilitating IDs sessions later this morning with that community. And so yeah, when you find that out, it's it's a distinct difference in terms of who your being at the top of the organization and how you build that organization. Now,
43:59
I love it. And let's connect offline Marty, I'll set up a time to chat. Very
Corey Hansen  44:02
cool. So this issue of people, one of the one of the things that I discovered through the using a process was that this is not fundamentally about the business. It's fundamentally about the people, the team, and the owner, leader, entrepreneur, whatever we are, and I end up telling the clients, look, I actually don't care about your business. It's nice sight, you know, shiny all that. But this is really about you, and making sure that we take care of you. So one of the things that came out of this is we identified that, you know, owners one of the reasons these business fails is because the owners do not take care of themselves. It's they we treat our business like our baby like our child like, you know, something has to be protected. And in fact, what happens is we don't pay So as well, we don't put away enough resources, we don't set retirement goals. And the result is, the business is like any other organization, it's willing to accept any sacrifice we make. But it will not reward it, unless we force it to unless we design it to. And and so when one of the things we put in there, again, is goals for the owners, like you should be paid, you know, preferably 300,000, a year or more. Can you start out there? No, but but what we designed the business to get there in a reasonable period of time, instead of the buyer sacrifice, courage, sacrifice, and then hope it works, when, in fact, you know, the failure rate of over 10 years is, you know, depends on whose statistics you believe, but it's, it's upwards of 90 95%. We can't wait, we got to make sure that we take care of you as well. And, and one of the Ron mentioned the thing about the vacation. What one of the things that happens is Guess who really appreciates having that as a goal. It's the spouse, yeah, yeah, it's the family. Because here's the other part, you know, if somebody happens to you as an owner, what happens to your family, all that sacrifice and everything down the tube? And so we also put in place, you know, a protection? Yeah. Who thinks of that, when they're starting a business?
Michael Gidlewski  46:36
No one? Yeah. You know what I like this segue on that what Cory said about having the right people on the bus is so critical. and business owners, they don't think about that. They, they, they want to have the system, the process, they're willing to work 8090 hours a week sacrifice themselves for the business. But if you don't have the right people on the bus in the right seat, you're you're in deep doo doo. And assessments today make it very easy to do that. It's not a they're there. They're economically affordable. There's behavioral and and motivator assessments that tell us how somebody behaves and what their values are. For the year cut and dry, simple. You know, it's just some great stuff out there that makes it so easy to put the right people in the right seats. Not to make this out of
47:31
I know Professor Pete might be itching to talk here. Right? Because of us looking to take care of people, right? You can't, can't pour from an empty cup. Right? So part of it is the owner taking care of him or herself. Right to Professor P. What do you got to say,
47:50
Can I say first, right up your alley, Marty?
Marty Vondrell  47:54
And Eos. There's this there's a system for getting the right people on the bus, Michael. It's really, right. We call it the people analyzer. So it's, again, a complete and proven system. So it is part of that I just wanted to throw that in there. The system isn't just one thing. It's a set of tools over 20 plus tools in the in the US system and getting the right people you're absolutely right people and right seats. So the right people on the bus and in the right seats is a big part of it. One of the first things we do in the focus day in the full session
Michael Gidlewski  48:22
get day. So yeah, morning to those those assessments tell us their mental aptitudes and whether they they're valid or not, whether they validate
Marty Vondrell  48:33
I do have other assessments to do that. No, we don't do with any of us, though, what we have to do is we have to understand the core values of the business first, and we want people that match those core values. And that's and then the right seat is the other thing that they but you're right. There's other assessments we can use out there, right?
48:49
Yeah, yeah. Good.
Andrew Cross  48:50
Yep. Trying to get Professor Peter up here. Don't know if he needs to turn his camera on. Or he's
Damon Pistulka  49:00
here guys
49:02
are gonna think Andrew would
Andrew Cross  49:05
sit in at least part of it.
Damon Pistulka  49:11
All right, Pete, are you doing on the short thanks
Mark Scrimenti  49:14
for the good subject? And just a quick thing since Ron, thanks for asking me to come up on Yeah, talking about the whole thing of it. You know, it's a wonderful thing, Cory to have that backup plan if something happens, but the thing about it as a business owner yourself, you have to realize that if you put everything your business, ahead of your health, both mentally and physically, if you burn out, you are no good to your business. You are no good to your spouse, you are no good to your kids. And in fact, if you end up in the end, you know, really sick physically where you know, basically you only can be In bed, you're not even good to yourself. Yeah. So
Corey Hansen  50:04
that's like another really Heather. Yeah. Another the best practices.
Mark Scrimenti  50:09
Yeah, exactly. So it's, it's, it's really important. So everything that you guys are talking about, it's true, most business owners, they're not going to think about all these various things. So it's really important to have these these contingencies and have people that are able to help guide you, and recommend that, hey, you know, you are burning that candle at both ends, and you are on a slippery slope to burnout. And that's, that's, that's a critical thing. So,
Corey Hansen  50:38
you know, that is a really great topic, because that was one of the most common things I had, and I'd have 120 clients a year. So I got to practice on lots of people. And I, we'd sit down, and we talk and then you'd say, Well, you know, tell me about your business say, well, I've been at this for five years, I haven't had a vacation. I owe taxes, you know, but you know, I don't have any money in the bank. So I don't know why the government thinks I owe them taxes. And, you know, I, my, my spouse is not happy. And I haven't seen my children. And you know, I'm just, I don't know what to do. And by changing the instead of, you know, well, you get to fix what's wrong with the business. And that's one of the other things is, as a consultant, I found is as entrepreneurs, there's lots of people happy to tell us what's wrong with our business. Oh, yeah. Okay. And, and we get really tired of it. And, and we stop listening. But if you want to tell me instead of what's wrong with my business, and what I need to change, just to stay in business, I'm not gonna listen. But if you want to talk to me about how to grow my business, to the vision and dream that I started it with, then I'm happy to chat about that. I'm happy to listen. Now. Now, your your technique, your strategy, your tactic, might make sense, because you're helping me grow to where I want to be. But if it's just a fix what's wrong with me? You know, what I tell clients, I say you fix pets, not people. So we're going to not try and fix this, we're going to make it so that it can go where you want to go. And, and you know, this is also relationship with your spouse, and with your with the people you work with, and your family. And when you really start to build that dream again, it changes your relationships. And it means you can go on vacation and beat that's just such a critical thing, because that's what happens. Anybody can keep a business going for about three to five years. All you have to do is be willing to give up everything you have everything you will have in everything you want.
Damon Pistulka  52:53
Right.
Mark Scrimenti  52:55
And the only thing I would just pass on about the vacation thing, I can't tell you how many people that I have worked with him and done this myself, where you go on a few days a week vacation with the family. But guess what, you're sitting there checking your messages, you're doing work on your you know, your computer, etc. You are not taking a vacation, because when you don't disconnect, you basically don't give your mind or your body the opportunity to recharge.
Corey Hansen  53:21
So it takes three weeks, three weeks.
Mark Scrimenti  53:24
Yeah, man. In fact, it's statistically if you take a week off your vacation is basically one day Wednesday, because it takes three days to unwind that three days that you're charging back. So you know, so your one week vacation is Wednesday?
Michael Gidlewski  53:45
Yeah, yeah. So that my coach Dan Sullivan told me that if you take a 24 hour period, straight 24 hour free day, disconnect from the business 100% then you less than that you can, you can have a good week off. But you have to disconnect and when I joined that program, I was like a workaholic. And I started I couldn't believe it. You know, I was like, Oh my god, you can't like take 24 hours and disconnect. It's been the best thing that ever happened in my business. I come back. If for a weekend, three days, four days, nine day retreat. I am so fired up and so engaged in the business. I have more creativity, more innovative ideas. It's unbelievable.
54:26
Now, people have already thought okay,
Andrew Cross  54:30
for a second. Yep. And I think it's important to and we do this because when we're looking at businesses that are valuable to you take it even a little bit step further. Can you go for a week from your business and it does better without you
Pete Alexander  54:45
know, your manager.
Andrew Cross  54:51
Edit read, then you can really watch
54:53
well, while you're I
Corey Hansen  54:54
gotta tell you why the vacation though. Everybody thinks this because you need it. Yes, that's true. However, the real reason I so I tell clients is within 18 months, you have to take a vacation and between three and eight weeks away from the business, and here's why. Because that gives us 18 months to develop the business in such a way that it can be independent of you for that period of time. It whether whether you relax and all of that, you know, a, you know, you probably will, but it becomes kind of a deadline to actually put in place a system so you can do it. Now, here's the other thing. And you know, we all know this, but we forget about it. And that's cash, cash flow. And what I got coming up and everything takes up this huge part of your brain that you don't even think about, but you worry. But if you got a growing business, you are worrying about this all the time, because here's the biggest issue. A growing business consumes more cash than it puts out. Yeah, yeah.
Damon Pistulka  56:01
Yeah, yeah, that's a there's a challenge that we're constantly fighting with our clients is that when you when you go 50 plus percent a year, just create keeping enough cash in the business to be able to grow that rate is, is is a real challenge. But we're getting to the end here, guys. I'm starting to drop people off the stage. Thanks so much for this. I tried to get Dr. aelia. Up here, if you can. I says you're on the stage, Dr. Alien, but I think you might have to turn on your camera and stuff and a sigh. There we go. There is
Dr. Elia  56:33
just a very quick note. I love the conversation. And Cory and Ron, thank you for sharing. Just one quick thing about vacations because I just had a six week of vacation in Greece. I know Ryan's Rene invited to come to Greece, man. So you're still alone with that one. All right. And I just want to share something with you that was unique that I've never had before. I didn't watch any television, not even one Netflix. My Computer Game time was down by 75%. And by the way, I'm addicted to all of these things, just so we're clear. My phone time was down by 50%. And people have said, well, Leah, what did you replace it with? You know what I replaced it with? Sun, water, swim, eat healthy food, walk a lot. But more importantly, connect with people that I love. Who Loved Me too. We had we laughed every day. We shared deep conversations. We talked about all kinds of things, and really connected with human beings, a much simpler life than the rat race that we have here in the US, but a much healthier life. So I came back to the US and my batteries are full. I can go for a whole year now. That's it was good stuff. You may find it mica. We'll drop it right now. But that's it.
Damon Pistulka  57:50
Thank you. Thank you. All right. Well, I'm Cory. Ron, thanks so much, Andrew, take us out. We can go back to the tables, do some networking. But we're getting close to the end here.
Andrew Cross  58:04
Yeah, yeah, we're getting near the exit. So here we are. We'll go back to the tables a little bit. But this was great conversation, guys. You know, and I think that answers Jennifer's question, right? It's the people the processes, you know, Ira brought up in a fantastic point about small business owners, they're likely to succeed on their second, third and fourth business. You know, the small business owners are, you know, they, like Cory said, solve problems. They, they figure it out trial and error. That's how they learn fix, you don't get that you don't learn how to run a business, you know, getting an MBA, they don't teach that at business school, you know, and they have all the knowledge. That's why this is cool to everybody and you guys to come here work with small businesses because out and they don't teach it in class. It's in their heads, exit your way. We're just trying to get some of that knowledge out of their heads and show you how to scale business is golden. So thanks a lot, guys, for coming along. And we'll shut this down and go back to the table saying Hey,
59:04
thanks for having us. Appreciate it. Love leading these conversations. It's great.
Damon Pistulka  59:10
All right, everyone.
Schedule a call to discuss your business goals and answer your questions on growing business value, preparing for sale or selling your business.
Related content
These posts may also interest you
Developing Annual Net Income Projections
In this week's Exit Your Way Roundtable our guest speakers were Andrew Cross and Damon Pistulka. Andrew and Damon are the Co-founders of Exit Your Way.  Exit Your Way helps business owners build businesses that provide more money today that they can sell or succeed when they are ready.  Today we are discussing the final part in building annual projections.  Estimating the fixed costs and calculating the projected net income.
Developing Annual Projections
In this week's Exit Your Way Roundtable episode, our speakers were Damon Pistulka and Andrew Cross. They are the Co-Founders of Exit Your Way. The conversation of the episode started with Damon sharing the topic of this episode.  Damon and Andrew help their clients build businesses they can sell or succeed.  Developing accurate projections is a big part in building a successful business.
Annual Strategic Planning and Projection Development
In this week's Exit Your Way Roundtable episode, Andrew Cross and Damon Pistulka covered the steps business executive teams can use to perform their strategi planning for the upcoming year.  This episode is the first of a 3-part series where Andre and Damon will cover strategic planning, projection development for variable costs, and projection development for fixed costs to project the net income.