Helping Machine Shops Excel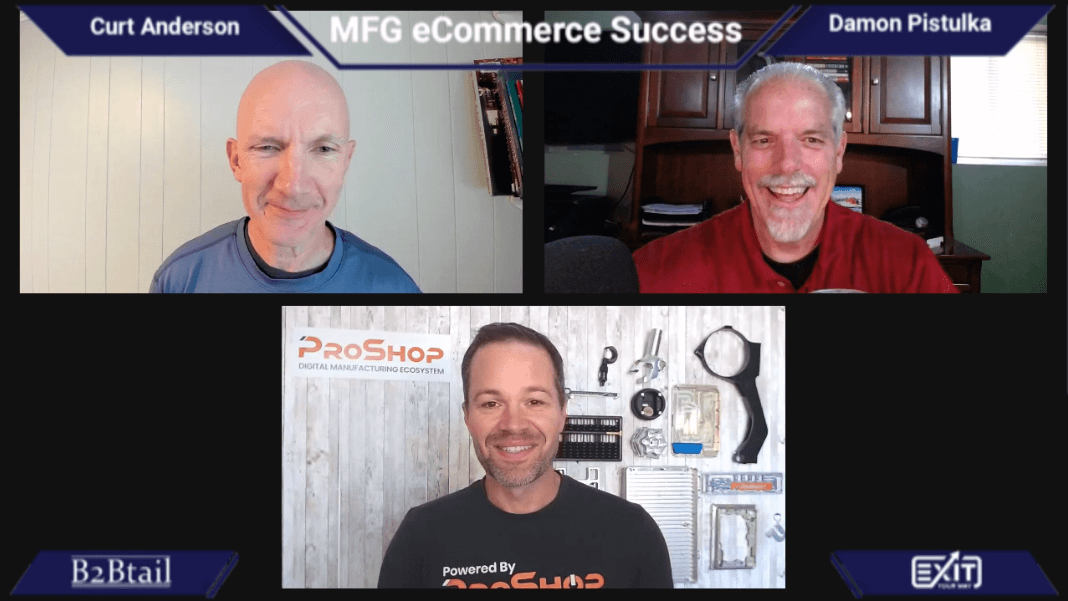 MFG eCommerce Success
Helping Machine Shops Excel
In this MFG eCommerce Success show we talk with Paul Van Metre, Founder of ProShop ERP, about how machine shops can use systems to streamline their businesses and improve their performance.
When Paul started a machine shop out of college, he wanted to build a successful manufacturing company. He was not focused on building an ERP system that would change how they would do business, but when they could not find an ERP system that addressed their ERP, MES, and QMS needs, they began building one, and ProShop ERP was born. Since then, Paul and the ProShop Team have been improving the system and incorporating ideas from their customer base.
Paul is an advocate for US Manufacturing and the machining industry. He serves as a board member of the Pacific Northwest Aerospace Alliance. He hosts the "Machine Shop Mastery" podcast helping elevate the importance of the machine shop industry and share secrets of success with machine shop leaders.
Download our free business valuation guide here to understand more about business valuations and view our business valuation FAQs to answer the most common valuation questions.
Damon and Curt open the Livestream with their contagious energy, which impresses Paul. He praises the hosts for it.
Curt furthers the conversation and invites Paul's comments on his childhood hero. Paul believes his parents are his heroes. He describes that his mother, Pattie, married twice. Bob, his stepdad, raised him like one of his own children. He gives a glimpse into the lives of his parents. Pattie pursued her career in health care. She was an executive director of a health organization. Whereas his "birth dad was a crazy entrepreneur." Likewise, his stepdad was a hardworking man.
Paul talks about his academic journey into becoming a car manufacturer. He took a gap because he wanted to go for a mechanic's race program in California, which he learned about in a magazine. So, he moved to Monterey and worked at the Jim Russell Racing School at Laguna Seca. There he learned how to be a race mechanic. He got his race mechanic license. Later, he went straight to Boston University for mechanical engineering because he wanted to design and build cars.
Do you want to know if your business is ready for your exit or what you should do to prepare? Learn this and more with our business exit assessment here.
Soon after his first year of Boston, he came home for Christmas break, "during that year as a freshman, I was laying on the couch, reading another car magazine." He learned about a program at Western Washington University, Bellingham, Washington, called the Vehicle Research Institute. He was amazed to know where he could design and build cars.
He sought his mother's opinion, to which she readily agreed. He would "tear apart engines, build new parts and CNC machines." Similarly, he built cars competing against other universities. With loans secured against mortgages, he and his friends could start, in 2005, Pro CNC (Trulife Engineered Solutions) — a Computer Numerical Control Machine shop.
Paul reveals that he was 23 when he started his company. He talks about his tireless and "super intense" work. His team has been loyal to the cause and worked well under stress. They did not "want to go off scattered to the wind after college." So hence they started a CNC machine shop. The company was so successful that one of Porsche's key employees, their production manager, to be exact, came to work for them on the weekends to earn some extra money for a sports court.
Get the most value for your business by understanding the process and preparing for the sale with information here on our Selling a Business page.
Curt asks Paul how they got their first customer. Paul explains that their first customer was their college professor. He needed a mold for a composite carbon fiber snowshoe. They made the professor a two-piece mold on top and bottom. They made $5,000 out of their first job.
Paul further reveals that his wife, a college-time girlfriend, has supported their family because she has a good job.
Curt appreciates Paul's vision for running his business on the internet. The latter, in 2005, did something similar to what is now known as Search Engine Optimization (SEO). He utilized his skills to the utmost and ranked top in Google Search for many years.
Curt inquires Paul about the business model that enabled him to scale his business from six to seventy-five employees. Paul credits his success to the process. "It was not the wild west in our shop, at least not after the first couple of years." They streamlined their processes. They optimized their repeatability and the like.
The guest also mentions a book named "The E Myth: Why Most Businesses Don't Work and What to Do About It by Michael E. Gerber. He praises the entrepreneurial spirit of its writer. Curt takes part and goes on to describe that Gerber has aptly explained a scalable process and "worships the McDonald's concept." Paul adds that they hired a full-time software developer to design their software.
They built that concept, which came from the E Myth. They thought if they could design their shop to run like a franchise, their business would run smoothly. They incorporated those features into ProShop. As a result, they credit ProShop "as being the backbone of that growth that allowed us to grow that fast for so many years without it getting too crazy."
Paul talks about his business process at length. Once they scaled their business, they needed some software besides Excel. They started searching for the software Enterprise Resource Planning (ERP) category. They faced problems in managing their jobs, quotes, and the like. Some similar business owners advised them to get some ERP software. Besides being focused on process, "we were just there in the trenches with our team." He names the star performer of their team. It was none other than Kelsey—a tech-savvy technology geek who did "all sorts of fancy stuff" on Excel and Visual Basic.
Moreover, Paul talks about their huge 22-inch Cathode-ray tube (CRT) monitors "that weighed seventy pounds next to the CNC machines." With this in mind, they aimed to make their business operations paperless. They have been practicing this mission since 1999.
Paul narrates the events that led to the successful exit from Pro CNC. Their sharp rise in software development, to help other shops like theirs, opened new doors of success to them. Subsequently, they could not do both, for they did want to split their efforts into still running the machine shop and developing software. Resultantly, they sold the shop.
Software, as compared to manufacturing, is different. These services are not like something "you have to put in a box and ship it to the customer."
Paul gives an account of ProShop. It is a software company. It has its ERP. They have a company positions module, where the buyer can design a position in a company, the job description, and the related metrics. They have implementation specialists and support people. Similarly, they have proper HR, finance, and marketing departments.
Curt asks Paul about the latter's source of inspiration. Paul replies that "the guys that started Airbnb" inspired him. He learned about scaling from them. When they were tiny, they would go out themselves and take pictures of the properties that people were listing on Airbnb. They would personally reach the uploader and ask, "You just listed your house on Airbnb," or "We're here to take really nice pictures."
Following in their footsteps, Paul did all the demos himself. The phone number on their website used to be his personal cell phone number. "That served us really well for the first three years."
Furthermore, Curt invites Paul's comments on Design for Manufacturing (DFM) since the guest has shared about it on his LinkedIn profile. Paul says that it is "a side passion of mine." It has been one of the key differentiators that they leaned into at ProShop.  When it came to differentiating their shop from other shops, they did it by being teachers and mentors. They showed their customers could design their parts to be less expensive. "Every shop does this a little bit. But we went all in on it," claims Paul. They achieved this status through webinars, newsletters, and in-person classes.
Likewise, Paul went all around the world teaching design for manufacturing. Besides the US, he went to Germany once and China 15 times. He is proud to be a DFM mentor.
Curt thanks Paul for sharing his story and passion for manufacturing in the United States. He concludes the Livestream with these remarks.
The discussion comes to an end with Damon and Curt thanking Paul for his time.
1:01:44
SUMMARY KEYWORDS
pro shop, paul, erp, machine shop, people, build, customers, shop, started, company, business, software, talk, years, car, manufacturing, damon, machine, employees, cnc machine
SPEAKERS
Paul Van Metre, Damon Pistulka, Curt Anderson
Damon Pistulka  00:03
Oh, we're live. Hello everyone, it's Friday. What's that mean? It means it's time for manufacturing ecommerce success. Kurt, are you excited today?
Curt Anderson  00:13
Tonight man, if I was any more excited, I'd be like you'd have called 911 Right now gaming pacemakers is like going I might have to adjust my patient I gotta just this is a big one here too.
Damon Pistulka  00:24
Yeah, good stuff good stuff we're excited that we're gonna be talking about helping machine shops Excel we got Paul Van Meter but I'm gonna turn this over to the co host right there and I love how I can just point the direction now Kurt and we don't have to worry about it in stream yard. But Kurt, take it away my brother from another mother, Kurt Anderson,
Curt Anderson  00:45
Damon, thank you dude, what an amazing week other than you know, I love how your mariners they intentionally like they're gonna let they're just like playing with the Houston Astros like a little toy. And now you're just gonna come roaring back. So alright, so anyway, guys, happy Friday. What an amazing, incredible honor and privilege. This is so long overdue man. I'm like President of the pro shop fan club. And if you're like What is pro shop? My good buddy Paul Van Meter, Paul, happy Friday. How are you
Paul Van Metre  01:13
doing? You guys? I am so pumped to be here. Just love the energy. You guys make me blush. Like I said in the chat earlier this morning. Just thank you so much for your advocacy. It's been amazing. Wow,
Curt Anderson  01:24
this is amazing, guys. And if you're new to this story, this is just an incredible you know, like, I don't use the word serial entrepreneur, serial entrepreneur loosely. You know, I this, you know, Paul is truly a serial entrepreneur, started a machine shop, we're gonna dig into that today started a SAT you know, of course, like Daymond it's like, makes perfect sense. He's gonna build a 17 year machine shop. And then why not just build a software company? Right? Yeah, perfect. Perfect correlation. We're gonna kind of walk through that today.
But Paul, before we dig into you, your background, all this stuff. You know, you are an incredible inspiration. I had the honor and privilege tonight connected actually, we go way back pre COVID. And but my first question for you today, I'd like to ask Venus relentless entrepreneur that you are, as you're a young man growing up? Who was your hero? Who was your hero growing up that led you down this path of owning a machine shop? Owning a SaaS product? Who was your hero as a young man growing up?
Paul Van Metre  02:22
Oh, well, certainly my family was not in manufacturing at all. But I would say my mom and dad were my heroes. Without.
Curt Anderson  02:31
Let's hear about it. How what mom and dad's name what a mom and dad's names.
Paul Van Metre  02:35
Patty is my mom. And I actually had, I was lucky. I say I'm blessed to have two dads I had my dad was my dad by birth. And then Bob was my stepdad who loved me. Like, like, I was his own son. And they're awesome. Yeah, they were amazing.
Curt Anderson  02:50
So let's just church shed a little light. What was so inspiring and what led how what was so inspiring about Mom and Dad, and you know, blessed that you had two dads, what was so inspiring that they led as you were growing up,
Paul Van Metre  03:03
I mean, my mom worked in health care, and was, you know, was the executive director of like, you know, health organizations and just put her heart and soul into it really followed her convictions. My my birth dad was a crazy entrepreneur, he he was had like five totally unique careers. Many of them were his own companies. And and then my stepdad was just so hard working so down to earth, and cared for us so deeply as kids that it was just wonderful parents. Wonderful.
Curt Anderson  03:43
Well, that thank you for sharing that. And big shout out to Patti and both and Bob in your in your birthday. What did you say? Dale? Dale. Okay. And so what a great inspiration. And so you know, as you grew up, you go off to college and at college to my understanding, dude, you worked on race cars, man, I don't like I didn't do anything fun and exciting when I was at college during the classroom. That was after class. But sure, a little bit about like, what what led you like, who goes to college on race car? Sure.
Paul Van Metre  04:10
That's what my path was actually a little more secure to us. circuitous than that. So I actually took a gap year, because when I was a senior in high school, I was reading one of my car magazines. And I read about this. This program, it was actually a mechanic's race program in California. So you basically got to learn how to be a race mechanic on race cars, and instead of paying your money, they let you race the cars.
So I'm like, that's what I'm going to do. So I moved to Monterey, California, worked at the Jim Russell Racing School at Laguna Seca, which is a iconic racetrack Well, yeah, that's why I asked that just incredible. So learn how to be a race mechanic, got my race mechanic license, did a lot of racing just had a ton of fun, and then went straight from there to Boston University. He for mechanical engineering, because I wanted to design and build cars. And I figured there's no better way for me to know how to build a design a car, if I don't know how to work on cars and fix cars.
So that's why I think I've always had this thought that like an ark, all architects should absolutely be carpenters for at least a year or two, right? And even know how a house is actually built. Right. So I figured I need to know how cars are made. So I can go design them, because mechanical engineering was the closest thing I knew to figure out how to be a car designer. And I was super crazy Motorhead just love cars. So I did my first year of Boston, came home for Christmas break during that year as a freshman, and I was laying on the couch, reading another car magazine.
And I read about this program out at Western Washington University in Bellingham, Washington called the vehicle Research Institute. And I, I just could not believe what I was reading, I was like, there's a place where you can actually go design and actually build the cars in college. So I remember and this is another part just I love my mom, I'm laying on the couch. I said, Mom, I'm dropping out of the EU, and I'm moving to Washington State to build cars. And she said, that's nice. You know, that's great. You know, whatever you want to do, I'm behind you. 100%.
So, so that's what I did. I I finished my first year, I moved to Washington, and got into this program, where every day was like, in the classroom, and then out in the lab, tearing apart engines, building new parts and CNC machines, building cars competing against other universities, that was the most fun. So every year, in in September, we started designing or maybe in the summer, we started designing a new car, right? We'd build it through the winter, we'd assemble it in the spring, and then we'd go race against other universities in May. Right. And what a trial by fire, you know.
And we were on our own we had a fundraiser on money to build the cars. Yeah, we didn't get any financial support from the school, besides the fact that they had an amazing machine shop. And they had tons of aluminum laying around because Boeing would donate surplus aluminum, right? So we had CNC machines and free aluminum so we CNC machine everything. Yeah, that's leads into how we started a machine shop. Because we fell in love with machining and manufacturing. And, and, and the the lesser known story is actually we actually wanted to start a small niche car company.
But wow, didn't have the money to start a car company. All we had was basically some funds from a second mortgage that one of my partners took out on his house. And that was only enough money to buy a CNC machine, and maybe a manual mill and lathe and have a few months of rent leftover before we needed to start, you know, paying the bills from revenue off the machines. Right, right. No, yeah, me and actually, me and five other guys started pro CNC right out of college and 97
Curt Anderson  08:08
Oh my god. Let's recap this. And now. So where did where did you grow up? Where was not? Where was mom's couch?
Paul Van Metre  08:15
Well, mostly in New Jersey.
08:18
Oh, you're a jersey guy.
Paul Van Metre  08:19
Which is why I went to Boston because I was on the East Coast and my girlfriend from high school was going to Boston and I figured what the heck they have good engineering program. Yeah, I'll go to so
Curt Anderson  08:29
so Jersey guy ends up in an iconic race track. You're just that was your gap year, you're just just you're all about cars go to Boston University for mechanical engineering, read in a magazine while on Christmas break and decide to turn around and go to Western Washington. Just
Paul Van Metre  08:45
so early. So yes, two times. car magazines have changed my life. When I went to the Racing School, and then when I came to Western, and actually I was several years ago, I was I was a I was the commencement speaker at Western and, and my I might the theme of my story was that cart car magazines will change your life. So the car magazines you like
Curt Anderson  09:07
so just on a side note as your wife are you lot of so read car magazines, like just in case of like life dramatic life changes or is that she okay with that? How's that work?
Paul Van Metre  09:15
She's okay.
Curt Anderson  09:16
She's okay with that. Okay, so All right, and we have a ton to cover in just the car company. You really you're gonna start a car company.
Paul Van Metre  09:26
We're gonna start a car company, we had a design. So here's the here's the very naive thinking. There's six of us that want to start a car company together. We don't have enough money for that. Yeah, let's start a machine shop. Because that machine shop needs all the same kind of equipment and processes and people and infrastructure for at least the way we wanted to design a car it was gonna be very CNC machining and composite heavy because if you saw the cars that we built and in fact, this part off my wall this is one of the pieces from the cars we built in college.
So it's all machined. It's two parts. It's really lightweight and strong and cool. And we wanted to build a road car similar to that. Anyway, so the naive part came from well, after only like maybe a couple of years, we'll have enough free cash flow free time that we can start building a prototype car. Yeah. And get some investors and then start their car company
Curt Anderson  10:26
company. Nice.
Paul Van Metre  10:27
How many? You know, business owners have a machine shop nonetheless. Do you think have plenty of free cash flow and free time? Only two years in? Yeah, we're just trying to park no one does that
Curt Anderson  10:39
we'll start a car company and we're gonna compete against Ford and General Motors and
Paul Van Metre  10:43
well it was gonna be very niche he you know, maybe like 100 cars a year or 200 cars a year for very exclusive. You know, enthusiast that love the kind of stuff that we love you loved.
Curt Anderson  10:53
All right. Awesome. All right. So guys, just if you're out there, number one, Happy Friday to you drop us a note in the chat box. You absolutely want to connect with Paul. And this. Dude, you're like, you're exceeding my expectations. We're like, we're in the first five minutes here. Alright, let's keep rolling.
So, alright, so just recap. car enthusiast isn't the right word, evangelist. You're a car evangelist. Yeah, as a college kid. And just for any young folks out there, man. And you're going off to college. You think manufacturing is not a career. Well, we're going to turn that story. Yeah, right here. We're dispelling that myth right here, Paul Van Meter. So let's go into it. So you guys walk us through urine College, sitting around with the Dyna bar napkin? How did the How did the vision How did the dream come to life to start the CNC shop? You're, what 22 years old?
Paul Van Metre  11:40
To 23? Yeah. We just I mean, we, you know, keep in mind, every year we're designing and building a car. It's super intense. We're working, literally, you know, some some weeks, 120 hours a week in the lab, you know, in the lab, like obsessed, sleeping for four hours a night, in one of the other cars from the prior year, just like in the driver's seat. You know, wake up, do it again for another 20 hours, right.
But we really loved working together. This team was just we gelled we were just magic, really good friends really worked together under stress well, and we're like, we don't want to go off scattered to the wind after college. We really like working together. And we've loved these cars. And we had came up with this sort of design idea for how a car could be built using machined parts and composites. And like that is an idea that we want to pursue. So but but we didn't have any money to do it. So hence the machine shop.
Curt Anderson  12:41
Yeah. Okay, so how many so how many guys started the shop?
Paul Van Metre  12:45
Six, six of you. So the one CNC machine. Oh, thank you ran around the clock. I'll tell you.
Curt Anderson  12:52
All right. And we're, we're, I'm on plenty of time. So we can take a deep dive into pro shop, but just walk us through, okay. You get when you flip that switch 22 A bunch of 20 to 23 year olds, six of you, you get this company, you know, obviously you guys needed a paycheck. How'd you get your first customer
Paul Van Metre  13:09
first customer was actually a professor that we had in college that had gone off into into industry. And he needed software. He needed a mold for a snowshoe a composite a carbon fiber snowshoe. So we got this mold, it was like a two piece mold on top and bottom. We put it on the little cheesy brochure we made, you know after that. And then just Yeah, started. So that was our first job. It was a $5,000 job. We couldn't believe how much money it was. It was like a huge job. That's so much money. Right? And, and then we just started knocking on doors.
Other people we kind of knew or they knew and just very meagerly started to build it up. Didn't take a single paycheck for I think nine months or more. And then after that it was maybe $500 a month, you know? Yeah, yeah, just get things wrong. And I was grateful my my girlfriend at the time is now my wife. She supported our family because she had a good a good job. All the other guys lived in a big house together. Lots of ramen and peanut butter sandwiches.
Curt Anderson  14:23
Right? Working together living together did each guy kind of take a different role like maybe it was one person sales and our person was stronger in finance. Somebody's like how did how'd you go?
Paul Van Metre  14:31
Really? Well, at the beginning it was just a free for all everyone was doing everything. Yeah, we definitely did specialize fairly quickly. One guy took more of the sort of finance role. One of them took more operations. I fell into kind of estimating and sales and marketing. Yep. But still ran machines swept the floors, clean the toilets, all this stuff, right.
Curt Anderson  14:56
So, so this is 9798 right when you're getting taken Not so now, for shameless plug unite. We're doing a super fun webinar on Tuesday at pro shop and part of the webinar. And if anybody's out there, just a little sneak peek, we're going to go into the Wayback Machine. So if you guys ever Google Wayback Machine and you want to pull up, we want to see what your website looks like, from way back when go to the Wayback Machine. And so Paul, we're going to take a look at pro shop. And the way back, we're going to look at pro CNC was the name of your company.
So Damon, we're going to take a couple of screenshots from like, 2000 2003. But Paul, you did an amazing job early on again, you guys were young, you're fresh, you're just out of college. And even at that stage, you saw the value of search, attacking search engines. And just let's scratch the surface there and WHAT YOU DID MY GOD 22 years ago, and search, just talk a little bit about what you did how you're getting first page, not only first page, but number one rankings on a lot of your keywords. Yeah.
Paul Van Metre  15:53
Yeah. So I, I, you know, the internet was just barely a thing back then. So we did build a website. And then I somehow got into, I don't know if it was a podcast, maybe it was a pot. Did they have podcasts back then? I got into this, this this woman that did SEO search engine optimization. Yep. And she talked about how important it was. And this is what you got to do. So I just followed everything she told me to do.
Yeah. And, and, you know, lo and behold, we start getting a bunch of people calling us and emailing us saying I found you on the internet. And, and so I you know, one day I did it myself. I'm like, searched our I searched CNC machine shop. And pro CNC u.com was the number one organic result. Yeah, on page number one, I was like, wow, you know, and so we held on to that spot for maybe a couple years. And then it started getting so competitive, and people were throwing more money at it than we could afford. And yeah, you know, didn't stay in that number one spot. But it was huge for us back then.
Damon Pistulka  16:58
And it was getting bigger. And bigger says renewed, Kurt.
Curt Anderson  17:03
Let me get my oxygen going here, Dan. So I just absolutely, Dan knows. I geek out. So all right, let's walk through. So let's fast forward a little bit, Paul. So now like you're building you're growing into my understanding, like, you know, like triple digits year over year, right? Like you're growing at 100% at a clip at times. How did you guys and again, like at one you know how it's just so fascinating how the six of you gelled and how you really built this powerhouse.
And you went up to 75 employees. Can you talk about like that? If there's a manufacturer? There's an entrepreneur out there, you're like, man, Paul, this is amazing, like, talk a little bit about leadership, how you handled that growth, how you drove that growth, just talking about that stage in your career?
Paul Van Metre  17:45
Yeah, we I think one of the most important factors. Well, there's so many in our growth was one, we were really, really focused on process. Okay, yeah, it was not the wild west in our shop, at least not after the first couple of years. We were, you know, how does it work? How is it supposed to work? How do we optimize that process? How do we make it repeatable? How do we offload it to someone else? So they can do it just as well as I can do it? Yeah, quite honestly. I'm sure you guys have read the book, the E Myth.
Curt Anderson  18:21
Sure. Sure. Oh, so you guys are big believers. That was?
Paul Van Metre  18:25
Yeah, we were big believers in that. Kind of here
Curt Anderson  18:29
on the shelf. Over there somewhere. But so, Michael Gerber, you're an entrepreneur, and you're not familiar with this book. But I strongly encourage you, we implore you to get the e mail Emeth book, Paul, how and that's fast as I'm in fact, I was just talking to Nicole Donnelly about the E Myth book this week. Daymond.
And it's a great book on how, you know, taking a scalable process and Michael Gerber loves and worships the McDonald's concept. podcast you listen to with Michael Gerber. He thinks Ray Kroc and I agree with him as one of the most brilliant entrepreneurs maybe you don't agree with the the food or you know the the healthiness of the food, but the business process how I'm boy, you pique my curiosity, I'm going off script, share how E Myth transposed and really elevated your company.
Paul Van Metre  19:17
Well, we and this is around the same time, we were getting big enough that we needed some software besides Excel. And so we pulled down the green book, The Thomas guide, and we started looking through in the software ERP category. Because apparently, that's what this offer is called. Like, we've never worked anywhere except our own company, and maybe pizza during college, but we had no idea what ERP software was, right?
What to even so we're like asking other shops, how do you manage your jobs and your quotes and your everything? They're like, well, you need some ERP software. Okay. So, so we started getting and we had my business partner Kelsey, who was absolutely brilliant It's one of the most brilliant people ever. But also to come to your point about how did we grow.
We were also, besides being focused on process, we were just there in the trenches with our team. Like, we never had our own offices, we were just like, you know, sitting right next shoulder to shoulder with everyone on the team. Yeah. You know, valuing their opinions and their ideas just as much as our own. And Kelsey is a huge proponent of doing it that way. And anyway, Kelsey was super smart. He was doing all sorts of really fancy stuff in Excel with Visual Basic macros, and spawning sheets and doing all sorts of fancy stuff. But we were managing our shop, you know, pretty successfully on Excel. We were paperless. Back then, we had big, huge 22 inch CRT monitors.
Yeah, that weight 70 pounds next to the CNC machines. Because we would just pull up the Excel sheet, and we'd have everything we needed. We'd have our setup notes, we'd have our tool lists, we'd have our G code stuff on there, or G 54, offsets, everything was right there. And so when we got these ERP vendors to come give us demos, they're like, No, we don't do any of that stuff. Yeah. We're like, What do you mean, you're supposed to be ERP for a machine shop? Where's all the features about machine shops? Like, we don't have any of those features? Right?
You can still use Excel for that. We just do these other things like inventory and like, putting orders in. And we're like, yeah, that's not the most important thing in a shop, the most important thing and a shop is executing on the shop floor every day. So that's when we decided, well, these are ridiculous, we'd still have to spend a ton of money. And they are all paper base two. That was the other thing. They were like, yes, use it in the office paper to print out paper and use the paper in the shop. And we're like, we're not even doing that today. We're all paperless already.
Curt Anderson  22:00
This is like what 2000 What?
Paul Van Metre  22:02
This is 99 Oh, 99
Curt Anderson  22:05
You guys are paperless and 99. Yeah. Dude,
 Paul Van Metre  22:10
I mean, we had these big teams, you know, and these big huge tower computers that were just massive. But yeah, and so we said, Well, screw that. We're just going to build our own software. We know a guy who is a software developer. Yeah. And so he started building it for us. And he basically became a full time employee.
And we just and we credit, you know, as you're growing 100% It gets messy and in a hurry if you're not grounded in good solid process. Yeah. So we built that concept, which came from the E Myth that this franchise prototype, like if we can design our shop to run like a franchise, as if we could spawn off multiple versions of it, and it would run just as smoothly as ours. That's going to be the best way that our shop will run smoothly, and profitably. And so we just like went all in on that concept. And we built those features into pro shop. So we credit pro shop as being the like the backbone of that growth that allowed us to grow that fast for so many years without it getting too crazy.
Damon Pistulka  23:25
And I got to believe that as you were growing like that, that made the proshop product better and better. Because you're probably we're running into stuff. This just doesn't work anymore. We got to get it better. This doesn't work anymore. We need this new feature to help. The problem that just spawned came out of nowhere.
Paul Van Metre  23:43
Yeah, well keep in mind how I described like the management style of sitting shoulder to shoulder with our team. That was how we develop the software. Like we're right there next to the programmer next to the receiving guy next to the shipper thing. How is this working for you? What do you need? And like what would make your job better? Right, and we had, you know, 75 people telling us what they needed for their jobs
Damon Pistulka  24:07
to succeed. Oh, yeah. All right. All right,
Curt Anderson  24:10
let's just let's just, let's take a moment, pause on our program, we take moments of silence when it's time to like just kind of like savor and digestive what's, what's taking place right here. So this is incredible. When you think about I honestly think you're on the front, you know, not that it's like that many people you're the first people I've ever heard that use the E Myth at a manufacturer. It's perfect. I used to go into manufacturers, I'd carry my E Myth book and be like, Hey, you guys read this. If you guys read this all the time, dude, it's like, Man, this is like just music to my ears.
Paul Van Metre  24:41
I think it was 2017 I was lucky enough to get a speaking spot at the top shops conference that monitor machine shop magazine. Yeah, it's on. Yeah. And my topic was a machine shop franchise prototype question mark. Like, you know, does this word
Curt Anderson  24:58
God you know, like, do Amen. You know, you and I have our little bromance. I just, you know, Paul, I hate to embarrass you. I know you're a married man, but I just have like a big man person ever. Yeah, we're gonna we're gonna take Daymond right. We know, big man crush. All right, let's keep this party rollin. So you guys, you create your own product as a machine shop. One last question. And then we're going to slide into one more question about pro CNC. And course we are more than most people back there. But I want to take a deep dive into pro shop, when you get up to 75 people, Paul now, so just so folks know, you had an incredible, wonderful, successful exit.
That's Damon, you're singing your song. Right? So how did that talk a little bit about, you know, say a manufacturers manufacturer out there. As you know, probably most your clients, they've had the company, maybe second third generation, they've had the business for 20 or 30 years. Maybe they're Gen X baby boomers, and they're like, you sold your company? How did you sell your machine shop? Can you just walk through the mindset of you, your owners, what it looked like when that came through? And let's talk about your exit. And then we're going to slide into pro shop. Sure.
Paul Van Metre  26:02
I apologize. The trains going by? Yeah, so when we realized that we had a bigger opportunity in software to help other shops like ours, so we made the decision, we can't do both. We don't want to split our efforts into still running machine shop and doing software. So let's sell the machine shop. We research chattiest sell a company, right? And ultimately, we decided on working with sort of a business broker type of you know, m&a, and m&a company. Right. So they, they came and did lots of research on us got we correlated all sorts of numbers. They made a book like a 50 or 75 page book about the company. Yep. And then one page, sort of anonymous flyer, right?
And, and then they send out the flyer to, you know, the hundreds or 1000s of companies or people that want to buy businesses or different networks or platforms, or whatever they do. And then, you know, lots of people sent in a letter of intent of interest, right. And then they had to sign an NDA before they got the book. And then they got the book, and then they tried to orchestrate basically a bidding war. That's the best way to go right Damon? Yep. Yeah. And so ultimately, we had, like, you know, I think eight or 10 companies all sort of bidding on the company, and they tried to play them off each other and have bigger bids in by a certain day.
And, you know, it was pretty exciting stuff. And, and people asking me about that. And one of the important things I that I think matters is like, we finally got to the point where we we've sat down with like six different companies that actually flew in to Bellingham. Yeah, we just went to a hotel conference room and met them at different points of the day. And the person that was offering the most money, the company was offering the most money. I said, What's the what's your intention? You know, what are you gonna do with the business?
Yeah. He said, Well, we make, you know, we have our own products, and we're looking for, you know, other things and, and, but basically, we're gonna move the business to Romania, and bring all the machines, you know, if people want to come, they can come but otherwise people don't matter. And we'll make all the parts in Romania. And we were like, get the hell out of this room. I don't care how much money you're offering us is not going to happen. Right? Yeah. So we anyway, we we settled on another company that that plan to invest right where we were with our people with our customers, and that's what happened and it's thrived since
Damon Pistulka  28:59
so awesome. Great that legacy leaves a legacy that you want and that's really important in buyer buyer and seller fit and she got it they got you got to see the legacy is gonna be carried on as you want
Paul Van Metre  29:10
and really the I mean the customers of course are very important but the employees Yeah, like that they were gonna like get like what that's crazy right? Yeah. No way in hell right. Yeah.
Curt Anderson  29:24
Okay so successful exit and you know, I don't see every entrepreneurs dream but you know, at some point in time we need to exit our business so instead of having a dissolve go away, close the doors God bless you guys. You had this wonderful incredible successful I guess, exit as Damon just said maintain the legacy hung on to your employees carried that on pause so you know, kind of went into the Super Bowl World Series right and sometimes you know, people celebrate pop the champagne.
Hey, we sold the business but it sounds like you guys it was you were you were selling this to get into the software company. Is that what the transition was? 100% 100% So like there was no like pausing, hey, we just won the Super Bowl. Let's take a year off. You guys were like full throttle going. Now we're going to start pro shop. ERP. And we're now if you don't mind me that was it you Kelsey was all six partners or with the promo
Paul Van Metre  30:14
actually over the over the prior 17 years, three of the six had moved on to other other things. Okay. While still really good friends, we're actually getting together in a couple of weeks, all of us. Oh, nice. Yeah. And four of us are now still involved in the software company. One kind of came back. Yeah. works for us. And the three of us also were active. But so yeah, yes. So that's, that was the plan.
Damon Pistulka  30:44
you enroll into software? What what I mean, what just surprised the hell out of you about being in software.
Paul Van Metre  30:54
It's very different than being a manufacturing, you're not a physical thing anymore, that you have to put in a box and ship it to the customer. But there's also, you know, and having built so when we sold proche, CNC, it was we had four customers already had four software customers or so. Okay. Okay.
So part of the story in 2008, we, our biggest machine shop customer. Actually one of their key employees, their production manager actually came in to work for us on the weekends, to earn some extra money for a sports court, he wanted to build for his kids, right. And I didn't learn that part of the story until years later when he was selling his house. But anyway, he came up came up on the weekends worked with us was like, this is the most amazing software way better than what we use it our company, right? You know, where can we who can we talk to you to buy this? You know, and they're like, well, we we built it, and it's not for sale. But anyway, really? We
Curt Anderson  32:00
decided not for sale yet yet.
Paul Van Metre  32:02
That's Yes, that's what happened. So we decided after a little while, well, what if we did try this? You know, right. And so we did, and that was 2009. And it was within just three or four months, it revolutionized their whole company. Like it, it just rocked their world in the best way. It was amazing the results they got they, so they were so happy with it. And of course, keep in mind this is they were an OEM manufacturer of aerospace parts, and they outsource lots of machining work to lots of other shops. Yeah. And they said, This is amazing. We love it. We have other vendors like you that aren't performing nearly as well.
Probably because they don't have good software. Can you help your other competitors? You know, to be a better vendor for us. Yeah. So we after some consternation, we said all right, we'll try it so right You sold it 332 or three more times. And also with just huge successes, right right. And so that's through this process we're like alright, we we got to bring this to market because running a machine shop is the hardest business in the world. People plugged in you know their life savings the blood sweat and tears for years
Curt Anderson  33:23
right capital intensive so, so hard,
Paul Van Metre  33:27
right you know, and in our software apparently makes a meaningful difference. So it apparently makes you know, we have an obligation to bring this to the world.
Curt Anderson  33:36
I go on that so guys, you know if you're out there, please drop a note. Give a hello to Paul, let us know that you're out there. We're with Paul Van Meter, the co founder of proshop ERP, Paul, I know you're a humble man sit back and relax because I'm gonna read off like if all day if I shared some of the testimonials that people share about pro shop Damon I picked out a few good ones. So just sit back and relax. I'm going to share a few here so best misete machine shop software on the market our growth would not be possible without ProShot the system is extremely powerful, helps employees stay focused on goals and KPIs.
Pro Shop has transformed our Business Pro Shop is a game changer for our shop. The people that Pro Shop have real machine shop experience, monthly webinars would not recommend any other ERP. Highly detailed support is tremendous. Pro Shop is one of the most powerful changes implemented in my shop support is second to none. I could go on and on and on. Paul, you're just talking about customer ambassadors dude. How are you creating these raving fans man like how what is your give us your secret sauce man like how are you doing it? I
Paul Van Metre  34:53
think I need my tissues.
Curt Anderson  34:56
I got one here somewhere. I was that's Damon Damon Nike this You're done by no show, just in case. Yeah, we do.
Paul Van Metre  35:03
I think it comes from the fact that we believe so much in in them in this industry and how hard it is and how important it is to the economy on Amazon. It is so important and I think that that passion for how much we care comes through.
Curt Anderson  35:27
Yeah. And it's and oh my god, you guys are giving me chills. There's Murphy. So you know what you guys collect yourselves? I have one. That's why we're here. I've won. I've won more juicy one for you, Paul. Yeah, remember this one? So it's a little case study. Okay, ready? Are you guys comfortable? Let's hear this one. When we first met Paul, during our search for a new ERP, I rolled my own ERP system at my last company and the current Ieper ERP such system was lacking. I've seen some of the offerings that they all seem to be a rehash of the system we had I was on the verge of again, writing my own solution. When I was introduced to pro shop.
It appeared to have get this it appeared to have everything we were looking for. In fact, I had a less of a loving, loving things that I was missing from my current system. Pro Shop not only had all of them ready, Pa presented several that I hadn't even thought of. I told the owner let's focus on machining. Let's let them focus on making the ERP system. He goes on and on. How are they had a really tight timeline.
Paul, you probably remember this was from years ago. It goes on to say and get this. This is the change that Paul Van Meter Kelsey, the team at ProShot. This is what they deliver. Our lead times dropped from six to eight weeks down to four. We regularly pulled off two week lead times pro shop is our secret sauce. Pa always kept a pulse on our deployment. He would regularly check in with us after deployment Pro Shop is a great software, but it's the people that made it make it work on a daily basis. Dude, you're changing lives, man, you are changing lives. You're changing businesses. You know like we're good friends with our buddy Andy.
Reinwald at at Ripley machine tool. Young guy in his 20s he's a millennial took over grandpa's machine shop. He's busy making parts man he's posting like on a Saturday night at like two in the morning like guys I'm making it hurts, right? You give him you give our good buddy Andrew. The peace of mind to be the best at being the widget maker. And he doesn't need to be the ERP guru. You've simplified it you've made it so manageable, palatable. You speak their language, dude, you're changing lives. Hot like just shirt talking about the pro shop the culture, you've created your team. This is let's take a deep dive on what pro shops doing?
Paul Van Metre  37:54
Wow, yeah, it is, it is so humbling to, to know that we've changed lives like that. And, and that's what gets me up out of bed every morning. Just so excited to do it. Again. We have an amazing team. So we have about so when we, when we sold the business and started the software company, we had four customers, and there was for four of us that came across with it. And today we have about 65 team members 65 All over the world.
And, and that team just is almost off the charts amazing. Actually, we were in we have been incredibly blessed that probably 15 or so of those folks followed us from Pro CNC. Oh, really? Yeah. Directly or indirectly, you know, they were years ago and found their way back to work for us again.
Yeah. So they come so that that in and of itself is really important because they have deep shopfloor experience. Yeah. So we're, you know, we're, you know, not only do the founders know, the machine shop business, but all the implementation folks and support folks, you know, a lot of them know it really deeply as well. And so that's imperative that if we're training someone on how to use our software, the people doing the training have to know more than just how the software works. They need to know why it works that way, right? Or else they can't connect the dots. Yeah, customers,
Damon Pistulka  39:33
you know, and that's the key to developing the right software. And like you said, getting your customers to be able to utilize it is that knowledge because you know, you guys started out from the development part of it. And now that you're continuing on with the while you're still developing based on customer stuff, but customer feedback but you had the your team now, that knowledge is critical because I mean, I've had I've I've implemented I think it's eight or nine ERP systems right? In three of them. I think we're in machine shops or fabrication facilities.
You don't even call the ERP people because they don't know what the hell you're doing. Right? Yeah, right. Right. And you guys do you can stand beside the the shop floor manager and say this is how your employees use this on a daily basis and training employees and do all that, which is so key.
Curt Anderson  40:23
Let's go here for in I think you don't even that's a phenomenal point. And I think one of the testimonials I read it was talking about, you know, like, so much of the software is created by, you know, operation or finance folks, but they don't understand machine shops. Yeah, you know what I mean? So, Paul, when you get into this situation, let's, let's go back. So you started, you launched pro shop in in 2015? Do I have that correct? 1616. Okay, so you've launched in 16, you've got four customers, four employees? Can you share, like, was there? You know, what was that leap of faith like, Man, I mean, you know, granted, you just sold a company.
So I'm not making any assumptions. But yeah, you know, maybe announced the security there. But talk a little bit about like, you know, again, if there's entrepreneurs out there, or maybe there's employees out there that have that entrepreneurial dream, like, Man, I want to start something. Was there was there a point where, you know, fear concern, concern for the other four? That's part of my question. I know, I'm not supposed to do this final answer a two part question. The second part, was there a point where you felt like, I think we're going to turn the corner, we've got some really good momentum.
But talk about the early 1617. What was what did those years look like from? And again, I want to emphasize, Damon, what you just talked about, you know, you know, I had a product business for 20 years, when you get out of a product business, and you're selling time management, consulting, software, a SaaS product, it is apples and oranges to selling a product inventory driven business. I just want to like, if you haven't done it, it is apples to oranges. Paul just shared, like, what was 2016 17? Walk us through that? What was going on in your mind your feelings? Like what was? What was that like?
Paul Van Metre  41:59
Well, first there was, I mean, we knew we had success with those four customers, but we really were not confident about how the market might embrace us. Right? Yeah, there's it is such a crowded space, there are literally hundreds of products that we're competing against. Yep. And even in our little niche, there's, you know, a dozen or more that specialize just in machine shops. Yeah. So success was by no means a guarantee.
So in 20, so we just, you know, we built a website, we figured out marketing brochures, and you know, whatever other things we did, we, we I remember doing a very small little trade show, you know, here in the Seattle area with the Pacific Northwest aerospace Alliance. And, you know, meeting some people and, and I think we got maybe one customer out of that 2016 was slow, you know, it was a slow start.
I think maybe we had three or four total customers, maybe five in 2016. Yeah. And, but still, that was double what we had before. So we're busy onboarding them and figuring out well, how do we train people now? Yeah. So everything we had to build from scratch, but we went back to those same principles from the E Myth, right. How do we? How do we make this a process? Yeah. And so that that helped, still building process today, you know, yeah, you're never done doing that.
Curt Anderson  43:30
So I just want to chime in real quick. So once again, took the success. And again, what I admire about you, you know, my risk, my respect, admiration, you've built incredible company, you're you're always talking about the culture, as you described, when you sold the business, it was employee first focus, even at pro shop, your branding your website, like everything is just it looks just so intentional. But you once again, you took that E Myth concept and you brought it into pro shop was is that is that 100%?
Paul Van Metre  43:56
I mean, because we, I mean, Pete, most people don't know this, we run our software company on pro shop. It is our own ERP, even though Right, right? Absolutely. 100% run our business on it. Right. So I mean, just some of the things that like, we have a company positions module, where you can design a position in a company, the job description, all the things you need to learn to be in that role, what the metrics are for that position, right?
And that's scalable, no matter what kind of business you have. Yeah, but that's yeah, that's bringing it so back to the E Myth concept. Yeah, like, you know, if I'm doing receiving, which I did, you know, at the beginning, what are the things when I ultimately want to buy back my time and stop doing receiving and do more important things to the to the growth of the business?
How am I going to convey to a receiving person what is it what does good look like as a receiving person? Right? And how do I had yesterday? How do I train them to be good at it? You know, what are the metrics of being good at it? So, you know, we built that map module really early on, because that was core to our, you know, building the company and growing quickly. So, you know, just one example of how we use it today. You know, we have, we have implementation specialists and we have support people and we have HR and finance and marketing and all those things.
Damon Pistulka  45:30
We did you take a moment, we just need to take a moment.
Curt Anderson  45:34
Dude, this is so this is, oh, my God, this is a masterclass. Now, Paul, I follow you closely on LinkedIn, as you know, and I'm constantly seeing your customers, you know, you have those customer ambassadors, if you will, just out there ranting and raving, you know, so I mean, this is not you are not the best kept secret, you know, people are vote where and put it out there on a game changing. You know, I see videos, I see testimonials I see, like, so and so forth. We were talking about, you know, you go to trade shows, I ATMs. And you know, folks are talking about what do you think so again, if there's a company out there, like, Man, I want to create some raving fans, right?
You know, you Starbucks Chick fil A, or, you know, you think of like these, these brands, and, you know, Apple or, you know, whatever the product is Tesla that have these raving fans, I feel like you're doing that. And again, I know you're very modest, humble. So I'm not trying to put you on the spot. But just share a little bit on what you feel it takes to build this raving fan base. You know, I'm being a little Captain Obvious, because you're talking about the power of the solutions. Just share a little bit about like, what, what does it take to create a raving fan base?
Paul Van Metre  46:39
I mean, I, I feel like it requires it requires. And I learned this actually from the guys that started. Airbnb is when you're small, you have to do things that don't scale. And, okay, an example of that is the guys that started Airbnb. When they were very tiny, they would go out themselves and take pictures of the of the properties that people were listing on Airbnb. Okay. Yeah. Yeah. Like, you know, I forget their names. I should know them.
Yeah. I know exactly what you're talking about. Right there fly there. Yes. A you just listed your house on Airbnb, or we're here to take really nice pictures. Yep. And your place looks like Yeah. And, you know, so early on of pro shop. You know, I did all the demos, you know, anyone, the phone number on our website used to be my cell phone number, right?
So like, anyone in the world would just call up pro shop, and they're like, Hey, this is Paul, how can I help you? Right. And that served us really well, for the first three years, right. Maybe four? Three, but and so just having like, an absolute 100% driven focus on on the client experience. And delivering that yourself. So you know exactly how it goes. What matters to them. Things they are concerned about, you know, people are really concerned about switching an ERP system because traditionally as a 70% failure rate. Yeah, it's an off the charts. risky proposition, right. Yeah. And it can tank companies. Yeah, it can be. It can take
Curt Anderson  48:33
careers it can take in or strike strife fighting fingerpointing, I couldn't agree more who would
Paul Van Metre  48:42
voluntarily choose this right?
Curt Anderson  48:44
voluntarily choose this? Right. Right. Right. And so so you and your team you come in, in your goal is in Damon, we talk a lot on this program about that empathy and curiosity. You know, and I think Paul, what I'm hearing and again, being a, you know, self proclaimed president of the pro shop fan club, you know, what I admire is like, you're you're telling your client, that ideal customer, Hey, dude, I've, I've been in your shoes.
I've walked in your shoes, I know what you're going through. We're going to be your Sherpa, your guide, we're going to walk through this process. We're going to get you in at 30% success rate 70% fail, dude, we've got it. We're going to take you through, you give them the security, the comfort and the confidence to get onto the other side, right, where it's so easy to say, You know what, it's easier to do nothing than to do something and make this huge ERP shift. Right. You come in and you're going to make that six that's that a successful changeover. Do I have that correct?
Paul Van Metre  49:41
Yeah. I mean, I mean, we can't guarantee it. It's got to be a collaborative work would put all the effort we put in and what they put in, right, but you know, we have an amazingly high success rate. And I'll credit pretty much all of that to my partner, Kelsey. And the whole team that goes and does that cuz it's hard work. And it's it's sometimes unpleasant work. You know, even it's funny, we have people that voluntarily buy our product, and then are just, like, don't do their homework, don't show up to meetings.
It's like, we have a schedule, we're supposed to be on to make sure you're successful. Right? Please show up to the meeting. And please do the work in between the meetings. So you know, what you're talking about at the next meeting? Right? Right. You know, by and large, our customers are amazing and awesome. And they just jump in with both feet. But but it is still hard work, you know, and their team, even if their leadership team is all on board, if they don't have the rest of their employees on board, that can be a nasty situation. Yeah.
So that's also one of the lessons we've learned over the years, is, you got to make sure that the customer has all their ducks in a row on their end, and has like full buy in of their whole company. And so we actually advise on this is how you should talk to your team about it. This is the things you should do, right? Don't just, you know, watch a bunch of videos, call us up and say, Yeah, I want to do this, right. Let's get on several demos, and make sure you get all this key stakeholders to talk with us to see it firsthand, because it's going to impact their jobs in a massive way. Yep. And so I sometimes think we extend the sales cycle even longer, just to make sure that it's a good fit. Right,
Curt Anderson  51:22
right. Right. Right. And that's how you create those raving fans, because, you know, we can't be everything for everybody, right? And so it's a great process for you to maybe, you know, I hate to say weed out but you know, maybe, you know, there are some folks that are gonna be vested, or you know, get them into the end zone, per se. I want to be mindful of your dude, I could talk to you all day,
Paul Van Metre  51:39
you know, my next meeting got cancelled or moved. So I got all the time in the world.
Curt Anderson  51:44
But hey, we're gonna keep her next three hours to four hours, we'll start winding down. You talk a lot about on your LinkedIn profile DFM. Okay. So I know you know, there's an acronym world out there. So for anybody that's not familiar with DFM, can you just let's scratch on that, and then we're going to start winding down?
Paul Van Metre  52:01
Yeah, that's, that's a side passion of mine. Yeah, designed for manufacturability or designed for manufacturing. That was one of the key differentiators that we leaned into at Procion. See, was being just we went all in on trying to differentiate our shop from other shops, by being really teachers and, and mentors of how our customers could design their parts to be less expensive. Every shop does this a little bit. But we went all in on it. We started doing webinars, we did a newsletter, we started doing in person classes, I got to go all around the world teaching design for manufacturability, I went to Germany, I went to, you know, all over the US to teach these classes.
And I went to China 15 times, really, that was in a different capacity, but it was very much about design for manufacturability. But anyway, so it's sort of a little side thing I you know, I you know, having, you know, seen millions 1000s and 1000s of part numbers and making millions of parts, you know, I know and many of our team members know about what it takes to design a machine part to be better, more stable, less expensive. And so anyway, I did that for a little bit thought of as a side consulting thing. But I just it's so important, it's the easiest way to cut costs out of supply chain is to design the parts to be less expensive.
Damon Pistulka  53:45
In and this is what's cool about that and how you were doing that and helping people even you call it a side thing, but most manufacturers out there, they say they do it but not taking it to the level that you have. And when you take it to that level, you differentiate yourself miles, right. And I think
Paul Van Metre  54:03
they do. We I forget what year we really leaned into that. But the last several years of Procion. See, that was like our key marketing differentiator was we are all in on DFM. We had office hours, we would go to our local customers and spend time every week like sitting in their engineering departments consulting with their engineers at their desk, because the cheapest place to cut cost out is before it's even out of the CAD system. Yep, yeah.
Yeah. So yeah, it was it was important. And I do think that for any shop out there, having a little lever, a differentiator that you can just really lean into and have people know that this is why I want to work with that company. That's an important thing, because it's a competitive business. I mean, yeah, yeah. Especially machine, you know, not only is one of the hardest businesses, but it's also one of the most competitive businesses. So it's like a double whammy. So Oh,
Damon Pistulka  55:00
made up. You can go on a long time I'm holding myself back here because
Curt Anderson  55:04
I'll tell you what, if anybody, anybody's catching this catching this on replay, please you know go this was truly a masterclass from a serial entrepreneur took us a machine shop from zero, built it into 75 persons strong sells it starts a software company from zero, and now 65 People strong, you are changing lives.
Dude, I cannot tell you how much I just learned in the past however long we've been chatting, Paul, this I you know, I learned from you every time you and I chat I just I again, my respect admiration for you off the charts. If you guys go to pro shop.com, right or pro shop erp.com. And I'll tell you the great thing about you guys, you don't talk to talk, you're walking the walk when you go into website, all sorts of information, all sorts of resources.
You guys offer webinars, and I love about your passion with DFM because Paul, what you're doing is like you're educating guys, if you're out there Whitney, I see you're out there. You're a credible educator, we just interviewed Whitney last week. And you know, I tell you what great marketing, you might great sales, be the educator, when you're the educator, what a better way to build trust, and you're showing that empathy, you're showing that curiosity, you're helping your ideal clients, you're helping those customers win the day when the game and Pa what you're doing a great job as you're making them a hero of their own story. Our mutual friend Allison afford that's her line.
She always preaches make that makes your customer the hero of their story. Dude, you're doing that day in day out my last question for you of the day. Man, was this an inspiration? Or what? So speaking of inspiration, Paul, you shared about Patty, Dale and Bob? Yep. You know, being your hero growing up today. 2022 I know you've had video of your son in your, your son's been in your videos? Who and What? Who? Or what is your inspiration? Today's we're kind of we're coming into the end of fourth quarter for 2020 to kind of get we have our sights on 23. Who or what is your inspiration moving forward for you and your business?
Paul Van Metre  57:13
It is all the shop owners that we get to talk with that are out there fighting the good fight and doing the work to build the ground foundation of our economy. They inspire me so much every day.
As we all know, as we've been talking about the whole time, it's incredibly hard. Right? But it's so important, like, our whole country will not function without a super strong manufacturing base. Yeah. And those men and women out there doing it every day, putting in their blood, sweat and tears, you know, every ounce of you know, their second mortgages, their whatever, they're signing their name on the line for more machine loans. It's, it's so inspiring. And especially the ones that are really then like, getting kids involved and Manufacturing Day and bringing in high schools and middle schools and like, Let's build up this whole industry is so important.
And, and I've been really blessed and I'll just throw out a plug. I have a podcast called machine shop mastery.com unrelated to pro shop, I interview shop owners, generally ones with, you know, longer, more experienced careers, so they can really share a lot of knowledge. But I've recently had some young, young young woman on there as well. So just yeah, if you're a shop owner, and you know, have some wisdom to share, I'd love to possibly invite you on the show.
Curt Anderson  58:52
Actually, man and I remember when you and I spoke right before you're gonna launch your podcast, and we talked a little bit about that. And so you're doing an incredible job. shining a bright light on folks. Again for a shameless plug. Paul, you and I are tag teaming.
We're going to do a really fun webinar this Tuesday, October 18 12 o'clock Eastern time, nine o'clock Pacific, we are going to geek out hard on helping job shops in machine shops figure out this whole e commerce e commerce for job shops. Are you kidding? And that's what we're gonna geek out hard on that. So Paul, would that first off big round of applause for Paul Van Meter today. Co Founder of pro shop ERP, Paul, dude, we salute you and one thing Daymond before we went out, I want to just recap what Paul just said.
Our manufacturers are the backbone of our economy. The men and women they are absolute heroes. We salute you we applaud you it's manufacturing month. Boy if you know a manufacturer go out there, give them a pat on the back and thank them for making incredible wonderful, amazing products here in United States. There's a lot Renaissance happening all the cool kids are going into manufacturing. You guys don't if you're young out there, I don't care if you're just young at heart.
You don't want to miss the boat get into manufacturing. That's where the cool kids are hanging out. So hey, God bless everybody. Thank you for joining us today. Daymond we've got a great man. We've got two women in manufacturing next week. Monday, we got Ashley Walters. She wrote the book leading with grit and grace. She is a manufacturing Rockstar. We have Kathy Miller. She wrote stilettos and steel toes and stilettos and seal toes. I get that right, right. She's coming at us next Friday. So women in manufacturing next week is going to be our theme. Damon go mariners Take it away, dude, what a great program. This was.
Damon Pistulka  1:00:43
Wow, Kurt. Thanks so much. And Paul, thanks so much for sharing your story and sharing, you know, just the Yeah, just the passion for manufacturing in the United States. It is something that we got to get behind. We got to get our kids involved in it. There's so many great careers so many great opportunities that we just got to keep bringing it around so people understand and keep it just bring it out and you're doing an awesome job of that.
Thanks everyone for being here. As as Kurt said, we're going to be back and you know this we're gonna wrap it up here for the manufacturing ecommerce success today where we were talking about helping machine shops Excel with none other than Paul Van Meter from Pro Shop ERP. If you need to need a ERP system for your machine shop a don't talk Don't listen to Paul. Look at all those testimonials. Go to pro shop erp.com and see what you think. Have a great weekend everyone you
Paul Van Metre  1:01:38
guys really
1:01:39
awesome
Schedule a call to discuss your business goals and answer your questions on growing business value, preparing for sale or selling your business.
Related content
These posts may also interest you
Partnering with IMEC for Manufacturing Success
If you want to get your long-term strategy tuned up, listen to this MFG eCommerce Success show to hear Dorie Clark share how long-game-strategic thinking can help you achieve monumental goals.
Driving Sales Growth with a Clear ROI
If you want to get your long-term strategy tuned up, listen to this MFG eCommerce Success show to hear Dorie Clark share how long-game-strategic thinking can help you achieve monumental goals.