Mastering Your Mind to Win in Life & Business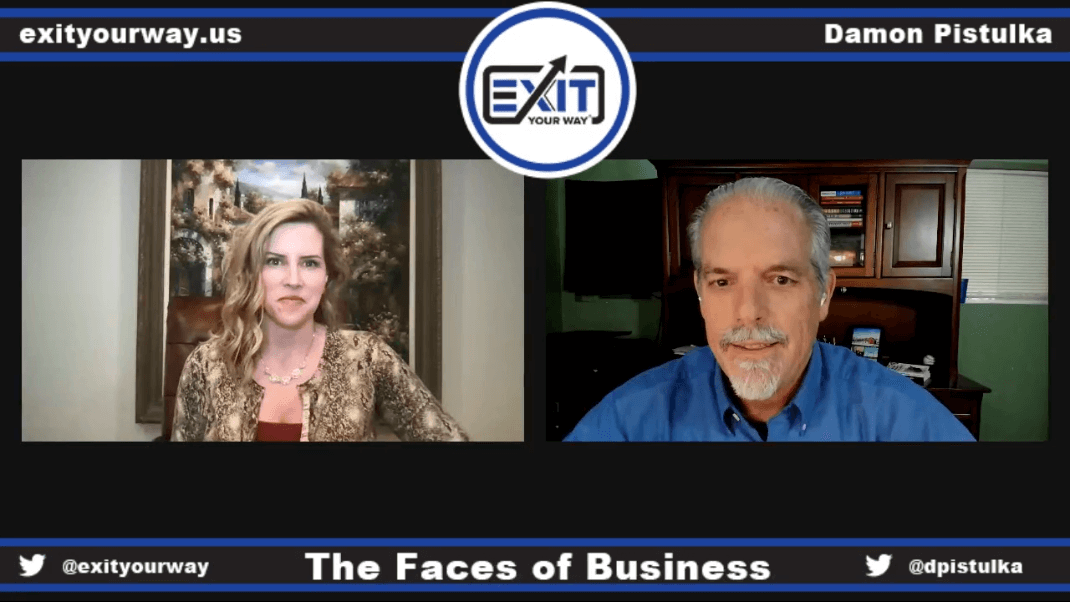 The Faces of Business
Mastering Your Mind to Win in Life & Business
In this, The Faces of Business episode, April Shprintz, Founder, Driven Outcomes, talks about Mastering Your Mind to Win in Life and Business and how it enables you to harness your potential and find your brilliance in the workplace, personal life, and beyond.
April is a champion of a winning mindset, business coach, keynote speaker, and the author of "Magic Blue Rocks, the Secret to Doing Anything." April is also the host of the award-winning "Winning Mindset Mastery" podcast.
For over two decades, April has been a guiding force in scaling the businesses she has worked with. April advises business owners and executives on how to speed up their operations without losing sight of the value they provide to their customers.
Download our free business valuation guide here to understand more about business valuations and view our business valuation FAQs to answer the most common valuation questions.
After graduating with an MBA from the University of Texas, she ventured into business, working in sales, operations, and marketing while serving clients coming from Fortune 500 companies.
April's efforts have resulted in over $1 billion in additional income, and through these efforts, April has developed mindset techniques that enable success.
During April's time in the Air Force, she served as the executive producer and award-winning anchorperson from HQ Air Force. As a host of Air Force Television News, she broadcasted to an estimated 75 million worldwide viewers daily.
Do you want to know if your business is ready for your exit or what you should do to prepare? Learn this and more with our business exit assessment here.
Damon is profoundly excited to welcome April on this Livestream. He asks April about one thing she tries to live her life by. She replies that she tries to live "by the idea that I will always help other people."
Helping others doubles April's energy. Whenever she is less motivated, she looks to if she can help anyone. To her, it is a win-win situation. Moreover, she aspires to start a full-fledged television show. So she could outreach as many people as possible.
Damon calibrates the course of the conversation. He intends to make April talk about mastering your mind to win in life and business. The host digs into April's history by inviting her comments on her life early life. April discloses that she started her career in high school. She worked as a sales assistant in a company that produced synthetic products.
Get the most value for your business by understanding the process and preparing for the sale with information here on our Selling a Business page.
From there, April went to the military, "it is the best choice I could have ever made." Her job in the military opened up her worldview and perception. In the Air Force for about seven years, she became an award-winning television news anchor and was promoted to executive producer.
The guest adds that she went into the financial industry where she supported banking institutions and credit unions in various positions. "I did project management, client management, ultimately sales, and then moving into sales leadership."
Throughout her professional journey, April kept achieving milestones. She entered nCino Inc., which she dubs "a really successful startup in the FinTech world." When she started, "they were $6 million a year in revenue." Over time, they grew exponentially to $7 billion.
While talking about her current goal at Driven Outcomes, April says it has always been to help people in general and leaders in particular. She started this business with the aim of teaching people "how to speak and how to sell." Because she looked younger, she feared they wouldn't take her seriously. Within six months, she radically improved the sales of a trucking company to an exemplary high seven-figure.
April talks about her personal improvements in order to master her mind to win in life and business.
Firstly, she had to master the fear of failure. "I forced myself to overcome it." She trained herself not to think about perceived failures. Secondly, April had to go through tough times. There were times when she cried because she didn't have an IT department, "building a network in my office was beyond my scope of skills," she adds.
Mastering her mind made April reevaluate all things. In 2018, critically reading Dolly Parton's memoir led to conclude that she would not be able to achieve some of her goals. So, before making a big decision, she became cautious.
April reveals that she started her podcast in early 2021. She did two episodes. The first one is a long-format interview with the CEO or leader. And the second one is a short, ten-minute or less episode, which she likes to call "mindset minutes." She found the "disparity of interest" very appealing.
Soon, she realized that everyone talks about the importance of growth and a positive mindset, but nobody tells us how to develop it. To bridge this gap, she launched a new podcast in April 2022. It was an instant hit.
Damon shows interest in knowing how much time April spent writing a book. To the host's surprise, April reveals that she wrote the draft of Magic Blue Rocks in a week. It has six chapters, and each contains a story. She wrote one story a day. Moreover, she gave no biblical references. From further edits to publishing, the whole process took about six months.
Damon wants to know from the guest what lessons she has learned in life so far. "I learned that mindset and focusing on what I want is something I have been working on my entire life." She traces back the thought of a winning mindset when she was six. She further adds that the first story in Magic Blue Rocks concerns cultivating a winning mindset and selflief. "Nothing is impossible," maintains April. Damon agrees and wants to "let it [her argument] simmer a little."
The guest makes a point in terms of neuroscience. The subconscious mind accounts for 80% of our brain function but needs 20% of our conscious mind's willpower to achieve the target. She mentions Baader–Meinhof frequency bias. We argue that we repeatedly see objects of our choice "because we told our subconscious mind to do so."
April claims that if a healthy mindset prevails, even diversity benefits a team. They enjoy their work. "They start working together as a team and realize that they are more alike than they're different." Similarly, they outperform any other teams. Their diversity becomes their superpower.
April asserts that the solution to every personal and professional problem lies in the generosity culture. "This will solve everything. Pour into your people, clients, and community, and you'll become recession-proof."
Generosity culture, in turn, creates a positive contagion and elevation effect. Pouring into people will make their people happy and satisfied. They will tell others what it's like to work there. This is how big companies can not only avert a great resignation but also put their business on the course of success. A happy customer is an evangelist for our business. They would not work with anyone else if treated with care.
April shares her plans with Damon's audience. She intends to develop the education arm of her business. "I will be developing some educational products and digital courses." She is "really excited about it." She believes imparting education to people is one of the most effective ways to help them.
April concludes her discussion, advising us to show up as our amazing selves.
At the end of the Livestream, Damon thanks April for her precious time and valuable pieces of advice to master our minds to win in life and business.
42:11
SUMMARY KEYWORDS
people, business, mindset, helping, thought, clients, companies, book, talk, driven, call, leaders, podcast, april, pouring, reading, outcomes, working, failures, damon
SPEAKERS
Damon Pistulka, April Shprintz
Damon Pistulka  00:01
All right, everyone, welcome once again to the faces of business. I am your host, Damon Pistulka. And I am excited for our guests today because we have none other than April Shprintz from driven outcomes, creator of the generosity culture. I'm just gonna go on here for a minute, April. You are a podcast host of The Week award winning, winning mindset mastery podcast, global top 10. I mean, how do you how do you have time to do all this?
April Shprintz  00:37
Well, that's why the podcast is only 10 minutes. Okay. And then
Damon Pistulka  00:41
then I forgot. And then author of the book Magic Blue Rocks, the secret to doing anything. It's amazing. So amazing. So I'm so happy to have you here today.
April Shprintz  00:54
I'm excited to be here, Damon, thanks for having me.
Damon Pistulka  00:57
Good, good. Well, we're gonna we're gonna start this off slow. We're gonna have some fun here. We're gonna talk a little bit. You know, we talked a long time ago,
April Shprintz  01:07
using 2020.
Damon Pistulka  01:09
It was it was a long time ago. Like, it seems like lifetimes now.
April Shprintz  01:12
I was writing Magic Blue Rocks when we talk. We were not.
Damon Pistulka  01:16
Yes, you were. So how long? Did it just? We're gonna go off on that. No, we won't. I'm gonna I'm gonna follow my my normal pattern. So I always have a couple of, I always have a couple questions in the beginning, that I want to just kind of want to just kind of ask, I've got a list of them. So you're gonna see me looking over here, I'm gonna decide which couple I'm gonna use. So I think I know the answer this, but what is one thing you try to live your life by?
April Shprintz  01:43
I try to live my life by the idea that I will always help other people. And in helping other people. That's really where I find my joy.
Damon Pistulka  01:56
Awesome. Yep. That is a Class A answer there for sure. Thanks so much for that? Because it is and people go, Oh, how do you do that? How do you do that? But do you find as you're helping other people that just increases your energy and your ability to help more people?
April Shprintz  02:17
Yes, 100%. And actually, when I find myself feeling unmotivated, or feeling like I don't know what to do next, or don't know where to go next, if I help someone with something, I will then have so much clarity on what I'm supposed to be doing. So it is beneficial on both sides in huge ways.
Damon Pistulka  02:39
Yeah, that's, that's awesome. Well, I forgot to say the top we're going to talk about today, because I was excited to get in here, we're going to talk about mastering your mind to win in life and business. And when we come to that, April, I'm gonna go back to one more question, because I think this is this is going to be interesting. What is one thing on your bucket list?
April Shprintz  03:00
One thing on my bucket list, you know, I want to have a television show, an actual either streaming or network television show that is dedicated to nothing but mindset and helping other people. And it will happen. I don't know when, but it will happen. And I think it will be phenomenal.
Damon Pistulka  03:20
Awesome. That is another awesome answer for sure. Because because when you talk about helping other people that allows you to amplify the amount of people that you can help.
April Shprintz  03:33
Oh, absolutely. Yeah, that's so great. Reach out.
03:37
Yeah, yeah. So as we talk about, let's talk a little bit about your history. Now. You You started out in the military, and then you've been consulting for a while now and doing those kinds of things and doing sales and other businesses just briefly go through your history. We've done it before. But I'd like to catch the listeners up now to your history and then work in a driven outcome. And then we'll go on to talk about the book and other things.
April Shprintz  04:00
Sure. Okay. So I started out my career actually, in high school, I worked in sales and as an assistant in that a different industry that did use synthetic products. But I went from there to the military, which was fantastic. It is the best choice I could have ever made, because it really opened up my worldview and the way that I saw things and what I thought was possible.
And it's been about seven years in the Air Force as a television news anchor and executive producer, which was an amazing experience, and then left and went into the financial industry where I was supporting banking institutions and credit unions in a variety of positions. I did project management, client management, ultimately sales and then moving into sales leadership, and then went into a really successful startup in the FinTech world.
I was recruited there and that was phenomenal. When I started they were $6 million a year in revenue, ultimately went to a $7 billion We're IPO and got to help build infrastructure for the sales team and grow that business exponentially. And that put me in a great position to start my firm driven outcomes six years ago now, which is six years ago, bizarre to me that it went so quickly because it has been so fun.
And basically, it was that all of the things that I had learned, you know, turning around p&l divisions within companies helping to scale startups, I realized that there were so many companies that I could help with that instead of just being in one industry. And that sounded so exciting to me. So without much of a plan, I kind of jumped out of the plane and built the parachute on the way out.
Damon Pistulka  05:44
Yeah. So when you went into driven and started driven outcomes, did you have kind of the same goal that you have now? Or is that has now moved a lot? Okay.
April Shprintz  05:55
Oh, well, so I had the same goal. In the sense, everything I've always wanted to do. Damon was help people. And it was okay, through what avenue?
Am I going to help them? What am I going to do, but if I'm candid, when I started driven outcomes, I thought I was going to be teaching people how to speak and how to sell. And I was so scared that folks would not take me seriously, because at the time, I was 38 years old, 3738. So I, but I always looked younger to people when I was in corporate. And I was afraid they wouldn't take me seriously.
So initially, I even approach someone at considerable amount older than me that I had worked with as a coach, and asked her if she would do it with me, because I was afraid that people wouldn't take me seriously. And about, we probably spent around six months working on it. And I just realized we had very different styles and very different skill sets. And I felt like I could help people more if I was on my own. So it wasn't until I decided to move forward with the company being just mine, that I went and thought, Okay, what am I actually going to help people with, right?
I've been taking on clients here and there. But mostly I did what I call hamster work, where I'm telling people that you're doing things, but you're not accomplishing anything, you feel good about it, you're doing work. But everything that I've created up until that point marketing videos and a website and great collateral, because of the fear that I had to overcome, of getting out there and selling myself, I tossed away.
And I had a friend call and say, Hey, I know someone who just sold a really successful business. But he is bleeding money in another business that he had started for his family to the tune of about $500,000 a year. Can you help him? And I said, Yeah. Because you know, that was always How hard could it be? That was always the answer. And he said, Have you ever done anything in the trucking industry?
And I was like, no, but it'll be fine. And so I jumped into that helped turn around that trucking company and take it to break even within six months, and then to a high seven figure sale in less than two years. And through doing that, and I only stayed for the six months, but then advised and things like that. After that. That became my model. My clients told me what they needed me to do. And my business has morphed and changed ever since always in service to my clients success.
Damon Pistulka  08:34
Yeah, yeah. So let's talk about this because we're talking about mastering your mind to win in life and business. What are some of the you talked about the hurdles of people maybe not thinking you're old enough for them to put trust in you, but what are some of the other things that you've had to master in your mind, so you can come in in life and business like you want?
April Shprintz  08:56
So I've definitely had to master the fear of failure to overcome the fear of doing the safer, easy thing and do the hard thing. And what's interesting is, I forced myself to overcome it, because I never did the easy thing I couldn't it felt more painful than going and doing the thing I was terrified of.
But there were many times in my life. And certainly when I first started my business where I was white knuckling it, it may have looked a little more elegant than it actually was. But there were absolutely times where I was sitting on the floor crying because I didn't have an IT department. And building a network in my office was beyond my scope of skills. And just thinking, you know, am I an idiot here?
I just do the completely wrong thing. And then I had to overcome caring what other people thought, because I had this idea that I think we all do, that everyone is watching us that everyone is paying attention to what we're doing and they're rendering a judgment You know, and so sometimes we won't go big and we won't put ourselves out there. I would never have said, I want to show because I wouldn't want people like keeping score.
Well, did she ever get a show? And what is so interesting is the thing that made me really reevaluate that of all things. I was reading one of Dolly Parton's autobiographies. And in this autobiography at the end of it, and it was written in like the 90s. And I read it in like, 2018. She was talking about these projects, she was going to do this makeup line and this other, you know, cool project, because she was always doing tons of things she still is. And then I remember after I read it, I Googled it.
And I was like, How did I miss that she had a makeup line. And it, it didn't do well, and it just kind of fizzled out. And one, I don't think a thing less of her, because that happened. And two, it almost gave me permission, okay, some of your ideas aren't going to hit. And that's okay. Because if you do it right, in the end, that's not going to matter at all. And it really started to give me permission to go big or go home.
Damon Pistulka  11:15
Like you said, if you do it right, in the end, your failures won't matter.
April Shprintz  11:19
Now, well in your failures for me, you know, one of my posts I do on LinkedIn that I learned from a gentleman by the name of Hampton Dortch is, I put a feel Friday out there. Hey, here's the thing I failed this week. Here's where I messed up. Here's where I didn't do a good job. One because I want to desensitize people to failure. And two, I want to remind myself that the only way I get anywhere and the only way I get any better is if I continue to fail at things.
Damon Pistulka  11:48
Yeah. Yeah. It's it's a great reminder too, because there's there's failures all around us. And like you said, Dolly Parton may have a lot of failures. But what you hear about Dolly Parton now is Dollywood, the success of that success of the music, you know, all the things you just don't hear about the failures and the things. So it is it is like you said, so we got to Avinash this. Thanks so much for being here. We got Jill.
April Shprintz  12:14
Yeah. Thanks so much. Oh, love Jill. Jill has been around she I called Jill my OG, because she has been around since I started the things with mindset, my very first mindset challenge the podcast, all of it.
Damon Pistulka  12:28
Awesome. Awesome. So when did you start your podcast?
April Shprintz  12:31
So interestingly, I started a podcast in the beginning of 2021. But it was a different podcast, and it was called pouring into your business really enjoyed it. I did two episodes a week one long format interview with the CEO or leader. And then one short 10 minute or less episode, I called mindset minutes. And what was so interesting is the disparity of the interest.
There were lots of interest in the interviews, but there was exponential interest in those mindset minutes. And then I had someone else say to me, you know, everyone talks about how important it is to have a good mindset to have a growth mindset to have a positive mindset, whatever you call it, nobody tells you how to develop it.
And I was so grateful for someone saying that to me, because I thought, well, I could do that. I can help people get there and break it down step by step. So I launched this new podcast in April of this year. And what is crazy is in just the first month, that podcast had 10 times the downloads that the other podcast had in a full year.
Damon Pistulka  13:37
Wow. That's something that's something because you know, it is like anything that you niche down, you get into a focused focus. Topic, and you can really make a difference.
April Shprintz  13:49
Absolutely. Yes. Cool. Well, it's another failure, right? The first podcast, you could say, oh, well, that one didn't do so well. And you did another one. And there you go. So you learn and you keep going.
14:02
Exactly. You said you learned what might work better and you try that. And really, it's evolution and some of it. You know, I've been reading Tom Peters the circle of innovation, I always forget. Arena for a book club now. And I think it's interesting because it's, it's older book, right? It's written like 90s or something like that. So it's it.
April Shprintz  14:26
Damon, come on was in the 90s old
Damon Pistulka  14:31
books now. I mean, yeah. They're talking about companies like Saturn, I'm like, Oh, wow. Yeah. But you know, when we think about some of the things they're doing, they're talking about, you know, his whole thing around innovation is you got to kind of destroy it to do it. And I think about that a lot now because like what you're saying with with your podcast going from one to the other, is it really destroying it? Or is it really taking everything good and moving into you know, something as similar? I don't know. It's, I like
April Shprintz  14:59
to call loop iterating There you go, I think iterating it helps soothe the former perfectionist in me that it never has to be perfect because it's just an iteration. And also, I don't like the idea of we're just killing this one off. This one helped this become what it is today. I mean, if we think about it, some of the things that we are the most enamored with in our life as far as technological advances and tools and entertainment, it is an iteration of something else.
Damon Pistulka  15:34
There we go, my microphone oxidize cotton for a minute, but yes, that is that is correct. You know, because you think about it even I always think about SpaceX, Elon Musk, the fact that they're landing rockets just just drives me crazy. And how many did they have to wreck to do that?
And how crazy of a thought was in the beginning, but they did not scrap rockets, they just figured out how to use them differently and control them differently. And alando again, so yeah, iterations iteration. That's a good way to think about that. So now you're sitting here, you're helping clients, you're doing that you're having fun, got your podcast, and you start to write a book, you started to write that book a while ago? What I mean frightened books, write a book is hard. First of all, how long did it take you to write the book?
April Shprintz  16:23
So it depends, it took very little time to write the draft. So I wrote the draft of Magic Blue Rocks in a week. And part of the reason I did that is again, I approach everything with how hard can it be, and how naive I am about things is both the best and worst thing about me.
And so I decided, okay, it's gonna be six chapters, I'm gonna tell the six stories, I'm gonna write one a day, and I'll take a break, right? Not any kind of biblical reference there, I took the break in the middle. Yeah, the way that it made sense. And I actually took the break after chapter two, because that one was really hard to write that was the only sad chapter and I needed a day after that. But so I had this draft.
And what I didn't know because I've never written a book is that your draft really isn't your book. But I felt good about it. And I sent it to a friend of mine, who I'd done broadcasting with who was a far better writer than I am and said, Hey, will you take a look at this? And will you edit it? And just make it you know, she could write really punchy, and just tell me where I need to fix it. Basically, she said, You come back into a sentence like no one I've ever known. You bury the lede, every time you say something.
So she helped me in in the editing. And then when I actually gave it to the publisher, because I was afraid to give my plain manuscript to the publisher, let's just own that right now. I want to edit it before it went to them. But what was amazing is, so they did the first rounds of edits. And so the whole process took about six months, which is phenomenal, that's way shorter than it normally takes, but I really wanted to get it out into the world. I didn't know any better.
And I think that helps when you don't know what it should be. And what was so incredible to me is that I didn't realize how emotional it is. Because depending on the kind of book you write, but I would think any book you write actually, it feels like a part of you. Oh, yes. And there's just this feeling like I'm gonna put you out into the world. And I hope you're okay. And I really want people to read you, but I kind of am afraid for them to.
Damon Pistulka  18:27
Yeah, I think it's like, it's almost like a child. You know,
April Shprintz  18:30
it is I don't want to compare it to that, because I don't want to take away from how important a child is, especially because I'm not a parent. But it felt a little bit like letting my baby go.
Damon Pistulka  18:41
Yeah, yeah, that's for sure. Well, it's like, yeah, I can only imagine having done it, considered it. But what you're telling me is, and reinforcing is the reason why I haven't. So what were some of the things you learned while you were doing this? Other than? Yes, there's, there's a lot more to learn about writing.
April Shprintz  19:01
So I learned that mindset and focusing on what I really want is something that I have been working on my entire life, because a lot of the lessons that I teach people I learned at really young ages, and just kept moving forward with them, you know, the whole idea of focusing on what you want, not what you don't want, the first time I can remember having that thought I was six. And it's just been one of those journeys that going through it and writing it all down, you start to see how the pieces go together.
And it's funny, I tell people, you know, the book is called Magic Blue Rocks because of the first story, but it's a covert mindset book. It literally takes you through the process of cultivating a winning mindset and even more importantly, cultivating self belief. Because once you believe in yourself, and you have your own back and you know that you've got you then Nothing that you want to do is out of reach, everything is possible. It's just a matter of okay, we just got to figure out the how.
Damon Pistulka  20:09
Let's just stop now my friend, Kurt Anderson and I, we do a fair amount of live streams, there's always times and we just have to stop. And we just have to just let that soak in a bit, just what you said, just let it simmer a little. Because once you cultivate that self belief, then nothing is impossible, you just have to figure out how to do it. And just want to let that sink in of it.
Because it is true. It is true. When you look at just extremely successful people. We talked about a couple things at the failure, they've all failed a lot, Dolly Parton is one of them. But the self belief is at the core of it. Because you said before this too, and I'm gonna back up because you said focusing on when you want, not what you don't want. That's a huge thing, too. It's like, Oh, I'd love to do that. But I don't want this to happen. What are you thinking about what you don't want to happen? What what you want to happen.
And the great thing is that if that happens, how cool or whatever is going to be or how how many people you're going to help or whatever it is, you know, focusing on the right things, your mindset, it, it really moves you that way. And you as you said, when that self belief, I truly think helps you find ways that you don't even you don't have to know them. But no, Lee somehow collaborates things together, and it comes to you. And then it's seen, like in a dream or whatever may. But things kind of assemble themselves. Well,
April Shprintz  21:44
there's actually some neuroscience behind that, Damon. So what's so interesting is the moment that you decide what you want your subconscious mind, which accounts for 80% of your brain function, and depends on who you talk to, if it's 80 or 80, for whatever I let's say at 20, it's easier. So 20% is your conscious mind, that's the part that you know has your willpower.
And as I'm talking with my conscious mind right now, meanwhile, my subconscious rockstart That it is, is making sure that I breathe regulating my body temperature. And oh, by the way, functioning is my personal assistant. Because the moment I tell my subconscious mind what I want, and I focused on the thing that I want, all these things start popping up these opportunities all the sudden, that would have been there anyway. But now my subconscious mind is saying, Hey, pay attention to this, Hey, pay attention to that.
And some people are familiar with the Baader Meinhof principle, and that's what this is. And or that also explains it. And for people who want to know another comparison, go buy a car, any car, any brand in color, and then tell me how many you see for the next month. It's like everyone went and got it at the same time you did, because you told your subconscious mind, it's important. And now there it is. And there it is. And there it is. Same thing with your goals.
Damon Pistulka  23:08
And that is so true. In your mind does that. Now you you quoted a percentage there that I was just reading the book, and I was gonna look at it. But I was just reading a book a couple of weeks ago, I was talking about that. And when you when you really get into the science of our minds, it is amazing how little of our mind actually controls what we do on a on a minute by minute, day by day basis, and how much of it is controlled by our subconscious that we don't think about so many things, it just decisions are made and stuff happens. And it happens.
Not just like breathing and other things, but it happens in how are we going to accomplish something and those short and what you're talking about it makes such a big difference in in trying to override that or maybe derail the path a little bit.
So that's awesome. That's awesome. Wow. Wow. So as you so we're thinking about this cultivating the self belief, then it's just how are you going to figure out how to do it. So as you're, as you're going through this and helping helping clients with this, right, they're there. They're reading the book, they're going through that through the steps that you're you're doing what are some of the things that they're telling you that they're feeling that they're sensing that? You know, that they've just that they haven't before?
April Shprintz  24:33
So what's interesting is initially, a lot of people will feel so overwhelmed in the sense that we're doing so much so quickly because we do it very fast, because that's an important part of it. But what they'll also say is, I didn't realize this skill or this ability was special.
And what I mean is so many entrepreneurs and leaders take for granted whatever their area of genius is and it takes someone else to point out to you, that's really special. Not everyone can do that. I've worked with folks who've had businesses for 20 years, and have only been entrepreneurs have never been in the corporate world, and did not realize how naturally they made great business decisions, because they had nothing to compare it to.
And maybe even felt like they might not be as good as someone who had been in the corporate world. And then my being exposed to both and being exposed to some of the best in the industry, fortune 100 leaders and companies, I'm like, You're naturally just really good doing the right things for your business.
And what can be amazing for folks is they've taken that for granted, because it was easy for them. And they just assumed it was easy for everyone else. So I think one of the most incredible parts of this experience as I work with a client, is them just understanding how amazing they are, and then owning that and moving forward with that. And then the next part would be what that opens up for them, what now becomes possible.
And that really goes hand in hand with the mindset part of it, because what they find is, they can do more than they ever did before. But they are working less than they were prior because it helps them separate the things that are the best use of their time and their genius, and the things that they can put somewhere else to be accomplished. Because it doesn't require their level of know how and skill.
26:35
Yeah. And that that's a great distinction and entrepreneurs is how do you how do you get yourself out of the rat race, then allow yourself to continue to be able to increase value in your business and continue to do more and more valuable things for you and your business? And things that you love? And are really good at? Sure. Leaders too. Yeah.
April Shprintz  26:58
And because in a bigger company, if they do that, then they are empowering their team, and they're making a bench of leaders, right? I'm giving you things you're better at I'm growing you I now have more time, I can focus on the things that are really important. And I'm giving you some at bats, so that when it's your time to step up and be the leader, you're prepared.
Damon Pistulka  27:21
Yeah, in developing leaders, you're gonna win way more than people that don't that's
April Shprintz  27:28
I don't understand how people succeed at business when they're not doing that. And maybe there are folks, and I just haven't seen them. And I'm actually impressed with you, because I don't know how you're doing it.
Damon Pistulka  27:40
Yeah. Well, it's, it's a hard mindset for people to break. It's a hard mindset.
April Shprintz  27:47
Yeah, well, and if we go back, historically, I was just having a discussion with a director at a university before this call. And we were talking about the four different generations working on his team. And what's so interesting is, a lot of times you're convincing folks to pour into people and to develop them, who never experienced it in their career.
Not officially, it wasn't a thing. And to them, it sounds like okay, so I have to do a whole lot more for these folks, because that's what they expect. Because it's just not natural for a lot of them to approach it that way. Because what was modeled to them was something totally different.
And it requires really building some trust and saying, Look, if you do this, your team is going to amaze you, your life is gonna get easier. And you're gonna see that a lot of this generational issue that we talked about that we have, because this generation isn't any good, or this one is lazy, or this one is that which by the way, I don't care what generation you're in the generation before you thought you were gonna ruin the world. And they talked to me all the time.
Right, the oldest generation who's in the workforce right now, I just want you to know, the greatest generation thought you've ruined everything. They just did. They weren't as vocal about it, but they were very disappointed, right? Then instead of that, you're like, oh, wow, they are smarter than I was when I was that age. Oh, that's such an innovative idea. We can change this and make this different. And all it takes is that pouring in on the front end and that faith that it'll be better for not just your team, but you as well.
Damon Pistulka  29:28
Yeah. Yeah, that's incredible. And when you talk about the four generations in the workforce today, that is a huge thing. That that across the you know, if you're an older person that's that's managing or leading younger people, younger person leading older people, I mean, you got to are just working with them. You got to understand this stuff.
But it is when you engage everyone, and I've seen this in a couple of clients that we've been working with where we've been working on leadership, we've been you know, in I just You just heard me say it. We don't use the word management anymore. Nobody wants to. Because you're leading right? The management will take care of itself.
April Shprintz  30:09
Yeah, people manage themselves. Yeah, they will.
Damon Pistulka  30:13
And, and it's amazing. Some of the some of the older generation that have been suppressed from bleeding, people are thought that wasn't the thing to do. How they transform, when they start to do that, when they start to understand leadership, they start to understand it's about developing other leaders, it's about showing people their future, it's not about telling them what to do.
Yes, they have to know we had to be clear on that and what they're expecting. But it really it's been an eye opener for me to see some of the people really blossom in that, and, and to appreciate the other generations more in the workforce, absolutely well,
April Shprintz  30:51
and enjoy what they're doing more in ways that I don't think they realize they could. And what I also find so interesting is once they get in there, and they start working together as a team, and they realize that they are more alike than they're different. And the ways that they're different, where they have that diversity. That's where they really supercharge and get super powered. And then they outperform any other teams, if you can give me a team that has all four generations on it, I want that, because they all think in different ways that put together are so incredibly valuable.
And I think sometimes, especially in this day and age, with the way that people are afraid of diversity and inclusion, or they're, if they're not afraid of it, they're nervous, they're not going to be doing it right, you're missing the point, that what it is, is that the differences that we have, whether that's gender, or age, or race or creed, whatever it is, yeah, those actually bring these layers and nuances that make us so much more powerful together.
31:54
That is 100%. And you're right, if you get a team that's got a very diverse team, all our old, young, whatever, you're going to be far better off than it. And that's the, you know, when you see some of these companies that some some companies, you look at him, you go, Well, what mold did you get your people out of? Because you just went? You know, right?
How, how much innovation has really been there in the last 50 years. And you see that, and that's that's where I think they get left in the dust. And those are the companies read about dying, you know, it's the
April Shprintz  32:26
end, they were too big to fail, or, you know, too successful to 100%.
32:31
Yeah, yeah. Awesome. So as your as your you're talking about this now, in your teaching people working with their driven outcomes, what are some of the things that that you hear your clients they're worried about? Now, other than, you know, we talked about hiring, we talked about those kinds of things, but what are some of the things that that people may not really be expecting that that we're going this is something we're kind of concerned about?
April Shprintz  32:58
You know, it's interesting, one of the things you mentioned hiring that when I first started talking with people is they're worried about hiring people, they're worried about keeping people they're worried about the great resignation, they're, you know, worried about how are we going to keep clients if we go into a recession, that said, when we spent some time really talking through the principles of the generosity, culture, look, this will solve everything, pour into your people pour into your clients, pour into your community, and you'll become recession proof.
So the things that they thought they had to worry about are starting to take care of themselves, they're pouring into their people. So guess what, their people are so happy. They're telling other people what it's like to work there. So when there's a great resignation, instead of being afraid of it, they're excited because they're like, so many good people are going to be looking for somewhere to work.
And this is a great place to work. And when people are worried about the economy, and oh, gosh, you know, what are we going to do because we don't have the same level of clients coming in or the same amount. And then all of a sudden, you've taken such good care of your current clients, that they're evangelists for your business, and they don't want to work with anyone else, and they'll tell anyone about it. So you do that. And then you go even to the community park, and you become this integral part of your community, because you're involved because you care.
And everything is this symbiotic relationship that gets you to this place where fear is not something that is impacting you or your business. And what you can do when you don't have fear is unlike anything you've ever experienced, personally or in business, and that comes back to that mindset. Whether it's personally or professionally, you basically walk around bulletproof.
Damon Pistulka  34:47
We're just gonna let that sink in for a minute. That is awesome. It is it is it's another one of those just just moments of silence as Kurt would say, because you said it when you're when things are are getting challenging pouring into your people pouring into your clients, cornea in your community, it makes total sense. And a lot of people may, at those points in business really should just stop and think about that right now. Because they're worried about hiring people.
But if there are people there are unhappy, it's going to make it even worse, or their clients aren't happy, or they're not an integral part of their community. All of those things will bring around bring around the right. Results in the end.
April Shprintz  35:30
Yeah, absolutely. And quickly there there is. I mean, the whole premise of my company is driven outcomes business accelerator. You do it quickly. So a lot of people think, you know, oh, the generosity culture pouring into people. That's the long game. I need something quick. This is quick. There's nothing quicker than this. In my experience, and I've seen it done both ways. And oh, man, would I compete against a business doing it the other way all day long?
Damon Pistulka  36:00
Yeah. Yeah, that's for sure. That's for sure. So what are some of the things so talk about your book, you got some speaking things coming up, what's what's happening in the future here that you want to share with people.
April Shprintz  36:13
So you know what, I totally want to share this with people because it'll hold me accountable. I'll say it before it's done, I am developing the education arm of my business. So there are more companies and more entrepreneurs and more people than I can physically get to and work with and be with. So it's incumbent upon me to find a way to help all those folks, too.
So I am going to be developing some educational products and some digital courses. And even some groups that I can do, where I can be with a bunch of folks at one time and answer questions and help them with their mindset and accelerating their business or their career. And those are going to be in the the early stages of q1 and 2023.
I'll be putting those out there for folks. And I'm really excited about it. Because a lot of people count for their goals, you know, the maybe the the amount of money they make or the awards they achieve. And for me, I'm counting the ages people helped. So the more exponentially I can service others that you know, the more that I want to jump out of bed every day and do it again.
Damon Pistulka  37:22
Yeah, yeah. Someone asked me that the other day, how much money do I want to make? I said, I don't know. I know, I want to help more people. So I'm not done. And it's really like you're doing and as you said, if you're really thinking about being really true to that, and you haven't helped enough people, it's how do I help more people? And how can I help more to people and then developing those ways? So
37:49
as we wind down here, if, if you were going to give anyone? Well, I'm gonna ask you one more question off the list, and I looked over, what is some professional advice that affected you the most in your career?
April Shprintz  38:08
Am I my lab say a bad word?
Damon Pistulka  38:10
Sure. I do it all the time it slips?
April Shprintz  38:15
Well, I do it. I just didn't know if I was allowed to do it. Yeah, we're good. I think the best advice I ever got was from one of my first mentors, actually, I mentioned him in my book. And it was when I was working in the financial industry. And at this time, I was maybe 2627 years old.
And I was working with a bunch of middle aged white guys. And we're all sitting in a room and I'm way younger than everyone else. And I had learned when I made the transition from the military where this wasn't a thing I had to do to corporate that I had to play to people's egos sometimes. So I'd put my suggestion as a question, or I pretend that I didn't know the answer.
And I do these things to get along with my colleagues. And I had this leader who had been extremely successful, the company I worked for, had purchased his company, and he worked for fun. He literally didn't even know when we got paid. I mean, he was in a good place, right? And he sat me down. And he said, April, I would rather see every man in this company call you a bitch than watch you pretend to not be as smart as you are ever again. And in that moment, he gave me permission to be fully myself.
That's awesome. It was it was amazing. It took me a few years to do it. 100% I certainly started saying what I meant and telling the ideas that I had, but actually 100% being 100% myself with everyone took a little longer. So I had to build that that confidence that that was okay. But that is the best advice I have ever been given at least personally. Which is it people's reactions, what they do how they feel about you showing up as your amazing self, that's about them. Don't worry about it and just keep moving.
Damon Pistulka  40:12
Yeah. That's awesome. I just, I'm just gonna, I don't know what to say after that, because that is true. And it is it is what we all need to know. Well, you know, whoever you are, that is that it's really important to just speak up and do what you feel is right, and show people.
Wow, April, this has been awesome talking to you, I really enjoy and appreciate the opportunity to have you come on the face of the business and talk with us. And I'm just gonna, I'm just gonna go back through a few things here. So anyone that got in here late is going to going to hear so
40:49
April sprints, founder driven outcomes. So you can get on LinkedIn, you can talk to her about that in and find her there with that. But you also want to look at the winning mindset mastery podcast. It's a global top 10 Hey, it's something you want to listen to with short, hard hitting advice about mindset. And that's weekly you do that?
April Shprintz  41:11
I do. We 6162 episodes so far.
Damon Pistulka  41:15
Awesome. And then author of Magic Blue Rocks the secret to doing anything about mindset and mastering mindset. That's why we're talking about mastering your mind to win in life and business today with April. Thanks so much for being here.
April Shprintz  41:31
My pleasure, Damon.
Damon Pistulka  41:33
Yes. So it website I forgot to ask website to get a hold of you. Is there a website and
April Shprintz  41:39
there is no driven outcomes.com You can absolutely go there as well.
Damon Pistulka  41:44
Okay, okay. Want to make sure I didn't miss anything. Thanks so much April for being here. Have a great holiday week.
41:51
I want to thank everyone for being here today that dropped competence and comments her was just listening. And and I want to apologize because I've kind of got a cold and I was hitting them like on and off. You're trying not to cough and everybody's ear, but have a great rest of your week. hang out for a moment, April and we'll talk and be done. Sounds great.
Schedule a call to discuss your business goals and answer your questions on growing business value, preparing for sale or selling your business.
Related content
These posts may also interest you
The Faces of Business Live Schedule
The Faces of business Livestream / Podcast episodes are conversations with interesting people sharing life and business experiences to entertain, engage, build community, & help others succeed.
Reducing Founder Business Risk
In this, The Faces of Business, The Real Jason Duncan, Founder, TRJD Enterprises, talks about exiting your business without exiting. TRJD Enterprises upskills business owners to exit without selling their companies.
Implementing Lean Business Strategies
In this, The Faces of Business, The Real Jason Duncan, Founder, TRJD Enterprises, talks about exiting your business without exiting. TRJD Enterprises upskills business owners to exit without selling their companies.