Technology Solutions That Drive Business Results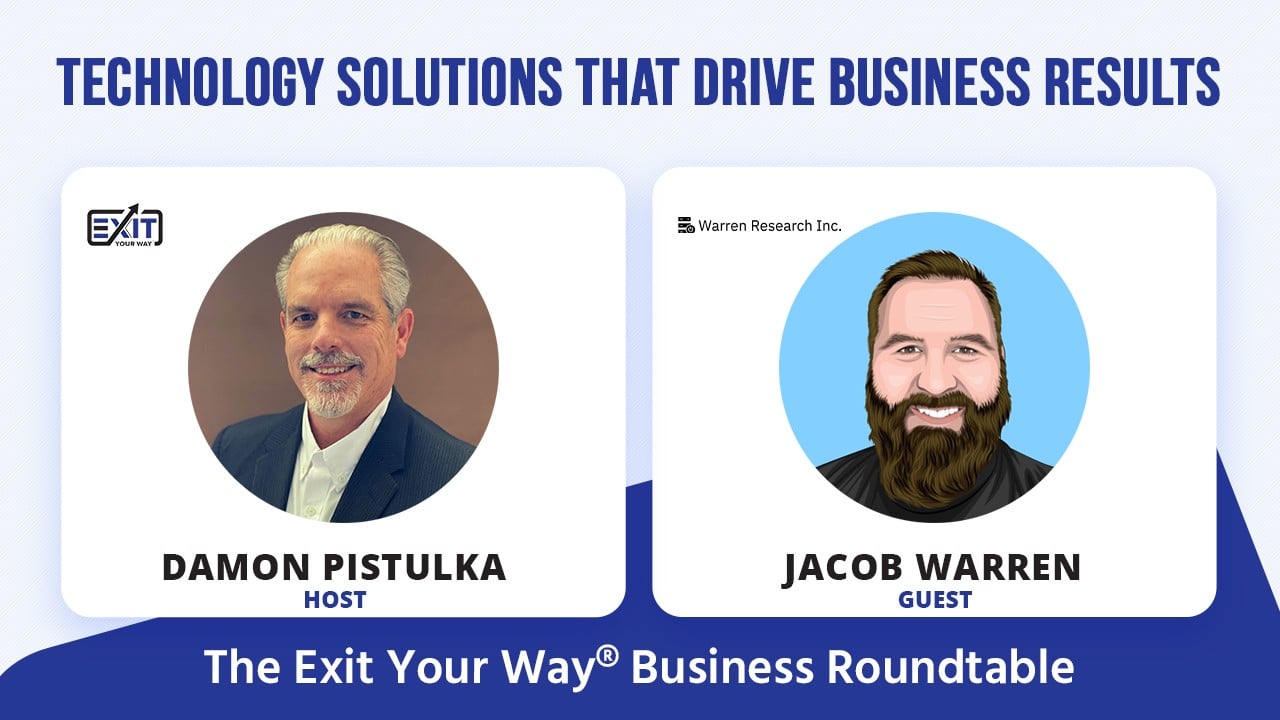 The Business Round Table
Technology Solutions That Drive Business Results
Technology is moving quickly as we all know. Jacob Warren and Damon Pistulka will talk about some key technology solutions he sees that businesses less than 100 employees can take advantage of to reduce their operating costs and support their growth.
Jacob's passion is to help businesses and business leaders reach their potential through the use of various digital marketing & technology solutions that will support business growth.
Over his career, he has had the amazing privilege of working alongside industry innovators that have helped him grow into the business leader he is today.
Download our free business valuation guide here to understand more about business valuations and view our business valuation FAQs to answer the most common valuation questions.
There are new technology solutions being developed daily.  Businesses need to keep breast of these so they can remain competitive and maximize growth.
And that's why today Jacob's hope and mission is to take the knowledge and experience that he has acquired over the last 20+ years and share it with people who truly want to succeed.
He believes knowledge and experience are worthless if it is not shared with others.
Do you want to know if your business is ready for your exit or what you should do to prepare? Learn this and more with our business exit assessment here.
Get the most value for your business by understanding the process and preparing for the sale with information here on our Selling a Business page.
Schedule a call to discuss your business goals and answer your questions on growing business value, preparing for sale or selling your business.
Related content
These posts may also interest you
Developing Annual Net Income Projections
In this week's Exit Your Way Roundtable our guest speakers were Andrew Cross and Damon Pistulka. Andrew and Damon are the Co-founders of Exit Your Way.  Exit Your Way helps business owners build businesses that provide more money today that they can sell or succeed when they are ready.  Today we are discussing the final part in building annual projections.  Estimating the fixed costs and calculating the projected net income.
Developing Annual Projections
In this week's Exit Your Way Roundtable episode, our speakers were Damon Pistulka and Andrew Cross. They are the Co-Founders of Exit Your Way. The conversation of the episode started with Damon sharing the topic of this episode.  Damon and Andrew help their clients build businesses they can sell or succeed.  Developing accurate projections is a big part in building a successful business.
Annual Strategic Planning and Projection Development
In this week's Exit Your Way Roundtable episode, Andrew Cross and Damon Pistulka covered the steps business executive teams can use to perform their strategi planning for the upcoming year.  This episode is the first of a 3-part series where Andre and Damon will cover strategic planning, projection development for variable costs, and projection development for fixed costs to project the net income.