The Power of Strategic Parts Management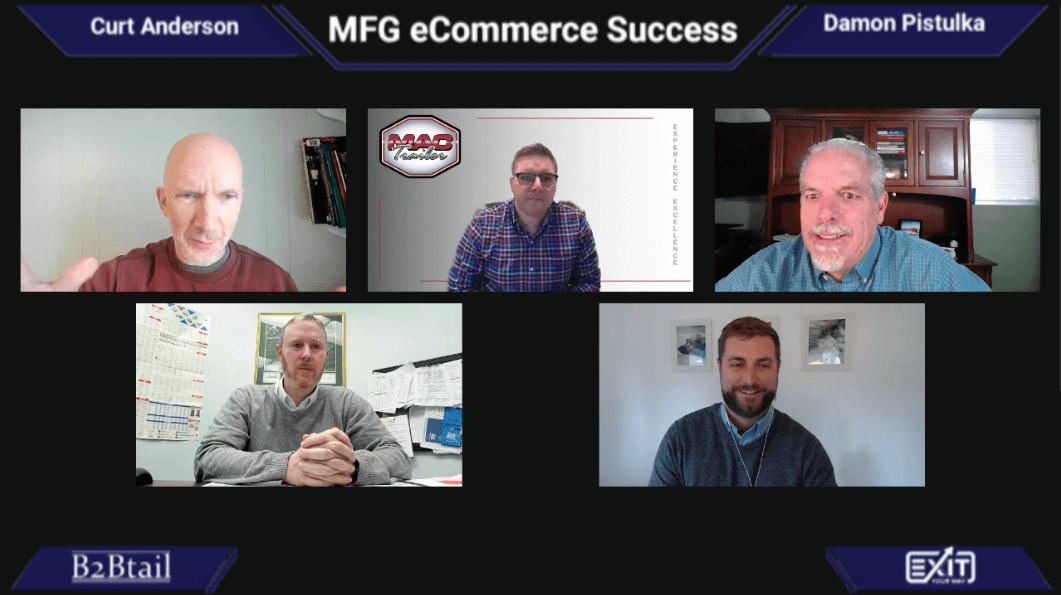 MFG eCommerce Success
The Power of Strategic Parts Management
Are your engineering resources drained by wading through data, searching for, and recreating designs?
If so, listen to this MFG eCommerce Success Show, where Andrew Hood, Manager, Business Development, CADENAS PARTsolutions, discusses how engineering groups can drastically improve their efficiency using digital tools and technology.
Andrew has worked in various aspects of digital technologies to manage product and part data for over a decade. Prior to this, Andrew was utilizing the tools his clients were using for doing machine design. Andrew's experience in the design world and with digital technologies gives him a unique understanding of how digital tools can help to streamline processes and improve efficiencies for engineering teams.
Download our free business valuation guide here to understand more about business valuations and view our business valuation FAQs to answer the most common valuation questions.
CADENAS PARTsolutions helps component manufacturers and engineering teams transform their business using digital strategy, tools & technology. Their primary areas of expertise include digital product catalogs for component manufacturers and parts management solutions for industrial engineering and design teams that make it easy to find and reuse CAD models and data from internal engineering databases.
Damon and Curt are excited to host a dynamic panel on this Livestream. Curt briefly introduces the participants of the show. He introduces Andrew, Zach, related to the trailer industry, and Mike to the audience.
While addressing Andrew, Curt asks him about the importance of manufacturing to his career and community. The guest reveals that he grew up "learning about manufacturing from my home state of Indiana." Once, he surveyed more than a hundred different shops, machine shops, and fab shops. He concluded that manufacturing is critical to the US "because it drives the rest of the economy." Without local manufacturing, the community will become crippled.
Do you want to know if your business is ready for your exit or what you should do to prepare? Learn this and more with our business exit assessment here.
The host poses the same question to Zach.
He says he likes it when a product comes out of the machine when it is built. Manufacturers do the needful and provide the community with the products it needs. Zach's forte is information technology, and he has a "passion for improving processes." He has been in quality assurance, engineering, and business analysis. The guest believes there is always room for improvement in manufacturing.
Damon shares his insights, saying that once he read in a book, only 5% of people manufacture while the rest, 95%, render services. So, manufacturing provides jobs.
Get the most value for your business by understanding the process and preparing for the sale with information here on our Selling a Business page.
Curt wants to know Mike's views on the importance of manufacturing for his career and community.
He reveals that he's been in manufacturing in Canada since 1998. Its benefits range "everywhere from the economy."
He says that processing raw materials and "marking them up as doing a value-added process" benefits the economy. It creates jobs for people with "a whole supply chain network of value-added suppliers, and vendors, platers, and specialty metal suppliers." He also highlights the role of technical support: "people working in thread standards and CAD detailing upped our game."
Similarly, the host asks Andrew to share his superpowers.
Andrew believes that his superpowers are his ability to work with different types of customers and manage two sides of the business.
As an engineer, he manages the CAD for the engineering audience. He is involved in the configurators, the online access, and the ability to "specify the exact SKUs." On the other hand, he helps engineers with machine design. He learned how to commission machines, use source material, and design new components if the previous one goes obsolete. To leverage tools, Andrew has worked with Zach.
Zach mentions that their dump trailers, flatbeds, pneumatic trailers, tank trailers, and even some new specialty trailers are visible in Canada. He has been in this industry since 1994. "Our industry is helping other industries," whether construction or agricultural, their trailers serve the nation. He's happy to work with Andrew.
Curt tends to Mike and asks him about his superpowers.
Mike humbly admits that "we're still relatively a small company," with less than a hundred employees. So, they are naturally prudent and utilize "everything technology wisely." He argues that, with a website, people do not show their storefront or facility size. They use the internet to hide behind and make themselves look more prominent. And "that's what we've done." They use it as a marketing tool to enhance their brand perception and to express their strengths.
According to him, the internet is a convenient tool for reaching customers. Moreover, it has helped them streamline many processes. Mike reveals that their distributor portal is D-commerce, which "has been incredibly helpful for us."
To him, this is the status quo in terms of striving for the perfection of the website. Their web interface has constantly been changing and moving forward for the last five years.
Based on the customer's specifications and available database, their system "will visually provide the customer with an end product." Mike is profoundly passionate about his business.
For Andrew, engineering has been an exciting career. He enjoys helping engineers be more efficient. He says that CADENAS is an international company headquartered in Cincinnati, North America. They find many companies that need CAD and are struggling to provide information to their customers. He aims to offer help.
Curt is interested to know how Zach and Andrew came together. Zach replies that his company was looking to implement Product Lifecycle Management (PLM) to consolidate and organize every bit of information. They wanted to know if they had duplicate and redundant parts as soon as possible. With PML, it was easy to identify them from a part number. "We needed CADENAS" because it appeared to be more promising than their expectations. Moreover, their services were cost-effective. Andrew helped Zach reduce the price to 70%.
Curt wants to know how Andrew could offer this huge discount.
Andrew answers that their pricing model varies based on their customers' requirements. He mentions several factors, such as:
Their complete design process.
Design workflow.
Their database.
The expected number of similar products.
The quantity of ACOs.
The number of engineering change notices (ECN).
He discloses that CADENAS has over fifty engineers to ensure all systems and processes run smoothly. Moreover, working with it is flexible.
Curt then asks Mike what drove him to connect with Andrew.
Mike says that the opportunity to have cost-effective solutions enticed him to connect with Andrew. At that time, they wanted to "document every single part in our system in CAD format." So they had to hire another detailer. They got an email from Andrew offering them an effective solution. As a result, they got engaged and developed solid models for their website.
Andrew responds that he is deeply pleased to add value to his clients' businesses and make them more competitive. Similarly, he is excited about the new partnerships in North America and "getting more customers online and giving engineers what they're looking for."
Nicole Donnelley, one of the attendees, asks the panel about the impact of adding many SKUs to our websites. Andrew stops by and says it "doesn't slow it down." There is a tool named PageSpeed Insights by Google. Every day, the report changes. The slow speed of website retrieval depends on many factors. "It's all about customer experience."
Zach adds that his business is in the middle of a migration right now. They are moving all the existing data to Teamcenter. A lot of manual work goes into engineering that doesn't have to be manual. Zach wants to establish systems that are going to benefit engineers.
Curt asks Andrew for advice to provide small manufacturers with a competitive edge.
Speaking from his experience, he advises small manufacturers to give employees time and a chance to learn and enhance their experience.
As far as the application is concerned, shops other than metal sheet dealers can utilize these configurators. It can be as simple as three dropdowns; three options. Moreover,
Curt realizes that the time to bid farewell has approached. Damon and the co-host thank all the participants, and the discussion comes to an end.
1:05:24
SUMMARY KEYWORDS
andrew, manufacturing, mike, cad, customers, part, zack, manufacturers, zach, trailer, question, building, damon, people, thread, engineers, company, engineering, configurator, design
SPEAKERS
Andrew Hood, Mike Rennie, Damon Pistulka, Curt Anderson, Zach Kennedy
Damon Pistulka  00:00
All right, everyone, it is Friday and what does that mean? It is time for manufacturing ecommerce success. I am so excited. I didn't even run the intro video today, Kurt. Dude, how's everyone doing? He threw me off with that one. I know I did. Didn't I did myself.
We were running right up to the time, Dan. Sorry, we might have been a minute late. We're getting a little technical difficulty worked out here. But hey, let's get started. I want your co host Daymond Pustaka. That guy way over there as Curt Anderson and we're gonna let him take it away because we're gonna have some fun today talking about the power of strategic parts management. Let's go man. Take it away. Kurt.
Curt Anderson  00:40
I dude, let's do this. So Happy Friday everybody welcome What an absolute honor privilege to be here man. We have a dynamic panel. We got all these handsome dudes Damon, I can't handle it. You know, I'm not sure to do myself right now. So alright, let's run around the room right here.
We've got my buddy Andrew hood from cadenas. partsolutions Andrew, Happy Friday to you. We've got Zach Kennedy right smack in the middle from Matt trailer. Zach, give a wave give a shout out. We've got Mike Randy this handsome dude underneath me here. He is our friend to the north. He's with adapt tall. So we have a ton of exciting things to talk about here today. So Happy Friday.
We've got Dan Whitney, John. Guys, if you're out there, give us a hello, let us know that you're with us today. You absolutely want to connect with Mike was that with Andrew, we have a ton to go over today. So Andrew, I'm gonna start off with you, my friend. So first question, Damon, you know, I'm changing gears a little bit.
You know, we have our other question that we use the Ask we're going to talk about duty manufacturing today. So I'm gonna go I'm kicking things off with manufacturing. Andrew, why is manufacturing sort so important as this is a hot topic that we're going to be talking about, about bringing it solutions that you guys bring to the market? Why is manufacturing so important to you? You your career, your career, your community? Why is manufacturing so important? Yeah,
Andrew Hood  01:57
I grew up, you know, learning about manufacturing from my home state of Indiana, and just learning from the industry, you know, I had an opportunity to tour probably a couple 100 different shops, machine shops, fab shops, and my time in the sheetmetal space, and fabrication or manufacturing is so critical to the US and North America, because it's really a driver for the rest of the economy.
Everything else kind of goes downstream of manufacturing, if we can't manufacture and continue to, to do to increase that in North America, that we're going to struggle. And so I just see, you know, the results of manufacturing, the hardware we're working people put into it actually creates something concrete that people can deliver on. And that's important.
Curt Anderson  02:44
Absolutely. So guys, again, you know, join us here today, I've dropped on Mike Zack and Andrew, I've dropped their LinkedIn profile. So they want you want to connect with these guys. My friend Zack Kennedy, I'm assuming probably related some way or another to the Kennedys. Right, but you're the Kennedys of Ohio, the great Buckeye State. Same question, why factoring is so important?
Zach Kennedy  03:07
Yeah. It's important because it's good to see things made, you know, here, especially in Ohio, and us, you know, wherever I've been, manufacturing has always been interesting, you know, to be a part of the process and see something come out of that when it's built.
You know, and having a handle on that and making other people's lives easier in that process is kind of how I built my career. You know, I'm an IT guy, but I've I've had roles from quality assurance and engineering, and business analysis clear in the, you know, pretty heavy duty it stuff. So I've, I've always just had a passion for for improving processes, and there's always stuff you can improve in manufacturing. So that's kind of why it's important to me.
Curt Anderson  04:00
Absolutely. So Damon do this. He's a Kent State guy, you know, and so he's doing a great job. He's an IT guy at heart and it's just great. We talk about manufacturing all the incredible opportunities and different aspects. You know, this is not our grandma and grandfather's manufacturing anymore in Zach's gonna share some powerful things going on at Mack trailer. Yes, sir Damon
Damon Pistulka  04:20
there you know, I was funny when you talk about that. And manufacturing, I was reading a book is actually an older book, but they are talking about the fact that 95 plus percent of people in manufacturing are actually in the services business, because the other people are building everybody else is supporting
Curt Anderson  04:39
is supporting. I love that. Let that one sink in for a minute, right? There's a so much opportunity in manufacturing. All the cool kids are in manufacturing. We're seeing that right here on this panel discussion here. So hey, we're going to turn it on. We're going to go up to Toronto we have our dear friend Mike Rennie from adapt off. And Mike give us a little give us a little taste of manufacturing I know I believe you have family business. Talk about how important manufacturing is to you, your family, your community, your career. Let's go there for a minute.
Mike Rennie  05:08
Yeah, no. Great question. And I'm happy to answer. So, yeah, we've been manufacturing here in Canada since 1998. And our operation is has grown a few times over since then. And, yeah, I mean, the benefits range everywhere from the economy. Anytime you're taking raw materials and marking them up at doing a value added process, it's, it's great for the economy, you have a whole supply chain network of value added suppliers, and vendors, platers, specialty metal suppliers.
So it's a big community here. It did take a hit for a number of years. So we had to kind of pivot between producing most of our products to some of our products. And we had to get really picky and creative with which jobs that that we take on in our own facility. And then we outsource some, so we're a copy of shop, we had the luxury of picking and choosing what jobs they get. But the range, the range of benefits extend all the way from us internally here.
It really helps with our skill sets here. And just general knowledge of the industry when you have people, people working in thread standards and CAD detailing and it's really upped our game in terms of being a High Tech High Quality manufacturer. And then it goes all the way to our customers, the supply chain issues the last two to three years, we've just come out winning every single time. It's not every single one of our customers who relies on rapid manufacturing facility, but some of them do.
And there's a cross section of customers especially in the OEM, the OEM field which we typically didn't get a lot of business form from we mostly deal with distributors that now we open up that cross section. The list of benefits can go on and on and on. It just it it's prestige for our employees it's really a badge of honor for them to everyone's proud to be a manufacturer.
Curt Anderson  07:17
You know what? That's like that one second name and prestige. I absolutely love that just you know think about them the pride of the employees and that prestige that badge of honor might I love that man we have the chat box is on fire today. Nicole is here today. We've got Dan bigger. Whitney, guys, everybody out there. Thank you for joining us. We're gonna have a great we're going to talk we're gonna take a deep dive into IT solutions at manufacturers can drop us a note drop a little note in the chat box here.
You want to connect with Zach, we want to connect with Andrew, you want to connect with Mike. Now we're gonna geek out man, we're gonna talk Damon This is Oh my god I leaked last night. I've been so excited about this conversation with these guys. We're gonna take a deep dive into E commerce solutions. We're going to talk about configurators my favorite word so Andrew hood my friend. I had the honor privilege.
I met Andrew and person Daymond we read they put on an amazing partment I'll tell you, Andrew, you guys throw a mean party we read the great, great program the industrial, the industrial summit in Cleveland back in September. And Andrew is a big dude man, I had a great time hanging out with Andrew his team at cadenas partsolutions. So Andrew, please share with anybody out there who's not familiar with cadenas partsolutions, share your superpowers and how you make the world a better place. Let's talk about let's go there.
Andrew Hood  08:34
Yeah, it's exciting for me my career and be able to kind of work with different types of customers, right. And we have two sides of our business. We have the one side you mentioned the configurators, the online access the ability to spec out the exact SKU you need, and then get the CAD you need right for the engineering audience. And that's what we were doing.
So we're partnering with Mike and the guys that adapt all for. And we've done that with 1000s of other manufacturers as well. We're gonna highlight Mike's examples today. And the other side of the business, we help engineers right. So I have an engineering background, I started off in machine design.
And I've seen what it's like to commission machines and to you know, source material, and to spec out the exact supply quote you need, right and you get you get this component goes obsolete, you gotta redesign old machines, right? Or a whole section of it. And that's where, you know, we work together with, with Zack and the guys have met trailer, leveraging our tool for help them find and, you know, reuse components, and we're finding duplicates. So my entire phrase there, it's just helped engineer stop or even to the wheel, right?
How can we stop removing the wheel be more efficient with our designs, and focus on more of the value add? You mentioned the value add Mike did value add for manufacturing? You know, vendors and suppliers but think of our tools that value add for the actual product design process as well.
Curt Anderson  09:47
Yeah, I love that. And I know you've got a line here says you help customers develop an understanding of their own engineering part data. We have a great case study. We're going to talk about what's going on in what you've done with NetScaler. But before we go there, Zack Same question to you, my friend, please share for everybody the superpowers and how you at met trailer your entire team make the world a better place. And I want to you know what I'd like to talk about.
You're the founder. If I'm that you've mentioned before we went on live founded in a garage, you have some, like 1300 employees in a gentleman's name is Michael Connie, do I? Yeah, so let's share with everybody match trailer, they probably see your trailers everywhere, talk about you what you guys do and how you make the world a better place.
Zach Kennedy  10:31
So you probably have seen our trailers if even if you're in Canada, with some US and Canada, from dump trailers, flatbeds, pneumatic trailers, tank trailers, even some new specialty trailers that are kind of coming online. You know, our industry is really helping other industries, you know, serve the nation and what they're doing building houses and, and moving grain and transferring fuel. You know, there's a lot of different things that we do. And, you know, we started, I think, pretty specialized, you know, dump trailers and kind of got into that market. And that's what our owner knew.
And we just rapidly expanded and, you know, here we are, you know, I think we started in 94. And we've got locations all over the US and engineering departments that are trying to design and build these trailers. And you can imagine how 20 years of of parts and parts management, different facilities could get tangled up, and everyone does their own thing.
And we kind of got linked up with with Andrew, when we were talking about getting a new PLM system and using Team center. And we, we realized pretty quickly that it was going to be hard to do on our own. And we have a pretty lean staff, I would say and in the tech projects area, and we started looking, you know, how are we going to be able to identify all these redundant parts?
How are we going to be able to, you know, simplify this process and get things out there. And we were really lucky to link up with Andrew and part solutions. And they provided some great tools that really expedited the process and gave us empowered us to do a lot that we couldn't do otherwise.
Curt Anderson  12:26
Not all absolutely love that. And we're gonna go into like a little bit of a case study. And it's just absolutely phenomenal what you guys have what cadenas has done and what you and your limited staff, like you said, like you're a really lean team. And so for folks are out there that are a little bit intimidated, overwhelmed, like how do I take these this leap?
So you know, Zack, when we get there, I'd love for you to take a deep dive you and Andrew, we're going to we're going to go there. Mike, I'm coming over to my friend share with everybody. Let's talk about adapt all your superpowers while you guys make the world a better place? What's going on your company in? What are the types of customers that you're working with?
Mike Rennie  13:00
Yeah, so thank you. Yeah, so we're still relatively a small company, we're still under 100, just under 100 100 employees. So we really have to pound for pound, we have to hit a little bit harder than the next guy. So we've utilized everything technology wise, the Internet of Things to make that happen.
So you know, with a website, you can, you're not showing your storefront, your facility size, you know, you can kind of you can hide behind that, so to speak, or, or make yourself look larger. So that that's what we've done, we use that as a marketing tool to, to get our name out there to express our strengths. And, and it's a convenience tool at the end of the day for us and our customers.
So we've streamlined a lot of things through there. Like, we have a distributor portal that we call D commerce. And it's been incredibly helpful for us. But this is this is the status quo. Now this is this is really nothing new. The pursuit of perfection or an ideal state your website, it's it's going to be always dynamic. If we have that we set a point five years from now for where we want to be. It's going to constantly be changing and moving forward and going down the line.
So so that's where and why we got together with gardenias. The next logical step for our website was to do solid modeling. There's a number of reasons for that one, it's just it's we the trend, we know it's the way things are going. With the online portals, we get a little bit of a pole sales style where our customers or end users for that matter are going to be building our parts into their hobby projects there.
It might be in an industrial level, someone building some specialty high, high tech stuff or heavy level, sort of heavy equipment. It could be anything under the sun and it really doesn't matter that's going to help streamline sales through our distributors. And then we're also looking at a feature that we call build a fitting On whereby customers can build a fitting of any two thread concepts, male female tees, nine DS 40 fives.
And based on all the standards and items we have in our database right now, it will put all those items together and visually provide customer with, with an end product. All this is doing is really just streamlining what we already do we take we used to take phone calls, we would draft something up and might take a couple of days, we would send them something, they would approve it, it might have to go through their engineering.
I mean, now customers can send links have a solid model to their engineering team. And it just streamlines everything all the way through. And as you guys know, things like skews and standards can be embedded in those solid models. So it's just, it just makes things so much easier for us on so many levels. I almost now that we've started the project I can't see any other
Curt Anderson  15:52
way. Yeah. And now you're probably wondering how on earth did you get by without, right? So, so super exciting. And again, like if you want to geek out on hydraulic adapters, I believe that your kind of your legacy, right? If you want to geek out on hydraulic connectors, you guys need to connect with Mike. So Andrew, let's shift gears to you my friend. So take a deep dive you've you have you know, like you said great career manufacturing. You've brought your talents to cadenas partsolutions.
And you're just you know, working relentlessly helping manufacturers like Mike and Zack here. So what's what we're going to dig into, like I want to really take that dive, Zach was sharing with us a really exciting, reduction apart reduction that we find out before we went live. And you talk a little bit about the company and type of manufacturers, you worked with the solutions. We've talked about CAD configurators, let's take a little deeper dive on what you bring to the table here.
Andrew Hood  16:45
Yeah, yeah. So yeah, a couple things. It's been an exciting career for me coming from engineering, and learning, manufacturing, and all that stuff from my perspective. So I really enjoy, you know, getting to see how I can help engineers be more efficient, or just be better at their jobs and take the mundane stuff or out of their out of their way.
And that's why that's what I really enjoy about working here Kadena is, you know, our company's been around since the early 90s, since kind of the start of cat 92 started off in Augsburg, Germany. So an international company, and we have our headquarters in North America here in Cincinnati, where I'm where I reside. And, yeah, I think what I'm looking at what I like to do, you know, my goal is just to help engineers to be more efficient to help make their jobs easier, right.
So on the, on the catalog side, or configurator side, you know, it's about helping, you know, speak to that audience of engineering, you know, getting them getting in front of them what they need, we find a lot of companies that don't have CAD are struggling to provide that information to their, to their, their customers, and they're getting, you know, they're getting a beat out, right, there's a stat we have that 82% of CAD downloads turn into an actual purchase part.
So it's just incredible, you know, synergy there between the actual technology and the physical sale, right? So that's a huge deal there. And that's just one stat. Right. So out of the out of each CAD download, you can have between, on average, five to seven parts actually sold. So you know, for Mike's use case, with with fittings, maybe you get a download, and maybe it's 2020 to 30, or a couple other pieces of actual hardware you're selling right.
And you can some of our companies use that to, you know, to help them forecast for manufacturing, we got a company called Sam tech until they're in Indiana, they, you know, they're, they have their downloads on there. They have tons and tons of downloads a month. And we were working with one of their IT guys, marketing and IT IT folks and now he's the CTO, right?
So level of improvement as companies seen from leveraging our tool and his own personal career as well. It's been a huge improvement. I think you met met him Kurt at the event in Cleveland. Yeah. And on the on the engineering side on the OEM side was it was Zack at Mack Mack trailer, working through, you know, reuse and savings on parts and part count and reducing part count. Every engineering manager knows that if you can reduce the part count, you can reduce costs, right?
And so that's our goal is how can we help you reduce part count, but when you bring in a new part, make it as cost effective as possible up, you know, that the part is already has already been presented before. It's available this location in the warehouse, and you don't you don't go off and buy it again. Right. So the goal is to reduce costs and reduce that that you know, kind of pain of introducing new parks. So the design lifecycle
Curt Anderson  19:28
and I love that we've got some jump in comments here. So Michael Jackson line earlier that he's seen he caught the demo of the configurator from cadenas, powerful stuff. We've got Timothy here today course call Mike Franz is here, Mike, how are you happy Friday Kelly's here today.
So everybody, thank you for taking know how busy everybody is here. But boy, this is a great conversation. Thank you for joining us here today. So Zack, let's talk about you know, we were talking before we went on about how the problem you We're facing the challenges that you were encountering.
You said multiple location, you know, hundreds, you know, just a little bit of a challenge, right? Yeah, that hundreds of 1000s of skews all over the country. And so you started your small limited, IT team came together, connected with Andrew, let's go there. It's walk us through that process of what was happening, how you connected with Andrew, and let's talk about the outcome. Sure.
Zach Kennedy  20:24
So I think I touched on it earlier, we were looking at implementing PLM to kind of consolidate and organize all of our information. And the thing we ran into pretty quick was we knew we were going to have duplicates, we knew we were going to have redundant parts.
And it was pretty easy to identify them from a part number, you know, we could build scripts to kind of scrub everything and look. But we found examples. I mean, in very short time of have parts that were nearly identical, or you know, maybe a thread size was slightly different between two facilities.
And it the part itself was the same, but the part number is different. And and we started to manually try and dig through these. And then we realized we have over a million parts to address and only you know, two or three guys to really address them. So we started looking into shape search tools. There's some other ones out there. But what we really needed, cadenas seem to be the the ones that, you know, we jived with the most and their team was great.
And they're they did it at a way, way better. price point, you know, they were a lot more cost effective for what they offered, we only needed what we needed. And they were able to provide that. And they have no other functionality. So in addition to the scripts we had written internally, we indexed every file that we had our engineering files across multiple servers, in cadenas partsolutions program.
And we were able to use that program to find like parts just on the geometry in the shape of those models without anyone having to look at them. And then we could generate those reports. And then scrub those reports instead of going through a lot of data that we didn't have to and the results of that, like I said, we had over a million parts, we were able in about a year's time to go down to about 300,000 parts with very few people working on this project.
And one of them is you know Nick ver Gulati he he's been a key player in this project done a lot more than groundwork you know, that I've been able to, but he's an IT guy, he has some engineering background, you know, I have a little bit of engineering background, but he's he doesn't know everything that's going on but but that tool that that we use through cadenas, partsolutions, it enabled him to be effective in helping clean this up, and he didn't have to be an engineer necessarily to you know,
to see all these are the same part, you know, so that that was really how we got linked up. And you know, since working with them, we found there's a lot more going on with qidenus that I think could benefit us and we're kind of just in the infancy I feel of our relationship with them, there's a lot more that we can do.
And even with this tool, you know, identifying like parts, it's going to help us in reducing costs as we move forward. Because we're not going to be buying from different suppliers at different facilities, you know, we're going to be able to have everybody hopefully on the same page, that's the dream, I don't know if you know, we'll get there legally, but you know, we're going to work towards it.
Damon Pistulka  23:54
When you look at that, to from a design standpoint, if you've got engineers that are designing new products, if they've got a base of components to start with your own, your designs are going to be much more efficient, and they're going to be quicker for them to get done. And it's only going to help your supply chain. And you go through this, I mean the fact that the solution that can need a solution allows you to to search by data, rather than just file name is massive.
I mean, we did this years ago and a company that was almost six years old when I was working with them and their own products and, and 20 years of back in those days before even SolidWorks when we changed over to that or in whatever that is now but that's amazing that you can do by the data because it's so hard and so intensive to find. Find all the things that are similar that has to be you know, that's why you could go from a million to 300,000 Yeah, just massive.
Curt Anderson  24:52
So Andrew, Andrew, my friend, how on earth do you help me reduce it? 70% Or I'm just gonna do This was such a monster massive accomplishments and effective and let's take it let's let's give a round of applause to Andrew his team. And how about Zack and his team, Nick and everybody at Mack trailer? What an massive accomplishment. And just look at the efficiency here.
So, Andrew, I want to come back to you, Mike, I'm going to I'm going to be over to you in one second. But Andrew just piqued my curiosity, when you meet with a team like Matt trailer, and you're talking with Zach, and you see, you get an understanding of their problems, their challenges, talk, walk us through, like how do you how do you guys? How did you accomplish this? Like, what's what's going on your side of things, we heard what Zack and his team are doing? How do you guys come in and tackle that?
Andrew Hood  25:40
Yeah, we're just we're asking questions about the process, right? What is their design process from beginning to end? And what you guys have today in your, in your database? Right? So understanding from from Sac they had multiple business units are be used in different sites working on similar products? You know, that's a key, that's a signal for us, right?
Asking questions about quantity of ACOs, or ECN, or engineering change notices is a term, you know, tracking the quantities of those that so basically, you've got a variation, you have a design workflow, right? So if you're designing new components all the time, and you have a large enough team, you know, 3050 plus engineers, right, you're gonna see this problem over and over again, if you're smaller, you may not see it, because you're not big enough yet to see the volume.
So we're looking for kind of a sweet spot, right? Okay, how many? How many engineering changes do you have? What's the what's the rollover look like? You know, what are your part what your parts look like? What kind of part types are they what? What's your tech stack, right?
What systems are you using today? And what's your plan going forward? And what what's really cool about working with cadenas is we're very flexible, right? So we work with many different tech stacks, it doesn't really matter what it is. So Zach's going into Team Center, which is great as a partner of ours at Siemens, and we're happy for them the cost of using that tool. So my goal was okay, you guys are lucky because it does have identified a PLM system we want to use, how do we get you into that tool faster?
Right? That's your that's your number one goal? How do we get you into that system sooner? And now they're in the process right now of important parts into that system? And so, you know, our goal is how can we help them clean up you know, beforehand from legacy to get into the new process and so really ask questions like that around their workflow around their you know, kind of change notice changeover and what their goals are long term plan from engineer perspective.
Curt Anderson  27:24
I have some love that Damon can use a favorite pull up not the last comment from Timothy But the comment prior from Timothy. I'd like to have that pull it up. Yeah, let's do this. Like a drop the mic from the chat box here. Every company on earth has this problem you described, some just don't get it would rather turn a blind eye, it is so much easier to do nothing.
And just keep doing it. This is how we've always done it. Timothy, thank you for that comment. And that's what I just absolutely love this. So, Mike, I'm going to come over to now and then what I want to come back. And just I'm gonna give you a little question ahead of time, Zack and Andrew, we come around, I want to talk about like that resistance, that tech resistance. It gets overwhelming, it gets daunting, but might take us walk us through, you know, family business, but again, 100 employees, you are not small.
This is a great, incredible entrepreneurial success story. Would you your company, talk walk us through, like what frustrations? What challenges were you facing where, you know, it takes a lot to raise your hand and say, Hey, man, I need help. I need to pull in the subject matter expert, or let's get some let's partner with with the trusted guide that can help us change things. Talk walk us through, like what challenges you were facing and how you connected with Andrew?
Mike Rennie  28:32
Yeah, so no, great question. And Andrew, Andrew knows, I kind of sold myself on the idea probably 20 minutes into the, into the meeting. Yes, on on one thing. I mean, it's it's really just opportunity cost and and cost benefit for us. So at the time, we had a directive to document every single part in our system in CAD format. So that was never the norm before. So we had to hire another detailer. And we had to go through an entire process to do this, as opposed to just getting the vendors drawing and filing it.
And then we have some vendors that we call catalog vendors who you just buy parts out of their catalog and you don't really have drawings for it. So with with with that directive that came down, I think I got the email that Andrew had contacted our guys at a show and hey, and then you guys, other business owners know when you hear an opportunity over here and you had a problem over here, you put the two together.
So in this case, we were able to build all the solid models for our website and then also have what we call presentation drawings and your I forget what you guys call, it's basically the ANC blueprint, you know, with our logo on it and the block of information and then they're all that all that kind of stuff that we said, hey, we're gonna do this can we do can we, you know, do this over here at the same time and it was like Absolutely. So then I'm just Doing the dollars and cents in my head, how much would it take our duty?
Or how much money would it cost and time would it take for my two detailers to detail every single part and we were talking years.
Right. So the so the system that Andrew showed us in terms of how we could take our, if you see up here on my wall chart, very hard to see, I handed all of those part drawings over the course of those eight years when I was a junior employee. That's Microsoft or sorry, that's Adobe Illustrator. It is not a CAD program. So we faked it till we made it and then it was like Okay, now we have to do this now. So So yeah, I just had the opportunity of all of these benefits presenting themselves at once. And like I said, it would be almost stupid not to,
Curt Anderson  30:44
it's almost stupid not to dude, what a great line that is. So, and we're top of the hour, guys, if you're just joining us, we've got Zack Kennedy Mack trailer we've got Mike Rennie from adapt tal we've got Andrew hood from cadenas partsolutions We're having a great conversation, Andrew talk about when you and Mike first connected and you know, David, he's just such a handsome just a personal guy, just when you meet them in person, you just can't you know, just you just so likable, right, Andrew?
You know, tell your mom, she did a great job with you. But when you met Mike for the first time or you know, when you capture an understanding of what's going on and adapt some of these challenges walk us through, like, what was your side of the story? What were you seeing where you guys could bring some value to help these guys be more competitive?
Andrew Hood  31:24
Yeah, I mean, I would say, you know, it was our other product line, right, up and up in Canada. And I'd say we just saw before, we've been up a number of times, we've helped manufacturers who have, you know, simple couple different series with maybe couple options to catalogs that have, what's the zoomies website, say, like, have sextillion the numbers over a trillion combinations.
We have companies suppliers, who have series that have over a million different design options or skews available, they can you can buy off the shelf. Right? So for us, it's it's pretty straightforward, you know, fittings, we've done a number of them in the past and excited to get the guys at Adapa going and like like Mike said, it's it's stupid not to do it. Right. So I think that's what we're seeing in the industry.
We've had a pretty big announcement this week as well, automation fair. You know, Rockwell, we've announced them as well as a new vendor. They have a pretty big market share in the US. And so we're excited about the new partnerships here in North America and getting more and more customers online and giving engineers what they're looking for.
Curt Anderson  32:30
Yeah, I absolutely love this and what the great thing is, you know, when you look at this conversation here, it's like this it's greater it's so much bigger than like, hey, we cut a cost we reduced this it's like it's putting guys like Zack and Mike and their companies in such a much more competitive advantage.
You know, we're you guys are facing global competition. We're trying to be so much more competitive here in North America, rising costs, inflation supply chain challenges, every labor shortage, everything that's going on and I just my hat goes off to Zach Mike, for you guys really rolling up your sleeves and embracing this new technology. Andrew, do you do we want to show anything? Do you have anything that you want to pull up and take a look at?
Andrew Hood  33:11
Well yeah, I've got a few examples here.
Damon Pistulka  33:15
I just want to tell people are listening if you haven't get on the Adapt pole site and look at the fittings. Look through there because I was geeking out over here you see me looking over I'm just like I gotta stop doing it because I want to get to the point where it sends me a drawing right? Oh,
Mike Rennie  33:29
yeah. That will be coming soon. And oh, yeah. Because it's
Damon Pistulka  33:33
because it's this these kinds of configurators get me excited because when you can and Andrea I don't see it where you're sharing it with us. Yeah,
Andrew Hood  33:41
I will share it a second Yeah, yeah. And I'm gonna show them this this kind of
Damon Pistulka  33:45
stuff and when you think about Mac tree that what you guys are doing getting the parts down so you know what you got so you don't have you understand everything and put it into a configurator I literally think I can't think of a piece of equipment that someone can't go in and be able to buy I don't you know I was on haws the vertical mill or the milling machining turning company the other day, you can buy you can configure a unit on their site and buy it right there. Why they this this is this is everywhere. This is mainstream and I think like I said get on the adapt all site and look at it. Yes. I love this stuff.
Curt Anderson  34:24
So let's write in the comments. I know man a chat box is on fire today but I know I dropped Mike's LinkedIn profile job Zacks dropped Andrews you guys absolutely want to connect with these guys. But Andrew go if you want to go ahead and hit that share button. We'll take a look. Yeah. Thank you, Kelly.
Andrew Hood  34:44
Okay, here we go. All right. So looking looking at you know, can you guys see my screen here? Yeah. Okay, so we have you know, this is our website here. I'm gonna jump over to adapt all and talk talk through what we're doing for them. So Mike, you mentioned those illustrator drawings right. Here's an example of tell us more about this series. And I'll show the show them what's gonna look like in the future. It's kind of before and after.
Mike Rennie  35:09
Yeah, so this is one of the most popular thread styles we do. And it's just a union. It's nothing crazy. We're literally starting at the bottom end of the AR SKU. So 9000, this will be 9001. So this is our ACR second sequential part series. And in here on this page, you can see various things. And we this was a lot of work. So we talked about building a database. Guys, I think this, the spreadsheet that goes into this, and it's there's four spreadsheets deep to get to this page is now we have 7000 skews, some of them are doubled and tripled up depending on what part of the website you go to.
And I think we have 7070 columns of data per Park. So and there's pricing in there, that's when you get into portal for different customer classing. So over this part, we have side one side two, there's there's spots on our database for side three side for when you get into tees and crosses and things like that. And then we just take on that data in there. So this is the data that essentially I think we provided Andrew with, I'm not even I'm actually I got I got somebody helping me with this. Thank God because this is.
So yeah, we just have our side one side to kind of details there. We have threads standards. And then you see below that we have dimensions. Basically how this works is any field that we populate on our, on our website, it will show those, you know, fast forward to what we can do with convenience. Now, I mean, it's basically mirrored that database, but it's a lot more streamlined. So I'm not building one column at a time, I can grab a dash 20, BSP male 60 degree, ISO B 119974. Standard and boom.
So this is the ideal state that we're working towards. And I should point out that is one of the that's like a draft version of the Yeah, are solid models. It's very simple compared to what we're seeing now in our Yep, yeah, that's, that's a lot simpler than what we're looking at, we now have like, step up and down on the threads or start cord and cord. The hexes are contoured a little bit like It looks like a real fitting you would see in front of you. Clear? Yeah, this was just a draft version that we used in the sales meeting, I think. So that's it, it's more of the same, but it's so we're not reinventing the wheel.
Really, it's data that we have in a database. And and then it's not showing it here, but with the various dropdowns. I mean, it's pretty logical. It's okay, I see this, I see we have, do you have 20 by 1.5 to 26 by 1.5. And if it's populated in our database, it will just be there as a drop down, you know, just like the bigger rating, configuring Soria. Gosh, we're just someone just gave an example of building. Oh, the hos, the Haas vertical mill. Yeah, you know, perfect example.
And that's where we will eventually go with this into building one from scratch. Not entirely sure how that's going to work yet. And then you can even do things like, well, this part mate with that part? I actually just thought about that. Now, that's a question we get regularly because sometimes stand one standard to the next. It's not apples to oranges, it's apples to oranges with you just put this on it now. Now it's apples to apples, you know?
So, again, we're just recreating the customer. There you go. Thank you, Andrew. Yeah, that's the that's a much better looking example, you can see what the actual, we've been thinking threads per inch, is pretty accurate in there. So it's just if I held the part up right in front of this, I mean, it's it's identical. So, again, not reinventing the wheel, but streamlining things, making it easier for customers. And then hey, there's the backend stuff as well that my guys really, really benefit from.
I mean, if I have to send this to a vendor, and we used to do that, hey, vendor, can you make this part and we give him a URL and they go, yeah, that's we need more information than that. They can actually download the solid model. And there we go. So now we don't have the 10 touch points of communication just to get them an idea of what we need. So again, I could go on and on and on.
39:21
And then the customer can download the data. Science to
Mike Rennie  39:27
Exactly, yep, yep. And it's that whole waiting process to find out about to have compatibility verified. All of those things. It's, it's instantaneous. And then you can even say it gives the layman a lot of a lot of power to solve their own problems. And that's when I say the whole pole style of sales, where we are in marketing, we call it the neg factor. You want to call it that.
But you'd have now end users specifically requesting brand names at the shop counter which is was certainly not normal in our industry unless you're talking about Hi and high pressure fittings and stuff like that. Yeah. But yeah, so it helps us push our brand as well. Again, I could go on and on.
Curt Anderson  40:08
But this is absolutely phenomenal. I know we've got a few gals here today, she jumped up comment and data and digital, very powerful and manufacturing. Nicole asks a great question and to answer this, how does this impact site? How does this impact site speed on the website?
Andrew Hood  40:27
How's that? Yeah, yeah, I'm gonna go to the stop, share for a moment and answer the question here. Yeah, I doesn't doesn't slow it down. Right, doesn't get in the way. Right. So we've had this question, actually, with another prospective customer, looking at this, like it's PageSpeed Insights from Google. And I guess the report from that changes every other day. So like, director of marketing was looking at that tool, and you know, on our website doesn't really affect us.
Depends on how you call it up. We get into week there, but really, it's starting to slow you down. Right? It's, it's all about customer experience. And what we see as a result of people using this, these configurators is time on page goes up. They're spending more time on your website. They're spending, you know, they're getting more involved getting to the actual SKU. And when it comes back to your, you know, to the the the ordering process, they know exactly what to buy, right, because they expect it. Yeah,
Curt Anderson  41:18
absolutely. And I think, man, we got some more Jamin says it should not have an impact, and we're cosmetic threads become a reality. It's a huge advancement for CAD. So you know, Mike, I love what you said about you know, hey, how do you convert those weaknesses? You know, a weakness is nothing more than an opportunity, right?
Or just, you know, I let it love what you guys are doing and how you're embracing this technology. So let's talk about what you're doing exactly at Mack trailer. So you've reduced the parts dramatically. Andrew, anything else? I know, I want to be mindful of time here. Anything else that you want to chime in? Or Zack, anything that you want to chime in on what your what you're super excited about what cadenas has done for you to help you become more competitive?
Zach Kennedy  42:02
Yeah, I don't know, if you want to take the lead. Here, Andrew or I can do as many.
Andrew Hood  42:06
Yeah, I was just gonna say I'm gonna show some more examples here at the tail end. Different examples, but go ahead. So I'm excited Zack, so you guys using our solution within Teamcenter. But they'll let you kind of add your two cents.
Zach Kennedy  42:19
Yeah, we're in the migration process right now moving all our existing data into Teamcenter. So we're, I think it's gonna kind of blow our engineers minds when when not only the AV team center, but they're gonna have this tool that also provides them with so much visibility into what's out there. And it's gonna reduce their workload on a daily basis, being able to find like parts.
Right now, as you know, we talked about, there's a lot of manual work that goes into into engineering, that doesn't have to be a manual. The engineers now because we have such a huge database on offense, then, you know, hours out of their day looking for parts before they decide to draft a new one.
And in some of the functionality at afford solutions allows you to use tolerances to find like parts. So you could say something that's, you know, within 80%, the same and or they could be drafting something up at a very basic level, and they can start finding things that are similar to that without having to put all that effort in. So it really is going to benefit not only are engineers but all the downstream stuff that comes out of making those processes more efficient. But yeah, I don't know if Andrew had anything else there.
Andrew Hood  43:49
I just a quick stat that I see exactly. If you could confirm this, if I'm off base, but we see that if engineers can't find a park. You know, what was my interview here real quick. But one of us somebody can't find a part within the first five minutes, the engineer will recreate it right.
So our goal is to keep engineers from doing that, right? So show them what's already out there without having to actually find it themselves. Our CEO just shared a post today of Juergen heimbach of our live search, right, we can see within SolidWorks. David mentioned SolidWorks, you can see the actual parts are already designed. But actually if they happen, we don't actually have to hit any buttons just shows up the bottom of the screen. There it is, as you're designing. So I'm excited about that savings for you.
44:31
Then you year right. That's prolific in any company. If you've got designers if they can't find something similar, they're just going to start drawing because they know it's easier and faster to get that done because they want to be efficient. They're just going to design something new and go
Curt Anderson  44:45
hey, Damon, I think you've got some some static or something coming from your your microphone seems off but anyway, so we've got some great comments on here. I think there was a couple of comments we got Mike Franz is dropped a couple of comments is matter of fact Mike you should connect with Andrew. He He's got a really exciting new program, new company coming out. So Andrew, I'd love for you and Mike Franza connect, guys keep an eye on the chat box here.
So I, I'm gonna, we're gonna start winding down. I know we can talk all day. I want to Andrew, I want one last question that I want to throw at you. And then we'll we'll start winding down configurators. So for somebody out there for manufacturer, demon universe, and like, you know, we feel strongly like we're very biased. Anything can be configurator. Talk a little bit about like the conflict, like what are some exciting companies industries? What are some configurating opportunities that you feel that are out there?
Andrew Hood  45:36
There's a bunch. I mean, do you mind if I show you three quick examples, Kurt? Yeah. Live. So let me go ahead and reorganize my screen here real quick. And I will show you some examples. So yeah, and if you can mute with while I'm presenting, I guess we can be referring questions. I'm also hearing feedback as well. But that's all good. Okay, so All right. So I've got some examples here. Let me hit Share. All right, can you guys see my screen now? Yep. Okay, so this is a great use is a great example of a current client, customer and current, I can talk more about other ones that could be in the future for us.
But these guys do a great job of explaining that they have CAD available, right. So they've got multiple places we can find their products, their CAD information, their main page, they have a button that says 3d CAD library, you click on that button, it takes you right to their library all want spots, which we support them with. And I'll show you an example of that here.
And so here's like a rocker switch, you might see on some electronic kind of components, I can select that particular series. And now I've got a 3d preview of my rocker switch, right. So here's a finish, this is a published live example, right? And I can see up I'm gonna change the color of this switch from red to green. And I'm good to go. Right, I'm done. There's my my camera rendering here, I can download or PDF download, right? So that's an example of a finished example there. Another one real quick, is a Castro company.
So you wouldn't think of Castro is configured, configurable, very simple kind of components, you might think of him like a test cart, or if he had a food stand or whatever, right? Can you figure this item, change the size, I got a new preview here on the right, I get new options, I can even add like a slide Blake break or no break at all, to the caster wheel by partner gets up to date. And then if I in this case, I can log in and then download the parks.
When you can log in and create that information. It helps the manufacturer know who to who to reach out to to follow up with make sure those customers satisfied with that particular product design. And they can go in and go from there. Right as we start off with some things as simple as this, like as simple as a PDF catalog, somebody gives us something like this with a simple little 2d drawing on the top right.
And then that gives us the ability to create a catalog for them. Right. So if I click on the example of a PDF, I can also get PDF, which we've seen this format grow the most in the past five years. We have all the different CAD formats out there step SolidWorks, SolidEdge, creo inventor, all different major CAD formats, but most popular one isn't was PDF, because not not everybody has a CAD system today, right? You've got people in procurement or purchasing, the need to access view the item.
And then here's an example of a 3d preview of that caster wheel inside of my PDF document. Right, so this is a programmatic PDF document of this particular part number, right, so I've got a part number, I've got a description of the part, I scroll down, I'm gonna automatically create a 2d drawing as well, and the PDF document. So all of this is shareable across the entire lifecycle of the OEM buying these parts. And it's not just locked down to just CAD users.
Curt Anderson  48:52
Man, I tell you that a, Damon, I think you're getting like something maybe something's with your microphone or something. Seems like something's going on there. But anyway, Andrew, that was super powerful. That is absolutely awesome.
So guys, anybody out there in you know, everything's configured, configurable. And what we love talking about is like, how do you create that digital self service experience? You know, what we'd love to talk about is, you know, for the ideal buyer, they need to make a buying decision on a Friday night at midnight. How do you help them so they don't have to wait for you to open up your doors on a Monday morning.
So Zach, as we wind down, let me come back to you. So first off, I want to thank everybody on this panel for taking I know you guys are super busy. Thank you for joining us today. But Zack, let's close things out. What I love to hear is how do you embrace a culture? And how do you create a culture of embracing technology and really conquering this challenge that you face? Talk a little bit about that culture at Mack trailers. We close out are you on mute?
Zach Kennedy  49:56
Yep, I was on mute. So So Uh, I think we're gonna make trailer makes it easy, you know, we have a pretty innovative approach to things, we try to kind of stay ahead of the curve as much as we can. I think that's what made us successful. You know, we're always willing to try new stuff.
And I think that's a, I don't know, if you've ever heard the mantra, you know, fail fast, when big, you're not gonna, you're not gonna find out if something works unless you're trying it. So, you know, there's always calculated risks and what you're looking at, but when you have a problem, and you're kind of in a rock and a hard place, you start looking out there, and you get creative.
And that's how a lot of the best things happen, I think, and I think it's always important. You know, especially for ITV teams, it's, you know, that's my realm is, you know, don't back down from a challenge, be ready for something new, because you're often going to learn things while you're doing it that are going to help you in other areas, and you just gotta, you just gotta keep, keep your nose to the grindstone, keep moving forward. And don't fret over the failures that you have. Because hopefully, they've all been a learning experience.
Curt Anderson  51:10
wonderful learning experiences. I agree. 100%, Mike Rennie my friend, talk about like you have, you've created a culture of embracing that technology company has been around for decades. How do you know for a small manufacturer out there? How do you create that, that culture of adapting change? We want to stay away from that this is how we've always done it. How do you create that environment at your company?
Mike Rennie  51:32
Honestly, I go back to the you know, the pride everyone has here as a manufacturer. And yes, we only manufacture about 30% of our product by volume. But it's the real specialized stuff. And it's the things that get people really excited.
And I think they see my excitement to when I when I go and see a manufactured part. That's that's come in, and we get to see it and touch it finally, like it's, it's quite honestly, guys, it's a major passion. And if that rubs off on other people great because I have other people here that are, are the same. I'm the guy who runs our customer service team in Mississauga is also our technical lead. And that was by design that was on purpose. Our engineer is the is the head honcho at our manufacturing facility and not a production manager.
And we and we did a lot on purpose. You know, we're a manufacturer first, maybe not by volume, but but certainly buy mentality. And that just gets everyone excited. And you know, we're not, we're not bringing in things and not to knock distributors, because we aren't, like I said, 70% of our items are in and out wholesaled you know, but it just it's it's not hard to instill passion in people when, when they're involved in something like this.
Curt Anderson  52:45
And you're coming at you with the same question. So even as a technology company, you're like, wow, of course, we're on the for forefront. But it can be very easy to become complacent. So I'm going to throw this question at you twofold. How do you your team create a culture that sense of urgency to stay on fire to keep create these wonderful competitive advantages for your clients? And secondly, any advice that you have for those small manufacturers on there to help continue embracing new technology to stay competitive?
Andrew Hood  53:13
Yeah, I think I think there's just a, as far as our team here at cadenas and that passion for manufacturing, I think we hire from experience, right we hire you know, even if we're not experienced, we give opportunities to learn that right. For example, last week, we went to tour Festo facility here in Mason, Ohio, right, the customer of ours globally, we got to see how they do their entire logistics and shipping.
And they had a big three tower three story level tower feed system, right for their stock, it was really quite something quite a sight to see. Right? Seeing that. So given our employees time, a chance to see and experience their suppliers, get in front of people go doors, you know, do a shop tour, see the facility. Actually, I haven't had a chance to see exact facility, I can go up there after the new year, and then get you know, from there, just what we've done in that going forward.
It's just continued to look at our customers listen to them, and their experiences, right. So you can pull the passion from that. So again, my I've learned for myself as a design engineer, what I did not like to do, right, I didn't necessarily like doing design work myself, but I like working with shops and getting manufacturing going and, and seeing the results they can see from the technology that's available to them, right.
So my background and sheetmetal. I can think of some other types of shops that could utilize these configurators. It can be as simple as three dropdowns, you know, three options, you get a visualization, and then your engineering group is no longer involved in creating drawings for anybody. It's all automatic. And so it can be really simple. I could just have a job shop where I'm doing laser cutting and straight break bending, and I can have automation on my website. That's simple. Yep.
Curt Anderson  54:49
I think it's just a matter of time before I don't even the smallest manufacturer will have some type of configurator. Before we close I want to we have a great question here from my team and I don't if you want to pull it up Yeah, I think Our superior posture. My thank you again, everybody. I know we're coming in time. Thank you. Thank you. Thank you for joining us for a great session.
We'd love to hear your thoughts and a couple of things. First one is design authority is the vendor. The design authority looks like a good example with a depots, fittings or international standards, the threads that are there. A lot of companies don't fully specify the hardware they're purchasing. Andrew or anybody on the stage. You want to take that question?
Andrew Hood  55:24
Yeah, I'll start off and I want Mike to kind of give his thoughts as well for that. You know, from our perspective at cadenas, we work with a lot of suppliers and manufacturers directly. You know, Mike mentioned some distribute distribution. The challenge you see with this with distributors is they don't have access to that CAD drawing per se. Right so they can't give you that that authority.
And senators organizations like ISO like Dan like antsy and Azmi have recommendations for different part types. And yes, you can say specification met, you know this one, this one this one, right. And we actually as an aside, we actually partnered with some of those standards bodies directly we will be partnering with as me and as AIA like the aerospace standards, and SAE standards directly with them to create online, 3d catalogs as part of our partnership with the s&p global, but a whole different category.
But when it comes to the thority, really, we were trying to work with the manufacturer directly, and we would just provide to the customer is a sales model form fit and function model, right? It's not somebody can manufacture from where you can spec it in your design and make the purchase. Good, Mike, if you add a few cents to that as well.
Mike Rennie  56:33
Yeah, and Andrew touched on fit, form and function. That's everything in our industry. So to answer your question, Mike, No, there's nothing proprietary about our threads at all. It's heavily standardized ISO and di n. So just to hold up a fitting up here, for example.
Thread one thread two heavily standardized, even the length of each thread, even the fourth root, the only thing that's not standardized here, and it causes all the problems is the hex with and one could deduce hex standard from the men on each side, as well as the length of the hex guess where all the problems happen? Well, this is why, and this is and this is a good thing for us. And where we organize all that chaos with now the solid models is because that that overall length gets adjusted by the hex length.
And then you have impedance or just restrictions. And it might be it might be just wrenching the part you might not have clearance to do it. So this is where we see a big advantage from this. And it's a big inherent problem in our industry is people just ordering by SKU, I need this this shape, this size, this size. And then you know, certain percentage of the time we'll get returns because it doesn't fit their their application. And that's almost always OEM. Yep. So, yeah.
Curt Anderson  58:05
I'm sorry, Mike. And what I absolutely love what you said earlier, it's everything. You know, we met this this hour just flew by, I can't believe but everything the whole thing today is make it as easy as humanly possible business with you, and you're going to win, you're going to be in business for it. You know, even you know, Matt trailer, like, you know, like you're saying, Zack, you know, we're relatively younger, that so almost 30 years, you're coming up on a 30 year anniversary.
It's decades of success by making it as easy as humanly possible to do business with you. And we've just saw a wonderful, powerful example of what's going on and adapt. And again, these solutions are just incredible. They're everywhere. The partnering align aligning yourself with a subject matter expert, trusted guides, like companies like cadenas, Andrew and his team can just put you in such a what a great example here.
We have Barney here today. Daymond. So Barney dropped a note. Hey, guys, been a while. So he's she's here today. So I'm going to close on this. We'll go rapid fire. Yep. I think there's a holiday next week. I think you're in the States. It's Thanksgiving. And so I'm gonna go around. Bonnie, you had a wonderful post dedicated to her father last night. So in the spirit of Thanksgiving, and our dear friend Bonnie here today.
I'm going to oppose our last question today on gratitude, Zach. So hey, first off, Zach, our gratitude to you, everybody. Let's give a round of applause for Zach today. Little Round of applause here. And so Zach, thank you for taking time out of your busy schedule to share with us all the exciting things going on in Mac trailer. What do you think for for what are you grateful for share a little bit of what's going on with you. And then Mike, I'm coming to you next.
Zach Kennedy  59:44
You know, I'm thankful for my health and seems like everyone here is healthy and doing well and you know, family obviously here because of my family you know, they drive me a lot but I'm also really thankful for the my team, you know, my team at work and you know, effort You know I've had and to be able to talk to you guys you know the successes I've had. So you know I got a lot to be thankful for this year as I do most years but I'm excited for the holiday season and thankful to be here so
Curt Anderson  1:00:17
that's awesome Zach and hey, we can't wait to have you back on because we want to see what new heights you guys are taking Matt trailers and this is just so awesome. Wonderful, great manufacturer here in well, nine states but here in Ohio might come into my friend what we're talking gratitude, thankfulness, what are you thankful for in your world? Yeah, absolutely.
Mike Rennie  1:00:36
And by the way, I wish all my American friends their happy Thanksgiving next week. We did have our Canadian one last month but no very thankful again for SEMA Zach thankful for family and our work family here as well. Anybody within our family knows there's been a couple of challenges with health and passings and stuff like that this year. So that's the kind of stuff that really hurts at the end of the day.
And I'm just I'm happy to be playing every day with people that I I have a ton of fun with. A lot of it's very satisfying. And that's it. I really have a lot to be thankful for. And I work with great people every day.
Curt Anderson  1:01:18
Well, thank you, man. And I'll tell you, I respect admiration for our manufacturers. Our manufacturers are truly the heroes of our economy, the backbone, just manufacturing, great products that you guys are shipping other places. Andrew, my friend, let's close it out. Gratitude. What are you thankful for my friend as we come into Thanksgiving next week?
Andrew Hood  1:01:38
Yeah, I'm just grateful for a lot of the same things, you know, family, faith, health, you know, a team I have behind me and a team and the team, I'd say we see in general and manufacturing, right. So the industry itself, it's very open to working with each other. I think we all see the greater macro challenges. And it kind of opens the door a little bit more to talk with each other. And so I'm grateful for all those things.
Curt Anderson  1:02:03
Well, that is awesome. So I want to close out with this. So Andrew on your LinkedIn profiles, somebody text us about Andrew, intently dedicated to the needs of others. And I think that's exactly what the program was about today. It's like we're just here just supporting each other helping each other obviously we're here to make a living. But man, just word an inspirational session.
This was so guys, thank you everybody in the chat box. Whitney, Mike Jamin. Bonnie, Whitney, Nicole, all of you guys that were here today. Diane Beier was here saw that Damon and bigger Tandberg Leno, Kelly was dropping all sorts of great information.
So guys, you want to please connect with Mike here on LinkedIn, you want to connect with our friend Zack Kennedy, you wanted to connect with Andrew hood, if you want to take this conversation further. They would love to geek out and take this. Take this in share their stories. And you know if you're out there, you're considering e commerce you're considering a configurator. Boy, you got three great experts here, you know, that are driving force in cars here today.
She's from she's our friends at a north. She's a Canadian here, Mike. So Gail is here today. She's a Canadian. So hey, this is just a great, great opportunity. So we're gonna close things out. I'm grateful for this panel discussion. I'm grateful for family faith, just like you said, Andrew, Damon, what a gift and blessing this was today.
So I'm going to be putting this party together. And I'll tell you the party they threw together at the industrial marketing summit in Cleveland. The guys that cadenas just really know how to take care of customers. They're dedicated to customer success. And you guys have just built that culture all around it. Our hat's off to you so Damon let's close it out my friend take it away. What are you thankful for today?
Damon Pistulka  1:03:43
All right, I switched microphones so it can eat no sound okay the now much better than before. You know I'm thankful to Seville to do what I do and hang out here and talk to people that are so smart listen to these people that are great manufacturers and Mac trailer and adapt all I tell them to get on get on both their websites is cool stuff. Play with the fitting stuff on our DAP is just really fun.
And grateful to be able to talk to these these talented people and ruin what cadenas partsolutions is doing you guys are you guys are changing, changing the game, changing the game because manufacturers when you make it easy for your customers to buy, you're gonna sell more, and you're gonna have happier customers.
So, you know, I'm just happy to be able to do what we do, Kurt every week when we're out here for the manufacturing economy says I don't know how the heck we get all these great people to talk to us. But we're gonna keep doing it until we aren't because you know what we do have we do actually on the second of December we've got a big a big milestone for us. It is episode 100
Curt Anderson  1:04:43
Oh, is it written for 100 while you're having fun and thank you and Andrew hood you know who our very first guest was was our mutual dear friend that one and only Jeff Long. So Jeff was our absolute first guest I was with Joe flaw when I met Andrew in Cleveland and so we're a dear friend.
He is a fierce advocate for manufacturers doing a great job with video. So, guys, thank you. Thank you wish everybody an amazing Happy Thanksgiving next week gaming. We're back live on Monday and we'll catch everybody have a wonderful, amazing weekend.
Damon Pistulka  1:05:17
Yeah. Good man to be back again. Bye
Schedule a call to discuss your business goals and answer your questions on growing business value, preparing for sale or selling your business.
Related content
These posts may also interest you
Partnering with IMEC for Manufacturing Success
If you want to get your long-term strategy tuned up, listen to this MFG eCommerce Success show to hear Dorie Clark share how long-game-strategic thinking can help you achieve monumental goals.
Driving Sales Growth with a Clear ROI
If you want to get your long-term strategy tuned up, listen to this MFG eCommerce Success show to hear Dorie Clark share how long-game-strategic thinking can help you achieve monumental goals.