Using Media Outlets to Grow Your Business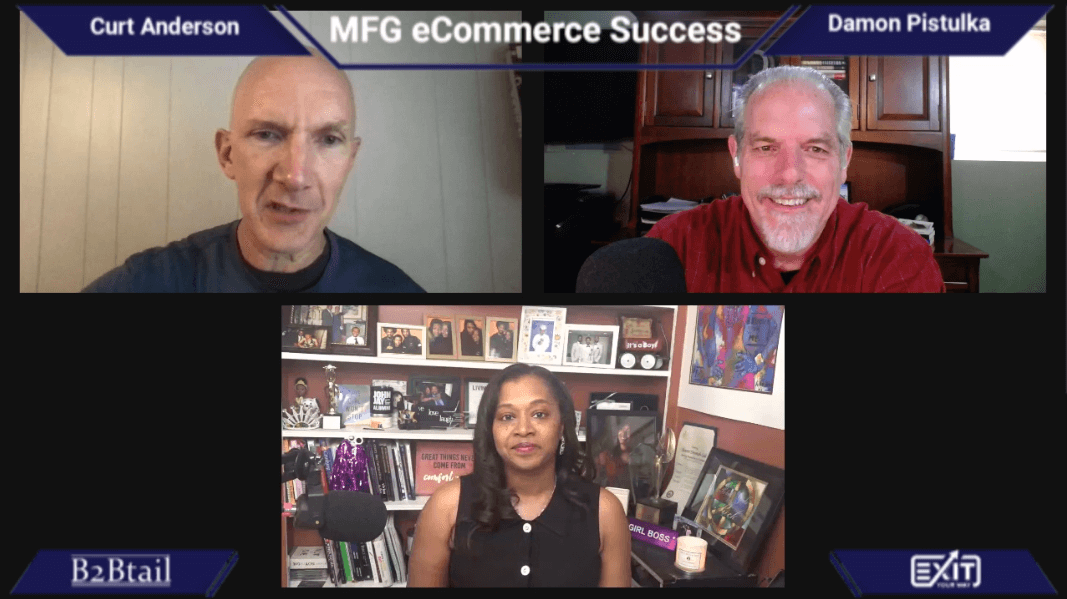 MFG eCommerce Success
Using Media Outlets to Grow Your Business
Should you consider local and/or national media outlets to grow your business profits?
In this MFG eCommerce Success Show we talk with Sharon Devonish Leid, MPA, Chief Executive Officer, NetStruc PR, about how getting featured in the right media outlets can help grow your business leads and profits.
Learn how getting featured by a media outlet might help your business grow!
Download our free business valuation guide here to understand more about business valuations and view our business valuation FAQs to answer the most common valuation questions.
Sharon shares a heartfelt story about her parents. She believes one must have faith. Her parents instilled in her faith when she was young. Similarly, she owes her success to her parents who made her believe that she could do anything she wanted. Moreover, she admits that she is assertive. But it's necessary to grow professionally.
Sharon, through her career journey, shows a great deal of faith. No matter what we do and what our background is, we can always start anew. We can always be successful. All we need is to start. With determination, things always get better. As a PR coach, she realized that small businesses do not have the capacity that large city agencies enjoy. For brand exposure, we have to understand the power of the media and the right strategy.
She explains that it's important that whatever we do, we need to have a side hustle, from which we may generate a steady income without fearing to get laid off. She also set up a free webinar to tell entrepreneurs who did not know how to position themselves as newsworthy. In this regard, her famous quote goes, "So if you're not a cheerleader for your own business, something is wrong." We need to have that passion that we enjoy our work. She goes on to say that it's not about the story but about how the story is told. It's not about business; it's how we connect with the customer. It's not about us; it's the audience. When relating to the media for results, one has to be patient.
Do you want to know if your business is ready for your exit or what you should do to prepare? Learn this and more with our business exit assessment here.
For your business to grow, you need a media or journalist to reach your audience effectively. The manufacturers or entrepreneurs are introverts, so it's taking them out slightly into sharing. She asks entrepreneurs to start with a red apple, a unique item that stands out.
To be successful, one needs to learn the art of messaging. Sharon has the skill to write relatable messages for the people to see. She works out for platforms where her clients can connect with their audience and send their messages.
Sharon does not put someone up on the national platform if they don't have interview skills. She first provides PR coaching and training. Usually, she starts local, in a backyard. She deals with networking events and speaking engagements until one is articulate enough to appear on the national media. So, she uses different techniques to build up brand exposure and just doesn't rely only on the media.
Get the most value for your business by understanding the process and preparing for the sale with information here on our Selling a Business page.
She formed her network through networking events, which is not difficult and people can benefit from it. She became the go-to person because she had key plugins. She suggests that if one is really into entrepreneurship, they should be confident and go out to follow their dreams and be passionate about what they do. She is so proud of women who are working hard in every field.
47:31
SUMMARY KEYWORDS
sharon, people, clients, business, media, criminal justice, damon, pr, webinar, networking event, biggest cheerleader, husband, working, talk, organizations, women, person, position, side hustle, deal
SPEAKERS
Damon Pistulka, Sharon Devonish Leid, Curt Anderson
Damon Pistulka  00:07
All right, everyone, welcome once again, it's Friday. It's the manufacturing ecommerce success Show. I'm your co host, Damon Pistulka. And I am happy to be here today with our other co host. Kurt Andersen. Hey,
Curt Anderson  00:24
man. Hey, how about this handsome guy over here? So Damon Pistulka So exit your way in Seattle, Washington. So Damon, happy Friday, my friend. Happy Friday. Everybody out there. Welcome to Manufacturing ecommerce success. Damon, you know we have this little tagline this little goofy saying, Stop being the best kept secret. Well, guess what, dude, we brought on like the perfect. The doctor of stop being the best kept secret. Yes. This person over here we have Sharon in the house. Sharon. Happy Friday, my friend. How are you?
Sharon Devonish Leid  00:56
Happy Friday, Kirk, happy Friday. Damien. Thank you so much for having me. I appreciate it.
Curt Anderson  01:01
This is so I'd say I'm just giddy right now. I am so excited. I've been looking forward to this for ages. Dan Biggers in the house. He's saying, Oh, he's having technical difficulties. Guys, drop a note. Let us know that you're with us drop. Sharon, a big hello. You guys want to connect with Sharon. She's an absolute Rockstar. She's a CEO of net struck PR. Wonderful PR firm. You are a media strategist, Sharon. So just what is a media strategist? Just give a little background and then we're going to take a deep dive in all about you today.
Sharon Devonish Leid  01:31
So when people talk about a media strategist or publicity strategist, you think about, you know, how is it that you could position somebody to build out their brand exposure through media techniques, and I say techniques, because it's not only just interviews, it's also this platform, which you have here, which is online social media. You know, it's also talking about you getting out to other platforms, networking, speaking engagements. So those are the things of what a strategist does. You look at different techniques, and then you implement it so that person can maximize on their rent exposure.
Curt Anderson  02:08
Oh, this is so good. So Sharon. So we were just talking before we went live, you and I connected at a virtual hands down a best virtual party into the holiday party back during COVID. And so you and I connected had Boy, that was a great party. So I've been a huge fan following you for lunch, who you absolutely want to sign up for her newsletter. Now, Sharon, when folks take a look at your LinkedIn profile.
So Damon, I we do LinkedIn trainings for folks, I found a new profile that I'm going to be featuring during our LinkedIn training yours. If you go to auction, you have an absolute incredible about section on your LinkedIn profile. So I have a question for you. Right. When you were a little girl growing up? Who was your hero?
Sharon Devonish Leid  02:56
I'll be honest, that was my parents. Man.
Curt Anderson  02:59
I tell you, you have one of the most amazing, heartfelt about sections. Damon? Yeah, have to read it. So Sharon, let's go there. Please talk about your folks who why were they your heroes growing up and please enlighten everybody on what's going on when you were a little girl growing up.
Sharon Devonish Leid  03:13
So my parents actually migrated to the United States. They're from South America, Guyana. And they migrated here when they were in their late teens. So they were 1920. And they didn't they only knew my uncle who was here and, and a cousin. And as my parents grew, they got married at 21. And they literally built a family. I have two other brothers, I have a younger brother and I have an older brother. So I'm the middle. I'm the middle child. I'm the only girl. And I just saw my parents instill in us, you know, respect, instill in us that you can do anything that you want, regardless of what your situation is. You can do anything that you want. And my parents put they put faith first.
So they will like anything that you do. You have to make sure that you have that strong faith and you will get what is coming to you. So as I'm growing up, my put both my parents worked for the city of New York and I'm in New York. So hello to any New Yorkers. They both work for the city of New York, they both were in management positions. Again, you're talking about somebody who came who migrated from South America. And they did not have that. They were you know, they finish high school in Guyana. They came here got their degree here in the United States in New York.
And they just pushed and pushed and I saw their hustle didn't really understand it until I got older and I saw the hustle and I appreciated it. But I saw the hustle. I saw the seriousness. I saw what they instilled and they kept the family together. And that's what I started doing for myself. And with my family. I said to myself, I don't want to just settle for working for someone I and I, and if I am working for someone, I wanted to be in a management position. And so I worked toward that. And that was the mentality that I always had my confidence level.
As you guys can see, I have a top notch top confidence level, I was having a conversation with my husband earlier today. And he says, you know, you're very assertive. And I was like, well, you married me. So you knew what you were getting into. So I'm sorry, if you are now 27 years later. Plus two years later, yeah, sorry, that you're taking offense to but my assertiveness comes off in terms of confidence. And if I'm talking to you, that means I believe in you. So my assertiveness comes off kind of like oh my god, you know, like, like, it's because what I see in you, you don't see it yourself. And that's how my parents instilled in us as well.
Damon Pistulka  05:52
That's awesome.
Curt Anderson  05:54
That's awesome. So again, guys, you have to connect with Sharon and I love that you have right on there you have three handsome sons and married for 27 years. And just that what an inspiring story. So thank you for sharing that. I absolutely love that. So now my next question for you, Sharon. Okay. Somebody goes to college, just to say I'm going to put out a hypothetical. Okay. I'm asking for a friend. If they go to John Jay College for criminal justice. What how does that translate into becoming like a PR powerhouse? Like yourself? Can you please walk us through that criminal justice journey to being a PR powerhouse?
Sharon Devonish Leid  06:30
So obviously, that's not what I was looking at when I decided to go to John Jay. So real story, I initially did not want to start out in law enforcement. I wanted to be a pediatrician. But the one thing when you go into medicine, that you have to be that you have to have a stomach to see blood. I don't have that. So that would have been a criteria that would have literally bounced, you know, took me off the table for me to go into medicine.
So I look to something else. Now my mom was a manager, she was a supervisor in the prosecutor's office in Brooklyn, New York. And, you know, I, I, I would go to her job, I would see what she would do. She was in courts. She was doing all these things.
So that was fascinating to me. So I wanted to be a lawyer. So I went to John Jay College of Criminal Justice, I did my internship at the prosecutor's office, I was just living my life. I was doing events at the college, I was, you know, part of organizations. I was doing everything. And you know, long story short, I got my bachelor's in criminal justice, I got a job at the DHS office. And I'm moving on and I'm moving on. And then I got promoted to management. So I was actually managing the community relations, public relations department for the borough.
So I was like, oh, you know what, let me go back to John Jay, get my Master's in Public Administration, because they fit in, I'm still dealing with, you know, with criminal justice, I still got the background in law enforcement. But I wanted the degree to match. And I did that, and I'm working. And I'm like, on, I'm on cloud nine. At this point I'm doing I'm helping the community. I'm working with the police. I'm helping people that really just did not know about the programs, because at that time, that DA Jo Heinz, he had some great programs for people who just made mistakes.
And he understood second chances, third chances, because people just you know, sometimes people just make mistakes. And it wasn't on. So again, what made me decide to go into PR, was because I was doing it already working for the city of New York. And it was just a different, it was just a different industry. And when I got laid off, it was oh, shoot, what am I going to do? And it wasn't that I was gonna go look for another job, because honestly, I did. And the position I had, the answer was, I don't know if I can afford you.
So if I'm keep getting that answer, I don't know if I can afford you. But I want to pick your brain. I was like, I need to do something that is going to make me say to myself that I'm actually going to get what I'm worth but paid what I'm worth. So I decided to start my own law, my own PR firm. And that led me to understand that small businesses don't really have the capacity of what large city agencies have, what their large competitors have to really understand the power of media and the power of strategy to get their brand exposure.
So that's why I decided to go into PR because one I love it too as you can see I love to talk and so if I'm talking too much, you guys got to tell me like okay Sharon, slow down. Perfect. This is but you know, that was the reason why I went into that because, you know, when I got laid off my husband has his own IT company and I tried to market that and I did it, you know, because at the end of the day, when you get laid off, and no one is hiring you, you got to learn how to bring in that income.
So I was getting the clients, but I'm not an IT person, like my husband sets up my whole computer stuff, you know, because he's it. So I'm not that person. And I hated it. I hated it so much, but I brought the clients in, my husband would have his team remote in, I'm sitting at our client's office, just watching them remote on the computer. And I'm talking with the client, like, hey, like, Do you have any events that you want to promote? Do you, I'm literally doing what I saw what I was picked out to do. And one day, one of our clients had a grant wanted to do a grand opening for his new location.
And I did the whole entire thing for free. Because he was already our IT client. And when my husband saw what I did, he said, You are not doing it anymore. You are doing whatever this is I know what it was. You said, you are doing this. And that was the official launch. Minister of PR, because he was like, No, we're not doing this anymore. He said, Look what you just did, like I had media, the ribbon cutting, I had everything. And that was that that was that was the stop of me for promoting it. And the start of public relations.
Curt Anderson  11:23
Man, you know, man, there's so much to unpack. We have a ton to cover and I can't move forward just now. Okay. So much to unpack right there, Sharon. So I grew up mom and dad heroes.
And if I'm not mistaken in your about section, you talked about dead side, hustle, entrepreneur, you know, your Gosh, you have a great story, trying to understand in a finally clicked like, Oh, now I understand what Dad's doing working during the day, entrepreneurship at night, laid off in 2013. You know, and again, this might be naive on my part, when you go into criminal justice, you know, you kind of think, you know, my wife's a school teacher, you know, hey, kind of, you know, civil servant, you know, stable, not gonna get laid off.
Just think if you don't get laid off, you know, Would you've ever taken that leap of faith to say, hey, you know what, I'm not gonna pursue this career that I've done. I went to college Masters. I'm doing great edit. If you didn't get laid off. My question would that diatribe is what take us. Let's take one step further at 2013. What did that feel like on that layoff? Scary, relieved? Were you happy? And then when you decided to take that plunge into entrepreneurship, for anybody out here in the crowd here today? That's, you know, like, gee, I'd like to take that plunge. Walk us through that. That emotional? Was it a roller coaster? Was it scary? What were you feeling right then? Yeah,
Sharon Devonish Leid  12:38
so you got to understand when I kind of saw the writing on the wall, so even when I was working, I was making six figures. I'm the Executive Director for this department and the DHS office. I had a side hustle. Now working for the city of New York, you cannot technically have a business unless you disclose it, because it has to be if it's a conflict of interest or anything to that extent. So with me, I was like, Well, how am I going to figure this out? I although I'm making good money, I still wanted to have my own side hustle again, my dad did it. So what I did was I was a network marketing company. I decided to build my business outside of New York.
There's no conflict of interest whatsoever. I was doing it after hours, I was doing it weekends, I was hitting the West, the west coast because you know, three hours ahead of us. So I was figuring out different things, and how I was going to build my own side hustle to bring my own income in. So when 2013 came, it was an election. So I worked for elected official. Oh, it was a nasty election. Nasty. It was one of the worst elections I have ever and I worked in a couple. It was one of the worst elections. And we saw the writing on the wall, me and my team, we saw the writing on the wall.
And when to it I kid you not it was two weeks before Christmas, in 2013. I got the notification that my services will no longer be needed. And come January won't December 31. I had to have office that you're talking about 18 years in my in that in that organization. I had to have in two weeks, I had to have my office cleaned out. Wow. So I said it was kind of mixed, you know, because at first I was like, I'm not working for this man that I've worked for, for my entire career, who was a great person, to me. And to many people, his programs were amazing. And people just couldn't understand why I was let go.
And they would just be like, You know what, you know the community, you know exactly what this new administration is going to need in the community. But I was like they didn't see it that way. So I had to kind of have a different mindset change. In terms of that, I'm indispensable. And once I had that in my head, I said, Okay, you got to move forward now. So that last day was bittersweet, because I've just made so many friends, so many, you know, so many people that I've helped change their lives in that capacity. The one thing in my mind was, Will I ever be able to do that again?
And that was something that was missing with me each time, like, Will I ever be able to put a smile on a mother's face, whose son made a mistake, and we put him in a program, and now he's doing excellent has a family and things like that, but I ever have an opportunity to help families out like that. But I ever have an opportunity to bring assistant DHS out to talk about criminal justice things for seniors to watch out to make sure that they're not victims, would I ever have that opportunity, and that was what was messing with me. And it wasn't until when I you know, and again, I had great connections.
So I still kind of kept my toe in the, you know, in the areas of where my connections were just to stay involved. But I wasn't in that position to make that those decisions. So wasn't it. So when I became got my job, got my business, I decided to deal with small businesses and do community based things that I will be able to tap into the DHS office, the other organizations, because if people know about if you don't know about it, then you're not going to be able to utilize the services.
So I still was able to put myself in a position where I may not be able to make the decision, but I could connect you to somebody who can. So that was the void that I was filling with this position. So I still because of my Criminal Justice background, I always stuck with my law enforcement family, I always stuck with other organizations. And I tell people don't think if the, if your background is a particular industry, don't think that you can't go outside of and be a consultant within that background.
Don't think you can't be a coach within that background, or open up your own business within that background, because you're even more marketable than someone who does not have that background. And that's what I talk to people about like, Don't negate the fact that you have that background. Don't think that you don't you can't use it anymore. But it didn't put it in a position where because you have it you have the experience, you're much more marketable that people will want to deal with you more, because you have that knowledge.
Curt Anderson  17:34
This is so I want to give a shout out we have friends in the chat box. So again, guys, you know, let us know that you're out there job sharing a hello, please connect with Sharon on LinkedIn. Dan and Jenn biglietto, from UB tests are here today. Our good buddy Mike is in the house today. We've got guys, thank you again, drop, drop sharing a note here, sharing let's Alright, so let's dig into your superpowers your expertise in PR.
Okay, so you are a powerhouse here. Now, before we dig in, you have a free webinar coming up. And I want to talk about that. So on June 8 At seven o'clock Eastern time, if I'm not mistaken. So let's, let's talk about that webinar. And then I'm going to slide right in how you execute how you work with your clients. How do you help them stop being that best kept secret? So tell us a little bit about this free webinar that's coming up.
Sharon Devonish Leid  18:20
So I decided to do this free webinar, actually, during the pandemic, you know, everything shut down. I'm a face to face person. I'm a hugger. I know I want to see people face to face. So I picked up a coach. And because I was like this is all new to me. I don't know what I'm doing. And she was like, Sharon, with the knowledge and information that you have set up these webinars. And so I was like, Okay, fine.
Set up the webinar, what I realized was that the reason why I set these up is because so many businesses, so many entrepreneurs, as I mentioned before, do not know how to position themselves to be newsworthy. And everybody, if you are not your own cheerleader for your business, something is wrong. So I get it, you got to be like, Listen, I'm the best business out here. However, you may think that but does that journalist think that way. So what I do is and what you what people will learn in this webinar in all my webinars is how to identify yourself to be newsworthy, what actually is newsworthy, and how really to understand how to tell your story, because it's all about storytelling.
It's not selling your business. It's not telling how much of a discount you can get. It is that storyline so people can be related to you. And that's what I'll be talking about with individuals who joined this webinar to show them that this is what the media looks for. It's not about you. It's about their audience. And sometimes you have to get off that ego trip and you have to step back because we don't usually see that until it's second or third Third Party shows it to you.
So that's what I want entrepreneurs to really see is that I have a great product, of course, I got a great product or service. However, how can I position it, that a journalist will see this, hear me see this and want to interview me, because that is what their audience can relate to. So that's what they're gonna get out of that. And then they're gonna get some tips, they're also gonna get some of my little secret tips, and what I use for, you know, connecting with the media.
And you know, I always tell people, patience is a virtue. If you are not patient, when you are dealing with the media, then you might as well Don't even start, don't even purchase, because I've had somebody I worked with someone for an entire year. And contract was over. And the following year, the main media outlet that they wanted, contacted me and said, Remember that person that you pitched to us a year ago? Well, we want to interview them now. Yeah. And it was patient. It was literally just being patient.
Curt Anderson  21:05
Yeah. That's awesome. So again, guys, you're gonna sliver today of some incredible opportunity. Damon, we got some
Damon Pistulka  21:12
was it? I mean, you said one thing, it that that really, we need to know as, as business, people trying to connect with the media that I mean, they get, they make their money, they stay in business, they their thing is connecting with their audience. It's not about our business. It's about you know, something that interests our audience enough to read, listen, whatever you're trying to do, and you're helping people translate. You know, I do this into my story is this and this is interesting, and why people should do it. That's really cool. That's really
Sharon Devonish Leid  21:44
cool. Yeah, because if you don't, here's the thing. Again, if you're not your biggest cheerleader, something is wrong. So we take that excitement of you saying, This is what I do. And I enjoy it. This is my passion. And now we change that into we transition that into Okay, who is your listening audience, you know, who is your particular audience? Now, let's identify a media or journalist that actually has that audience. And now we have to think like that journalists, the journalists think, okay, you know what, it's not about this, but it's this it's looking at different angles. And that's when we talk about when I work with when I work with businesses, yeah,
Curt Anderson  22:21
that's cool. I love this and so I will slide right into so again, you guys are you're just getting a sliver of your Sharon's expertise, her passion, her energy. This is just so man, this is awesome. So let's dive right in. So we speak to I was gonna say we sing we don't sing. But we did sing the demon verse birthday. We could say no, we sang last Friday. Do you remember want to hear
Sharon Devonish Leid  22:41
me? Amen. So let's not even go there. We won't sing. Lip singing is not one of them.
Curt Anderson  22:46
You won't, we won't sing. So let's slide into part of the webinars. So we speak to we preach to manufacturers. So there's all sorts of opportunities. So manufacturer might be out there saying, you know, hey, you know what's PR for me? There's bloggers, we might talk about press releases today, you can get on podcasts, you can get on LinkedIn lives you can get on Damon's face as a business. So it's not just major media, but I absolutely love the direction that you're going here. statement that I might probably my biggest takeaway today is going to be you've got to be your biggest cheerleader. Nobody's going to be cheering for you, that is so powerful.
And so many of our manufacturers are introverts. They're little, you know, they're humble, modest, God bless them. It's taking them out of their comfort zone, slight into sharing, I don't know if you've seen like over, you know, gosh, nine years now, right, that you've been racking up for your clients, you see a common challenge, a common resistance, a common hurdle, or are they all over the place? Like what are some common challenges that you help your clients overcome to get into that PR game?
Sharon Devonish Leid  23:46
So the main, the main common one is understanding their messaging. Okay. Yeah. So when we sit down, we do this assessment. And, and I tell them, I was like, tell me what your unique items are, you know, your I call them red apples. You know, you're in a, you're in a barrel with green apples.
What is your red apples? Yep. What stands out? And then they, you know, they run down. Oh, you know, I was, you know, a single child, I was a, you know, only child. And, you know, I was instilled with great, you know, with this great, you know, attitude that, you know, I should just go forward and, okay, that's great. People love that. That's great. I said, but that's not news. That's not newsworthy. Yeah. What is newsworthy. And I talked about this one particular client, and I know he won't mind me mentioning his story, but he's a retired homicide detective.
And, you know, he had that type in him that he wanted to help young people. So every time he went on a scene, he saw, you know, it was a he was homicide. So it was always someone that was that had passed away. And he saw it. It was one particular day that it was, you know, a gang rival. One of the kids was on the ground. And he saw one of his, you know, friends, and the guy was just standing in there questioning him. And the guy was like, you know, and, you know, he felt like there was a connection, but he couldn't do it because of the position that he was in.
So when he retired, he decided to set up his own consulting and own program for young people to change their mindset from that type of lifestyle, but they can actually do great things. So when we started, he told me though, you know, this is what I was doing, and this and that, and whatever. And I was like, and when he told me that story, I said, that's part of your messaging. I said, because people will relate, people will think and say, I need to utilize your services, because you have that passion in you to help this young person out. Because you saw it.
And then the next time he went to the homicide that went to another homicide, it was that same kid that he was talking to, that was on the ground. So he was, you know, and that stuck with him. And I said, I told him, I said, Listen, that is something that stuck with you, it would stick with other people. And that's what drove you to become this consultant to become this coach for young people to go out there and change their mindsets that they don't have to live this gang life, they actually can change their life. And he again, he wasn't in that position to put them in different, different places.
Now he is, and he has the connections with law enforcement, that if a cop does come through and say, You know what, this kid that I saw that I think he can deal with your services, he's able to jump right in. So it's the messaging that's misconstrued that I actually have them pull out to be relatable for people to actually see. So that's always the first thing that I see when with every single client, every single person that I deal with, we always have that messaging dilemma, because your messaging is off.
And once you bring your messaging on point where it's for your target audience, and it's for the media platforms, and it's for speaking engagements, you know, that the individual, if you want to be a speaker, you know, those are all platforms that we work out, and your message always stays the same, the story could change, but the message always stays the same. So that's the main challenge of what I work with everyone. And once we get that under control, everything else starts moving along on a plateau.
Curt Anderson  27:32
Moment. Oh, man. Alright guys, it's like if it's lunchtime, where you're at, let's just kind of let's just take a moment just Avery. Yes. I could listen to you. That was so are such a captivating speaker. I'm like, I'm stumbling like just you know. So let's keep moving forward. Okay. big takeaways today be your biggest cheerleader. Another tool. I love. Gosh, guys, do please do me a favor.
I just dropped my pen. Do me a favor, hit the rewind button and just listen to what Sharon just said. One word? relatable. Right? Gosh, I love that. And so manufacturers you know, it's a little challenging. So you know, say you're in the people services business, you know that that story might be a little I'm gonna say easier. But boy, when you're selling parts, machinery, equipment, whatever.
Doesn't matter, though. You can you know, what's the story? Was there an inventor behind it? Who made who crafted that product? I love what you're saying. Let's go into some like different. Let's get a little tactical, if you will. Okay. We talked about like test pieces, blogs, you know, when you're working with your clients, Sharon. So you come in, you kind of diagnose you get that story out of them. Now, how do you approach that? How do you tackle it as far as like, where should they get that story? Where should they be putting their messaging?
Sharon Devonish Leid  28:44
Well, first of all, I already have my little and I call Rolodex and I don't know if that's, you know, that ages me or whatever. But I have a Rolodex.
Damon Pistulka  28:55
I use a word the other day and somebody didn't know what it was. Yeah, there
Sharon Devonish Leid  28:59
was a Rolodex, ya know, it's funny, I said Rolodex to my son, my son is 24 and he was like a Rolex and I was like, No. Like, I was like, You know what, forget it. Forget it. Yeah. So I actually have a list of media clump media contacts that I built great relationships with. So I go down the line to see okay, who does this client literally I can connect with that I can actually pitch to this journalist or to this you know, show to this executive producer that fits their clientele. So that's my first thought that I start working on then I tell them make a media hitless.
Once you make a media hitless, we can then identify Okay, once we start from here, and we always start local. I don't put somebody out on a national platform because especially if you don't have any type of interview skills, I'm not gonna put you on a national platform and then then you botch up now I always do a PR coaching and training with each one of my clients.
So you know, they're not going to botch up. But if you're not ready for a major platform, because sometimes they don't go according to talking points, so they just may go off of okay, what's going on national give us your opinion, give us this, you're not ready. So we always start local, he start in your backyard. And that's how we work, we start in the backyard. Now, I only don't just do media, I also do networking events. I'm like, give me a hit list of different organizations in your area, or online, that would fit your actual industry.
And so we deal with networking events, speaking engagements, once I feel confident that you can actually articulate and doing presentations, we're now going to line you up and doing some presentation, some speaking engagements. So you have to have a different, different techniques, and building out your brand exposure media is not always going to be the main one. So again, it takes a while for some media platforms to pick you up, you see prime example a whole year, and, you know, one of my clients got picked up. So until I get a media platforms say, hey, yes, I can, you know, this is a great fit.
I'm using other techniques. So it's on, you know, it's writing it, you know, so utilizing your social media, it's big, it's huge. That's where media goes to find their content. You know, speaking engagements, presentations, networking events, I'll tell them I said, if you are scared of networking, then you better get you better be unscared. Because any business that is scared to go and talk to other businesses, and just creating a relationship with someone, because you may not have that relationship with that particular person you're talking with, but they may know somebody who can utilize your services, if you're going to be scared to do that, then get out of business.
So you know, it's different techniques that what I use for them. So like I said, I tell people I said, when I come when I'm actually talking to you, and I'm having this conversation, and if I'd stop, that means I lost interest. So you know, just pretty much say, You know what, Shannon was not interested, she's not going to work with me. But if I continue talking, and I'm giving you these nuggets, and I'm saying listen, you have to do this, this is a good opportunity for you.
I love networking. I love going to networking events, because you meet so many different people you meet, you know, from all walks of life. I met someone in Hawaii. And I was just like, oh my gosh, like she's invited me. She was like Sherman, you have to come to Hawaii. I was like, well, now I am because I know somebody. But different techniques should always be used when you are building out your brand exposure, not just media because media is the longest one that would that will be able to pick you up.
Curt Anderson  32:49
Yeah. I'm totally losing track of time because this is just so good right now. All right. hitless. So like in each in each bucket, you're just dropping like a major bomb right there. So this past this when you rewind this, guys, and you read and you listen to Sharon, again on that one, come up with your hitless. So again, for our manufacturers out there, you know, local, you know, local media, boy, you shine a bright light on one of your employees, or maybe a new piece of machinery or new client or whatever. Yeah, hit the trade associations.
You know, it doesn't have to be major. So again, you know, we can take these in baby steps. I absolutely love what you're talking about here, share now. Sure. We've talked about your webinar, we've talked about your expertise, you have an incredible networking group that you found it right ladies of Thursday. Do I have that Greg, ladies? Nice, I want loved for please enlighten everybody, what has that done for you personally, what has it done for your business and talk about like the community that you've created by starting this group?
Sharon Devonish Leid  33:50
So I'll be honest with you, the reason why I started that is because when I got laid off, my whole network was city agencies, not for profits, law enforcement, they weren't really my target audience for my business. I had to create something, I went to a lot of networking events. And there was one particular networking event I always went to. And the guy always said, If you don't like how my network event is going, create your own.
And I said, Oh, I could do that. And so I got a couple of girlfriends, and I said, Hey, I'm looking to put this type of networking event together. We just want to connect, we just want to network, see how we could build ourselves out, see how we could do some business with each other. And I always did it at a small business restaurant in the community. So we were giving them on their slow night. We were giving them business. So one restaurant was like Hey, I would love to do that. You're gonna bring business in on my slowest night? Absolutely.
So I started it off the first night. It was on the third Thursday in 2015 ever forget it in February, and it was snowing. And I was like nobody come in I had 25 women show up 25 women showed up buying drinks, buying food networking. They introduced themselves, they walked away. And it was like I was like, oh, shoot, I got something here. So the next one, which was blade, which was Women's History Month, and when I worked for the DHS office, every March, we highlighted 31, community women, and we did an award for them and everything. And I loved that concept.
So I said, because we just started in February, that March, that was the concept of I wanted to do. So the following year, every third Thursday, we had a networking event, we met at restaurants, people were calling me saying, Hey, can you come to our restaurant to do your networking event. And like I said, it was literally because I needed to get a community, business people to actually that was looking to do business with other entrepreneurs. And that's how that started.
So the community grew and grew and grew. And then as I was going through it, I was realizing that some people didn't know how to network. Some people didn't know, you know, they didn't have a business plan, they had a business, they didn't have a business plan, they didn't have an EIN number, they didn't have a bank account. I was like, you can't do business like this. So I realized there was certain resources that we had to put in place for Oregon for businesses to actually really do serious business. And that was where we started going to, and then the pandemic hits. So we kind of went virtual, again, I'm not a virtual person. So we've done a lot of things in partnerships.
And I'm actually relaunching it back in June, because I've been dealing with a lot of the network. And they're just like, Sharon, I'm ready. I'm ready. There were people that wasn't ready. And I always say timing is everything. Yeah, you know, people are ready, people are ready to do serious business, people are ready to learn how to network, the people are just ready. And that was the whole purpose of me setting up ladies of Third Thursday, it was literally just from me to get a business, some business connections. And then it just grew into, you know, something massive, which I'm so excited about.
Curt Anderson  37:17
Which What did that do for your business?
Sharon Devonish Leid  37:20
You want to know something it did a lot for my business, because it put me on a plateau, where people saw me as the go to person, people saw me as that marketing person, because I was the marketing person for it, I was putting out any of our special events, I had the press there. And every event, one of my media partners would be at that event, and people will literally get an interview. So there were two, I had women that was part of my team. And one was one was a media. She did interviews. So she did all the interviews at the event.
I had someone else that did life insurance, and business insurance. So you know, I had key plugins that people need, it immediately had someone that did business plans. So all of this and then I added on attorneys. So it was all of these parts that I added on because I saw that it was missing from businesses. So we put my business in a position where people were like, I need to go to Sharon, because I need to build out my brand exposure, because that's what you were doing at my event, you were building out your brand exposure at that point.
Curt Anderson  38:26
You know, it's all about trust. And we have some great comments here. So Dan, bigger is, you know, one of the best networkers in the manufacturing world. So he knows us. But you know, so for folks that are shy, introverted, you know, that is challenging, you know, you know, Sharon, you're just such a captivating speaker and extrovert. And like your husband said, this morning, you're very assertive. So it comes naturally to you.
So for other folks, not so much. But look what it did for you, just to kind of recap that, you know, you took leadership, you've established trust, you brought business to people, you created a network, you became the go to so guys, if you're out there and like you're, you're new in a business, or what have you, you know, take charge, like Sharon did, she went to a networking event and a guy says, If you don't like it, start your own. And she did it.
You know, 25 people on the first night, that was seven years ago, and boy, God bless you what an absolute, what an inspiration you are. I'm going to cite into this and then we'll wind down because I am I am enjoying this. This is going to be so good. We preach a lot about women in manufacturing diversity and manufacturing.
Could you enlighten folks so see if there's manufacturers out there, and they're like you don't boy, how can I create a more dynamic diverse workplace, any tips, ideas, suggestions for manufacturers out there and how they could create a dynamic you know, get more women involved, create a more diverse workforce, any tips and suggestions for our crowd out there?
Sharon Devonish Leid  39:51
Well, I know definitely there are women organizations in every single industry. So like for instance construction, there is a female construction or organization start Googling, you know, female. You know, if it's, I don't know, give me an example of some of your of some
Damon Pistulka  40:09
great women, women in manufacturing is huge because
Curt Anderson  40:12
women are factoring. Yeah. There's women in molding manufacturing women. Yes. I've been seeing more and more. So you're spot on sharing apps.
Sharon Devonish Leid  40:21
Yes, there are women organizations, for every single industry. I came across a young lady, she has her own business, and all and it's in rubbish pickup. So she's in the garbage industry privately. Yeah. And she is the and her whole team are all women. All women, the women are out there, Google it, look, reach out to them, look for the different organizations or groups, Facebook, you have a host of them, all you got to do is just look into it.
And once you have an interest, you know, reach out to them and say, hey, you know what, I'm looking to have a conversation with you. I'm looking to bring on more women, I'm looking to bring on more quality businesses, you know, diverse businesses, to my organist to my business, and would you be open to having a conversation?
And that's the worst they can say is no, the best thing that they can say is absolutely, let's have a conversation, because who's going to turn down that opportunity? No one is going to turn down an opportunity. So definitely do your research. Tap into those groups tap into those organizations. You got some that are national and some that are local. And you know, if you get to the national one, that's a plus at that point, because once you get the national now you got all the chapters. Yeah,
Curt Anderson  41:42
that was. That was fantastic. Excellent advice, guys. All right, Sharon. So we'll wind down on this. So phenomenal, phenomenal conversation today. Great tips. Great suggestions, guys. relatable, get your hitlist together, right. Be your own biggest cheerleader. Absolutely love that. Boy, that was a game changer for this webinar on June 8 At seven o'clock Eastern time insured, can they go to your website? Where can they find the
Sharon Devonish Leid  42:09
web, they can actually go to my website, which is net struck pr.com. And that's an ET strucpr.com and you'll see the mastermind link and you just click on it and you can register and it's free.
Curt Anderson  42:24
Totally free, man. You want to get more of Sharon and hang on. I gotta get my screen back here. Okay, so I last question for your Sharon. Okay. Husband, 27 years 333 young men in your life. Three boys. My question to you is you this this man, you're like giving me chills. David, were you just getting chills? Like, this was just struck.
You're such a captivating speaker. So motivating, so inspirational, your life journey your folks, you know, your dad, being an entrepreneur when you're young, your transition from criminal justice into entrepreneurship, all the entrepreneurs that you help, so on and so forth. My question to you, who inspires you Who inspires you today to have this relentless drive? You're so innovative, creative, who's your inspiration?
Sharon Devonish Leid  43:10
I have to say, my kids, my kids. Yeah, I'm leaving a legacy for my son. So nice three sons. Our oldest son has my husband's, you know, trait. My middle son, that's, that's my twin, you know, he can talk get the personality of, you know, he could talk someone that's in the desert, that they can by sand. I mean, that's how charming he is. And then our last son, he has the combination of all three of us, but I'm looking to really build this out. And they're fascinating when they come to my events, because this is a family affair, like my husband is my videographer and photographer.
So you know, we're doing events, he's there, you know, so we bring all of them whether they're kicking, or whether they're happy, but awesome. They are my inspiration. Because when I see them at an event, and I'm doing an event, and they're standing there, and then I hear them talking to their friends about it, because a lot of their friends want to go into entrepreneurship, you know, both my daughter or two oldest have their own business. You know, when I see the, the sparkle in their eyes when they're like, you know, my mom does that, like you need to talk to my mom, like, I can't tell you everything what she does, but you need to talk to my mom.
And that drives me that really drives me my husband, you know, he sits there and he was like, I don't have half the network of what you have. You said, but I truly am, like, just so excited and just so happy. And he is like my biggest cheerleader. Like he will be in my corner when I'm just like, I'm done. I can't do this. And he's like, are you crazy? And then he'll bring up all the stuff in the past of the stuff that he's like, I don't even know how you did that. And you know and change it so my kids and my family. They are my inspiration. They are the ones that keeps me going
Curt Anderson  44:57
awesome. Definitely so and sharing your husband's name, please. Derrick. So hey, kudos to Derrick man is he has a soul. He's, he has one fortunate man. And, you know you mentioned your deep and faith. God bless you. Thank you for sharing your inspiration and your motivation with us today. Your energy, your expertise, rate strategies for our crowd here. Whether you're catching it live today or down the road, guys, please connect with Sharon on LinkedIn. Check out her website.
She has all sorts of incredible helpful information tips, you'll find videos, sign up for her newsletter. I'd say Sharon, I read your newsletter every time I learn something new. I find you so inspiring. You know iron sharpens iron guys. And when you hang out with somebody like Sharon, you just feel and want to do that much better. So we will wind down on the chair and thank you for sharing your time with us today. You are
Sharon Devonish Leid  45:54
much you guys are amazing. I love this. Thank you so much. I have fun. I was really happy,
Curt Anderson  46:00
man. How do we do this? Man? How do we get to hang out with my goodness gracious. So next week, we have a great interview on Monday. Damon's taken out work. They won't be here next Friday. So this is kind of Levi's. This was to wind down. So go out and spread your awesomeness with everybody you can this weekend. And so Damon. Take it away, dude.
Damon Pistulka  46:28
All right. Well, thanks, Kurt. Thanks so much, Sharon for being here. And man. Now I know who is going to help us get this guy show right over here on network television. It's going to be called simply Kurt. I love it. If you didn't look it up post today about this is simply Kurt. Just remember, hey, listen, that's gotta be the Romans. Right? But thanks. But seriously, folks, thanks for being here.
Thanks for showing up. We aren't going to be here next Friday. And yeah, but just have a good holiday next weekend and enjoy yourselves be safe, but we'll be back after that. Man. We got a guest on Monday. That's going to be awesome on Kurt. Again, we're just so blessed to be able to have awesome guests like Sharon commish they share their knowledge and passion and it's so great to hear and just appreciate you so much.
Sharon Devonish Leid  47:25
Thank you. Thank you. Yep. Hey, we have a good one.
Schedule a call to discuss your business goals and answer your questions on growing business value, preparing for sale or selling your business.
Related content
These posts may also interest you
Partnering with IMEC for Manufacturing Success
If you want to get your long-term strategy tuned up, listen to this MFG eCommerce Success show to hear Dorie Clark share how long-game-strategic thinking can help you achieve monumental goals.
Driving Sales Growth with a Clear ROI
If you want to get your long-term strategy tuned up, listen to this MFG eCommerce Success show to hear Dorie Clark share how long-game-strategic thinking can help you achieve monumental goals.