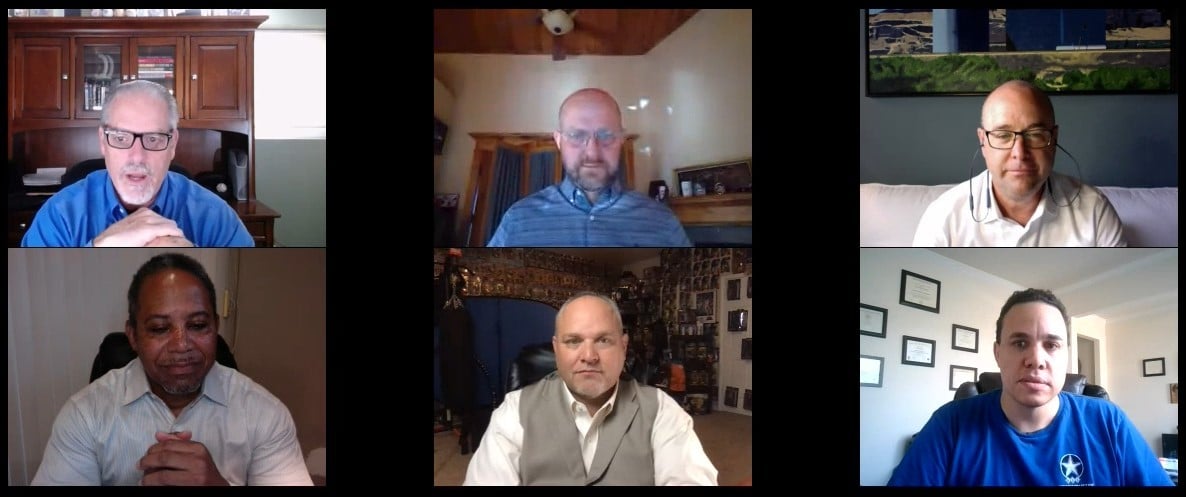 12 Jul

The Value Veterans Bring to Business
07/9/2020
This Business Round Table by Exit Your Way® topic was "The Value Veterans Bring to Business".  The panel featured Brian Arrington, Ron Higgs, Troy Niehaus, and Joseph Stepke.  The panel shared some of the basic principles in the military setting that directly translate to a business setting.  These principles like mission focus, can do attitude, flexibility, overcoming adversity, training, and dealing with change can directly help businesses.  The panel then shared some of their military experiences that helped to prepare them for the business world.
Brian Arrington also shared information on his Vets2Industry foundation that helps veterans make a successful transition to civilian employment by consolidating resources and providing assistance in helping veterans find the resources they need.  The Vets2Industry foundation is a great resource for veterans that need help with this transition.
Veterans have a lot to offer businesses.  If businesses understand how to utilize the skills developed in the military they can realize significant benefits.
Thanks to the panel for sharing their time and knowledge.
Thanks to the people who attended and who continue to support this group.  We all rise together!
Our Guests:
    Ron Higgs

Ron Higgs is a Fractional COO and management consultant with over 20 years' experience in Engineering Management, Operations Management, and Program Management in the Aerospace and Defense industry. Ron has worked in several industries from startups to large corporations and focuses on leadership, systems thinking, and process improvement to help companies achieve their financial goals.
Ron served in the US Navy as a Naval Flight Officer and a Program Management & Acquisition Professional. Ron flew combat missions from an aircraft carrier in Operation Desert Storm, served as a Program Manager for several Navy Research and Development Programs, and served as Spacecraft Manager for a DOD satellite system.  Ron is also a graduate of the US Naval Test Pilot School and has flown over 2500 hours in multiple aircraft types. He received numerous awards throughout his career for his leadership, accomplishments, and participation in major US military operations.
Ron is a graduate of the US Naval Academy in Annapolis, Maryland.
Ron is also active as a leader in his local community.
    Brian Arrington

Brian Arrington is the founder of Vets2Industry (A free online Veteran, Military Spouse, and Dependent Child Resource Library).  Brian is also a Business initiatives consultant for  Wells Fargo where he helps to manage and mitigate all risks facing Wells Fargo clients and the firm.
Brian served 20 years of Active Duty in the US Air Force where he  managed and coached 8 direct and 76 indirect reports across 90 countries utilizing a vast array of soft skills in roles consisting of building diverse coalitions, negotiating, research gathering, data and trend analysis, risk mitigation, resource acquisitions, and conflict resolution.
Brian holds a masters degree in management and is currently pursuing a MBA in marketing and a M.S. in Business Analytics.
   Troy Niehau

Troy Niehaus is Vice President with Bernstein Private Wealth Management where he advise ultrahigh-net-worth individuals and families.
As a former tech start-up owner and prior president of a hardware manufacturer, Troy enjoys working with entrepreneurs and understands the psyche of a business owner.  During Troy's 20+ years in the corporate world. he has held positions centered on client engagement with experience across numerous industries.
Troy served 10 years active duty in US Air Force intelligence as a special agent, with 12 additional years in the US Air Force Reserve before his retirement from military service.
Troy graduated from the US Air force Academy in Colorado Springs, CO and holds a MS in Management & Organization from the University of Colorado.
Troy serves on several boards and works with high school students in pursuit of their college dreams, with a special emphasis on those looking to attend a US service academy or earn an ROTC scholarship.
   Joseph Stepke

Joseph Stepke is an Area Sales Manager for Acima Credit.  Joseph helps retailers improve their sales by providing credit for store purchases.  Joseph is an expert in the field of retail credit and sponsors a website "Joe The Finance Guy" dedicated to sharing information that helps retailers increase their sales.  Joseph actively helps his clients increase their sales to facilitate his business.
Joseph served served 2 1/2 years in the US Army as a military police officer.  He served several off shore tours before getting injured in the line of duty and was forced to retire from military service.
Joseph is an active contributor on LinkedIn and podcast guest discussing life and motivation.  Joseph is also active in his community and can be found helping in the local schools and attending school events with their children.
About Exit Your Way®
Exit Your Way® provides a structured process and skilled resources to grow business value and allow business owners to leave with 2X+ more money when they are ready.
You can find more information about the Exit Your Way® on our process and team pages.
Contact us by phone:  822-BIZ-EXIT (249-3948)   Or by Email:  info@exityourway.us
Find us on LinkedIn:  Exit Your Way®   Damon Pistulka  Andrew Cross Jonny Kingman  
Follow Us on Twitter: @dpistulka  @exityourway
Visit our You Tube Channel: Exit Your Way®
Service Professionals Network:  Damon Pistulka, Andrew Cross
Facebook:  Exit Your Way®
Share the post "The Value Veterans Bring to Business"