CM&AA, CBI, Founder / CEO
Andrew Cross, the Founder and CEO of Cross NW, is a Business Broker, Business value builder, and M&A Consultant who is not your typical conventional business advisor.
With over 20 years of experience turning underperforming businesses into profitable ones, Andrew used his astute business acumen and tenacious attitude to help other business owners succeed, even during the Great Recession. 
He has worked with business owners on sales, mergers and acquisitions, capital formation, private equity, corporate growth strategy, corporate governance, and sales growth. Andrew is passionate about helping business owners achieve their full potential and is driven to get out of bed every morning to do so. But he also enjoys the fresh mountain air and the prospect of skiing on fresh powder. When he's not working on deals or helping entrepreneurs grow their businesses, Andrew likes to hit the slopes or take a motorcycle ride on the mountain roads. In his free time, he and his wife enjoy golfing, hiking, horseback riding, fishing, good wine, and spending time with close friends.
Andrew and his wife Donna relocated from Michigan to Seattle, where they raised their children and started Cross NW. As demand for his services grew, Andrew expanded the company to the Greater Mountain West region, opening another office in Park City, Utah, in 2016. The company has also expanded to Denver, Colorado.
As a Business Broker, Business value builder, and M&A Consultant, Andrew understands the unique challenges that business owners face, and he uses his expertise to help entrepreneurs achieve their dreams.
Andrew and Donna are now empty nesters, but they love it when their adult children, Ian and Chloe, join them for mountain adventures. When their children are not around, they give their adopted Shepherd mutt Leo daily walks and plenty of affection. Both Andrew and Donna are enthusiastic college football fans and spend Saturdays in the fall binge-watching games. They are particularly passionate about supporting the University of Michigan football team. Go Blue!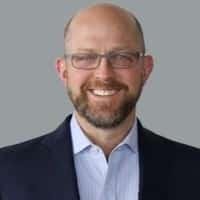 Andrew Cross
Business Sales, value improvement, business strategy
BA, University of Michigan – Ann Arbor
MBA, Eastern Michigan University
PROFESSIONAL CERTIFICATIONS
CERTIFIED MERGER & ACQUISITION ADVISOR®(CM&AA)
Alliance of Merger & Acquisition Advisors
CERTIFIED BUSINESS INTERMEDIARY® (CBI)
International Business Brokers Association
Real Estate License (State of Washington)
Today, Andrew's passion for helping business owners realize their ultimate potential is what gets him out of bed every morning—and the crisp mountain air and promise of fresh powder doesn't hurt, either. When Andrew isn't working on a deal or spurring new growth for entrepreneurs, he loves to hit the slopes or cruise the mountain highways on his motorcycle. He and his wife also enjoy golf, hiking, horseback riding, fishing, good wine and great friends.
Now empty nesters, Andrew and Donna are most happy when their two adult children, Ian and Chloe, join them on their mountain adventures. In between visits, they indulge their adopted Shepherd mutt Leo with daily walks and lots of pets. They are both avid college football fans and binge-watch each Saturday in the Fall. Go Blue!
PROFESSIONAL & COMMUNITY ACTIVITIES
TENS – The Executive Network of Seattle, Director
SYSA- Seattle Youth Soccer Association- Seattle United, Director
ZINO Society Angel Investors, Elite Roundtable Member
SME – Society of Manufacturing Engineers, Chairman
Schedule a call to discuss your business goals and answer your questions on growing business value, preparing for sale or selling your business.