Growing an Ecommerce Business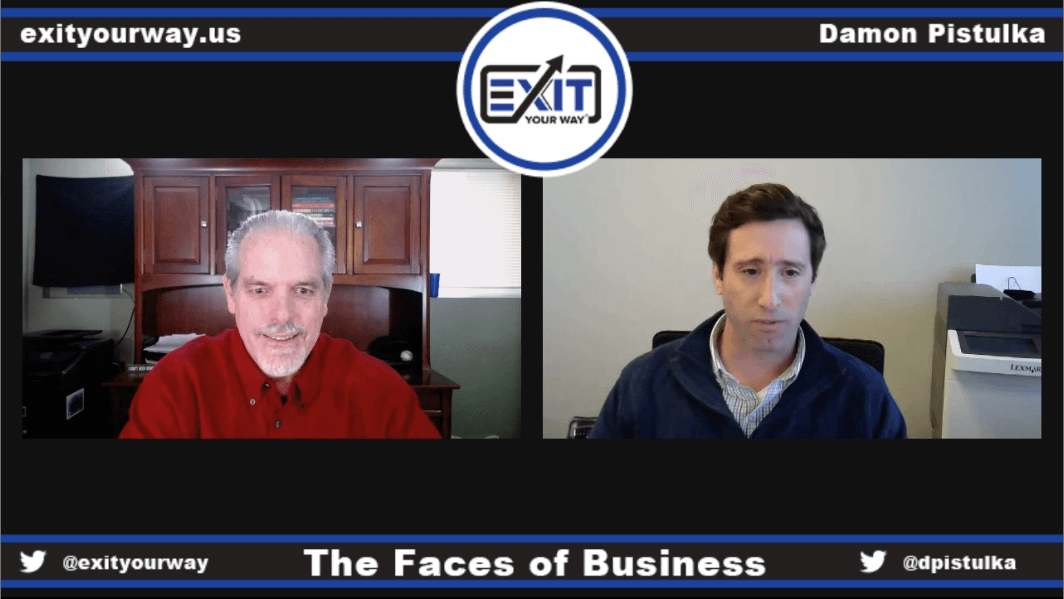 The Faces of Business
Growing an Ecommerce Business
The perks of growing an ecommerce business are endless, but so are the challenges and responsibilities. To discuss this,we had our talk today.
In this week's The Faces of Business episode, our guest speaker was Kelly Cudworth. Kelly is the President of NuLeaf Office Solutions. His company supports businesses and individuals across the USA with their office supply, cleaning & industrial supply,  office furniture, electronics, and maintenance supply needs.  Kelly is a client of Exit Your Way and has experienced aggressive growth over the last years.
The conversation started with Kelly talking about the beginning of this company and how he joined it. He said that his father Jeff Cudworth started this company around 46 years ago. At this time Kelly was a kid and was not interested in the business.
Download our free business valuation guide here to understand more about business valuations and view our business valuation FAQs to answer the most common valuation questions.
Later, he said that he realized the importance of the family business and started supporting his father when he got older and got into sales.
Kelly mentioned the 100 Fastest Growing Businesses in the Puget Sound award that his company received  from the Puget Sound Business Journal last year. Nuleaf was  number 13 on the list of the top 100.  He also talked about how his company got into the limelight with the growth.  Kelly also added that they should make the list again next year because the growth has actually been larger than the previous year.
Adding to the conversation, Kelly talked about his non profit business NuHope Street. This organization has several events annually that raise funds for various non-profit organizations and charities. It started as a normal birthday celebration but has turned into a series of annual events with a family focus to raise money and help people.
Do you want to know if your business is ready for your exit or what you should do to prepare? Learn this and more with our business exit assessment here.
While talking about growing an ecommerce business, Kelly said that it takes time. When Kelly started out in the family business he told his father that he wanted to shift the business to Amazon and sell on ecommerce.
His father did not appreciate this idea at the start but came along with it when he saw ecommerce development. He further said that when growing an ecommerce business, he went up on Amazon with 900 products at first to test it out.
Moreover, Kelly talked about the first order that they got on Amazon. He also said that shifting to Amazon was a great shift in their business and the potential opportunities. It was a chance to significantly increase their product sales.  Since then the company has expanded to beyond Amazon and the NuLeaf Office Solutions website, offering 100,000+ different products on major ecommerce platforms including Walmart, Overstock, and Facebook.
Get the most value for your business by understanding the process and preparing for the sale with information here on our Selling a Business page.
At the end of the conversation, Kelly said that when growing an ecommerce business one must focus on the products as well. He said that when it comes to their company their goal is to provide new products to their customers and increase their appearance on platforms like Amazon, Walmart, Overstock, Facebook, GSA Advantage, and others.
The conversation ended with Damon Thanking Kelly for joining the show.
Thanks to Kelly for sharing his time and knowledge.  Watch the video below for the entire conversation!
1:04:14
SUMMARY KEYWORDS
amazon, business, growing an ecommerce business, vendors, create, e commerce, people, product, industry, customers, dad, support, data, platforms, established, buying, listen, walmart, brand, years, grow
SPEAKERS
Kelly Cudworth, Damon Pistulka
Damon Pistulka  00:04
that always makes me want to dance a little. I don't know why,
00:07
but it's passing.
Damon Pistulka  00:10
Hey, welcome back everyone. Once again here to the phases of business sponsored by exit your way. With me today. I've got Kelly Cudworth from Pacific LP and web Office products and new leaf office solutions. Welcome, Kelly.
00:29
Awesome. Thanks for having me, man. Well, this
Damon Pistulka  00:32
is fun, because today we're going to talk about a little bit about your business history. And some of the things that we get to deal with you and I together a lot. And it's the real challenges of growing an e commerce business. Yeah.
Kelly Cudworth  00:48
any shortcomings of that?
Damon Pistulka  00:50
Yeah, yeah, it kind of just it happens whether you want want it to or not, because there are challenges definitely along the way. But if you could start out Kelly, it'd be really cool to kind of hear your background because you know, of the company, first of all, because you are a multi generational company, you're the second generation in this company. And and there's, there's only about 30% of the companies that make it from the first to the second generation. So it's cool and unique in that, but let's hear a little bit about the company history.
Kelly Cudworth  01:20
Yeah, so my dad, Jeff Cudworth, he founded the company has 41 to 46 years ago, I think it was 1975, the company was founded, dad came in as a partner and then bought out his his partner pretty early on. And I joined 17 years ago next month. So you know, and I took over the business operationally wise, really about five, six years ago, and officially, as owner this year, last year, 2020.
So it's been, it's been, I mean, it's been my life, you know, I was born and raised in the, in our industry and in the business, and then, you know, the last 16, seven years of my life, you know, partnering with my dad to, you know, just be part of the business, but then also change, you know, the business so much. And so it's been, it's been good. I mean, I, you know, it's interesting to hear that 20 30% of, you know, multi Gen business, I never do that stat.
So, yeah, you know, I live it, and I have a lot of friends and associates, and business associates my age that are going through, and I've gone through the same thing when either entering family business and either taking over for their dad and the process. So I'm around other individuals like myself, so you hear that stat so low, it's, it's surprising, but you know, I'm very blessed that I had the opportunity to have a dad who established an organization like this, that number one I could come on, but also to just be be part of and help grow and create a foundation for my family going forward. So it's been, it's been exciting. And it's been a huge part of my life, that's for sure.
Damon Pistulka  02:51
Yeah. So when when you were starting out in the business, you're doing sales, right?
Kelly Cudworth  02:57
Yeah. Yeah. So So it's interesting. So my dad, you know, my dad's the greatest guy in the world. But you know, growing up anybody that knew our family, I think, could appreciate the fact that my dad and I didn't necessarily see eye to eye as I grew up, I you know, dad came from kind of a military sports background, was an all star athlete played at OSU basketball. And I was just like, free flowing hippie kid that just wanted to pursue professional climbing career growing my hair out long, right? But, and I had no interest in the business at all. I mean, when dad started the business, you know, at that time, all the primary focus was toner printing ink.
The majority of his sales was remanufactured ink and toner and the 80s and early 90s. That was a huge industry, it still is, but I mean, it was massive. And so I just I didn't think it was exciting and want to be part of it. But so I went on my own and, you know, got my own career in sales. But then as I entered the sales world, I think I started to respect just business in general, and just respected my dad's business of what he was doing just holistically as a business. And so it kind of piqued my interest. And so that's when some conversations with dad and I started about, Hey, you know, maybe I should come, you know, work for you.
And, you know, he's like, well, I don't know. And it was a good time in my dad's life because you know, he had the company in a nice good comfortable position, but he was also looking for long term, you know, what am I going to do in the next 10 years? Am I going to build a cell Am I going to close the doors, you know, what's my succession plan and then he had a young energetic son You know, who was already coming from a sales industry and and the business at that time still is sales focused cold cold cold call cold call right here's your call list and knock it out of the park.
So So we went back and forth about six months and we thought we'd give it a go and I think honestly dad Nye underneath our skin dad probably thought maybe he'll last six months. And I thought hey, maybe I'll ask six months I think for me it was like I've got at least generate enough revenue for him from the justify the money that he was gonna pay me and I know he extended him. operationally to afford me and I actually took a cut to come work for them. And I think that a lot of people were pretty anxious about, you know, me going to work for my, my dad, knowing our relationships and knowing what sometimes family, the dynamic can be with family.
And, you know, I think about I'm like, I can't believe it's been 17 years. I mean, I kid you not the first day I walked in, I had a my office wasn't in an office, I was in a storage unit that he was subletting the scene, I had a computer that had no internet, phone, and he dropped a phone book in front of me and said, there you go, there's your call list. And so that's kind of how it started. And so, um, but he he, yeah, he, it was good. It turned out good. And, obviously, you know, we both had some success with it. So that's why I'm still around and why he's now officially in a position to retire. So
Damon Pistulka  05:50
yeah, yeah, that's cool. Well, we got Andrew, you know, Andrew is my partner and he, he looks at a lot of these businesses like yours, but he makes the point that, you know, having your own experience before, is probably a major reason why you've been able to do this. And, you know, it's, it's, it's really something to see. I mean, when you were you were in the 40 140 in Seattle, so you're recognized for that in the in the Puget Sound area. You know, the company's been around, like you said, it's 40 some years now, that's pretty cool. And we think about it, you know, you're in the toner industry and doing that, did you guys actually have a physical retail place where people came to?
Kelly Cudworth  06:32
No, not really. So the business was always b2b, focused. And early on when I was younger, and this is actually something that I think dad was really smart about early on, even before I started is, you know, when I was younger, we had a warehouse, we had inventory, we had a delivery truck.
But by the time I came on board, our industry was shifting in a bit, and which is actually what laid a great foundation for us that transition into e commerce was drop shipping, we, you know, more vendors, more manufacturers, were creating opportunities for us to actually just send POS and ship the product directly to the customer. And you know, 20 years ago, that was a pretty new thing, right ups wasn't as you know, you didn't have this as heavy as it was FedEx, all the carriers, Amazon wasn't around.
And it was a difficult thing to kind of break into from a customer development standpoint. Because, you know, the customer is wanting to feel comfortable with your delivery driver or comms versus, you know, ups and that who is ups, right? Yeah, I think dad was smart as a as a, just as a businessman that understand, hey, operation that can scale back some expense that don't need trucks, I don't need, you know, delivery people, you know, I don't need this, this liability on my balance sheet, I can become a little more profitable, I can be a little bit more aggressive on pricing, if I can build a drop ship model out.
And then he really just started to focus on the customers that can kind of accept that dropship model. And so he was really smart in establishing that. So when I came on board, he kind of already had that in place. And that really helped me kind of, you know, take off and grow with more of the technology wanting to onboard. So, you know, I really just have to give a tip that I had a dad early thinking of coming up, like, hey, this could be a much more efficient manner for us not only to operate our business, financially and operationally wise, but also a more efficient manner for us to engage in touch customers on a national level.
Yeah. Because, you know, we only had delivery drivers local Soto Seattle, you know, Seattle, and so it allowed dad to really start pursuing more government contracts, you know, bidding on state and local contracts, counties, cities, federal and so we can reach like Kansas City, we can reach the Pentagon, and that opened up a huge door. So when I came in hot hungry, you know, my, you know, my territory was the nation in a way, right, you know, we had to kind of refine and keep it together.
But he really established an amazing foundation for me. And that, you know, that again, the other blessing for dad is, you know, we didn't always see eye to eye and we still don't I mean, I, you know, I can tell you, there have been some, you know, dad's very energetic like myself, and we're very aggressive individuals and in a good way, right, you know, but, so there have been some battles, but, you know, I, I, I came in hungry, and ready to go, and I knew it. All right. Like, I'm like, Hey, Dad, I know what I'm doing. I know what's going on. And, you know, you can just see him sit back and nod his head. But the thing about him is, he never really created barriers for me. He just let me run.
And he let me run to a point where like, Hey, you know, until I hit that brick wall or fell down, he wanted me to hit that brick wall fell down. One, he could say, Hey, I told you so. He'd be like, hey, maybe this young kid actually gets pulled it off and something good happens out of it and see what he does. Right? Yeah. He never even when he would disagree with me. Whether he would tell me that or time somebody directly like I don't believe it and I don't think it's gonna work. He would never stop me from trying, he always let me continue to progress. And I think he also understood and appreciated that he knew innovation was important.
And he knew that our industry was transitioning innovation, we could hear from the manufacturers, we could hear from the distributors, we were seeing more and more competition come, like we, you know, we call the big box stores, the Office Depot is starting to pop up, the staples started to pop up, then they started entering the business and they started entering the commercial sector, then the superstore started pop up your Walmart's your, you know, your your Fred Meyers, right? And then you know, you start to hear this with this Amazon thing, what's this online thing?
So I think dad was really smart and thinking, Hey, you know, there's a transition coming into the industry, and I'm gonna need someone hungry, energetic and willing to go after it. And I was this guinea pig in a way. So you know, really allowed me off the lease. And I know that in some environments, I mean, what kind of business owner is going to number one hire, you know, somebody young and energetic, and let them just go for operation and make big operational decisions. And number two, let it be their son. I mean, I've got a 10 year old son right now. And I find myself wanting to control them all the time. Like, no, no, you got to do this, you got to do that way.
So yeah, double hard for him to, to acknowledge, Hey, I got this new guy coming in, who wants to do everything and control everything. And I've let him go. And number two, it's my son, right? I telling him and managing them. So yeah, he really gave me a huge opportunity to do that. But he also was always there, you know, as a blessing as a safety net. I mean, any other entrepreneur entrepreneurs out there, I mean, I've got to just say, you know, if you're starting your own business, or ever start your own business from scratch, I don't have that experience, I was able to walk into a business that already had some sort of foundation.
So you know, to be able to start your own business from scratch. That is a no joke. hard thing to do. And so I absolutely appreciate anybody who's done it because I had the blessing of a father who had that safety net for me, you know. And over the last couple years, I've had to cut that safety net, because, you know, I've had to be able to grow myself, but at the same time, I got to let him go right. It says, you know, let go and enjoy life a bit.
Damon Pistulka  12:06
Yeah, I'm sure he's he's a he sets back grins now to see your business doing what it's doing. And and he's happy to see that you're, you've charted a different path, but a successful path for the business.
Kelly Cudworth  12:18
Yeah. And he's excited. You know, obviously, I've got kids, so he's excited to see if the grandkids and yeah, and I hope he's excited about the generational transition to we'll see what my kids are when they get older. And right now, it's just I'm just head head down and just trying to build build build. So yeah,
Damon Pistulka  12:34
yeah. Well, let's, let's talk a little bit too. And, and, and we'll talk a little bit you got an award last year, too. Let's talk about that. Because that's kind of cool. I mean, what was it from that 1313 fastest growing company in the Puget Sound?
Kelly Cudworth  12:50
Yeah, yeah. Which was a exciting surprise for us. You know, I mean, when when I was when I was honored, as you know, 2015, Puget Sound business 14 or 14, that was a really cool experience. And so I think that put me in there on the radar. And we were I had a pretty good feeling we were going to be on the list because the list is about 100 companies, because we've had a lot of growth, fast growth in the last five years, which has been tremendous, but it's also created a lot of challenges and needs for support.
Like, you know, individuals like yourself across the west have been huge resources for us. But it's, I think it was nice to see that as an honor. And it was exciting to see that we were 13 out of 100 so it shows that you know, we've been what we're doing is working and how we're doing it is working and so we want to continue to keep taking that on to the next couple years. So yeah,
Damon Pistulka  13:39
yeah, well, that's cool. So this we're gonna talk more about business because we're gonna get into e commerce after this but talk a little bit about your charity because I really think that people here in this and understand and new hope street are going to connect with this cool man.
Kelly Cudworth  13:56
Yeah. So um, you know, that actually the seed of that started with my wife was it 10 years ago so early on when I started working Dad, you know, I was always trying to figure out ways to build business right and you know, I would attend golf tournaments and you know started leaning into marketing and how to do leads how do we develop relationships how do we network and so I started putting on just kind of hokey dokey golf tournaments you know,
and at that time you know, we weren't we didn't really have a solid brand if you can believe when I started with dad the name of our company that there has always been Pacific Northwest products but we deviate is the cartridge family because all we did was sell cartridges be a little cartoon logo and everything with the whole rebranding about 10 years ago something but so I was playing these golf terms on I just wasn't really see anything come out of it.
And you know, what ended up happening is I would charge people, I don't know, 120 bucks, and they would always have a little bit of money leftover and we just kind of check the Red Cross. My wife one year was like, Hey, what are you gonna do for your birthday, and I'm an active cyclist, and I don't really have a lot of close friends that cycle.
So it's like, hey, let's get a bunch of people together and do a big bike ride and, you know, maybe raise some money for charity and that planted the seed for the spike event we put on every year without a coronation, which the last time we had was, you know, over 120 kids and families rioting, we raised over like $20,000. And so we had done it for different charities. And so initially, it started with a cause marketing focus, hey, how can we leverage our brand in our business, to support local communities, local charities, and honestly, selfishly give ourselves a little bit of a pop out there, and then in the marketplace, you know, give ourselves a little bit of acknowledgement.
And you know, here's what we're doing, and then engage customers at a different angle, right. And so, we initially started working with some nonprofits directly. But we found administratively that became difficult because we had delivered on their operation, it wasn't our own 513 c three wasn't our checking account. Yeah. So hafele years, I've been doing a lot of networking and as all business entrepreneurs should be doing is network network network. And, you know, I had established in the field, I established a nice, a network of other business owners and executives in the region.
And you know, I pulled them all together, and I said, Hey, listen, I, we're going to fire up a nonprofit, maybe it's going to be for our bike event, I don't know. But we just need to set up a 501 c three. And my bike event, it's a I've got the playbook, we've done it eight years in a row, I can guarantee will raise anywhere from 15,000 to $20,000, isolated team, and we'll establish a nonprofit. And really, I was like, I need two grand to pay the lawyer to start at the 501 c three, right? I did this over a year as a happy hour.
So I brought them all out, I bought them all beer, that's a great, you're into it all, everybody's got to cut me 150 bucks to be on the board. But the thing about it that just blew my mind was the support that all these other business owners and executives connected to with it, because that thing that I think we realized was that there is a need and an excitement and a want for small and mid sized businesses to establish some sort of cause marketing or to be consistent with a partner that supports the community, or, or organizations that they're passionate about.
But it's difficult at smaller, mid sized business, to really just launch your own cause launch your own brand, right. You know, obviously, enterprise companies can do it, Amazon's got their smile, but how do we do it as a small, mid sized business?
And so it was like, Hey, why don't we collaborate and establish one organization, and through that organization, each person can be part of or have resources to a toolbox of whether it be you know, branding, resources, web development, resources, signs, you know, copy, distribution, whatever these are, all the companies are part of it. And we established our own nonprofit. And then we put on different events. And not only are we supporting our companies, our brands, but we're creating a great opportunity to bring money and resource to children and family needs. So that started New Hope Street and part of the board.
I couldn't believe it. I mean, I was going to these guys, I was like, Listen, guys, I don't have any money. I've got this idea. And I know I can do this bike thing, but I have zero money. And I was thinking hey, you know, maybe somebody will create me a logo. And maybe someday we'll come up with a, you know, maybe take some photos for me. Before I knew it. We had a you know, $30,000 branding development built out by our friends at sea monster, we had videos from our friends RV content lab, my buddies at the wide format company, were shelling out signs left and right.
And so now we have this established new hope street organization nutri.org, we've been going on for four years, we raised over $150,000, we built nothing, we build an orphanage in Africa, Congo, because I have a connection there because I adopted my daughter from there. But we've added, you know, fresh water sources. We've added solar panel power there, we've raised money for treehouse for kids in Seattle. So it's been an exciting thing, because then not only new leaf and my company, when they do these events, we can help you know, tell our customers and show them hey, you know, obviously we're in business, and we're in this to make money and, you know, grow and profitability.
But we also want to take this growth is opportunity to support others in our communities, and then give a resource for other business owners and executives to be part of it. And it's just, it's grown faster than I could have anticipated and timely and it's created more some more work for me in a way. Well, it's been it's been amazing. So I think it's been it's been great. And it's been great for our board members that have come on board.
Damon Pistulka  19:16
Yeah, yeah. It's really something in the way that when you put people together like that it does create a way for more people to get involved. And really support the community and and the other efforts outside of the community even better. Yeah. So what you put on a couple of events, what are the events that you put on? So I want to make sure that if people are listening, and they be interested to hear Sure, so excited.
Kelly Cudworth  19:36
So obviously COVID create a little complication last year, but yeah, we've really created kind of a So again, I come from a cycling background and so my bike events is a big thing. One of our board members, our secretary, he's a big avid trail runner, so he started a run event. So we have spoke the ride, which actually is coming up June 26. So go to follow us on Facebook, new hope Street and hope dot org, we're all over there, we'll get all the information out there. It's a family friendly bike ride 12 miles cutter and buck has been a great sponsor and friend of ours, so we get some good swag, you won't get that T shirt that's gonna melt in the dryer.
And we have run the mountain which is a, you know, anywhere from a five K to a 25 k trail run, that's supported our friends at treehouse for kids and Seattle, which helps foster kids get school supplies, etc. And then what we launched in 2020, before COVID hit was funky dunk, which is our Polar Plunge. So we've created kind of a triathlon of events, per se, yeah, each event is just a good time when we bring in a bunch of different sponsors. And we just, each event raises money for different organizations, depending on who the chair is, we've done a auction in the past and etc, etc.
So you know, so it's a good time, all the events are usually revolved around family opportunities. Bring, you know, bring the kids bring the family spoke to ride, we have like climbing walls and bounce houses and a deejay and barbecue. So it's really, you know, honestly, it's it sounds it. To me, it just it's so easy to put an event on like that. People want to be part of it, right? People want to help businesses want to be engaged, the community wants to be engaged it so it's so it's easier than I mean, it's not completely easy, but it surprises me how less complicated it is to create an event like that and raise money for a great cause.
Damon Pistulka  21:24
Yeah, yeah. That's, that's awesome, man. Because I hear you talking about I know about your events. And it's, it's good. It's good that you're doing that. And given more people in the community to work together. It does, it lightens the load for everyone to be able to provide more. So that's cool. I want to take some time to talk about that, because that's really cool. So let's talk a little bit about as you move forward, and you did this, this crazy thing in your industry, and you said I want to sell ecommerce on Amazon.
Kelly Cudworth  21:59
Yeah, well, I you know, I just got tired of making cold calls. Right? No, I mean, so. So the e commerce world for us? You know, we, from the minute I started with dad, there was always a goal to build online e commerce. Right. I mean, you know, when I started out, I think, a big thing for him. And again, you know, him for, you know, thinking forward was, you know, we needed a website, right, at that time, 17 years ago, you know, people seem to the website.
So, you know, we had already established a business model drop shipping be able to ship anywhere in the US, right. So, you know, ecommerce was a was a natural transition for us to focus on. That said, it really didn't start ramping up until about six years ago. Right. And so we'd always built out. We've always known data, we've leveraged data.
What's interesting is we we are GSA contractor, which means we have a contract with the federal government and the GSA has a platform called the GSA Advantage. And it's a bit old and outdated right now. However, it was the Amazon before Amazon, it really acted just like a very similar Amazon pilot for the federal buyer, when people ask, like, what's the GSA Advantage that is the Amazon for the federal buyer, right? So you get as a reseller, you could go list product, you know, there was multiple resellers, they started consolidating product pages, so multiple offers were in there.
But working with that, and really leaning in on that, it became obvious to us that knowing and being intimate with your data, and your content was critical, because early on, you just throw a part number up there with a cheesy description, no image, you get no sales, right? So, you know, we realize, hey, we got to really have some robust, strong data. And so we started leaning into our distributors or manufacturers to make sure they could provide that for us through our government channel.
Then Amazon came along. And at first it was like, No way, Amazon, you are a competitor, you are disrupting my industry. I mean, I have some associates in Amazon now. And some reps that we work with, they always make fun of me every time I go over there and meet with them that the first call I got, when they were reaching out to me to start reselling is, I was like, No way and I had to spend an hour just lighten them up about how they were trumping my industry, how they were selling that fraud, blah, blah, blah, blah, blah.
But once I got it off my chest and calm down, I was like, Okay, let's have a conversation. And let's see where it goes. So, you know, the thing for me was like, coming back from sales, driving around in a suit, walking into customers, you know, I was driving five hours a day to Spokane, I would sit down with my clients in the federal, state, local and b2b commercial space.
And every time I walked into their office, I would sit down, and I would talk to them and work with them and do the whole sales process and develop the relationship and build the account. And I would look over and all I would see are boxes being delivered from Amazon orders on Amazon. And so you know, and I would always go on Amazon like how are people selling? There's no way this is gonna last but it clearly was lasting and more and more the customers were flagging.
Hey, I can find it cheaper on Amazon, I can find it cheaper on Amazon and it was driving me nuts. Right. But as a business person and as a business owner and as a salesperson, I think the most important thing is to know where the customers are and where the money is. And there's no question, there was a lot of customers on Amazon, and there's a lot of money flowing through there. Right. So somehow, somebody's making it work. So I can either sit back and say, well, that's garbage. And that'll never last. Or I can put some energy in and roll up my sleeves and see if I can figure out how I can make this work, whether it be understanding my data and my pricing better.
Leaning on our vendors, you know, hitting up a lot of different products and diversifying what I can bring, where can I find that niche? Maybe it's not the product I'm selling right now. Right? Maybe it's a product that I haven't sold before that I have access to that I haven't leaned into, I don't know. But I have to start looking at that and figuring that out. And one thing that I always tell people that's interesting is Amazon actually made my business model better, because when we first started focusing on drop shipping, we would have customers not buy from us because they didn't want ups to arrive, right?
They wanted Joe coming in and giving them the cookie and whatnot. But as time went on, the buyer demographics started to change, you know, tradition, by industry office supplies, it was traditionally a, you know, a female buyer by the age of like 40 to 60 that was placed in the order. And then as that demographic started to change, younger generations coming in, and as individuals and consumers became more comfortable with buying and having ups arrive at their own residence, then they're like Ding, ding, ding, maybe I feel comfortable about buying an Amazon.
Because ups is okay. So then what we started to see is customers that want to buy from me in the past, because in MLM our delivery drivers started coming back, because they were either new buyers in there, and they were cool ups show. But then, of course, Amazon kind of teeter that back because their competition came so strong. So you know, we, we started negotiating hard. My vendors, I basically just started making some strong conversations with my vendors. And my distributor manufacturer said, Listen, I know our industry is against this.
But the bottom line is there is business there. And our industry is a bit old school, right. And our industry was resisting Amazon and still does very aggressively. And I said, Listen, you can't ignore it. And our industry couldn't ignore the fact that data was there, customers were buying from Amazon, they were buying from you and Amazon, right, or they're buying from online, or if you didn't have your website up and and efficiently running with competitive product, accurate content you were going to lose regardless was Amazon or not because they wanted to start purchasing and sourcing online.
Even if I had a contract with a state agency, I still had to have a website, that function in a format that they expected. And that price was accurate and consistent, which means back end, I had to have systems in place. And sure we manage that for those contracts. So since those systems already, they're like, Okay, how do we bring this to Amazon. And so it was a bit of a bite. But I think we knew what we were going into with Amazon in regards to relationship with them, they have very high level expectations or performance. You know, I've said this a couple times, I think the thing is, you know, the Amazon, the consumer is not going backwards.
And I mean that in a way that the consumer, Amazon's created such an expectation when it comes to purchasing online that hey, I can have my product in two days. If I don't get it, I'm going to get a refund. I'm going to get a free return. I'm I'm a they obsess on me. I'm taking advantage. I want to leave reviews, I want to complain. I don't want to get charged restocking fee being mean to me all these things that my industry had a tough time providing wouldn't provide, hey, you want to return something to me? Sure, no problem, ship it back to me on your dime. And I'm going to charge you 20% that was always the base. Right?
So yeah, I think what we realized is that we had to create an operation that, you know, not only can bring in a competitive and create some solutions and some techniques, and some, you know, get get, I don't know unique about how we can price things out. But also operationally, how can we continue to support the performance requirements that Amazon makes, and how I looked at as that, hey, if I could get my business to a level that we could perform, and maybe even outperform the expectation that Amazon has, and and work with my vendors and establish positive relationships with my vendors and manufacturers, not to the point where I'm grinding them on pricing?
Yeah, let's go something new and unique. Let's create a strategy. Because you can't deny that this industry is changing. And the consumer behavior is changing. And Amazon's leading the way so we can get in there and have success and figure out how it works. I mean, hey, pull the curtain behind your your biggest competitor. There's a lot of information there. Right?
Damon Pistulka  29:33
Yeah.
Kelly Cudworth  29:34
How to get in there and be successful. What can we do outside the platform? Right. So, you know, when Amazon came along, I was like, you know, this is a great opportunity for us to dive into it because we've been fighting to get eyes on our product, and our brand, just on our own website. And in our industry. That's a big fight. That's a lot of money. You got to spend that's online marketing, that's clicks to going after that's Google AdWords, all that stuff.
And this is tough for a small business to do. That was Amazon. eyeballs already there, the volume is already there. So it's about it's kind of just plugging into that, and trying to be smart about that. And then take that and bring that to other side. So I apologize the long answer, but you know, that's good. Yeah.
Damon Pistulka  30:12
So can you remember this is so when you first got on Amazon, how many products Did you load?
Kelly Cudworth  30:20
Oh, I think I started with like, maybe like 900 skews, you know? And at that time, we had access to about 25,000 skews total. And it was very, you know, it was a very manual process for me because I had to learn it a lot of flat files Excel. Like I said, we you know, it was, it was it was a lot of bumps and bruises in the way but yeah, that's what we started with, you know, about 900 skews just to kind of test the waters and, you know, go from there.
Damon Pistulka  30:48
So can you remember the first order you got?
Kelly Cudworth  30:51
Yes, it was a bad match. Gate is you know, someone bought because that was the thing we realized is that listen, it's not i think i think i think the problem the cut another problem with e commerce, it always just seems easier than it really is. Right? It's a website, you got probably got pricing power here. AdWords coming in the pipe. Right? Right. And then Amazon same thing, they they make it sound like, hey, cost 39 bucks a month? Why wouldn't you fire him account, oh, UPC code match and loaded up your UPC.
But there is a lot of inconsistent data. That's what I mean. But you have to be so intimate with your data, because there's in my industry, and the office supply office furniture, you know, me I pet supplies, cleaning supplies, pp, things come in singles, things come in packs, things come in cartons, right, and it's the same skew. So you know, when you're relying on somebody else's platform, whether that be Amazon, Walmart, overstock, Fisher, science, GSA, and you're relying on their data to accurately match your data, you can't you can't fully expect that to be the case, right.
So we, we uploaded all our data anticipating Amazon would have their act together and know how to match UPC codes. And so we had an item like, you know, pens is a great example, we had an item, we listed the pen as a, you know, our offer was for a single each, so we priced it out for a single pen, but the actual listing matched it to a carton of 12. So boom, all of a sudden, we had like, you know, 500 orders for, you know, this pen, and at first, like, this is fantastic.
It's just killing it, right? Then we send them all out, and the customers like iOS 12, they're all pissed off, we're getting negative reviews, and we're like, oh, my God was the mess. And so it was we realized quickly that we, we couldn't just eyeball it, we couldn't have acid, we had to get a we have to take our time and really understand it. And that and that, then that that took even longer. So then it was kind of a question of like, can we make this happen? Right? I mean, is it worth this kind of lift? Right, and I spent, I spent months just visually going through Excel files trying to match products correctly, you know, and even today, it's still difficult to do. So it was a, it was a tour.
Damon Pistulka  33:01
And and we refine that process significantly from the selection to through it, it's still hard to do. I mean, it's not. And and, I mean, it's not like we haven't tried to work with the people at Amazon to figure it out. You've done, you know, hundreds hours work with him probably as well as is that trying to figure it out? And, and the reality is, is that in the early days of Amazon, a lot of people it was kind of like the, the wild west of creating listings? Yeah, there's so many bad listings out there for some of these common products that you're you're listing on 345. Asians, and, and until you get a bad order, you don't know that that's a bad asen
Kelly Cudworth  33:44
correct. And, and, you know, even like the Amazon will even admit it, like the UPC matching is, is gotten worse. And that's the biggest struggle for new resellers is ensuring stuffs match, right? Then you've got IP issues, you got to make sure you're okay with certain manufacturers listing it, you know, restricted items, you don't know that until you go live. So we've had to the hard way, implement processes in place to be able to address that, and record that, you know, so that we as we add more product, you know, adding more products is a bit of a risk to right. So, but it was, you know, it obviously was worth it in the long run, right?
But it created a big like, hey, gosh, darn, is this gonna? Is this gonna be worth it? You know, the whole nine yards. And that's why I think it was so important that we, we spent a lot of time before talking to our vendors or manufacturers. You know, I was very upfront with them saying, Hey, listen, we're gonna go live with this. We need to know what manufacturers have a problem with that we need to know if there's restrictions you need to help me out.
And it was a lot of negotiating with them because some of them were like, We don't really want to do it. We don't have to throw them to sport that you know, we'll give you a price and you do you do and I had to keep pushing back on them. So, you know, you know our vendors and manufacturers have become huge partners and assets for for supporting us, and that having that foundation, and that relationship established first was key, because then they were also willing to help with us, as we ran across some of these problems helping us get the right content and data. You know, the whole nine yards that way, so,
Damon Pistulka  35:15
yeah, yeah. Well, it's, I know, it's been an interesting ride. I mean, you're the 13th fastest growing company. What year was that? For? 2019?
Kelly Cudworth  35:26
Those 20? Yeah, yes. 2019? Yeah, they take data from they took data from 17 1819 that's how they calculate it. So, you know, we're gonna pull them out of the water in 2020. And,
Damon Pistulka  35:39
yeah, yeah, cuz, cuz, you know, for, for your business, it's, you know, you've you've had several years of very, very high double digit growth. And, and it's, it's a challenge just to keep up with it. Because I mean, when we started working together, what were you processing? In a month? You're processing? What 1500 orders or something like that? Yeah, I would say almost that many in a day, in a day. Yes. And we're
Kelly Cudworth  36:05
actually having to turn inventory, as you know, we have to, you know, we're, we're now having to invest in more backend integration systems, which is exciting, right? I think we did it the right way, where, you know, there's all these integration systems and data automation systems and platforms, and websites, and whatever. And we said, Listen, we're not going to make these big operational investments until we can justify the need, how can we manage that with Matt, manage it with our team. And to do that we had to be extremely conservative. What I mean by that is, hey, we could just throw data up there and ignore it.
But if, you know, we weren't taking, you know, taking in the fact that, you know, inventory, accuracy, price and accuracy. We needed, we needed support on the back end, watching the numbers, aka, you know, bringing you know, a partner like you into play that could help us give us that horsepower, so that we just felt comfortable continuing to push it out. And until we really started to hit that ceiling. Now, you know, we're going to make those investments in new systems in relations because the volume around right now we can't process it fast enough.
And that's the exciting thing about I think e commerce holistically, and none of us Amazon, I mean, for me with Amazon, Amazon was definitely a huge value lift for us to get going into it. And I really appreciate the team and Amazon and what they what they did to help us out. I think the other thing is, the nice thing is, you know, we're registered small veteran owned business and Amazon. So it allows buyers to understand they can find different, you know, resellers out there anybody that buys an Amazon, listen, all I gotta say is, you know, before you place an order,
we're looking at it, go to the left hand side, and look for a small business look for a woman owned business look for a diversity business look for a veteran owned business, they're there, the system works really well, especially in COVID, you know, support those guys, those companies, and Amazon's platform does a good job allowing you to filter them out. They might you might not see Matt again, because they might not be when the buy box, but doesn't mean that we're gonna be much more expensive. They might be like five cents 10 cents off, you just don't know. So I don't know, I just applied to the small guys. No,
Damon Pistulka  38:12
you're absolutely right. Most people don't because they're in there looking for this or that. And, and, and realistically, I think a lot of the public doesn't understand that you can you can support your your small business, just by doing that. Yeah. And people have to be competitive. Because if you're not fairly competitive, you're not going to sell anything.
Kelly Cudworth  38:32
Correct. Right. And then you have to be smart and strategic about it, too. You know, you you've been a huge as does coming up with some strategies and how we can you know, play with pricing, which then now fast forward, you know, six years we're negotiating, we're having different conversations, our vendors now, hey, we, you know, we prove to you we can do this, we've got an ideal right here. We want it there, as opposed to them saying, hey, let me run up the flagpole. And I'll get back to you a month.
They're getting back to me and days, let's give it a go. But, you know, I think also in the subject of e commerce, I mean, obviously, Amazon's the gorilla in the room. Right. But I think the value that we found, you know, really leaning into the e commerce channel and you know, where we're having success is really working on diversifying and and diversifying platforms. And I say this to a lot of people, you know, even before COVID the brick and mortar malls, there's no question around I've been struggling, right. e commerce has been coming COVID took the e commerce channel to where it would have been in 10 years to today.
Right? I mean, it just, it just, you know, lightspeed you know, where the consumer was right? And so what I'm seeing now and what I'm personally predicting in the next five or 10 years, is it see more of a competitive platform to Amazon start to develop? Because what's happening is Amazon has seen so much success with a third party resellers 60% of their business is coming from dealers like me, not from Amazon direct.
They are making a buttload of money on third party resellers compared to their Yeah, their One p, there's no question about it right? Walmart is doing the same thing, right? They see the value in partnering with us, they also see the value, I think for the country and showing, hey, we're, we're supporting small midsize businesses. But what I mean by the brick and mortar mall is that I don't think the mall is dead, I think the mall is transitioning to the digital world. So Amazon, obviously is the first maybe the I think the GSA Advantage was the first digital mall that didn't realize it. But Amazon is I mean, I think back to when I was in high school and college, I go to the mall,
I can go to the Reebok store and get, you know, get a pair of, you know, or the, you know, the, you know, the shoe store and get a pair of Nikes over here, but I go to Nordstrom, the same Nikes were there. But nordstroms might have a different Nike that this small, you know, across Macy's didn't have, but in all the different and in the mall, all these different shops, a lot of them carry the same product right now kind of bounce around. So that's exactly how Amazon's working and the Walmarts of the world are seeing that the overstocks are seeing that the Fisher sciences are seeing that. So from an e commerce strategy, you know, it's exciting if being an e commerce dealer to see hey,
we're seeing this, this build out where these new platforms are building and they're wanting resellers, they you know, we're getting calls with people excited about reselling, I've got, you know, I'm getting calls from really small, you know, like neighborhood shop websites that are trying to figure out how to onboard third party resellers. And, you know, they're looking for people that you can experience. So that's, that's what I mean, by the diversification, Amazon created a huge opportunity for us to really build our business grow. But I think what we've done a really good job with your help specifically to is breaking into other platforms.
So Walmart is now we're moving as much product in Walmart as we are an Amazon almost you know, and Walmart retails meeting day to day Amazon retail. Now Amazon business is huge. But how long does it take until Walmart figures we want to break into the business platform right now. overstock is in the game, they won the CPI award, the federal government has put out a mandate that the Federal buyers need to start buying off of commercial platforms so they can track what they call tail and spend a bit more now Amazon was an awardee of that, and they're doing a great job of supporting the federal business like that way.
But there are other platforms that are coming into play as well. And so and then also my own website, I mean, my websites had the best performance it's ever had, in the last two years, because we've taken what we've learned by selling on Amazon and Walmart and started applying it to our side. So we can be a lot more strategic and a lot more, I think granular and smarter about not only how we price our product on the site, but also how our advertising, right and how we're spending that so
Damon Pistulka  42:37
on is interesting too, as as your company has grown, I think almost your following that you've created on Amazon and Walmart and the other platforms, they have started to find you on your website. And, and and actually buy product there from time to time as well. Yeah, sometimes it makes sense. And the pricing is a little better to obviously because of some fees and stuff like that. But I think that's interesting, because it's it's happening as well. And like in other clients that we work with the same same kind of thing happens is when your brand starts to grow, and your popularity and such, people start to find you on online on your own site,
Kelly Cudworth  43:15
because it kind of becomes their place to buy at huge point he's made. I think anybody entering or in the e commerce world should know or already knows that when we're selling on these platforms, Amazon, Walmart, whatever we're getting charged the fee, right on average. So I think that was another thing that held us back, like how the hell am I going to be competitive on these platforms?
It took me 15% of the top line price, right? Yeah. And so you know, we've created our secret sauce that we you know, we work through, but also I've got all this data of what people are buying where they're buying it, and what they're paying for it, right? Yeah. In a 15% markup, right? So How the hell can I take that item, put it on my website, add maybe 5% for marketing, some ad words, whatever, drop my margin down.
10% I'm making a 5% lift on my margin, and I'm selling to the customer for 5% less than they're buying on Amazon. Right? Yeah. So there's, I mean, you know, it's a lot again, the tricky thing is obviously, Amazon's the gorilla, and they create that convenience, and everybody's on there. But there are business buyers out there. Not everybody buys on Amazon, right. So but if you're gonna do that, you need to make sure your website can function and work to the way the consumer expects, and Amazon obviously is created the secret sauce there so you can kind of mimic expectations, return policies, etc.
And so we've taken all the pricing and everything we do on the vendors, we're just putting it right on our site across the board, right? Yeah, struggle right now honestly, is the brand confusion, right because on a Walmart, we're P and web Office products. And then on our website, we're nuleaf office solutions and honestly when we run on Amazon because our legal name is Pacific Northwest business products, but we just DBAs other names. I was nervous about going on Amazon, I was very skeptic, right?
And I was concerned like, well shoot, if I got to be really aggressive on Amazon, what if my customers buying me selling on Amazon for cheaper? They're gonna grind me down. Right? So we launched it as pnb office products, right? Well, now, you know, we get way more traffic as PNP Office products than we do as nuleaf. And so you're gonna start entering for the second time, or really the third time and rebranding strategy COVID hit. So now, we need to create a new brand that represents that. So we have a huge, great brand representation on these platforms that doesn't really carry over to our website. So now they're new, right? It's new random so so you know,
Damon Pistulka  45:44
what the point that that brings, though, is those those customers are still finding you even though that brand differential I think once you once you do get them the branded similarly, that's really gonna push the sales on your own website higher because it is it is interesting how those same customers will seek you out and find that, and, and the value with it this
Kelly Cudworth  46:05
way, even though it's created confusion with the names, what I'm realizing is that, you know, we've been known as newly we've been known as the office supply, guys, we've been known as the toner guys for so long. But on Amazon, Walmart, we're the office furniture, guys, we're the PP supply. Guys, we're the hand sanitizer guys, we're the pet supply guy. Yeah, supply guys, we're the homeschool supplies. If you have kids or at home bought, you know, working through social studies books, you got to go to New alibaba.com because we've got a huge catalog out there.
And that's the exciting thing about e commerce is and working with these these these platforms, the digital malls, the Amazon, the Walmart, is that it's it's become easy. It's if I wanted to enter the school supplies, like the school supplies that were in like the, we were always told the administrative school supplies, the actual in classroom supplies, the math books, and whatever right the toys, before e commerce, I would have to establish relationship with the vendors, I would have negotiate price. And then I'd have to have a whole team marketing selling building that out before I even got my first sale.
Yeah, with something like Amazon Walmart, you can test the waters, get activity, get data, what's active. And now when I go to new vendors and manufacturers, you know, one of our big growth focuses for the next couple years, is bringing on new vendors bringing on new product, I don't care what it is, it's a toilet for all I care, right? If we can service it, and we have vendors, and they can follow our standards of expectations for the service for the customer and maintain policies. Then when I go to these vendors, the manufacturer, even though I might not come from that industry, when I talk to them about what we're talking about right now, they're eyebrow lifts, right?
And they say, hey, this could be someone who could quickly move product for us. And you know, some are into it, some aren't. But yet, we've found it easier not only to bring on new product, new vendors, new categories, but to spin up sales like that, right. And then even if they're not making a lot of money right away, and we got you know, we need to you know, we need to, you know, prove ourselves, we know that we can create that activity and create that volume. So we've been able to transition who we are. And so we do bring that brand over, we're not going to be the tour guys anymore.
or, or, you know, it's interesting, because when COVID hit I run into people I haven't seen in a long time, and they're worried about me, right? I mean, the blessing, you know, so many businesses have been, unfortunately affected with COVID. But don't come to me like worried like, how's your business? Your business? I'm like, We're going bonkers. Right? So you know it, but because of that, they still think that Oh, I thought you just sold toner. I mean, I mean, I mean toner has become such a small piece of our pie. And that happened quick because of e commerce because of these different strategies we've been implementing.
Damon Pistulka  48:50
Yeah, yeah, that's for sure. And it's exciting. Now it's literally in the in, like you said, you know, the last supplier that that we pulled up, it was like, boom, boom. And it's like, oh, my God, you were testing it on the platforms. And you're like, oh, my goodness, this is this is this is pretty crazy demand.
Kelly Cudworth  49:10
Yeah. Definitely a day, they're very excited about definitely blew them out of the water too. Right. So yeah, that's the thing is when we're bringing on new vendors, you know, you know, we got to do a little negotiation work with them. But one thing I have we I think that'd be an advice to anybody, you know, doing e commerce if you're either there's two ways, either you're shipping the product yourself, right, you know, you're chipping at your own warehouse or you're using FBA, which is a great, you know, or your drop shipping and drop shipping with vendors is it can be a very great business model that's ours.
But you have to be honest about what the vendor can or can't do. And some of them are willing to make exceptions for you and some more and even if they're willing to make exceptions. The question is, is there operation in a way that can support the requirement that either Amazon Walmart, your own website has Can they process orders fast enough? Can they get you the data you need? Can they get you accurate inventory? Can they handle returns? Can they handle returns fast enough? Can they waive restocking fees can you know there's all this stuff?
That is important. So, you know, we had you know, we had a vendor, they the same vendor, they were super excited, they gave us thing. And I was like, Hey, listen, you're gonna need to be able to give us resources, I need an account manager, I can reach out to you, I need to know how to do and returns your system and better be able to accept data for transmissions, I better be able to get inventory accurately, you know, and my whole thing with them is like, Listen, if you can't do it, that's okay. We can work around it, we just need to know. And I think we shock them pretty aggressively, pretty quick, on the volume that came their way. And there were a couple of hiccups in the way.
That was an interesting, you know, situation where, you know, now we know going in these manufacturers, these vendors that you want to make sure that they're and the other thing is we've also worked with vendors that are like, Hey, listen, we've got an Amazon solution for you, we've got a template out of the box, here's all the things you need, here's all the match, you need blah, blah, well don't believe it right out of the gate, do your due diligence, right, because we had another vendor say, Oh, we've got all these aces, blah, blah, Well, turns out half the aces are restricted, the other half were shut down, or they were you know, manufacturers didn't approve it.
So you know, if we just gone willy nilly and thrown it up there, it could have really messed us up. So you know, if there's a drop shipper, that's just giving you a canned program, we'll look into that camp program to everybody. And that's going to make it more difficult for you number one to compete if everybody's using the same camp program, or number two, they're not engaged in it, they're making you go through the bumps and bruises hoping that you're going to handle the customer service and the upset customer, because their items showed up late or whatever. Right? So yeah, it's you've got to be smart about who you're working with, and what they can do to support you.
Damon Pistulka  51:43
Well, they have to, they have to maintain the standards that Amazon expects for all their, their suppliers and that people get gutted, I it's got to be tough for people to do that not understanding, you know, the return anything for any reason, you know, and, and getting the the shipping there as fast as it needs to be. And then just tracking information, just getting tracking information from a supplier in for each order is is a is a difficult thing. So it can
Kelly Cudworth  52:09
mean event. And it's sometimes too, you know, some of the suppliers will help you do that. And then some of the players won't, you know, they'll be like, Hey, listen, we can do we can do and that's it. And I would say that shouldn't be the end of the conversation. Okay, you can do, you can only do this, your system only works this way. But if we know there's a product, and we can create a pricing strategy that can give us competition, and it's something that we can get out there. Well, then how then then we have to look internally, how can we use their system and their processes, and bring on maybe I can offer next day delivery?
Maybe I can't offer two day delivery, maybe I got an offer seven days, doesn't necessarily mean we won't have success selling their product? I think that I've told people before, we're not chasing the buy box, right? We're not chasing the lowest price. Yeah, right. And you don't have to, you have to create strategies, again, smart and intimate with your data, to create the solutions and the offers that will be you know, achieved in there, make sure you're registered small business or whatever things like that will get you that business, right.
So if a vendor pushes back and says, Listen, we're only going to do this and not okay, you know, we'll work with it, we'll see whether you need to make a determination of how much to work around it. Can you work around? Maybe that's product, you got to start inventory? Who knows? Right? But I would say don't quit on it, right? I mean, don't ever quit on an inventor, if you think there's an opportunity in there. I mean, I, my daughter, one day I was I was I was on drink coffee in the morning, my daughter was my lap, I was googling, you know, in front of my computer.
And I was having I was giggling because we had just had you and I had had a conversation about how excited we were about, you know, what's the next product we want to bring on? Yeah, and silver Maria? Hey, Marie, what, what should I sell next? And she goes, and our cat walked by she was pet supplies. Okay, you know, let's look at pet supplies. Right? And so we've found some distributors that can't work the way we wanted to work. But we put some energy into it. And we're seeing Pet Supplies move, you know, so, you know, we put that in our in our in our brainstorm and figure out how can we increase that.
And if you do increase that if you can find a way to work around those vendors restrictions, I guarantee you, when you start bringing sales to them, the conversation is going to change. Yeah, right. Because it was it was the same another vendor that at first, they didn't want to change anything with us for a while. But I've had a lot of good growth of them in this last year. And I went back to him. I said, Listen, I can't sustain you. If you can't make changes. And just today actually, they're making some changes for us. So don't wait on it, because it's not a perfect fit. Just find a way to work through it.
Damon Pistulka  54:38
Yeah, yeah, that's good. You know, and it is it's it's not I mean, it's, it's difficult. It is data intensive. I mean, when you look at the data and the amount of data that has to move in your business every day, well, that's why you have to do the data automation that you're doing now and those kind of things but in the beginning and starting and doing it manually, I mean, it's not for the 10 but if you don't like if you don't if you're gotta stick your face in a spreadsheet, you better not get into this, because and that's, you know what, that's a really good point, I
Kelly Cudworth  55:05
think those two things go to my thing. But number one, you're going to do work that you don't want to do, you know, suck it up, right? I mean, I hate to say it, but it's like, sometimes the business owner and executive and I, I've struggled with this, too, is like, Ah, I'm the owner of the business. I don't want to have to sit here and, you know, match skews?
Can I get a college kid to do it? Can I get one of my employees to do it? Well, they're not gonna know your product, they're not gonna know your systems as well, as we do, the best person to do it is the one who knows, you know it. And if you don't know it, you need to know it, right? Because then there's a concern there. The other thing too, is knowing your weaknesses, right. That's why we brought you on board.
I mean, I knew where I was limited that I was hitting the ceiling I could not handle, I knew the vision was there. Right? In my mind, I know what I want to do. I know how we can do it. Gosh, I believe that I can achieve these pricing models on a consistent basis, we're gonna have growth and success is gonna be awesome. However, I'm not bright enough to build these spreadsheets out. And these data's in these formulas, and I'm good enough. But I mean, I would be really complicated and you know, really, really granular and changing all these different things.
And I was so busy with other things, I could, I couldn't do any more. So I need to find help. Right? That's where it became, hey, I need a consultant that can come in and help me build these pricing models and work with me, that also understands business I need, I need a banker that's gonna support me, I go, she ate with my vendors credits, that was a big thing we dealt with early on is I was blown over my credit limits for my vendors, right and immediately want to bump up my credit limits, right. So I was fighting one side, the other side, I was going to the bank, I need a line of credit.
I need this. And so I was having to spend all this work on the business aspect of it. Yeah, right. I think that's a big thing. For me, going back to my dad was realizing, hey, you know, that's the thing that, you know, it's one thing to be able to run a company and be the one that's driving what we're talking about. It's nothing on the back end and be like, oh, gosh, I gotta cut checks to vendors. I gotta, I gotta pay him fast enough. I've got to have cash flow. I mean, I mean, if you're gonna grow like, we're growing, we felt that pain and still do cash flow gets tricky, right? We need the right bank or the right vendor, the right. You know, everything. So yeah,
Damon Pistulka  57:11
yeah, that's for sure. It is, it is interesting how that happens. And, and that's what most people that in rapid growing businesses and tell their income, they don't realize that your business is wildly successful. And you feel like you got two nickels in your pocket, because all the cash goes to build your
Kelly Cudworth  57:27
business, boom, boom, boom, I mean, the first couple years, that's how it felt, I'm like, I I don't have any money in the bank, you know? Right. And so they're like, what they want p&l is and like, don't worry about last year's p&l focus on today, right, but they're gonna need that stuff. So, you know, you got to be ready to have those hard conversations, you gotta be ready to, you know, have the lines of credits and you know, maybe you've got to restructure some things. I mean, that's the bottom line is the e commerce world is different than the brick and mortar point of sale world.
And, and when you get into it, it's it's a, it's a business model that's different than it's just a different business model. I think that's what I've realized, that I've seen when I've talked to other dealers is like, you can't just hire an IT guy to do it, or a marketing guy to do it. You can't hire a daemon to do it. I mean, David and Greg, do a lot of stuff. To me, there's no question that, you know, we wouldn't be here without you guys. But if you say,
Damon Pistulka  58:24
hey, thanks, everyone working together, it takes the whole business it's not it's not like throwing over the suit and my marketing person or my it, or like you said, or, or your account, it can't be it takes, it takes someone out the top that sees that vision, and other people that put it together.
Kelly Cudworth  58:41
And and it's committed and engaged in it, right, because it's a completely different business model. I've talked to companies trying to get into this, and I've talked to Amazon is like, Man, you should see some of these dealers and try to get on. And you know, it's just because the the business owners or the executive teams aren't engaged, they just think they can hire someone to do it, or the hire an Amazon console. Right?
Be careful. Say, there's not good ones out there. But they're not all, you know, they're Amazon consultants, not gonna, you know, increase your top line by 50%. I don't care what they say you are the one that's going to increase it by 50% with the right partners and tools in place. But if you're not willing to approach it from a completely unique and new business model, then it's not going to work. It's a separate business model. Right. And at least for us, that's what it was his whole new business model. We had to rewrite the book.
Damon Pistulka  59:27
Yeah. And it seems like it's getting new chapters every day.
Kelly Cudworth  59:32
Bit exhausting, but it's exciting. You know. last couple years, were pretty exciting. You know where we're going. So
Damon Pistulka  59:38
yeah, it's good stuff. Well, just just for just for reference, I mean, you started with 900 skews. I don't know I honestly don't know how many skews you have, you know, on all the platforms is 100,000.
Kelly Cudworth  59:53
So yeah, we've got we've got about 100,000 skews active amongst all platforms. Yeah. We have We now have a handful of vendors that are piling up that we'll get to when we can automate it. So yeah, it's been a Yeah. So it's, you know, it's been a lot. I mean, we there's active skews, and they're skews that are selling.
Damon Pistulka  1:00:13
Exactly.
Kelly Cudworth  1:00:14
I think what we've learned, you and I together for sure is, you know, how to increase the skews and build the skews. But what really shot the skew count up for us, because I think for us it like, you know, it's a slow, slow, slow grind. And then we saw an increase, and I flattened out again, slow, slow grind. And then, and I found more resources and partners, you know, you guys to come on board, we've increased credit limits, things like that. They'll send a huge shot, then we flatten out again, because hey, at some point, you maximize the catalog, you maximize race, and you can't go any further.
This is only vendors you work with. you're squeezing everything in Canada, them. So we got to the point where Okay, well, I want to grow still, I'm not gonna I'm not gonna sit idle on this. We want to keep pushing the button, we want to keep driving forward. So we've run out a new vendor. Right. And so once that new vendor, that's more skews, and then you see another spike, you know, so it's the more skew we add, the more we grow.
But the more skews we add, the more diversify we are with vendors, with product categories with industries. And that creates for me, honestly, a little breathing room because, you know, there was a time before we were we almost went to business one time because we had all our eggs in the federal government basket. Right. And the federal visit the federal market, listen it I mean, I've been I've been a federal reseller for you know, how long 2017 years dad's been doing it since day one. And, and the one thing I know is overnight, they can make a shift, it could be a policy thing, or political thing, whatever.
Right? And you don't have control over that. So overnight, we lost about 60% of our net revenue, literally overnight. Like it's turned off. nothing we can do. Right. And so as we've grown with Amazon, I've always been concerned, hey, am I re? Am I positioning myself to be in that spot? Again? Right? Am I threatening myself? What if Amazon makes a change? What if you know what if, you know, the government comes in and shifts Amazon's policy? Who knows? Right? So I think it's been really important for us, especially this last year or so, is to diversify the products and the platform.
So that if there is an issue with Amazon, Walmart, still there are websites still there, you know, or the vendor, right? What if your vendor gets bought? What if your vendor goes out of business? What are you doing in your industry? The clients, the office supply industry hasn't really been the fastest growing industry in the last 10 years, you know, I'm saying, so it's kind of like what's the long term game so that you can make sure that foundation is going to be healthy for a long time? Because if something drops off, you know, you're not dead in the water. And that's been ecommerce has created a huge opportunity for us to do that quickly.
Damon Pistulka  1:02:47
Yeah. Well, that's awesome. Kelly, it's it's been great man. And it's it's been a pleasure talking with you today. And I'm sure other people we got IRA's been putting some comments here while we're going and Andrew dropped another one because everybody knows, you know, cash flow. Never. You know, I was talking about cash is king. That's
Kelly Cudworth  1:03:10
the truth, man. I mean, I mean, if they don't want your orders getting on hold, man, you don't show up, man. What am I net? 10 doesn't matter. You're right. So yeah, exactly.
Damon Pistulka  1:03:22
It gets it gets really fast. But but it turns around, and it's been a lot of fun talking with you today, Kelly and I love the enthusiasm and thanks so much for sharing stuff with people today. I know a lot of people will see this and, and, you know, maybe at least they'll they'll they'll take a look at how they're doing their ecommerce and maybe they'll start their e commerce stuff. Who knows?
Kelly Cudworth  1:03:45
Yeah, Hey, man, I appreciate it. And then real quick, you know, I mean, you've been a great resources exit your way your team has been a great resource for me. So you know, we're more than happy and I think we're proof in the pudding that you know what you when you have the right team working for you the right way what you can achieve, you know, so, so thank you. And anybody listening Sorry, I know a lot loud talker bass, but yeah.
Damon Pistulka  1:04:08
Yeah, it is awesome. Thanks. Thank you so much. All right. See you later, everyone.
Schedule a call to discuss your business goals and answer your questions on growing business value, preparing for sale or selling your business.
Related content
These posts may also interest you
Stop Being the Best Kept Secret
In this, The Faces of Business, The Real Jason Duncan, Founder, TRJD Enterprises, talks about exiting your business without exiting. TRJD Enterprises upskills business owners to exit without selling their companies.
Becoming Someone People Know Like & Trust
In this, The Faces of Business, The Real Jason Duncan, Founder, TRJD Enterprises, talks about exiting your business without exiting. TRJD Enterprises upskills business owners to exit without selling their companies.
Marketing a Business for Sale
In this, The Faces of Business, The Real Jason Duncan, Founder, TRJD Enterprises, talks about exiting your business without exiting. TRJD Enterprises upskills business owners to exit without selling their companies.