Partnering with IMEC for Manufacturing Success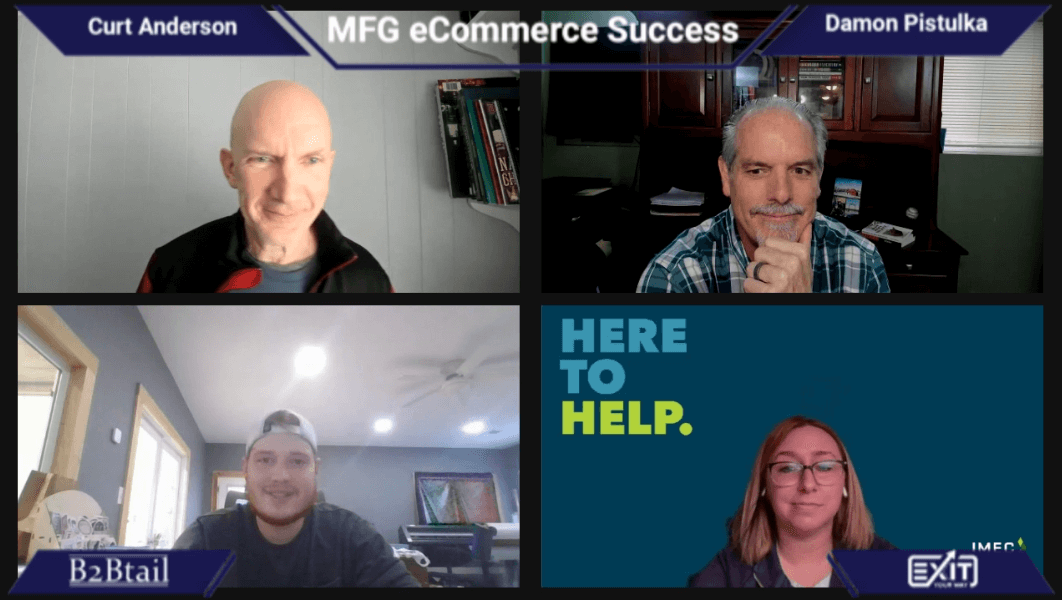 MFG eCommerce Success
Partnering with IMEC for Manufacturing Success
In this Manufacturing Ecommerce Success Series, Keeton Reynolds, Owner, KMR Woodworks, and Cassi Igert, Regional Manager, IMEC Illinois, share their success story from working together to generate awesome results for KMR Woodworks.
KMR Woodworks is a fine woodworking shop based in Southern Illinois specializing in custom, one-of-a-kind creations. As a college student, Keeton launched his woodworking business, building custom wood projects for friends and family. Once word spread of Keeton's abilities, he launched KMR woodworks. Then in 2021, Keaton moved to a new 10,000-square-foot facility where he manufactures extraordinary dining room tables, high-end retail displays, and fine gift items.
When Keeton wanted to grow his digital presence to show his work and be found by more potential customers, he partnered with IMEC Illinois to build a solid digital foundation and make this happen.
Download our free business valuation guide here to understand more about business valuations and view our business valuation FAQs to answer the most common valuation questions.
Damon and Curt open this Livestream with matchless energy because ecommerce success stories and IMEC, Illinois, are one of their favorite topics.
Curt asks Keeton about the latter's childhood "manufacturing rock star" who inspired "a young boy growing up." He responds that Mike, his father, and Grover, his grandfather, inspired him greatly growing up. His father was passionate about woodwork and taught him various tips and tricks. Meanwhile, his grandfather was involved in multiple business ventures, giving the guest exposure to the business aspect and inspiring him to follow in his footsteps. These two individuals combined served as Keeton's role models and shaped who he is today.
Curt asks the same question to Cassi. She believes Cindy, her mother, to be her childhood inspiration. She was a single mom working in the local factory in town. Throughout her life, Cassi's mother worked. However, she let her daughter see that there are plenty of opportunities in manufacturing.
Do you want to know if your business is ready for your exit or what you should do to prepare? Learn this and more with our business exit assessment here.
The host honors this program to Mike, Grover, and Cindy.
Curt asks Keeton's reasons for coming into manufacturing. He says he grew up around woodworking, as his dad did it as a hobby. He learned tips and tricks from him and saw the business aspect from his grandfather, who was into different business ideas. At a young age, he started sculpting and carving with a pocket knife and later got a Dremel set, which led to him taking over his parent's garage as he got more tools.
He realized he could make money from his hobby and focused on business. He got his first big break when his cousin, who owned a screen printing business, needed displays for his sticker line. He supplied him with the displays and realized this could be a big trend. He now provides retail stores and gift shops with display racks and continues to grow his business.
Get the most value for your business by understanding the process and preparing for the sale with information here on our Selling a Business page.
Similarly, the host asks Cassi about her rapid growth in manufacturing. She credits it to her toddler, who is now sixteen, for making Cassi better in her career.
Although Keeton's progress has been gradual, his decision to invest in an industrialized laser cutter was his "aha moment" as a step towards growing his woodworking business. This was a major change from his previous methods of hand-making his products without any automated machinery. The laser cutter not only allowed him to put his initials on his products but also opened up new possibilities for creating display racks and other items.
With the laser cutter, everything was computer controlled and more automated. However, the purchase also came with challenges, as Keaton had to learn AutoCAD and 2D modeling techniques. Nevertheless, the investment allowed him to take his business to the next level and establish it as a viable enterprise.
Curt asks Keeton to "walk us through what was going through your mindset there." Keaton discloses that his cousin was running a small business in Asheville, North Carolina. He initially started buying them from his cousin but eventually stopped due to not needing more. To expand his reach, Keaton decided to use Etsy as a platform to sell his handmade display racks. He "kept updating listings and taking pictures and finally got some sales." He received his first sale after a month. However, he encountered a problem as he had never shipped one of the display racks before.
Curt now turns to Cassi and asks her how IMEC could help young, aspiring entrepreneurs. She replies that
The MEP's "core value is to support economic and workforce competitiveness for manufacturing." The organization operates through the Illinois Extension (IMEC), which is unique in its approach to measuring success. The IMEC surveys clients to gauge the impact of its services and strives to support manufacturers in areas such as meeting planning, growth, improvement, decision-making, and people-focused initiatives. The organization has approximately fifty employees located throughout the state.
The host turns back to Keeton, intending to know what inspired him "to connect with Cassi to get this party started." Keeton shares that he was at an "Expo in Marion, Illinois," where he saw IMEC's booth and received an email about a grant opportunity for ten eligible manufacturing businesses. Three categories of funding were available. The guest applied for a marketing and e-commerce grant and was eventually accepted. He initially thought the application would be a waste of time, for "thousands of people are applying for the same thing." The IMEC encouraged him to proceed with the program, and he eventually received the grant.
While giving feedback on his experience with the IMEC, Keeton maintains that "it's been amazing to me the help and support that is provided to me." He is thankful to the MEP Illinois chapter for helping him grow.
Keeton gives a demo of his website. All three enjoy witnessing his success story. Meanwhile, Curt requests Keeton to share the story of his growth.
Keeton adds that his business of creating and selling display stands for stickers has gradually grown. He has recently released several new designs and has adapted to changes in the sticker industry, such as the growing size of stickers. Similarly, he has also added adjustable shelving to their displays, which was a highly requested feature. Keeton has now released a new line of displays, incorporating these changes to offer a better product for customers.
Curt reflects on Keeton's business website, finding it great to hear that the guest actively listens to his customers and makes improvements to his products based on their feedback. "Love the website here." Keeping the customer at the forefront of the business is key to its success and growth. Keeton's passion for woodworking and his commitment to sharing it with others is truly inspiring. Damon, the co-host, finds it "really cool."
Keeton lets viewers of this Livestream know that his customers often mention how well-constructed the displays are in their reviews. Moreover, Keeton has received high praise "for their artsy, eye-catching" appeal. Curt advises Keeton not to "change a thing, my friend. You are doing amazing."
The guest shares that SEO keywords are profoundly important to get ranked on Google.
Moreover, listening to your customers can help you write product descriptions and advertise.
Keeton is pleased with the experience of working with Curt, the host. He found the SEO process difficult prior to working with Curt, but with his expertise and the help of tools such as Yoast and Wix, they could simplify and better understand the process.
Curt directs his attention to Cassi and asks her about the IMEC's latest ventures. She adds that the "Kickstart 2023" program is currently underway. It is a fully-funded program that focuses on projects related to cybersecurity and building pipelines. The program is designed to help individuals better understand these topics.
Keeton is deeply thankful to Curt and his B2Btail for the growth of his business. IMEC and Curt helped him improve the website's SEO and overall marketing strategies. He believes that although there is still more to learn, the current understanding has accelerated the business.
Curt asks the guest about "Woodworks' audacious goals" in 2023. Keeton's New Year's resolution is to expand his custom woodworking and sticker display rack businesses in 2023. He aims to increase the presence of their sticker displays in gift shops and souvenir stores across the country through wholesalers and distributors. He plans to expand his woodworking business into making dining room tables and chairs, keeping it local for now but potentially expanding nationwide later.
Likewise, he asks Cassi about the horizon for IMEC this year. She reveals that her plan is "to help as many manufacturers as we possibly can." Moreover, she wants to leave a mark in the southern part of the state.
Damon views the holds the program as "awesome."
The conversation comes to a close with Damon and Curt thanking Keeton and Cassi for their valuable time.
43:51
SUMMARY KEYWORDS
keaton, cassie, manufacturing, display, damon, imac, people, manufacturers, mep, business, kurt, product, woodworks, growing, sticker, etsy, big, woodworking, friend, website
SPEAKERS
Cassi Igert, Damon Pistulka, Keeton Reynolds, Curt Anderson
Damon Pistulka  00:00
All right, everyone. It is Friday and you know what that means Curt? It means it's time for manufacturing ecommerce success. I'm your co host Damon Pistulka That guy right? Oop, but right over there. Curt Anderson. Gonna take it away my friend,
Curt Anderson  00:18
Damon. Hey, brother, how are you, man? How was your week? You have a good week? Yes. And Friday, you know, you know, I'm a little I'm closer to the weekend than you are, you know, just so you know that not to because ahead of me not to brag or anything, but I do have my weekend just a little bit closer about three hours or so. Two hours closer than our friends here in the great state of Illinois.
Damon. This is an honor. This is a privilege to introduce to manufacturing rockstars I hope everybody I've we've John Molinos here already. We've got Whitney guys, if you're out there. drop us a note. Let us know that you're here. Boy you are man. Buckle up because this is gonna be a good one. We've got my friend. Look at this handsome devil. I got Keeton Reynolds  in the house here from KMR Woodworks Keeton. Happy Friday, brother. How are you doing?
Keeton Reynolds  01:05
I'm doing good. Happy Friday to you as well. Curt.
Curt Anderson  01:08
Thank you and over, man, we've got this lovely lady on the stage today. The one the only Cassi Igert. Cassie from IMEC Cassie, happy Friday. How are you?
Cassi Igert  01:18
Thank you. I'm doing good. Awesome. Well, hey, it's great
Curt Anderson  01:21
having you guys here today. And we've got a ton to cover. We have lots of exciting things. Damon, I know like Hussein that young folks are not going to manufacturing because we're here to dispel that myth. Right here right now. Action e commerce success.
You ready? Damon? Are you ready for this one? Let's do it. Let's do it. Brother. Okay. Keaton, my friend. My first question for you of the day. You know, and I know like young I was gonna say when you were a young man, you are a young man, when you're a little boy growing up? Who was your hero? You're like this manufacturing. Rockstar, you're in college as a young boy growing up, who did you look up to? Who was your hero.
Keeton Reynolds  02:00
Um, so I have to say my, my dad, my grandfather. There's not really one specific but just kind of both them combined. My dad did some woodworking on the side that I was kind of grew up around. He never really had a business like I did. But he just kind of did it as a hobby.
So I learned a lot of cool tips and tricks from that side of things. And then my grandfather, you know, he always was always into the few different business ideas and different things growing up. So I got to see kind of the business aspect, growing businesses in that aspect. So just those two guys really were my kind of role models growing up and made me who I am today.
Curt Anderson  02:42
Hey, that is awesome. And Alright, let's How about a couple of names for us? What's dad's name? Mike. And how about grandpa? Grover?
02:50
Grover, man, I love it. So
Keeton Reynolds  02:53
I work for the president
Curt Anderson  02:55
named after the president. Okay. All right. Perfect. So a shout out to Grover. Shout out to Dad Mike. And so just, you know, what an inspiration you are. I know we're looking right into your office. What? How many square feet do you have at your facility there?
Keeton Reynolds  03:09
It's a little under 10,010
Curt Anderson  03:11
to 22 years old. He's got a twin, a 10,000 square foot woodworking facility. Dude, this is going to guys this is going to be so good. This is so exciting. Cassie, my friend, I'm sliding over to you. We're gonna pull you into the program here. Little girl growing up like you've had this great career in manufacturing. You're just crushing it at IMEC the Illinois Manufacturing Extension Partnership. Who was your hero role model? Who did you look to as a little girl growing up?
Cassi Igert  03:37
Um, I guess I would say my mother. My mom was a single mom. And she worked in the local factory in town. Nice. Yeah. Well, I come from a town of 5000 people and we're the largest town in the county. There's not very much going on a lot of the local community all kind of there was no other really place to go. But I also saw her move up throughout that and kind of let me see that. There's plenty opportunities also in manufacturing.
Curt Anderson  04:06
Well, that is absolutely awesome. Mom's name, please, Cindy. Cindy. All right. Well, hey, we're given this programs dedicated to Mike and Grover and Cindy so if they catch the program, we're giving a shout out lots of love for creating just two amazing American individuals here. rockstars so Keaton, let's slide in.
So dude, you're you know, grandpa, Dad, I'm here in entrepreneurship, woodworking manufacturing. To start off your career, dude, I like I've had the honor and privilege of working with you for the past few months. Inspiration, brilliant. You are tenacious. What led you into this kickstart in your early career into manufacturing, you could go into technology, other places, why manufacturing?
Keeton Reynolds  04:48
So I never like just sat down and decided I'm doing this I just kind of, you know, grew into it. When I was probably 12 or so I was happy library picked up a whittling magazine, just a woodworking magazine with a you know a focus on whittling. And I, you know, with how my grandparents let me go out in the yard pick up sticks and just start carving them with the pocket knife. And that just kept growing and growing. I got a Dremel set when I was probably 14. And I would do like wood carvings and build birdhouses and small stuff. And then I took over half of my parent's garage when I finally got a table saw.
And you know, I got a wood lathe, so I took over the whole garage. And then it just kept growing and growing from there. And I realized I could I can make money with this. So I started to focus on the business aspect. I focused, you know, on gaining clientele, seeing what would sell what wouldn't in my area, the whole sticker displays that I now create came from one of my cousins down in North Carolina. He owns Asheville print shop, it's a screen printing business in Asheville, North Carolina.
And he started a sticker line, but he needed some displays. So he was kind of my first big break first large scale customer saw supplied him with all of his displays he needed. And after that, I realized, hey, you know, that's the secret thing. It's kind of a kind of a big, big thing. It's a nationwide kind of a trend now. And so there were tons and tons of retail stores and gift shops that now look to me for all their display rack needs. So it's kind of cool how everything just transitioned and continues to grow,
Curt Anderson  06:32
man. All right, there's there's a lot to unpack right there. Damon's give him a couple of shout outs we've got. We got John McLean. Oh, here. Here we go. We've got Whitney Happy Friday, everyone got a couple other folks who are dropping Hello. So guys, thank you for joining us. Happy Friday. drop us a note. Let us know that you're out there. And you know, absolutely connect with Keaton. You know, do yourself a favor connect with Cassie here.
And so what I absolutely love what you just talked about Keaton, number one, that accidental entrepreneur, there might be somebody out there, you know, corporate warrior, you've been working for a company for many years. You're like, Man, can I get an entrepreneurship? And what I love what you're doing, Keaton is like you're just rolling with the tide brother, right? And just doing a phenomenal job and it's like it's in your DNA. It's like you almost can't help yourself other than to be a great woodworker woodworking manufacturer and we're going to show some examples.
And other things that I want to cover that we're going to talk about today is Damon we always love dropping that line niche down till it hurts good right? Yeah, and that's exactly what you know you can try to be everything to everybody in Keaton at 22 years old, understands and sees the importance in the value and the power of niching down till it hurts so good. So Cassie, I want to come over to you my friend. So you Mom Cindy worked at a factory manufacturing now i Damon? I'm going to share a little little something about Cassie here you're ready for this career right all right.
Ready? Cassie? Are you ready? Are you sitting down for this? Okay, you already lived it surely knows this story started out as a production operator. She moved into a production team leader she became a production shift leader she became a lean guy that right lean manufacturing specialist nice moved up to a project engineer logistics then she became head of warehouse management. Cassie my friend. How do you do it? How on earth are you just like this? What was this? Cindy tenacity How did you just rise up so quickly in manufacturing?
Cassi Igert  08:32
Yeah, that partly I also I became a mother myself and wanted to better myself and I actually started doing school online while I was working and raising a toddler to kind of get further along so
Curt Anderson  08:46
well that is very inspiring. Look at the trend here Damon we have two guests working college Cassie as a mom jeans dedicated to his family just you know I love like we're talking family values work ethic education just what a great in manufacturing dude. Like this is like our, like our dream come show you want to live. It's right where we want to live.
So Keaton, let's get into I'm going to start talking about your your your product your company, like alright, you mentioned your cousin, your start shipping some orders. You take over mom and dad's garage. What was Was there a moment? Was there an aha moment where you're like, I think I might have a business here. Like when when did this go from like this kind of a fun little hobby to like, I think I've got I think I'm on to something.
Keeton Reynolds  09:31
So the first big step I took towards like an actual business aspect was the purchase of a laser, kind of like an industrialized laser cutter. Oh, you know, at this point in time, I hadn't really I hadn't started the display rec stuff. I was still making it by hand without any kind of automated machinery. And they look completely different than they do today. But I was kind of torn between them.
This is kind of odd, but I was torn between buying a car Some branding iron because I wanted something to put my name my initials on all my woodworking products. So I was torn between buying a custom branding iron, or a commercial laser engraver is they both do the same thing. And one's about $5,000 and 170 bucks, right? So I thought you know if I can this laser game for there's so much more I could do and opened up the potential for tons of different stuff. So I splurged I went for it.
And you know, that was the moment that really just changed the business because it opened the doors to all the disparate display racks, more automation, you know, everything's computer controlled. So yeah, that was kind of the big breakthrough for me. But you know, it also came with a few challenges, too, you had to learn the software, learn AutoCAD some 2d modeling stuff. But yeah, that was, that was the big, big change for me when I realized, hey, you know, if I'm going to do this, as a business, I need to invest in some machinery, invest in some processing, and just go for it.
Curt Anderson  11:04
That's awesome. And so what I love here, you know, like, when you when you have skin in the game, it kind of that's a great motivator, right? When you put money out and you start buying some equipment, you're like, Well, I better I better get the return on investment. Better figure it out. Yeah. Got, you got to figure it out. So okay, so as you start, you have a cousin that's buying all these products.
Let's We love talking about e commerce online. And boy, did you and I have a great time, just really geeking out and just trying to figure out strategies. I'm gonna pull up some examples here in a minute. What were some next steps for you to like, get out there and get to the market where you're like, you know what, I can go beyond friends and family, I'm going to start bringing in other customers. Walk us through that what was going through your mindset there.
Keeton Reynolds  11:44
So my cousin, you know, he didn't have a huge business, it was it was local to the Asheville, North Carolina area. So you know, he only needed probably, I don't know, probably 30 or 40 of these, you know, they don't break, you know, it's not like you have to have to buy buy new ones every year. So he kind of stopped buying them not because you know, he didn't need them just because, you know, he had enough of him.
So I started looking at other options I got into Etsy is, you know, that was kind of, I guess, a good starting point for a lot of like handmade businesses, you hop on Etsy. So that's what I did. And it took me probably a month or so before I got my first sale. But you know, I kept updating listings and taking pictures and finally got some sales. And then I hit a big snag, because I had never shipped one of these before.
Curt Anderson  12:37
Like, what little minor detail there, right? Cassie, you needed the logistics expert to help? Exactly.
Keeton Reynolds  12:45
The these the these displays your original design, they were triangles. They weren't like a square box, or they're not triangular. So instead of being smart, and going to buy just a large rectangular box and fit in, I tried to piece together a triangular box.
And I wish I saw the picture because after I did that, probably three or four times I realized, hey, I need to invest in some packaging, invest in, you know, some shipping solutions if I'm going to turn this into a full time gig. So that was another kind of leap for me, you know, you start investing in packaging materials, you start bulk ordering boxes to fit your products, that kind of stuff.
Curt Anderson  13:27
Right? Right. There needs to be a better there's got to be a better way than then trying to do this right? Oh, yeah,
Keeton Reynolds  13:33
for sure. Yeah, it will take me 15 minutes to package one display just because the way of doing in the beginning. So
Curt Anderson  13:40
that's so let's go here. We're going to come back to our friends at iMac and ironically, Cassie, your fearless late leader, the amazing the incredible Dr. David belay, just put out a Post this morning on LinkedIn, about e commerce, the incredible opportunities for manufacturers in E commerce, and how a lot of them are going direct to consumer. It was a great article that he shared this morning.
So what I love what you did, Keaton is like, you know, you're taking a product as a manufacturer, going direct to the consumer, or end user, like when it's a retail store. It's not, it's not necessarily the consumer, per se, but it's the end user. So a b2b play. So if you're a manufacturer out there, and you're like, Hey, man, I'm not sure about this e commerce thing. This is a perfect example. And it's so daunting, it's challenging. You're the best kept secret of like, you know, hey, how do I get found on search?
So what do you do brilliant Stroke of Genius dude, brilliant move you partner align with a marketplace. There's Amazon demo, we're gonna have like friends from Digi key combined the program at sea. So there's all sorts of great marketplaces that help you where you don't have to be the market, you know, the the marketing guru, and now you have just an instant place that people are looking for commerce.
And you've had great success on Etsy. So now, Cassie, this young man reaches out for you guys connect that iMac. And so just for everybody out there, we're gonna dig into this. If they're not familiar with like, what is the main effect To Extension Partnership, who is iMac? Can you just enlighten everybody? What are what is what is the MVP in iMac? And just your like how you make the world a better place?
Cassi Igert  15:09
Okay. Yeah, MVP, our core value is to support economic and workforce competitiveness for manufacturing. And IMEC. For the Illinois Extension is for our state. And kind of what sets us apart is we measure ourselves on how well our clients record their impacts.
So we actually give a survey out to our clients. And they tell us how well we did by how much they actually see impacts with that company. We have about a 50 employees across the state. And we support manufacturers with meeting planning, growing, improving and deciding and focusing on people.
Curt Anderson  15:49
That's fantastic. And so let's just let's just cover that again, real quick. So there's an MVP in all 50 states plus Puerto Rico. In Illinois, the it's called IMEC. If you're a manufacturer out there, you're like, Hey, what is this MEP thing, just Google MEP Manufacturing Extension Partnership, and just punch punch in your state and your MEP will pop up. We strongly encourage you invite you welcome you. Reach out to your local MEP.
If you're in a great state of Illinois, you want to connect with our friend here, Cassie, or as she mentioned 50 of her colleagues. Now we'd be here all day, if I mentioned all the rock stars on your team and I don't want to leave anybody out. But we just had raised as a guy on the program last week.
He just absolutely crushed it. We've had Jacqueline we've had Michelle Fossett. I'm talking with Michelle, unless observable I think later today, Christy John's. So again, you have tons of rock stars, Paola and I please forgive me anybody that I'm leaving out. Jana Zara, of course, Chrissy John's, but great teammates at IMEC. Keaton, I'm coming back to you as manufacturers and entrepreneurs.
Sometimes it gets a little bit lonely, right? You're like man, yep, does one minute on my own finance department then on my operations, logistics, I'm trying to pack it. I'm trying to figure out triangle packaging, then I'm trying to do a little bit of marketing. What inspired you? How did how did I met come on your radar and what inspired you to connect with Cassie to get this party started.
Keeton Reynolds  17:09
So um, I was actually at a Expo in Marion, Illinois. And I just kind of I saw her booth there, I think was the day before. And then that night, I got an email, just this opportunity that they were I think it was 10 different manufacturing businesses that were at this event, were eligible to receive this grant. And they had three different categories of funding available and the one that I picked it was like a kind of like a marketing online e commerce type grant. So I went ahead and applied for it.
You know, I've applied for similar things in the past and you know, I originally when I did it, I thought this is a waste of time I'm sure there's 1000s of people that are applying for the same thing. There's no way I'm going to get it but uh she responded back and said, hey, you know, this is probably going to be something you'll be eligible for. And she came the next day and gave me some paperwork to fill out. And yeah, we just we just stay connected and eventually I got accepted for the grant and here we are today.
Curt Anderson  18:13
Well, that is how man it's like hidden a lot all right, it was just wonderful. So and keeping friends family I know like you have a family affair I believe your brother your I've seen your brother Your dad at the shop. So it's a bit of a family affair as you share like family members friends, other manufacturers would you recommend our friends at iMac or other MEPs? Like how's your experience been? What do you what do you think there?
Keeton Reynolds  18:37
Yeah, absolutely. I mean it's been amazing to me the help and support that is provided to me, not just in the grant but like you know, just getting on their website going through reviews, looking at articles, just just that level of support to you know, that's, that's free and available for anybody. So yeah, it's been a great opportunity and very thankful for me.
Curt Anderson  19:00
Yeah, absolutely. And Damon what we'd love to share it you know, you're an entrepreneur, you're out there again, it gets lonely, it gets frustrating. It's like you know, is there anybody out there that can help me I'm in the trenches. And so there's so many resources out there for entrepreneurs for business owners and particularly in our case here we're talking manufacturers, so this is just such a rewarding experience.
Cassie couple more names I'm gonna make sure Damon we just had Cameron on speaking of Gen Z or wait we had Cameron last month I want to make sure I give a shout out to Megan and again any Jacqueline anybody else that I miss you know, please forgive me but great, great team at iMac.
So what I want to do now is I think we've covered everything so far I want to I'm going to share love hate Let's go on a little road trip right we're going to get Damon you ready for this? This do it. Alright, we're gonna go on a little road trip with you. I hope everybody's sitting down for this because this is gonna be crazy. Crazy Crazy. Can you guys see that can you see my screen? You can see that Keating, what do we, what are we looking at here?
Keeton Reynolds  20:05
So this is the homepage of my website. Yeah. So if you see there, that's the sticker displays.
Curt Anderson  20:14
There's that rack right there that you were talking about payment, right? Yeah. So okay, so let's, let's go here. And, and look at, look how awesome this website is now. Okay, the we're talking with the accidental entrepreneur, the founder, the fearless leader and Mr. Woodworks. And so Keaton, as you were describing, it was like, it was almost like, you listen to the market. The market screams out says, Hey, I need some wooden sticker display racks. How did you go from like, somebody asked you for a single request to now you have this entire killer product line.
Keeton Reynolds  20:47
Yeah, so I'm just it's kind of slowly grown over time, I just released probably four or five new designs the past two weeks, because I found the sticker industry, the the sticker sizes are growing. Originally, the stickers that I made the displays for were like three to three and a half inches in diameter. And now they're anywhere from like four to six inches.
So if you click on that picture you just clicked on the new, the new displays have adjustable shelving on them. Go back to two pictures. So yeah, that's kind of been a big feature that I've had a whole lot of people asked for. And I've just been making custom displays specific to individuals. And now I've kind of released a new line just encompassing all of those changes into a better product for everybody.
Curt Anderson  21:37
Keep Are you telling me that you as you listen to customers? Is that what yours is? What you're telling me right now? Yes, I try my best to Hey, dude, like Where were you? 30 years ago, when I was 22 or however many years ago it was and like, you know, we were I thought that I knew it all I tell you that is absolutely the humility and the the brilliance on your end that you're just working tirelessly listening to the customer.
Love the website here. And David, check this out. I want to check out this headline that he's got for. I love that picture with the American flag in the background. Woodworking is my passion. And it's a privilege to share with you.
Damon Pistulka  22:12
The top for me, what's that? I'm still seeing the display.
Curt Anderson  22:18
Let me go back. Let me go back. Let me go back. Let's see if I go. Let me remove that. Let me try presenting again. But dude,
Damon Pistulka  22:31
the way that you adjusted that and in May or you change your design, so it's adjustable so people can do it and be it adds to the life span of the of the product and gives it more flexibility for others. That's really cool.
Curt Anderson  22:46
Do you what do you see now?
Damon Pistulka  22:48
I see his LinkedIn profile. All right.
Curt Anderson  22:50
All right. They Daymond take two and I Cassie, I told you we don't have any. We don't have any producers here. So it's just we just winging it. Right. Oh, let me let me take two let me try that again. So Keaton, you we got you on LinkedIn dude, how right you had a great time to get on LinkedIn. Woodworking is my passion and it's a privilege to share it with you. I help retailers maximize their sales and ROI with handcrafted wooden display stands, custom wooden furniture for your home. Made in USA dropped the mic on that one. Damon? How's that for a headline?
Damon Pistulka  23:24
That's a good one.
Curt Anderson  23:25
That is a good one is a good one. Okay, it gets even better. Are you ready for this? Let's do it. Okay? This is Keaton's. Do you see I'd see now my changing screens? Yep. Okay, so we are on camera Woodworks. We are on his Etsy store. So as we mentioned earlier, Keaton man I wish I had your acumen at when I was 22. Man, I just, I just stumbled Daymond I don't know about you but I was a train wreck.
But you look at check this out. Customers are taking pictures of his product. posting reviews and every review is a five star review. Very cool in and Keaton What are your such a humble guy you might but what are some people what are some of the things that people are saying on your reviews here?
Keeton Reynolds  24:14
Um, a lot of the reviews you know just talk about how how well constructed it is you know, sturdy, durable, built to last I can get a lot of that. And a lot of people they'll they'll say they'll talk about the not only the quality but the appeal the eye appeal that it has is you know, stickers it's a high stickers they're you know, they're they're artsy eyecatching type thing. So you want a display that complements the stickers and that's what we strive to do. So we got a lot of reviews for that are reviews.
Curt Anderson  24:51
Let's look at this. He has over 700 sales on Etsy. Wow. 144 Five Star Review. 20% of his orders. I mean, when David, I don't know about you like posting reviews, you know, like, it's common that people are gonna, like, if you have a bad experience at a restaurant or a bad, you know, like, people are mad, they're frustrated, they're gonna share it.
So it's more common to what is it like eight to one or whatever the ratio is the complain versus compliment, right? I don't know the exact number, but it's dramatically higher. People are stopping their day with what they're doing and ranting and raving about his craftsmanship. fast shipping, the High Quality Made in USA and they're taking pictures of the product and posting it here. Like they're doing like this. This is This is insane. Like
Damon Pistulka  25:42
the participation rate is off the charts and and obviously from people taking the pictures and what they're writing that you've got a good product and you're you're it's a well made. Absolutely so awesome.
Curt Anderson  25:56
Keating 22 Dude, like what's your secret?
Keeton Reynolds  26:00
Um, like I said earlier, you know, you just you keep modifying your product you keep you know, just making everything better for your customers. You just you focus on your customers and everything will work out. I you know, I don't I don't really have a secret. I don't know.
Curt Anderson  26:17
I'll tell you what, whatever you whatever it is. Don't change a thing my friend you are doing amazing. Now kidding. What we did is when you signed up for the program with iMac it was an SEO project and it was called SEO boost.
You and I had an a great eye or at least I'll speak for myself I it was such an honor privilege had to work with you for a few months. We jammed out twice a week and we discovered something really cool Damon you are you're gonna be blown away by this. So when we started digging into like, alright, what are his main keywords in I know if you remember you remember I Rex? Remember that? What remember what stands for by any chance? Remember
Keeton Reynolds  26:52
that one ridiculously important keyword,
Curt Anderson  26:55
our ridiculously important key words. So there's one of his Rick's right there, Keaton. And what did we discover is we were starting to dig into your keywords you remember,
Keeton Reynolds  27:04
before we even started, I was already starting to pop up, like the first page of Google.
Curt Anderson  27:10
We I do Damon, I do an organic search on a bunch of his legs. So we did it. We did our Rick discovery. We find out all these keywords. Check this out. He's on First Look how competitive this pages. I mean, crazy, crazy competitive. He's already coming up. He's only been in business for a couple years. And he's already coming up first page on Google right there. And here's the other cool thing.
And it goes, it's going right to his landing page. The other cool thing is on number two here, when you go let me go back to the top. When you go back up. Etsy is one of the top ones right here. So it goes Amazon then it goes Etsy, right. Yeah. When you go into Etsy, guess who's coming up? Yeah, Keaton is. Right. So again, here's his product right there first one that they have the second one that they have.
So this is a great lesson for folks out there. Number one, you're getting liquid like Pete, like you're like a case study of how a manufacturer should get into man get into E commerce. Right, right. Don't you think Damon? Yeah, yeah. I mean, like, so what he's done is he sets up his website. He's doing a great job on his website. In wonderful pictures, images, great descriptions call to action. He puts his product on Etsy, because he still is a needle in the haystack.
He just absolutely crushes it on Etsy delivers phenomenal product. He's developing social proof social trust with his clients. And, and now he's coming back. And now he's got first page rankings on Google on top of it. Yeah. Go back here. Now you started we we as we dug in, you started blogging, right? Yep. Walk everybody through, we came up with like a really neat little kind of a hack and a shortcut. Can you talk a little bit about like, what the process was the create this blog?
Keeton Reynolds  28:57
Yeah. So this blog, we created just Kurt and I got together and we use the application called otter, and it's just a voice transcription software. And Kurt would ask the questions on answering them. After that, we just took the raw text and I went through kind of cleaned it up, you know, fix some simple structure stuff, added some links to my products and publish the blog post. So it was it was a quite simple. I'd always wanted to start a blog previously, but it just always seemed like a real daunting task. But the way the way Kurt showed how to do it, it's pretty simple to do.
Curt Anderson  29:37
We took a little shortcut then we came in. Yeah, that was great. So all we did guys so if you're out there you're listening to this like wait a minute, what did you guys do? So Keaton is the subject matter expert. Okay, and so his wreck that ridiculously important keyword right there sticker display rack, wooden sticker display rack. So what we did is we came up with Keaton just talking about this right here like what what We determined these were right here.
Keeton Reynolds  30:04
Um, so most of those questions we pulled directly from the Etsy reviews.
Curt Anderson  30:11
Customer did the job for us did they know? So? Damon, this was like the best hack. Okay? So if you are on if you are on Amazon, you're on Etsy or what have you all the reviews your customers are typing, like your keywords are typing, the questions are typing the comments, or they're typing with the compliments. Those compliments could be converted into questions that somebody that hasn't bought yet doesn't know how great Keaton is. So all we did is we just we crafted all these questions.
So then I just interviewed Keaton, we use either we take the transcription, we now have a video and then look at how meaty and juicy this blog post. I mean, David doesn't. Yeah, it really is. Now he's got backlinks in here. Right.
Damon Pistulka  30:59
The keywords are in the in the header, or the Yeah, right there. Right. Headings. Yeah.
Curt Anderson  31:04
So he's got. So now, Keaton, I'm just gonna go here, who was? Who is this person here? Erica, here, Aaron, who's in Harris, who's Erica to you.
Keeton Reynolds  31:16
She's my ideal buyer.
Curt Anderson  31:18
She's your ideal buyer. So this was fantastic. So what we did is we created we've got this, we call it the digital gameplan. We do this with our iMac clients, we create this little worksheet. It's a hub. So like now all the information for Keaton just goes into one place. So when we work out, like when we're working on his Rick's, when we're trying to optimize his product pages, everything that we have just lives right here, Ken, like, what did you like? Was this process helpful? Or like, what did you find out? How did you feel about this digital game plan that we created together?
Keeton Reynolds  31:47
Yeah, I mean, I found it extremely helpful. Because you know, writing product descriptions, even, you know, doing advertising, you just the buyer persona is so helpful in determining your keywords and just different aspects of how to phrase stuff.
Curt Anderson  32:04
Yeah, it was fantastic. And so it was just great. And again, the wonderful thing is, when I come back here, you guys are still following my screen, right? Yep. And I come back here and I go, we go to Etsy, we go to all those reviews, it was just man, we just got like a wealth of information.
And now not only do we have the right information to address questions to put on those blog posts, now we knew how to better understand how to put what information to put on product pages, and how we can better optimize those pages. And then so I want to ask you, Keaton, like SEO Yoast remember, we started using that tool to optimize those pages. Like what how did you feel about using that tool?
Keeton Reynolds  32:39
Um, I liked it. You know, like, once, compared to, like the blogging, SEO stuff was kind of always a struggle to me, I didn't really know what I was doing. You know, I was just kind of in the dark with everything. SEO Yoast, and then my websites hosted through Wix. So Wix tools as well. Were just very helpful with with Kurt's expertise as far as figuring out, you know, what keywords to use, where to put them into SEO is kind of a simplified process for me now.
Curt Anderson  33:09
It was fantastic. So Cassie, let's get you back into the game here. So I've got ImEx website pulled up here. Can you just talk about I know, like, fun, exciting grant program. And again, if you're coming from outside of Illinois, we encourage you invite you reach out to your local MEP guests, you just talk a little bit like what are some of the programs going on at iMac that manufacturers should have on their radar?
Cassi Igert  33:34
Um, so right now we have something called kickstart 2023 going on, and registration actually ends January 31. And that is fully grant funded program projects. And that are in terms of cybersecurity, building your pipeline. Working on, boy, I know this like the back of my hand, but not right now.
Curt Anderson  34:01
Hey, that's fine. So in Kete, nine, if I understand correctly, are you participating? Yes, yes. Yeah. And I think Damon, you're gonna love this. If he's working with I believe you're gonna be working with Wes Wesleyan, our dear friend must lean, close friend of the show. She's my partner in crime. And so she is a sales guru. She's a powerhouse. And again, this is just a great opportunity to iMac is helping manufacturers.
Cassie, we also have, I've got here a couple of grant opportunities for folks in the suburbs of Cook County, in McHenry County. couplers. These are ongoing grant programs as well. Is that correct? Yes. Absolutely. So okay. Hey, for a shameless plug out there. Boy, if you guys had a good time talking about what we're talking about here with Keaton, we have a webinar coming up at IMEC on February 8. So what's that a week from Wednesday at 1130 Central and we're gonna dig into SEO strategies made simple for manufacturers.
Totally free program. It's with our friends at iMac, and so have a look at that there's my my buddy, Nicole Donnelly and myself, we're going to be having a great time doing that program. And I'm going to wind down, I'm going to come back to you guys. Let me stop sharing. And okay, I'm back at you, guys. Keaton, anything else that you want to share of like, you know, working with iMac your website, you know, entrepreneurship? What do you like? How are you feeling right now, man?
Keeton Reynolds  35:27
Um, you know, when I, let's see, probably three months ago, you know, I was kind of in the last in the dark. No, as far as website, SEO, any kind of marketing in general. Any, you know, thanks to the grant from IMEC, and Kurt, with you in the b2b tail. It just kind of definitely helped me accelerate my business. And now, you know, I'm sure there's a whole lot more to it than what I know. But at least I have a pretty good understanding of pretty much most of those aspects. So yeah,
Curt Anderson  35:57
that is phenomenal. Cassie, just if you could share, you know, again, manufacturers out there. You know, this whole thing is new to them. Walk us through, like, what are steps? Like if I'm like, Man, Cassie, you really, you caught my attention. You've piqued my curiosity. I want to have some excitement here. And get the party started that Keaton has rolling. Walk us through, like, what's the process? How they reach out and how that those first steps of engagement? How does that go?
Cassi Igert  36:24
Yeah, so you can go to our website and ww imax.org. And you can get help on there. And they'll help you up with whoever your local regional manager is. And they'll be able to reach out and give you support.
Curt Anderson  36:39
Absolutely. Okay, guys. So again, reach out to your local MEP. We're going to start winding down. Cassie, how do you how do you feel about doing your first like live program and you were just amazing. You were incredible. How are you? How are you feeling right now?
Cassi Igert  36:54
I'm feeling good. I'm doing well. All right.
Curt Anderson  37:00
You are doing awesome. I know where you're keeping your poker face going for. So let's go. So Keaton as we wind down my friend. I hope I live long enough to Damon. I think we have the next Warren Buffett on stage here. So yeah, he kept telling Keaton over and over. I'm like, Man, when you like make it big time can like can you like remember Uncle Kirk, right? Just remember, like the little people that helped, you know, kind of help. You know, on your journey. Keaton as you come into 2023 tons of excitement.
If we fast forward. We'd love to have you on the program a year from now. What's China? Like? Like, what's going on? What's happened in cam came out of Woodworks for 2023? What are your your big, audacious goals? What's happening in your world for this year?
Keeton Reynolds  37:42
Yeah. So you know, like, like everybody's kind of seeing you I've got kind of got two, two sorts of businesses going with the custom woodwork as well as the sticker display rack. So I'm looking to vastly grow both of those areas. Looking at getting the displays in the more wholesale with more wholesalers and distributors. I'd like to have one of my displays in every gift shop and souvenir store all across the country.
You go Yeah. And then with the woodworking stuff, we know we're expanding into a dining room tables and chairs and different furniture pieces. Right now. We're going to keep that local. might expand that nationwide later. But uh, yeah, that's what we're looking forward to. And 2023,
Curt Anderson  38:25
the king of sicker display rack. So folks, if you need a sticker display rack or just I mean, there's multiple key and we've seen folks use those display racks for multiple things. And so I just I Gosh, you're just so inspiring. Cassie, what's on the horizon? For iMac this year? Your goals? You know, you're working with manufacturers in your neck of the woods. What's on the horizon for you this year?
Cassi Igert  38:48
Hi, just trying to help as many manufacturers as we possibly can get our name out there more in the southern part of the state.
Curt Anderson  38:55
That is awesome. I know like you met Keaton at a sounds like a trade show or like a work fair or whatever it might have been. So I know you're all over the place. It's been I've worked with you on multiple projects. And it's just been an honor and privilege for me to get to know you and build the friendship.
Keep my last question for you. We're talking about big goals. I want you just owning that sticker display rack market for me. I think we're talking monopoly here, right, like we're playing a little game on the map. So keep my last question for you. Today. We talked about Grover, we talked about Mike being your heroes as a little boy growing up. You have big audacious goals for 23 Who or what is your inspiration as you crush the crush these goals for 23? Who are what is your inspiration?
Keeton Reynolds  39:40
Um, you know, I don't really know if I have like a specific one person. But I'm just you know, I'm constantly on you know, Facebook, YouTube that just seeing the different things that people are creating with, you know, just humankind. It's just it's amazing to see just all the different Have trations and stuff that people can do with wood. And I'm just looking to continue that and just continue the art form was what I would consider it. Yeah,
Curt Anderson  40:10
yeah, you are an artist for sure wouldn't die. That was a great answer. Cassie, you mentioned a Tyler, what's your timeline? Probably not as is your is your daughter. So toddler,
Cassi Igert  40:22
she turned 16 In a couple of weeks. So
Curt Anderson  40:23
now that a toddler anymore All right. Hey, as you are just working with manufacturers all over the great state of Illinois, particularly in your corner of the world. Who What is your inspiration as your as we're running right into 2023?
Cassi Igert  40:39
I say that what kind of like motivates me is helping manufacturers making sure that I make a big impact. personally and for iMac, but just being part of the bigger picture.
Curt Anderson  40:51
Being part man. Cassie dropped the mic on that. That was a great answer. So guys, we're gonna wind down. I'm going to ask everybody boy, if you've been sitting down for this program, if you have an opportunity, it's a great time to stand up and stretch. And let's give a big roaring round of applause for our two amazing guests. today.
We have Keith Reynolds from KMR Woodworks with Cassie Iger from iMac the great MEP of Illinois. So guys, I want to thank you both for taking your time I know you're super busy. Thank you for taking your time sharing your energy your passion for US manufacturing here this has just been a total joy and delight working with you guys. Damon, what do you what do you think of this one man?
Damon Pistulka  41:35
Awesome. Awesome, awesome stuff. Awesome stuff, guys.
Curt Anderson  41:39
Well, guys, please connect with Kate with Keaton on LinkedIn here check out his website. Check out Cassie checkout iMac you want to connect with Cassie here on LinkedIn. So with that, I'm just going to encourage welcome everybody out there. Boy just have an amazing weekend keep safe and just boy be someone's inspiration just like these two rock stars here. This is we're looking at the next generation of manufacturing right here right now. Damon, take it away dude.
Damon Pistulka  42:09
It is awesome to be able to share this it just really is Band Aid and warms my heart to see you young person getting into this doing the things you're doing in something that when you think of woodworking that's as old as time right and you're still innovating and making new changes and making really unique products that that people want to buy.
It's awesome. I love your story and Cassie how you're helping manufacturers there with iMac you know get the resources they need to continue growing like Keaton here. And it is exciting is so exciting seeing young people get into manufacturing and really re energized in it because we need that we need that in this country and we need it because it is just it is what we should be doing and what we're really good at. So thanks everyone for being here today.
Yeah, we got John we got Gail we got Whitney. We there's so many people that were here today. Thanks everyone for being in here. Listening, commenting like you do every week. We enjoy having you here. You're part of our group. You're part of the conversation. We love having you around. Thanks everyone. We'll be back again on Monday we got another guest on manufacturing motivation, Motivation Monday.
Curt Anderson  43:26
I gotta give a shout out so Keaton and Cassie hang out with us one second when we close out the program but we have so Casio love this. We have Jeanette Stevens. She is with Jen edge, and that is the MEP of Virginia. And we're going to keep this MEP party going on Monday. Daymond. So this is going to be a good one. So guys, have a great weekend. God bless and thank you for everything.
Damon Pistulka  43:47
See you later everyone. Bye bye
Schedule a call to discuss your business goals and answer your questions on growing business value, preparing for sale or selling your business.
Related content
These posts may also interest you
Turning the Tide on Employee Turnover
If you want to get your long-term strategy tuned up, listen to this MFG eCommerce Success show to hear Dorie Clark share how long-game-strategic thinking can help you achieve monumental goals.